The jewel of Calabria is in southern Italy. Tropea has just been voted one of the most beautiful places in Italy in this year's 2021 competition and it is no surprise. The medieval cliff-top town is only a stone's throw away from the most beautiful beaches and sea. Only 1 hour by car from Lamezia Airport (61 km). I would like to share with you my day to this wonderful place.
How to reach Tropea
Tropea is in the Coast of the Gods in the province of Vibo Valentia. Its coast really does live up to its name. It is winding with paradise views everywhere you look. We took the route from Vibo valentia to reach this little jewel. We found parking in town as we went out of season. Once, we tried to park in high season and had to go miles out of the town just to park. You can also get the train to Tropea from Lamezia.
If you are coming from other destinations, you may have to stop at Lamezia train station to change train. From there, it's a direct train ride. It's easy to reach from Lamezia Airport. You can come by train, taxi, private transfers or car hire. I recommend car hire. I have also stayed overnight in Tropea, but on this particular occasion, we came for the day.
The sea sparkles like a jewel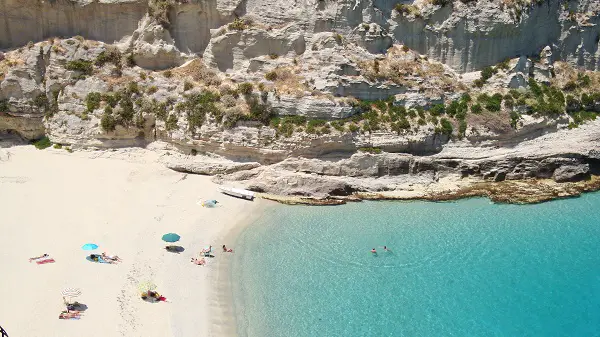 It was very hot and the first thing we wanted to do was cool down in that beautiful sea. Words cannot describe the beauty of this sea. You can get an amazing view of it from the viewpoint in the centre of town. The sea is turquoise blue. It changes to different colours of turquoise and blue when the sun reflects on it and sparkles like a jewel. The beach is wide, white and sandy. It sits close to the rocky limestone rock where the church of Santa Maria dell'Isola proudly sits.
We stayed there for a couple of hours swimming and sunbathing. My husband swam out close to a rocky cove where he was able to climb onto part of the rock. There were quite a few energetic ones clambering onto that rock. I just stayed near the shore. The sea that day was so calm. When you are in the water, you can look up to the town centre's balcony. Every visitor who looks out over this balcony is blown away with the sheer beauty of this place.
The cleanest and most transparent sea in Calabria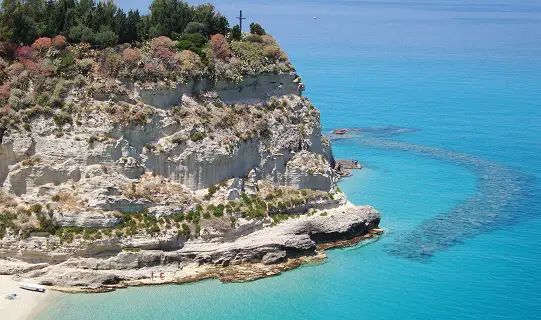 You will see many people peering down looking at the sea wishing they could be in that water there and then. They only need to walk down a winding stony staircase or take the car down to the front. It is a pleasant walk down and rewarding once you get into that water. It is one of the cleanest and most transparent seas in Calabria.
I recommend any time except July and August as it can be very busy in those months. When you go out of season, it is a paradise. You do not need to share it with many people. We usually go there out of season but only for the day. I recommend staying overnight. It is another experience in the evening. I had this opportunity to see Tropea at night. It is even more beautiful at night as it is during the day.
Bars and restaurants in Tropea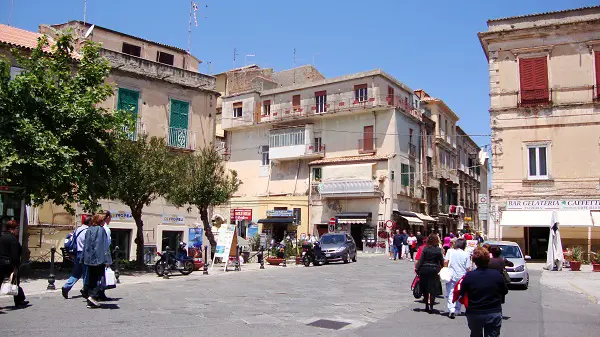 There is definitely a magical atmosphere about this town. Actually, it reminds me very much of Sorrento. You can read more about Sorrento here. If you have seen Sorrento, you will understand. It was difficult for us to pull ourselves away from that beautiful sea, but all good things must come to an end. Luckily, there were good things all around the town. We decided to eat in a small restaurant. It was very quiet that day but the food was excellent.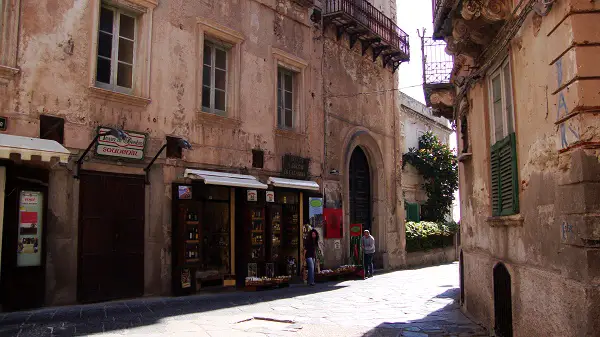 We had spaghetti with clams and tartufo di Pizzo. There are many restaurants to choose from. You can find beautiful ones overlooking the sea such as Pimms or plenty in the historic centre. There are plenty of pavement cafes dotted around everywhere for snacks, ice cream and meals. There are plenty of shops, mainly ceramic shops selling souvenirs in the shape of a chilli pepper.
Tropea's red onions
Chilli pepper is the most prominent ingredient in Calabrian cuisine as well as Tropea's red onions. You can read more here about chilli peppers. Going back to the onions, Tropea is famous worldwide for its red onions. They are PGI certified and unique. Their sweetness makes any dish a treat, even if eaten raw. Some restaurants serve them caramelised. They are also made into Jam and yes that's right, ice cream.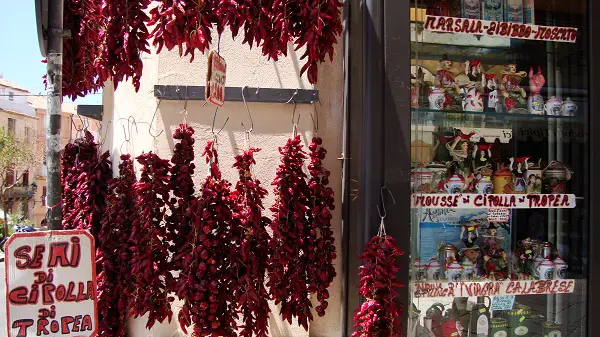 A real Calabrian delicacy. You will find plenty of these bulb-type onions tied to rope and hung outside in the sun. Bunches of them are exported all over the world. It is of course that Calabrian climate and soil that contribute to its uniqueness. After lunch, we wandered in and out of the narrow cobbled streets. There are small shops and boutiques everywhere. We found a pavement cafe with that view of the sea so we relaxed there for a while. It was time for more shopping.
A jewel full of colour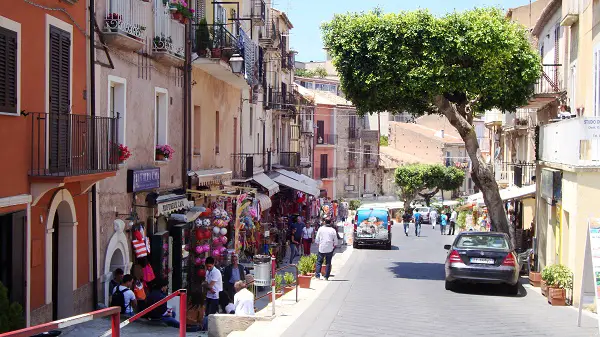 Honestly shop aholics will love this place. Many of them are small and family-run. The local people are extremely friendly letting you browse even if you may not have any intention of buying something. They strike up conversations in any language. Most people speak a little English and happy if you try some Italian. There are many characteristic streets with narrow cobbled streets where you can meander. Tropea is full of colour.
The houses are painted in pastel colours with traditional green shutters and window boxes displaying beautiful flowers. You will see typical flowers of Calabria everywhere. There are plenty of view points all around the town for you to relax and enjoy the view. The churches are a definite must to see. Unfortunately, we could not visit Santa Maria dell'isola at that time.
Excursions in the jewel of Calabria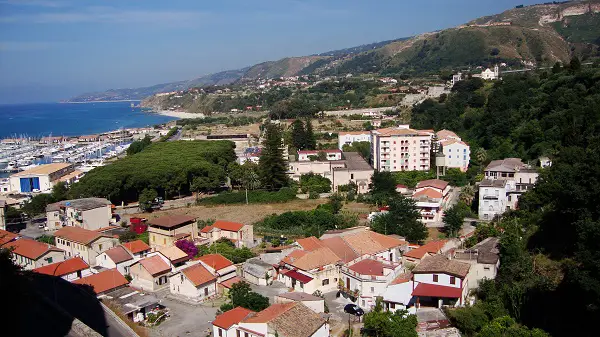 After seeing a couple of small churches we made our way up to the highest point of the town where you can see most of the coast of Tropea and another beautiful church. Also the harbour is well worth visiting. The town of Pizzo is very close to Tropea. You can read about my drive to Pizzo here. If you are lucky enough to stay for one week or more, there are plenty of excursions here and things to do in this area. You can use my travel resources here to get around, also see other places or just simply relax in Tropea.
Whatever you choose to do, you will never get bored in Calabria. There are also paradise beaches near Tropea. You only have to drive for a few miles and you will find plenty of them. It is no wonder that Tropea has been voted in this year's competition 2021, the most beautiful place in Italy.
You can also visit the Aeolian islands in Sicily as it is only 30 nautical miles from Stromboli. Read more here about this fantastic boat trip. When in the jewel of Tropea you will always have a great view of Stromboli. Another Jewel of Calabria is Scilla. Subscribe to receive new posts. Tell us about your experience in Tropea in the comments below.