If you are after food festivals in Sicily, you will love San Piero Patti for its amazing typical street food festival. There is also plenty of entertainment for all ages. The town organises this festival every year in August so if you missed out this time, don't worry, there is always next year. I would like to share with you my experience in this magical town. The town is located 450 metres above sea level in eastern Sicily up in the hills of Patti. You can reach the beach of Patti Marina from San Piero Patti in 20 minutes.
Typical Sicilian street food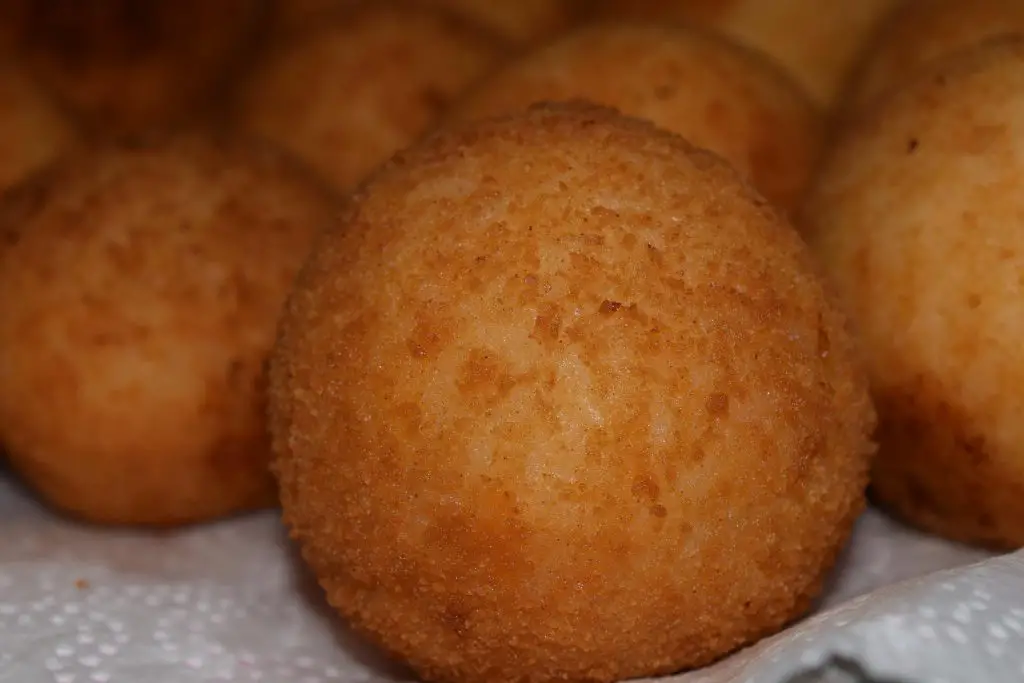 We spent 3 days here and arrived the night before Ferragosto from Calabria so we could enjoy typical Sicilian food first in a beautiful farmhouse and then heading for the most amazing street food festival. As soon as we arrived, we ordered the usual arancini (fried rice balls) but for the Palermitani, arancine is feminine so it is written in this way. The arancini that ends in I is masculine for the Messinesi.
I often have to remember this as they can get quite offended (in a jokingly way). Arancini is the best type of street food you can get in Sicily. It only costs 1 euro and it is a meal in itself. I usually have the fried rice ball with ragù but after having tasted the one with pistachio at the food festival, I will start ordering that one from now on. It is a real treat especially for pistachio lovers like myself.
The preparations for the food festival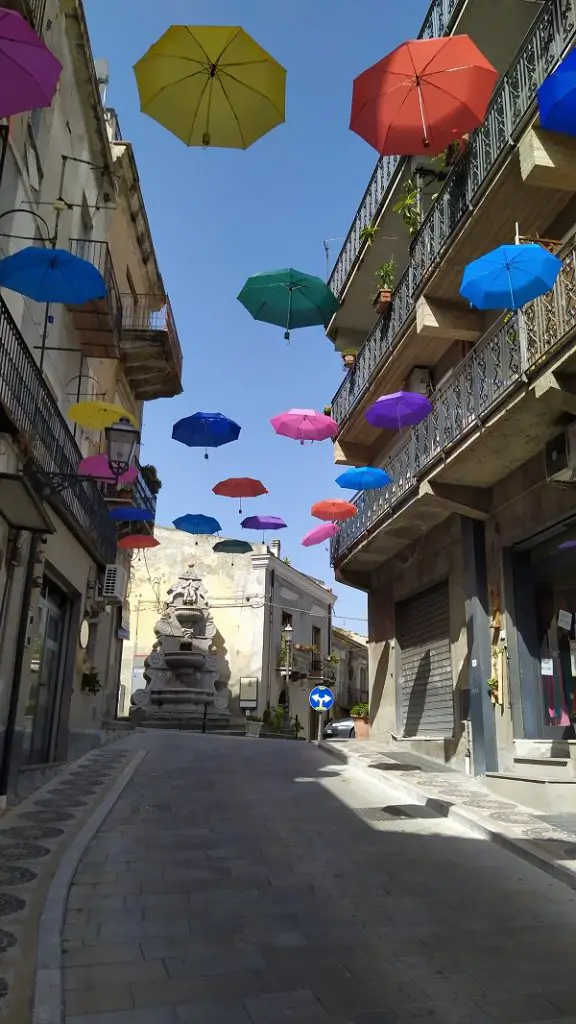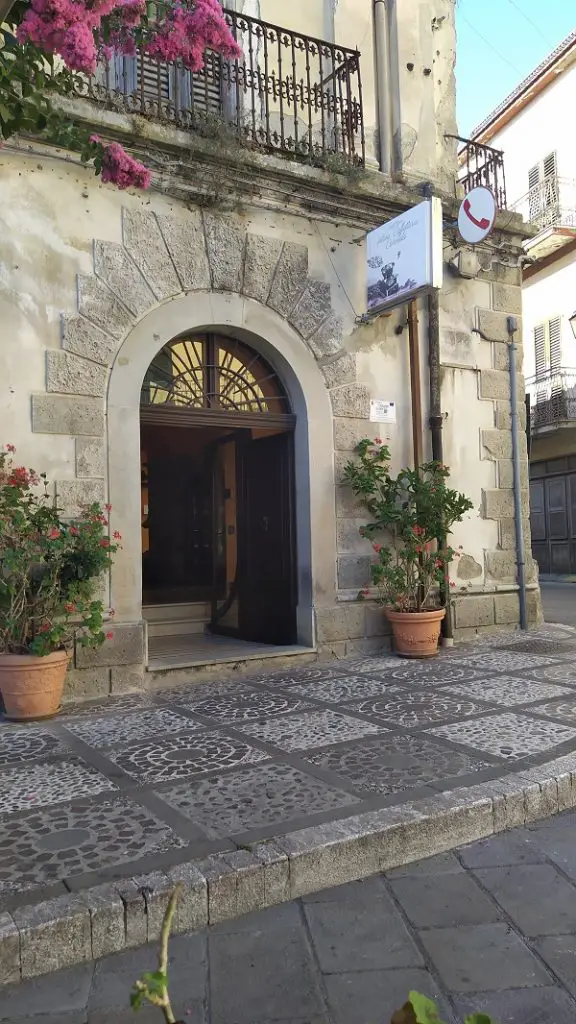 As we were eating our wonderful arancini in the bar in the beautiful square of San Piero Patti, all the town residents were preparing the town for the festival. It was great to watch. I can recommend this bar as it is the only one in the square and the pastries and savouries are delicious not to mention the friendly staff who completely go out of their way to make sure you enjoy this bar experience. A real people-watching bar. The owner Carmela is a star. The bar reminds me of the one in the Godfather.
Sicilians are so friendly especially in these little villages up in the hills. We were thrilled as so many people were running around putting up decorations everywhere for the festival. I was told that half of Sicily would be attending this very cheap foodie festival. What really amazed me was the colourful umbrellas floating in the sky in all different colours not far from the beautiful San Vito fountain. Another street displayed hand-made embroidery.
A Sicilian breakfast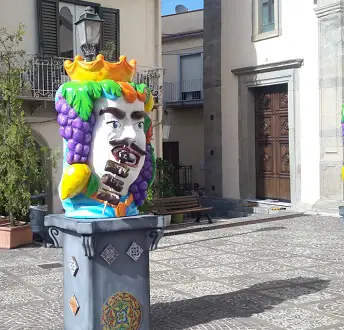 There was even a giant colourful Sicilian head in the square with street food hanging from the mouth. I love those heads but this was quite peculiar. We walked around the town which is quite small and compact. In fact, the only way to get around is on foot or by bike. You can visit the castle, the Carmelite convent with its many events and exhibitions and much more. I also visited here in December so you can read more here about what to see.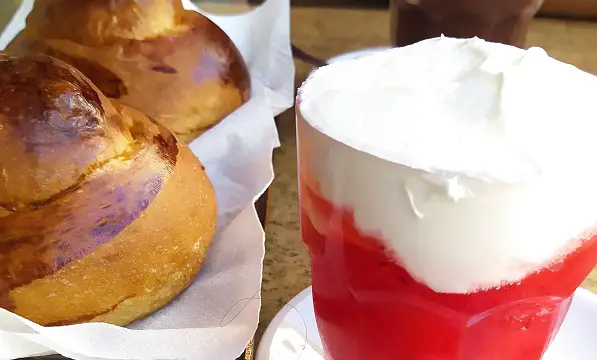 The morning after, we went straight to the bar in the square for our typical Messinese breakfast, granita and brioche. They serve this ice slush drink in endless flavours with whipped cream and a sweet bun. You have to have this breakfast. It is wonderful. At first I thought it would be a weird combination for breakfast but then I was talked into it and I am so glad my husband convinced me. Now, instead of ordering my usual croissant, I will be ordering this in Messina. After more sightseeing, it was time for our lunch.
Ferragosto in Sicily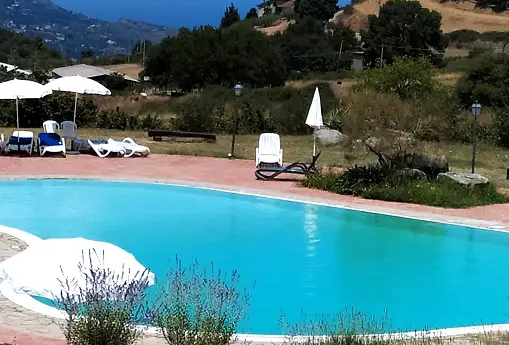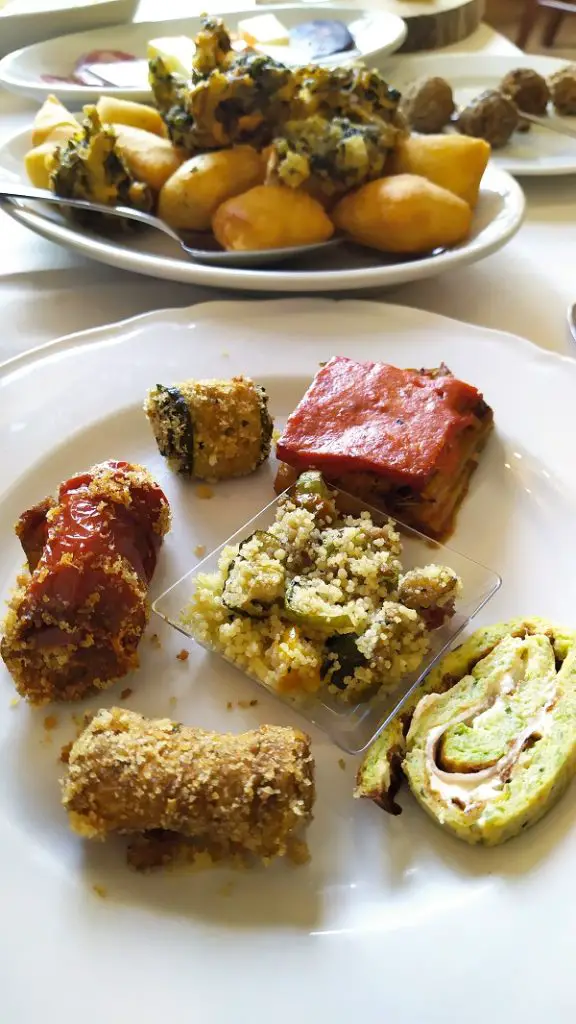 It was the 15th of August and quite an important holiday for the Italians. We chose the Daino for our lunch. The setting at the Daino farmhouse is breathtaking with its view of the Aeolian islands. We started with antipasto which was an assortment of typical delicacies such as cous cous, melenzane alla parmigiana, stuffed vegetable rolls and peppers, vegetable fritters, meatballs, salami and typical tuma cheese.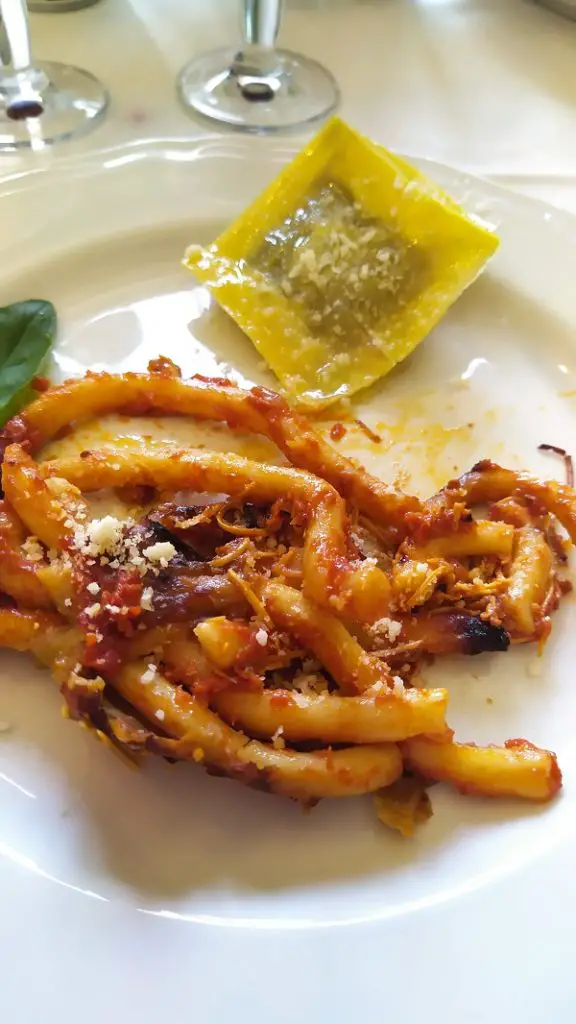 We then had the baked maccheroni with aubergines and fresh pasta with a sweet potato filling covered in butter and sage. You could have had a whole plate of it but I settled for a taster as I had stuffed my face with the maccheroni. I couldn't bear to have the main course as I was so full. My husband of course had the grilled meat with potatoes. Dessert was typical pastries filled with their local hazelnut-flavoured ricotta then coffee and liqueurs. You can see photos here of the Daino.
The food festival in San Piero Patti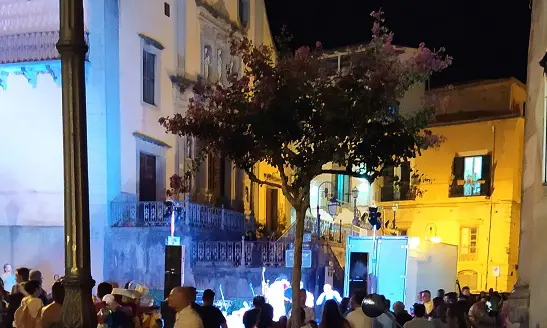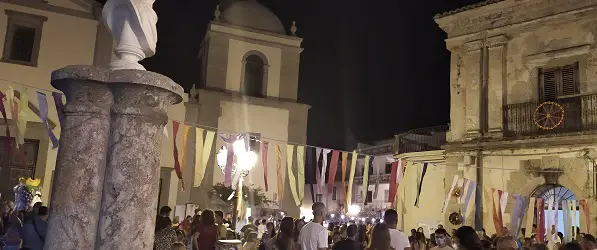 Afterwards, we walked around the beautiful grounds of this magical setting. They have farm animals such as deer, horses, goats and an artificial lake with swans. You can also stay in the farmhouse. It was back to the square in the evening as almost every night in August, the town organises events. The atmosphere is incredible as many of the immigrants of this town return and greet those they haven't seen for many months. They always come back every year in August for those amazing events.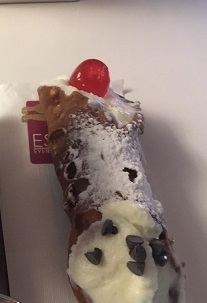 Everyone is happy to be here and for me this town makes everyone feel welcome. We have now arrived at the night of the food festival and what a night! I have never seen so many people at a food festival and for a town to be so organised and cater for such large numbers. Half of Sicily was there. There are 18 food stands all displaying those wonderful Sicilian specialities such as focaccia Messinese, pistachio flavoured arancini, delicious meatballs, typical Sicilian sausage on a stick.
Food and entertainment
Other specialities include home-made bread filled with ricotta, mortadella and sun-dried tomatoes, typical provola cheese from the Nebrodi melted down on a piece of bread, pistachio and hazelnut flavoured ice-cream on a stick, fried bread with tuma cheese dipped in red wine, cannoli and much more. You have to pay with tokens which is quite fun. You can see all these specialities in the you tube video above.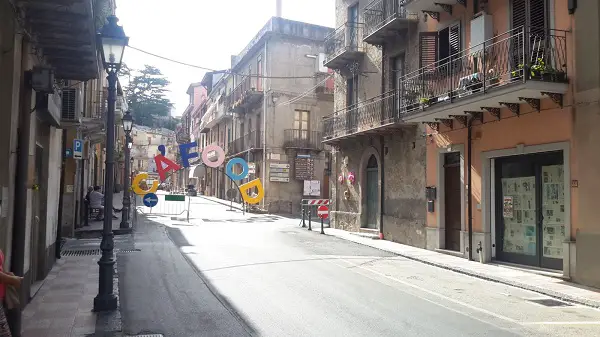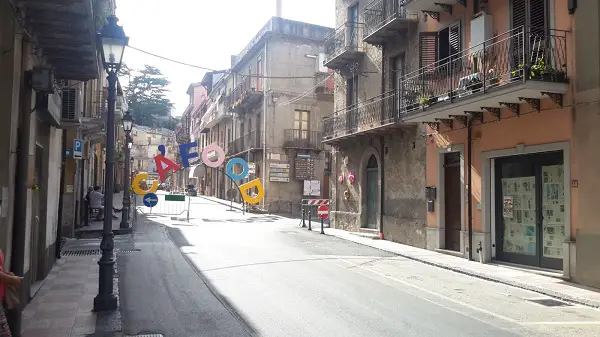 Each dish was no more than 3 euro. You could have had 18 dishes if you wanted to. I stopped at 5 but my husband probably had double. The only drawback to this food festival was the queues, although they seemed to go down quickly. During this culinary experience, there was entertainment with lots of different concerts for all ages and folk music. The name of the food festival is CA'FOOD. You can read about other food festivals in Sicily here.
Aeolian islands
It went on to all hours of the night. I definitely recommend it. You can also visit the Aeolian islands from San Piero Patti as Milazzo is very close. The famous towns of Cefalù and Taormina are only 1 hour and 30 minutes away by car or train and 20 minutes from the beautiful seaside resort Patti Marina. There are two B&Bs in San Piero Patti, il Castello and Petra. I have stayed in both of them and I have to say they are both excellent. There is also Le Rocche, Le Poiane and Daino, not so faraway from the town.
You can also combine this town with Calabria as it only takes 40 minutes from Patti to the port of Messina and 20 minutes to Calabria on the ferry or hydrofoil. You can use my resources here to get around. The ferry takes you directly to Villa San Giovanni in Calabria. Scilla is only 10 minutes away. You can read more about my weekend in Scilla here.