Calabria, besides being close to Sicily, is also close to the Basilicata and Campania regions. I want to share with you my weekend in Sorrento driving from Calabria. We spent one night in Maratea in the Basilicata region. Maratea is next to the last town in Calabria Praia a Mare. You can rent a car at Lamezia aiport which is recommended to visit Maratea and Sorrento from Calabria.
Maratea in the Basilicata region
Maratea is the start to this breathtaking coast. It is recommended one or two nights to break up the journey and visit this wonderful place with its limestone cliffs, picturesque port and beaches not to mention the transparent blue sea.
Maratea is renowned for its giant marble statue of Christ almost resembling the one in Rio di Janiero, but slightly on a smaller scale. Nevertheless, you can see this statue perched high above the hills from all along the coast of Maratea.
How amazing would it be to combine two or three Italian regions Sicily, Basilicata and Campania in one holiday. You can do it if you come to Calabria. I decided to try a weekend in Sorrento from Calabria.
Driving to Sorrento by car
You can rent a car from Lamezia Airport. We first followed the road signs to Lamezia and then for Salerno. The A3 road is now the new E45. You can approach it from the SS109 in Lamezia. Once you get closer to Salerno, you take the road for Pompei until you see the signs for Castellammare di Stabia.
You will see the white sign Castellamare with a brown tourist sign above for Penisola Sorrentina. There is a large supermarket called Auchan on the right. It is this road you follow all the way until you get to Sorrento. You will see toll booths immediately after this large supermarket.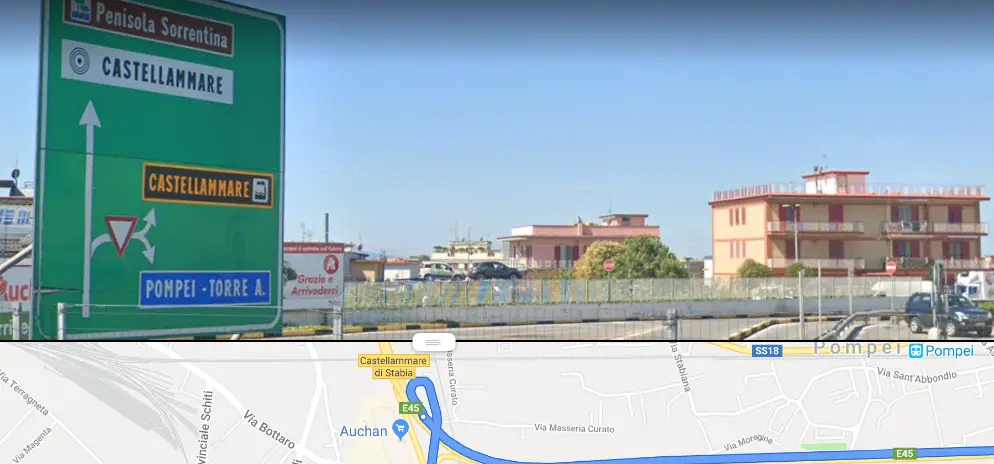 I have attached an image here as it is important you do not go through Pompei or the centre of Castellammare. The route in the direction of Peninsola Sorrentina is the SS145 and will take you onto the coastal road of Castellammare where you will see the Hilton Sorrento Palace. The next town is Vico Equense.
Keep following this road straight until you see the signs for Meta di Sorrento, Piano di Sorrento, Sant'Agnello and then Sorrento.
The roads are well sign posted. The journey can take between 4 or 5 hours depending on the type of car you have and the speed you go. There are plenty of petrol stations for coffee stops on the way.
Train to Sorrento
You can also take the train from Lamezia train station or Reggio Calabria directly to Naples which takes about 3 hours if you travel with Frecciabianca, Italo or Frecciarossa and then take the Circumvesuviana train from Naples to Sorrento.
This journey takes 1 hour or you can take the hydrofoil from the port of Naples which is more relaxing and is only 30 minutes. There are several hydrofoils a day. The name of the Company is Alilauro. You can find the timetable here: http://www.alilauro.it/orari-e-tariffe
Another alternative route is to take the train from Lamezia or Reggio Calabria to Salerno and then take the boat to Amalfi. There is the SITA bus to Sorrento from Amalfi.
Sorrento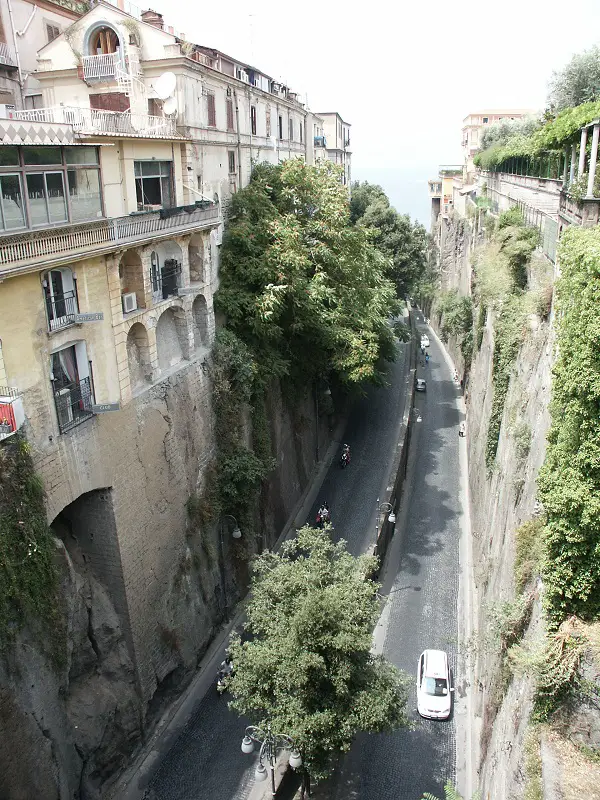 We arrived in Sorrento, parked the car and did not use it again. It is very easy to get around on foot. This is the best way to see the town. The main road Corso Italia is closed to traffic in the evening and becomes the town's promenade.
There are fantastic guided walking tours here which you can enjoy in the company of a local guide and learn all about the history and traditions of the town including a sample of the local liqueur limoncello.
Piazza Tasso in Sorrento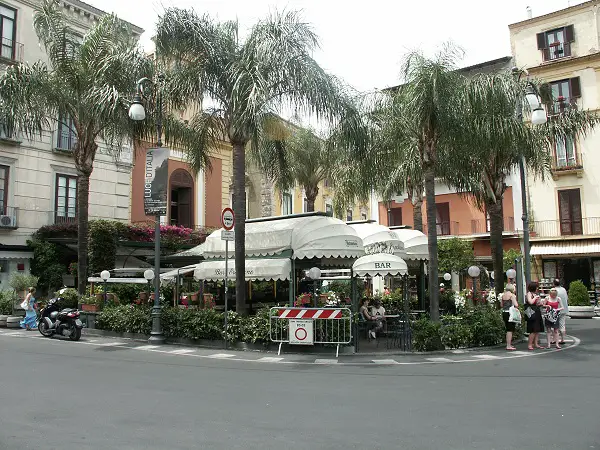 The main square Piazza Tasso named after the poet Torquato Tasso is the heart of Sorrento. It is very lively with many bars, restaurants and shops. We had a drink in the square. You will also find just off from the square the main shopping area Corso Italia where shops will stay open in the summer until late. I spent a while shopping here. I bought a wonderful painting of Positano in one of the art shops down the back streets of Via San Cesareo. Corso Italia links to another pretty square Piazza Lauro.
Marina Piccola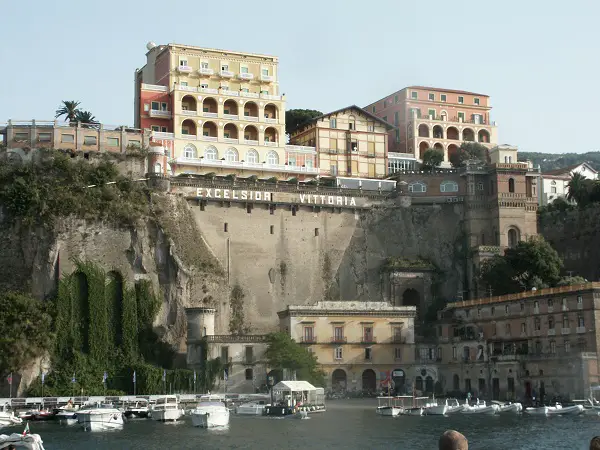 Just in front of Piazza Tasso you will find steps leading down to an attractive port area called Marina Piccola. Here the restaurants are excellent and this is where you get the hydrofoils to Capri, Ischia and Naples. Orange buses in Piazza Tasso will take you down if you do not want to walk. This is also where you get the boat to go on the organised boat trip in the evening and cruise along the coast drinking aperitifs and watching the sun go down for 2 hours. A real magical experience to see Sorrento from the sea in the evening. Only 12 passengers on board.
Marina Grande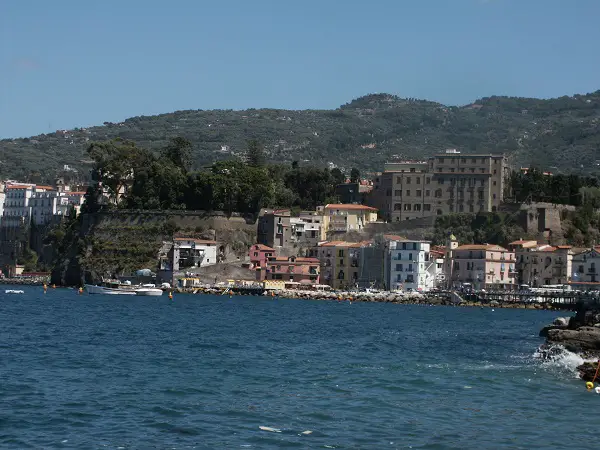 If you can, take one of those orange buses or go on the walking tour to the other nearby port Marina Grande. It is even more picturesque than Marina piccola with definitely the best restaurants overlooking the sea where you can see in the distance Vesuvius in the bay of Naples. We had a walk around Marina Grande.
The harbour is the typical fishing village we all dream of seeing in Italy and the food is delicious. Many films have been shot in this area.
Shopping in Via San Cesareo
Make sure you go for a shopping trip along the streets of Via San Cesareo just down from Piazza Tasso.
The evening is much more characteristic as when you wander along this street, not only can you smell the delicious Neapolitan food from all the tables and chairs laid out in front of the restaurants and bars, but you can smell the aroma of limoncello in many places along this street. If you love lemons like I do, the lemons in Sorrento are unique, you will enjoy the afternoon lemon grove tour. You will learn why they are unique.
It is in this street that many small factories produce the famous limoncello liqueur of Sorrento, and they welcome you to sample them. After a few you might even see pink elephants.
In fact, there was one shop which sold limoncello called the pink elephant. You will also find lots of souvenir shops and ice cream parlours.
Ice cream bars and restaurants in Sorrento
We had an ice cream at Davide's. There were over 85 flavours to choose from. The Antica Trattoria is ideal for a special occasion. We had dinner here. The food and service is excellent. As you dine, you will hear music played by a mandolin player which makes it even more special.
Gigino's makes good pizza and La Fenice serves excellent meat dishes and pastas. We had pizza for lunch the next day at Gigino's.
There are plenty of bars, restaurants and art shops displaying the most beautiful landscapes of Sorrento and its surrounding areas. Read more about the historic centre here.
Accommodation in Sorrento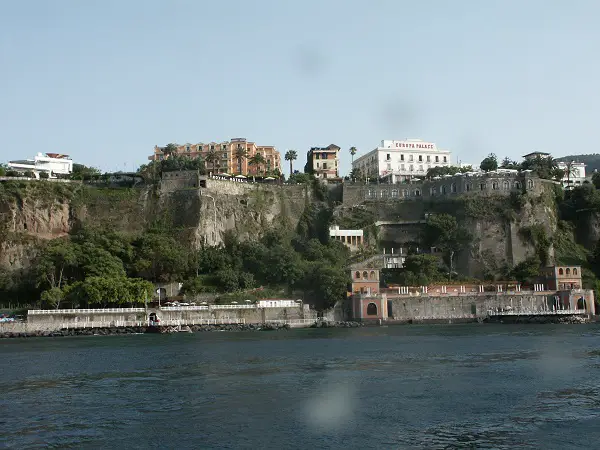 You will be spoilt for choice with the number of hotels and B&Bs you can find in this small town. I, on this occasion, was staying with a friend, however, I have stayed at the Grand Royal hotel and the Grand hotel Ambasciatori.
Both are owned by the same family and are excellent. The Royal hotel in Sorrento is only a 5 minute walk to Piazza Tasso right in the heart of Sorrento.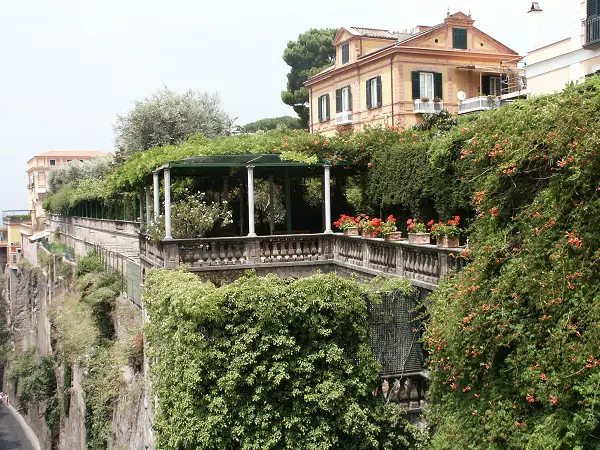 If you are looking for something really special, the 5 star grand hotel Excelsior Vittoria is right in the centre. It is where Caruso and many other important people stayed. It is very elegant with a long walkway surrounded by lemon groves and breathtaking views.
Inside some of the rooms, especially the winter garden and the restaurant, there are frescoes, chandeliers and ceramic-tiled floors. You can also see Vesuvius in the distance from its wonderful terrace and many of its rooms.
Spectacular views of Vesuvius
The terrace with the view of Vesuvius is spectacular. It is a delight in the evening to dine there usually, during the summer months.
If you cannot afford to eat on that terrace, do not despair, there is another beautiful one close by called the Foreigner's club. Do not be put off by the name.
It has the same views and you are welcome to pop in for a coffee or a drink. They serve light lunches during lunch time and evening meals at night followed by dancing on their wonderful terrace. We had a coffee and could not help looking at the views.
Sorrento is an all-year resort and is pleasant to visit at any time of the year. Many hotels, shops and restaurants stay open.
For evening entertainment, there is a wonderful folk evening at the local theatre where you can see Tarantella dancing and sing along to your favourite Neapolitan songs. We watched the performance after dinner. It was really good. They tell the stories of their traditions through song and dance. You will be greeted with a welcome drink and plenty of entertainment.
Train station in Sorrento
This is located opposite Piazza Lauro. Trains from here only go to Naples stopping off at many towns along the coast. Buses leave from here for Positano and the Amalfi coast. You have to buy your ticket at the tabacchi shop inside the station before you get on.
There will be a long queue of people with the same idea but don't worry they usually put on more buses. Get on as quickly as you can otherwise you may be left standing. There is another way to see the Amalfi Coast and the best way is on foot. Don't worry private transport will take you to Nocelle along the Amalfi Coast where you can enjoy a trek on the Path of the Gods walking trail with incredible views and breathtaking scenery.
If you are lucky and can stay longer, there is so much more to see in Sorrento. One week would be ideal. These are only some of the things you can do in a weekend. Read about my weekend in Naples from Calabria here. I will be posting some more helpful information about Sorrento later on so look out for these posts. Take advantage of the Sorrento deals here:
[widgets_on_pages id="Sorrento deals"]
[widgets_on_pages id="Sorrento transfer to Naples airport"]
If you would like a much longer holiday in Sorrento with sightseeing included, you may be interested in this organised tour.