Have you heard of the Aeolian islands in Sicily. There are seven inhabited islands in Sicily within easy reach from Calabria. I would like to share with you my amazing boat trip excursion to three of these islands; Lipari, Stromboli and Vulcano. Lipari is the largest. Of course, there is also Panarea, the international jet set island, Salina, Filicudi and Alicudi. This excursion covers only Lipari, Stromboli and Vulcano.
Marina di Nicotera
You can get the excursion boat from Tropea or Marina di Nicotera in Calabria. We chose to go from Nicotera which is a small seaside town in the province of Vibo Valentia facing the Aeolian islands. It is worth visiting the old town of Nicotera with its spectacular view point overlooking Gioia Tauro and the Aeolian islands.
Perched in the hills above Nicotera Marina, you can walk through its narrow streets. A charming medieval town with a magnificent cathedral Santa Maria Assunta. It sits very close to the imposing Ruffo castle set within the most beautiful grounds.
There are some nice bars and shops in the village. The excursion usually departs at 7am and returns at 6pm so you could visit this town in the evening or perhaps stay in a B&B.
Approaching Vulcano in the Aeolian islands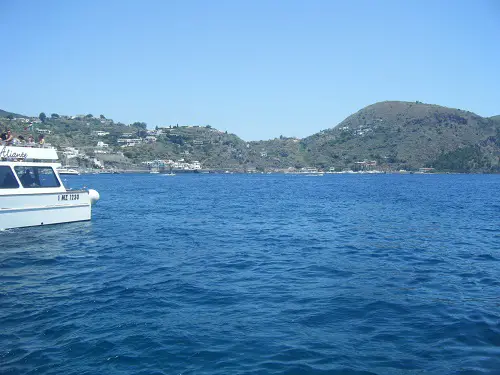 The boat sailed first to Vulcano, which means "volcano". A volcanic island smaller than Stromboli with an active volcano. The heat was intense. I remember not being able to walk on the black volcanic sand without sandals. There is a large natural thermal pool with bubbling mud.
There were so many people bathing in this mud and you could smell the sulphur in the air. I learnt that many people come here for therapeutic purposes and often rent a house for at least a few days or a week. I also had a go at bathing in this warm mud and I have to say it was quite soothing on the skin. Once I washed off all the mud, my skin was so smooth and silky. It was a very relaxing morning with some shopping and a free spa treament.
The fishing village of Lipari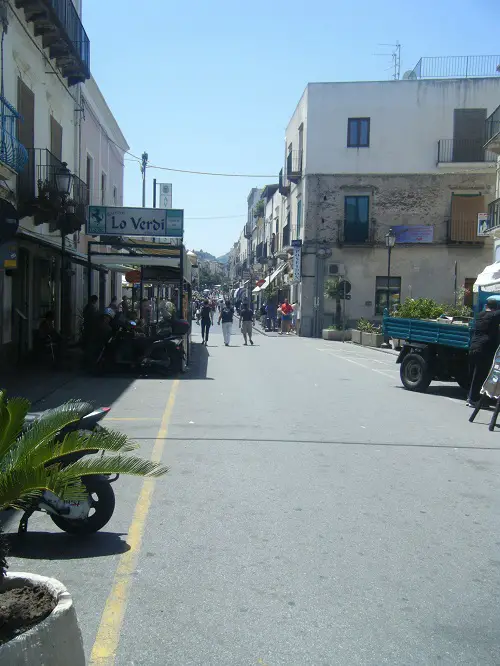 We then stopped for a cool drink before heading off to Lipari for lunch. Lipari is the largest of the islands, very picturesque and more colourful than Vulcano which seemed to have only white buildings. There are plenty of restaurants and shops in the pretty port of Marina Corta. Make sure you do your shopping in Lipari before you go to Stromboli.
This resembles the typical Sicilian fishing village you see in Cefalù or other places in Sicily. If you want to stay longer in Lipari, there is plenty to see and do also in the evenings. You can visit churches the castle and other historical buildings.
The Aeolian island of Stromboli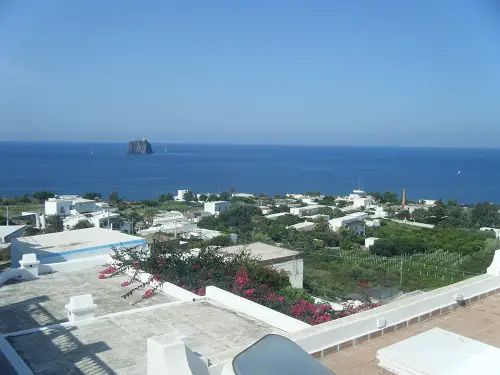 You can also choose where to have lunch. After lunch and some more shopping, we then headed off to the island of Stromboli.
Another active volcano with a pretty town which reminded me so much of the island of Capri. Most of the buildings were white surrounded by green vegetation, wild flowers, mountains and black volcanic sand.
Unlike Capri with its amazing chairlift, we explored the little town on foot by walking from the bottom of the town up to the top. There were many villas and many pretty narrow streets leading us up to a pretty church.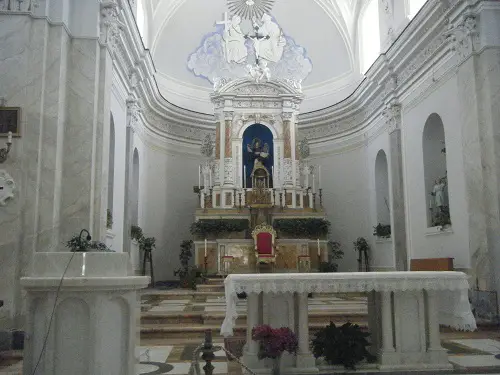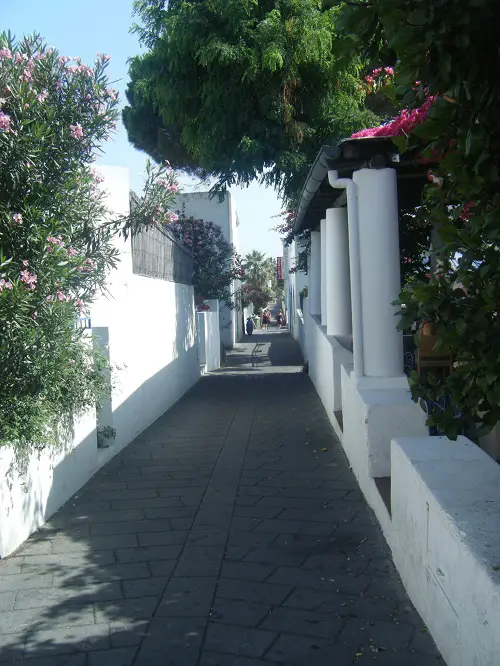 I have to say I stopped half-way as the climb was tiring. If you are fit, you could climb to the top with many stairs on the way up. The views from up there are breathtaking. There were a few bars but not many shops. It was boiling hot so we decided to join the others on the beach. The beach did not look very inviting, it was black volcanic sand and the sea even looked dark.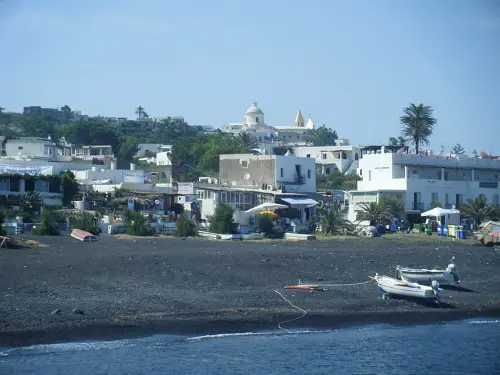 I was used to seeing white sandy beaches and turquoise sea in Calabria, nevertheless, I could not wait to get into the water. It was a good choice. The experience was wonderful and again felt great on your skin. We spent some time there sunbathing and relaxing.
Stromboli excursions at night
Some people went off hiking. You could stay longer but I think a day trip is ideal here. We could see smoke coming out of Stromboli from a distance, They even do boat excursions from Nicotera and Tropea at night so you can go very close to it and really appreciate this fiery volcano and clearly see the flames shoot out against the night sky. it is quite something.
Etna is certainly the largest and most active volcano which cannot be missed. There are also excursions from the port of Messina to Etna. You can combine a trip to Taormina with Etna as they are very close to each other. You can read about my day on Mount Etna here. [widgets_on_pages id="Etna/Taormina"]
Stromboli is one of the most famous. We can see this volcano from many places in Calabria. You can also visit these islands from Messina or Milazzo and go on your own, perhaps staying longer in Lipari. The day trip only gives us a taste of the Aeolian islands.
The most beautiful and popular among the International jet set is Panarea. I would recommend spending a few days there. Less popular islands such as Favignana, Ustica, Pantelleria or Lampedusa are equally as beautiful but need at least a few days to fully appreciate them.
A day trip to the Aeolian islands
The closest ones to Calabria are the Aeolian islands. You can also combine a holiday in Calabria with some island hopping in Sicily. The day trip to the Aeolian islands is ideal if you want to stay in Calabria, but enjoy a taste of Sicily.
They give you enough time to explore the islands on your own and tell you what time to be back on the boat. It can be a long day but definitely worth it to be able to see three of Sicily's most famous islands from Calabria. You can also read about my weekend to Cefalù in Sicily here.