Scilla is the jewel of Calabria. It is 10 minutes from Villa San Giovanni by car and 7 minutes on the train, the main port for ferries to Messina and only 20 minutes from Reggio Calabria. It is steeped in history and mythology. The landscape and views will steal your heart just like they did with mine. I often come to Scilla for the day but this time, I wanted to try it for a weekend. It was the best weekend ever.
The short train ride to Scilla
We arrived at Villa San Giovanni where we took the train to Scilla. It is only a 7 minute train ride, but ideal if you do not want to drive there. It can be very difficult to park in July and August. The train station is practically on the seafront. Our hotel was just across the road from the station.
Breakfast with views in Scilla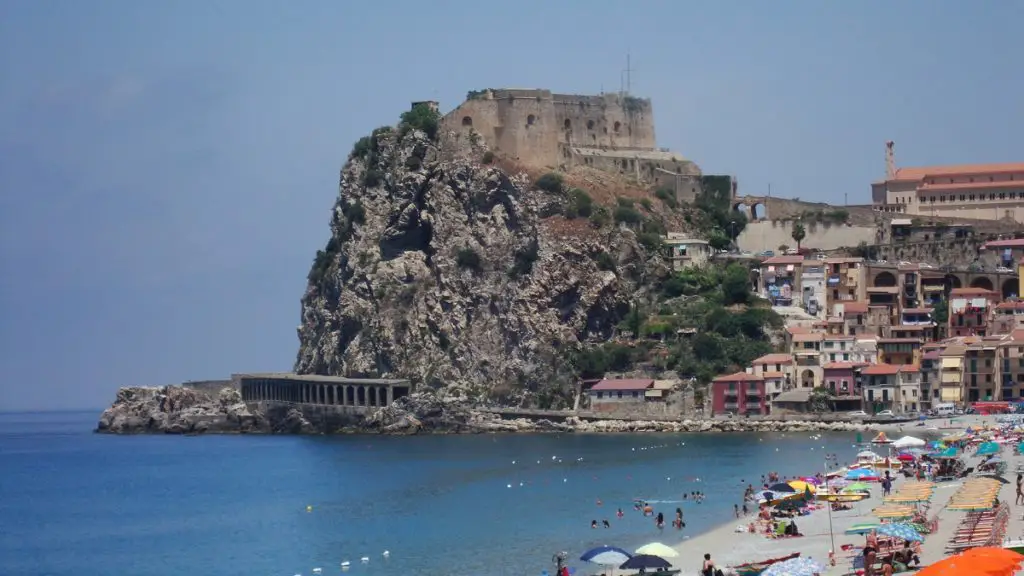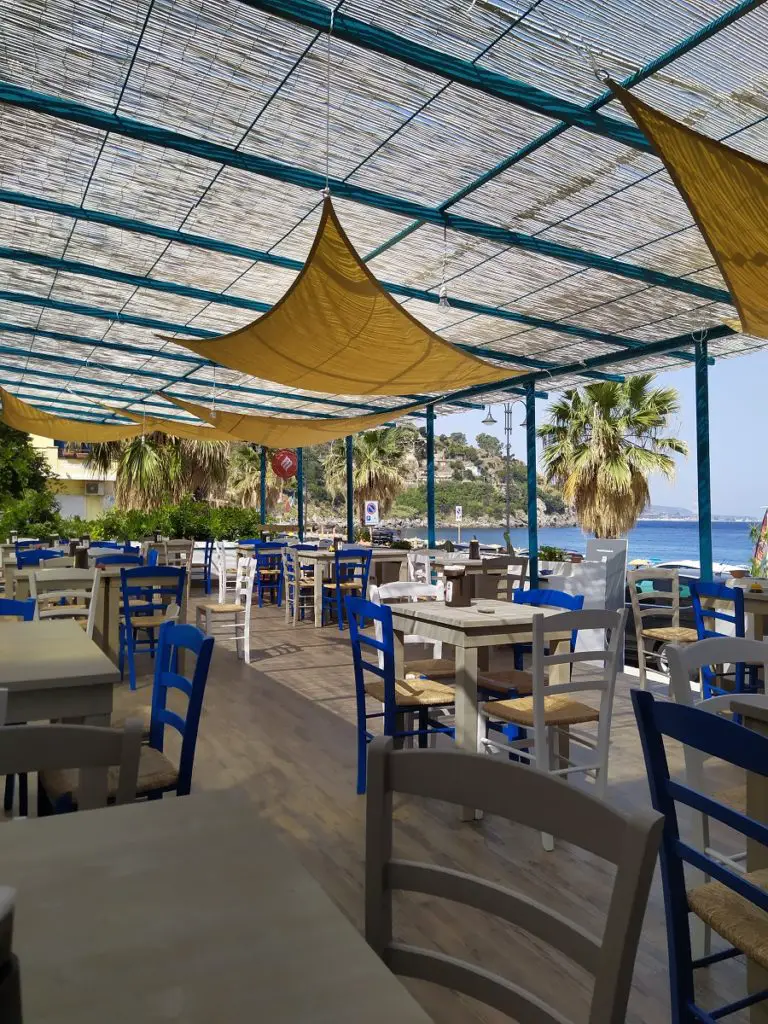 We were a little early for our hotel so we had coffee and croissants in a very nice bar on the seafront with amazing views of Scilla. After we checked into our hotel, we went for a pleasant walk along the promenade with the wonderful Ruffo castle in front of us and a wide, pebbled beach. It had the most beautiful clear turquoise sea.
We rented two sun beds and a parasol for 10 euro. If you want the front rows which is difficult to get in July and August, the cost is 15 euro, but at least you get it for the whole day. We spent most of our day on the beach relaxing and swimming. We were able to have a light lunch at the lido.
The Hotel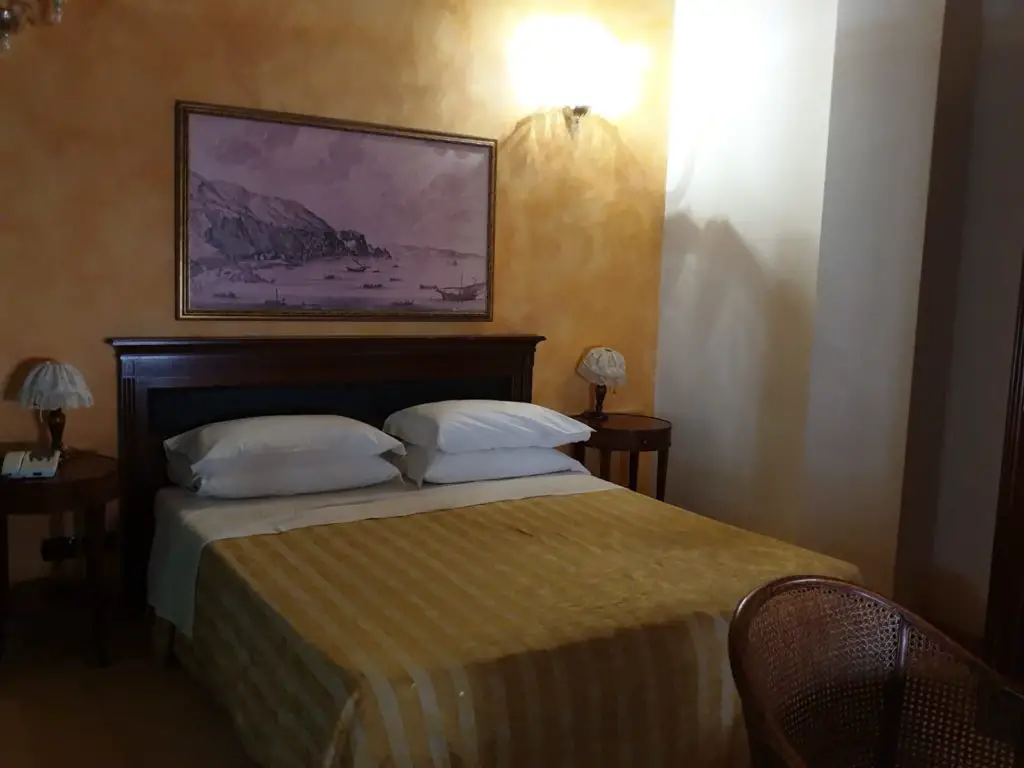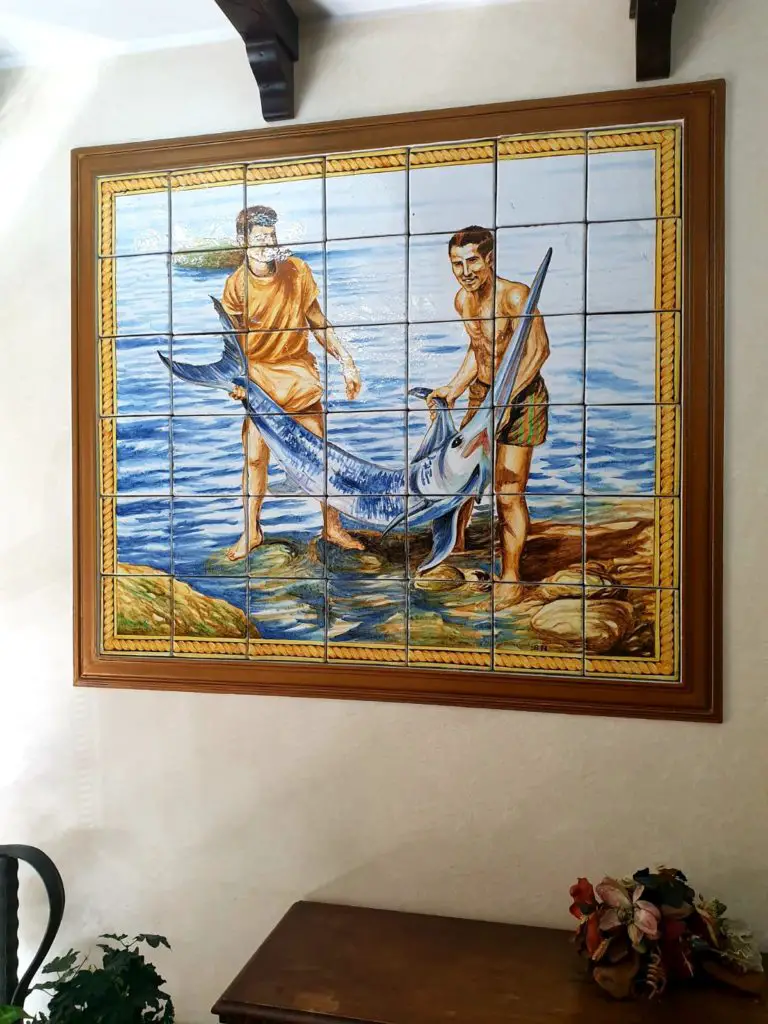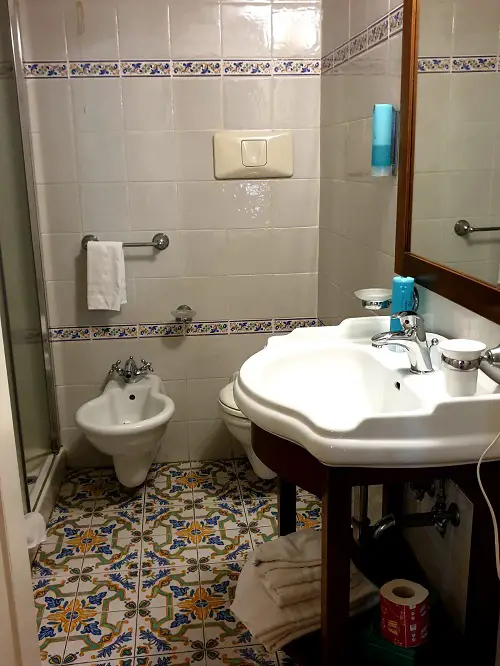 We stayed in a very nice hotel close to the beach. It is tastefully decorated and ornate with ceramic tiled floors, chandeliers from Venice and Mediterranean colours. There is a lift to all floors including the breakfast room.
The rooms are bright and spacious. It takes you back to old Italy which you do not see very often. Nowadays, most hotels are modern. I absolutely loved this hotel and its location. The breakfast was wonderful.
Unfortunately, we could only stay one night. If you are looking to stay for 1 week in luxurious accommodation, you might want to rent your very own villa on the Viola Coast.
Aperitif and Spectacular sunset in Scilla
After a couple of hours rest, we then made our way to a very nice bar on a terrace overlooking the sea for an aperitif. It was wonderful to sip an aperitif watching the sun set. The viola coast is renowned for its spectacular sunsets when the sky lights up with different shades of purple.
An idyllic setting in Chianalea
We then set off for one of the most beautiful breathtaking corners of Calabria, the fishing village of Chianalea. It is a continuation of the seafront of Scilla with a covered walkway which you take until you reach the other side of Scilla called Chianalea. Read more about Chianalea here.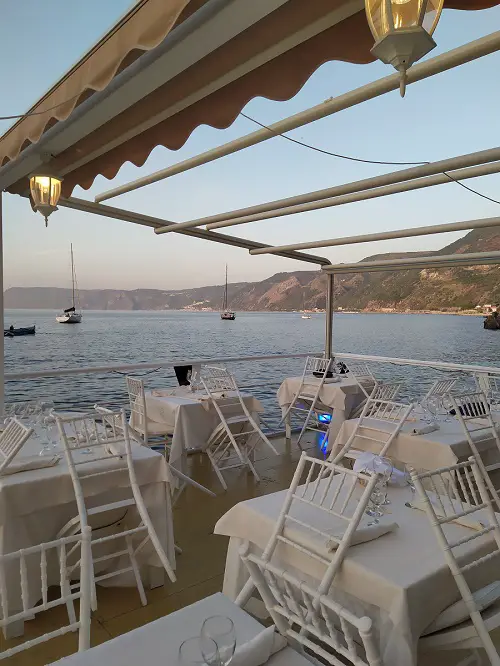 Most of the restaurants are built on stilts so that you feel like you are almost in the middle of the sea. The speciality is sword fish with a multitude of other seafood delicacies. Our restaurant was very special as we had the most incredible views of Ruffo castle lit up at night.
I wanted to sit there all night and I almost did. The waiters were so friendly and professional and the food was delicious. Nothing was too much trouble for them.
I could smell all the Mediterranean flavours as the waiters whisked by with different type dishes serving everyone with the utmost professionalism.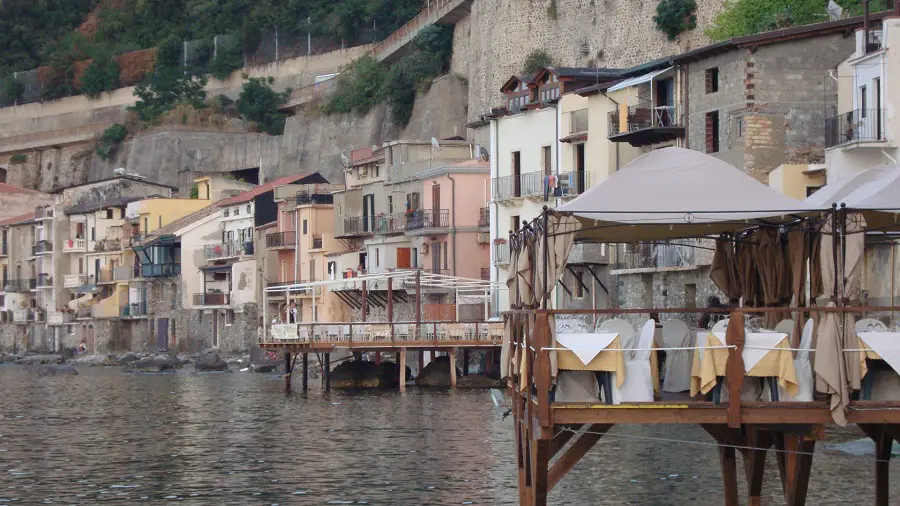 I definitely recommend the restaurants in Chianalea built on stilts for a romantic dinner overlooking the sea where the two deadly sea creatures Scylla and Charybdis would wait for those poor unfortunate sailors.
People everywhere
The atmosphere in the evening during the summer months is a real spectacle. People start appearing from all nooks and crannies until the narrow cobbled streets are crammed with spectators enjoying the breathtaking views of Ruffo castle and the whole of the viola coast.
As you walk past little alleys, you can catch glimpses of the sea with colourful fishing boats moored near the houses. There were hundreds of cameras capturing these views.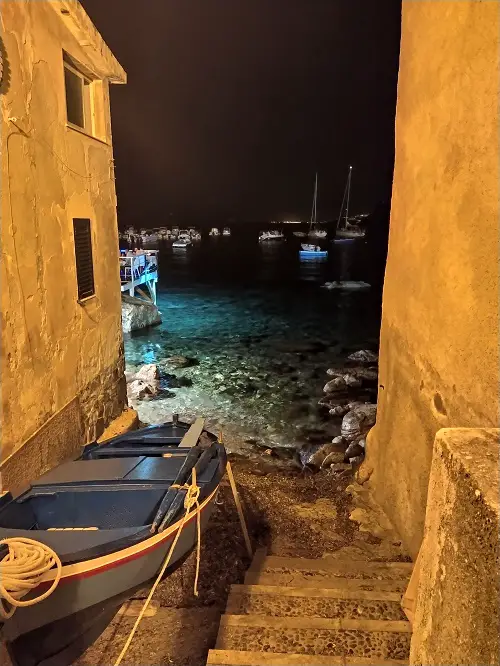 All tables and chairs are outside the little bars and many people enjoy standing up. You can hear different genres of music coming from bars and restaurants.
People talking loudly, but most of all the cheerful atmosphere as everyone is overjoyed at being in such a wonderful place.
The seafront in Scilla
The atmosphere was equally as joyous on Scilla's promenade. On the way back from Chianalea, there were beach parties and many people eating on the beach.
Live music could be heard from a distance and many people were dancing the night away tapping their feet in the sand to the music.
Families were strolling up and down the promenade eating ice cream and many elderly people were sitting on chairs outside their doors enjoying some cool air chatting to their neighbours.
My morning swim in Scilla
I woke up at 8am so I could have a morning swim before breakfast being so close to the sea. The hotel is only a stone's throw away from the beach. I wanted to see Scilla early morning hoping that there would not be many people on the beach. I was wrong. Everyone had the same idea as mine.
There were many early birds on the beach and in the sea. It was a little cloudy that morning, but still very warm. It was wonderful swimming in the sea early morning looking up at Ruffo castle and the beautiful church next to it. Everywhere you look in Scilla, there are views.
There is also the upper part of Scilla with a wonderful panoramic view point allowing you to see Sicily in the distance and the whole of the viola coast. The main public buildings are located in this part of Scilla as well as plenty of bars, shops and restaurants.
Accommodation in Scilla
Scilla is a year round resort and offers plenty of accommodation from hotels, villas to B&Bs. You can book at any time of the year as many stay open and combine Scilla with a visit to Sicily.
Scilla is very close to Villa San Giovanni where you can get the hydrofoil or ferry to Messina in Sicily. It takes only 7 minutes on the train to Villa San Giovanni from Scilla. Take advantage of the deals below:
[widgets_on_pages id="Scilla deals"]
The train back to Villa San Giovanni
I was sad to leave but sometimes all good things come to an end. The good news is that I can come back any time and that I definitely will. Scilla casts some kind of spell on you meaning that you will want to come back too.
We then headed for the little station to take the train back to Villa San Giovanni. There are two platforms in this station. When you arrive, you will get off at platform 1 and when you leave, considering that you are going back to Villa San Giovanni or Reggio, you will leave from platform 2.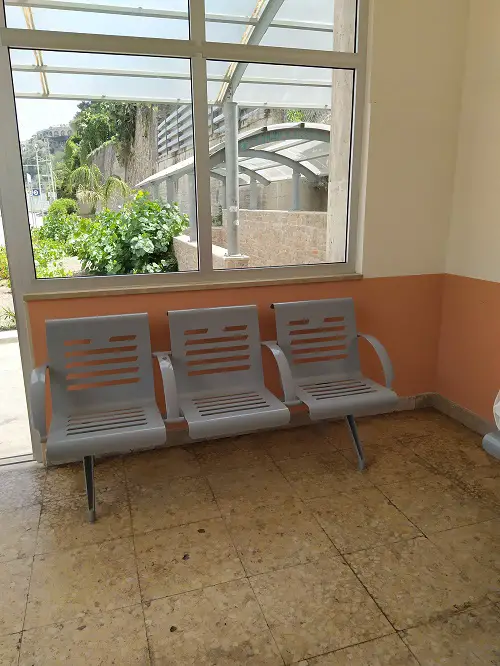 You need to go through the tunnel and upstairs to reach platform 2. Before you do this, you have to stamp your tickets in the machine on platform 1. It sounds a little confusing.
I remember this German tourist frantically running up and down the station not knowing where the machine was so he could stamp his tickets. He approached me and luckily, I was able to help. It is not easy if you do not know where the machine is located. This photo should help. Read about my weekend to Sorrento from Calabria here. You can also use my travel resources here to get around. See here what other places you can visit in Calabria. Subscribe to receive new posts.