The island of Sicily itself is a natural wonder as well as its volcanoes, grottoes, beaches, gorges and other natural gems. I would like to share with you a magical wonder in eastern Sicily. We went for a weekend from Calabria to visit this beautiful place, the lagoon of Marinello. I recommend two ways to see this lagoon; one is in the main square of Tindari looking down, and the other is to go to the town of Olivieri in the province of Messina. The lagoon is easily accessible from there.
The journey to reach this wonder
We took our car onto the ferry in Villa San Giovanni in Calabria. The ferry took about 20 minutes to reach Messina. From Messina we followed signs for Palermo and drove for about 1 hour until we reached our hotel in Tripi (about 66 km) from Messina. We chose a quiet hotel in the hills above Patti.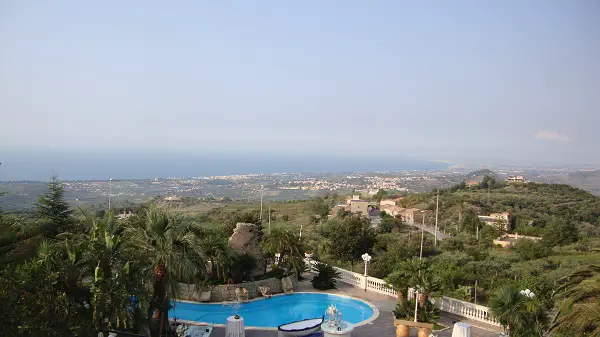 The hotel was out of this world literally. Besides its tranquillity, the views are stunning. On a clear day you can even see the Aeolian islands. The road to reach the hotel is a little winding but the scenery makes up for it. You can see olive trees and citrus fruits everywhere. The air is fresh and a little cooler compared to staying on the coast.
The Hotel
We were looking for this rural setting and eastern Sicily certainly offers this. There are many wonderful farmhouses in this area if you are looking for a farm stay and tranquillity, you can read more here. We chose this hotel for its views. It has wonderful gardens and a beautiful swimming pool. All the rooms are soundproof. The breakfast is incredible.
You can find everything you could possibly want including home-made ricotta cakes for breakfast. My husband had two portions of cake after everything he ate. The hotel is also tastefully decorated in Sicilian style. You can see hotel here. Once we rested at the hotel for a while, it was time for us to head off to this natural wonder. It took about 30 minutes from the hotel. We drove to the pretty seaside resort of Olivieri. A small town with about 2000 inhabitants, three times more in the summer.
The natural wonder of Marinello
At the end of the seafront in Oliveri, you will see a sign leading you to a lake. This lake is a nesting place for many different bird species. Past the lake, you need to keep walking until you come across this incredible long narrow stretch of sand. When you look up, you will see the church of Tindari which looks almost like it is hanging on the edge of the rock.
Looking down from above is an experience. It is a view you will never forget. Make sure you take plenty of pictures. We visited it from above on an earlier trip, but actually being down there is even better. You can walk or take a boat ride to the extreme tip of the lagoon. The belvedere boat goes back and forth picking up and dropping off tourists all day long. The cost of a ticket is 5 euro return.
The two seas of Marinello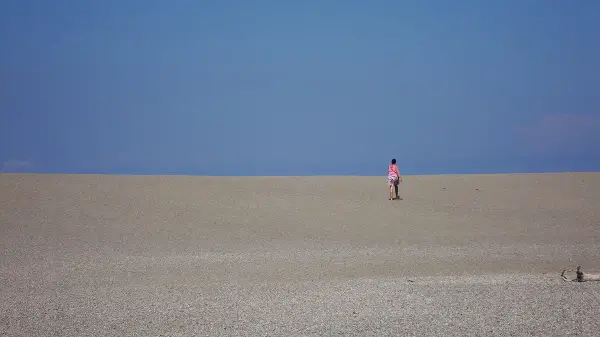 We decided to walk. It was an extremely hot day and the fact that you could take dips in the sea made it even more pleasant. I must admit the walk is a bit strenuous but worthwhile. At first it seemed like I was walking through the Sahara desert. It was never-ending. I could not see anything but sand until I reached the famous grotto of Donna Villa. This was incredible to see.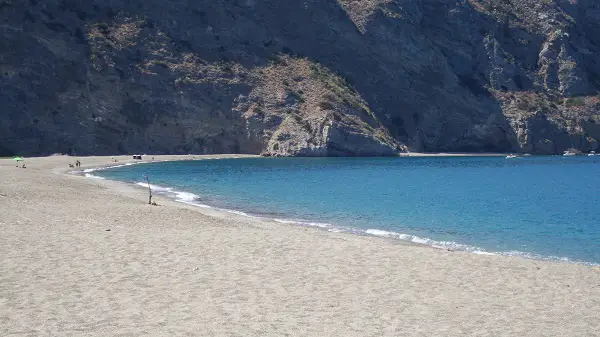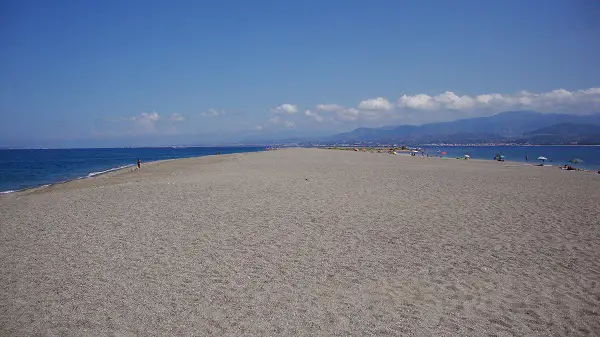 You start to see one long strip of sand with two seas. The sea to the left is the shallow and calm waters of Olivieri and to the right, Patti and Mongiove. On the left-side of the strip of beach, there was the occasional parasol stuck firmly in the sand but not many people. Instead, at the very tip of the lagoon where the day trippers were waiting to return to land was full of parasols and beach worshippers.
The Greek wonder of Tindari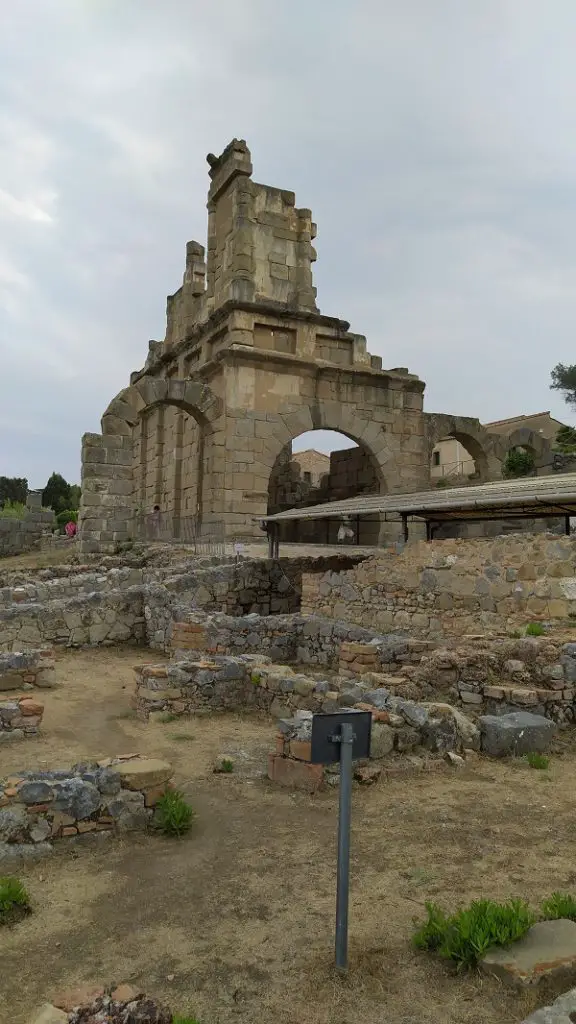 The part where you could see the odd parasol was paradise. Bathers clearly did not want to walk this far. The water is also very shallow and calm. Great for kids. I definitely recommend swimming here. Paradise beaches, beautiful transparent clear water with a view of the church of Tindari above. A picture-postcard setting.
We spent the whole day here and the next day as well. In between, you can visit Tindari, the Archaeological site of Tyndaris, founded by the Greeks in 396BC and the Roman villa in Patti. You can read about Tindari here. Actually, you need at least a week here. A great place for a beach holiday and plenty of sightseeing.
We went to the pretty square of Oliveri for one of those ice cream buns. This ice cream parlour has won many awards for its ice cream. It definitely lives up to its name. The Orchidea is also famous for its gigantic ice cream buns. You can watch the video above. Of course, there is so much you can see along this coast. Cefalù is only about 1 hour away. You can read about it here.
Ceramics and medieval towns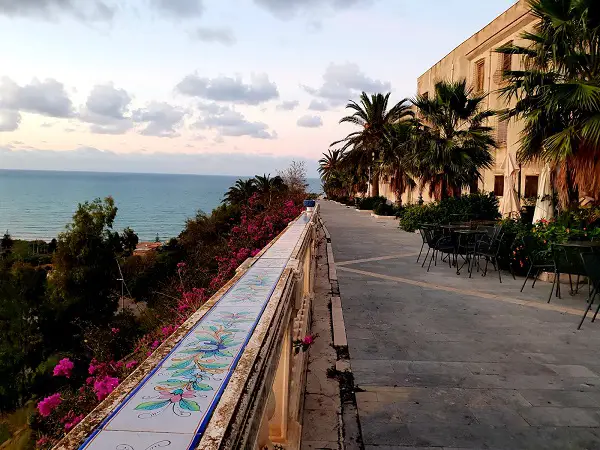 If you like ceramics, you can visit the ceramic town of Santo Stefano di Camastra only 1 hour away. Read more here about it. Make sure you visit the beautiful medieval towns in the hills above the coast such as San Piero Patti, the old town of Patti and Montalbano di Elicona. They are about a 30-minute drive from the coast. You can see some pictures here.
You will find ancient treasures such as Arab quarters, castles, towers and pretty squares with the most incredible views of the coast such as the views in Tripi. There are several events and festivals during the summer months in these towns.
Sicilian specialities
There are also plenty of restaurants serving local Sicilian specialities. I recommend staying in a farmhouse for a real rural escape. You can now take the train from Messina directly to Catania Airport or you can easily visit the beautiful region of Calabria from there.
We drove to Messina and took the ferry to Villa San Giovanni in Calabria. You can use my travel resources here to get around or see what excursions you can do in this area here. Why not visit both Sicily and Calabria.
Tropea in Calabria has just been voted one of the most beautiful places in Italy for this year's competition 2021. Read more about Tropea here.
You will discover plenty other natural wonders in this area. The lagoon of Marinella is one of my favourites. Subscribe to receive new posts.