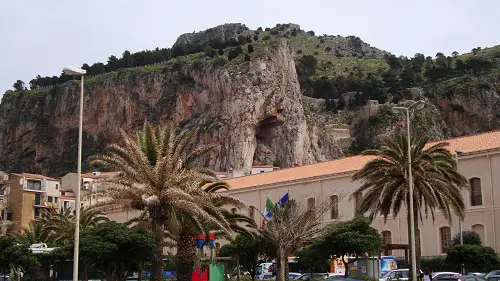 Why not stay in Calabria with a visit to one of the most beautiful fishing villages in Sicily, Cefalù. Most people do not know how close Calabria is to Sicily, especially if you stay on the Jasmine and Viola Coast in Calabria. Within 1 hour or less you can reach Villa San Giovanni where you can take the ferry or hydrofoil to Messina in Sicily and explore the eastern side of Sicily as well as the northern side.
Which places to visit in Sicily from Calabria
From here it is easy to visit Taormina, Mount Etna, Catania, Milazzo, Santo Stefano di Camastra and Tindari. It is also possible to visit Cefalù if you are staying at least one or two nights. I would like to share with you my weekend to Cefalù from Calabria.
We set off early morning to catch the ferry from Villa San Giovanni to Messina. We then followed the green motorway signs for Palermo. Cefalù is approximately 165 km from Messina. There are plenty of road signs as well as numerous tunnels. After a couple of hours driving, we exited at Cefalù. This also depends on traffic and how fast you drive.
The train from Messina to Cefalù
You can also take the train from Messina railway station, next to the port, directly to Cefalù. The train goes in the direction of Palermo and stops at most train stations along the coast. It is a scenic train ride with the sea always in view. It takes approximately 2 hours and the cost of a single ticket is about 14 euro.
If you take the car, it is not easy to find parking and the only way to park is in the large car park near the seafront which is approximately 1 euro per hour. We stayed in a hotel with its own private parking so we parked the car there and walked into the town.
The historic centre in Cefalù
As you come into the town, there is a long modern street with nice shops and bars. At the end of this street you come into the beautiful historic centre which takes you into the real fishing village of Cefalù. Another world. You can see many coloured fishing boats on the beach and buildings that have never changed over the centuries.
We saw many newly wedded couples have their photographs taken on the beach with the famous rock of Cefalù behind them. Weddings are very popular in this area and many choose this place for their special wedding day. I can see why. It is such a pretty town. Like everyone does, we instantly fell in love with Cefalù.
What to see and do in Cefalù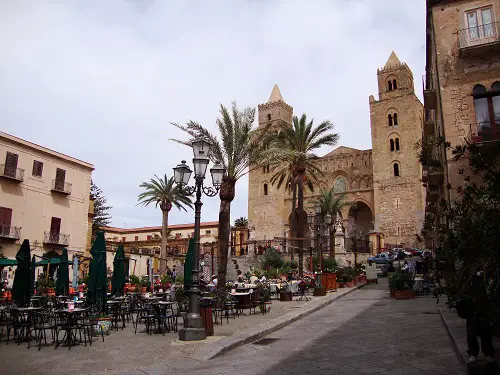 We then made our way to the main square Piazza Duomo to see the 12th century Norman Cathedral with its incredible Byzantine mosaics. We were overwhelmed by its beauty and the steps we had to climb to access it. After our visit, we gladly ordered a coffee and a Sicilian pastry in the square.
I have to say, it was rather expensive, but we did sit in one of the most beautiful squares in Sicily in front of the magnificent cathedral. You can also see the facade of Palazzo Maria, an important historical building which belonged to a Sicilian noble family. Other important buildings such as the town hall are also located in Piazza Duomo.
We then went off to explore all the narrow streets opening out on to views of the sea and Cefalù's beautiful wide sandy beach. Cefalù reminded me very much of Scilla. They are quite similar.
The interesting building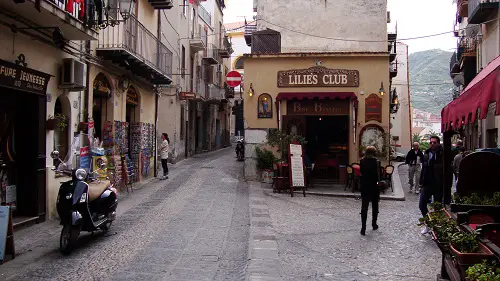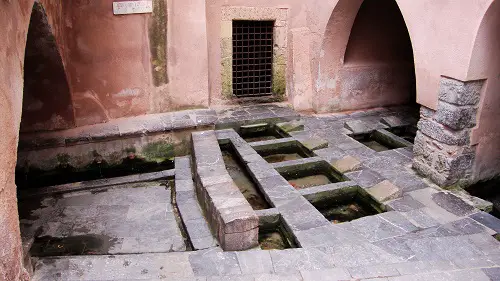 As we walked along the narrow streets, we could see many shops, bars and restaurants tucked away into side streets. There is plenty of shopping here. We stopped at a very interesting building which was used in the Middle Ages to wash clothes. The water would run down from the mountain so the local people would go there to do their washing. Even today the water flows down into it.
Just around the corner from this place, we found a neat row of restaurants overlooking the rocks and sea. You have to enter from the street and then go along a long corridor where you can eat indoors or if you want to eat outdoors, there is outdoor dining on stilts.
Dining in a picturesque setting in Cefalù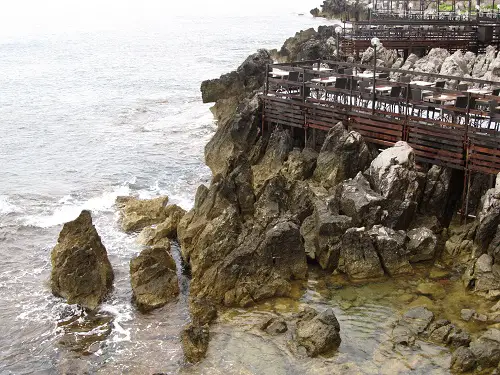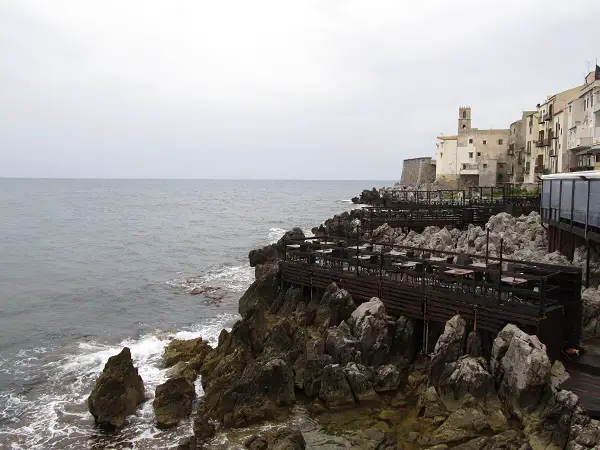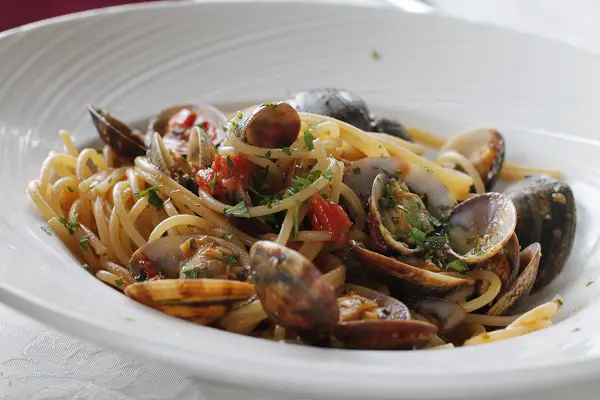 Exactly the same ones you can find in Scilla. That is why I mentioned earlier the similarity between them. These ones are extremely picturesque as you are surrounded by rocks and sea with the most stunning views of quaint fishermen's houses. The speciality is of course, seafood along with other delicious local delicacies. We had lunch overlooking the sea.
You can also visit the Mandralisca musuem and admire the famous rock, Cefalù's backdrop where you can also visit the ruins of the Temple of Diana, a megalithic monument. There are many nice walks up in the mountains above the town where you can see the beautiful sanctuary of Gibilmanna 800 metres above sea level or go mountain biking.
There is so much to see and do in this town. If you stay longer, you can also visit the other towns along the coast such as Gioiosa Marea or Capo d'Orlando and even Palermo, approximately 70 Kilometres from Cefalù.
Accommodation in Cefalù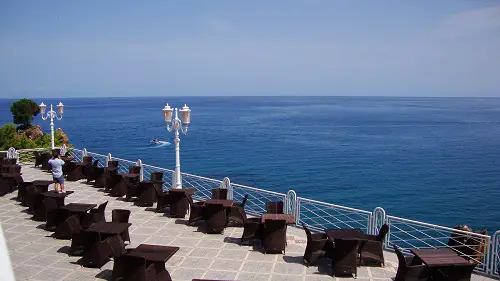 We stayed in a wonderful hotel in Cefalù overlooking the sea with a swimming pool and private beach so we went back to the hotel in the afternoon to use the private facilities and relax. It was like being on a cruise ship as you could only see the sea.
This hotel is built into the rock and very characteristic. The breakfast terrace overlooked the sea and breakfast was incredible. You will find plenty of hotels, guest houses, private villas and B&Bs in this town. [widgets_on_pages id="Cefalù deals"]
Early evening we walked back into town to enjoy the evening atmosphere of Cefalù. What an atmosphere!
The evening atmosphere
It was full of people walking along the promenade, shopping until 8pm and restaurants and bars with many tourists and local people. Seeing Cefalù at night is worthwhile as it is spectacular with all the lights twinkling against that breathtaking backdrop.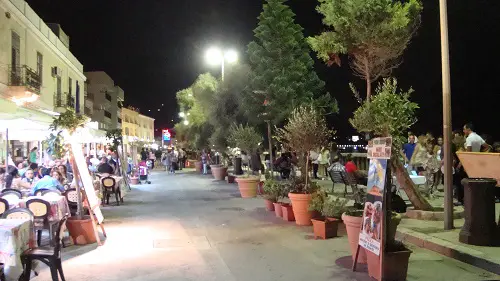 People were still walking around the streets until well after midnight. There are many piano bars for those who just want to enjoy nice relaxing music and plenty of nightlife for the young ones. There is always street entertainment. You can find artists painting the incredible scenery in front of them.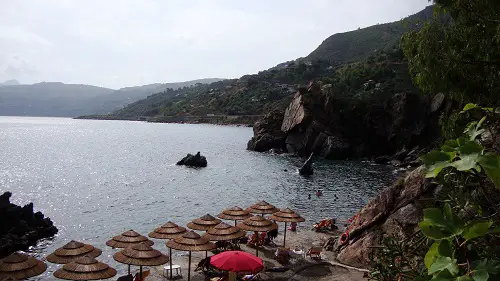 The next morning we went to the hotel's private beach and spent some time there before having lunch. One more bout of sightseeing and then it was time to return to Messina.
You can spend longer. I recommend at least two nights here if not more. I have to be honest, it will be difficult to leave but you will be rewarded with the most incredible memories and photographs of this magical place. If you plan on staying longer, you can enjoy this wonderful boat trip and see Cefalù from the sea.
There is also the opportunity for swimming. Snacks and drinks included. You can visit the Madonie park and the Tardara forest mountain biking on this excursion.
Millions of tourists fly to Palermo from all parts of the world to visit this international famous resort every day at any time of the year. You can book your airport transfer here. For those staying in Calabria, it is not so far. You can combine your stay in Calabria with a few days in Cefalù. You can also visit Taormina from Calabria. Read about my trip to Taormina.