Calabria is a perfect base to explore Sicily. I recommend staying in Calabria and spending one or two nights in Sicily. Ideally, you could do 7 nights in Calabria and 7 nights in Sicily. I would like to share with you my weekend in Santo Stefano di Camastra in Sicily. Santo Stefano di Camastra is about 135 km from Messina. It is famous for its Sicilian charm and beautiful ceramics.
The journey from Calabria to Sicily
We started our journey from Villa San Giovanni in Calabria for our hydrofoil crossing to Messina. After a 20-minute comfortable ride on the hydrofoil, we arrived in Messina. We took the train from Messina to Santo Stefano di Camastra. The owner of the B&B kindly came to pick us up and take us to our accommodation.
We then started to explore the town. As a keen ceramic collector, this place was on my bucket list for a long time. Finally, I managed to get there. I was pleasantly surprised. It is a very clean and colourful town with many old historic buildings, full of character and charm. There are about 4,000 inhabitants.
The ceramic town in Sicily
The main industry here is of course, ceramics and pottery. I learnt that this was the new town of Santo Stefano di Camastra and that, the original town in another nearby location had been badly struck by landslides and the terrible earthquake in 1693.
It was thanks to this mud that made Camastra one of the most important pottery towns in Sicily. They even have their own ceramic museum and ceramic art schools.
I had never seen so many ceramic shops in one street. There is a whole street with so many of these shops. It is wonderful to see that this tradition still exists and has made the town quite wealthy. The town itself has many buildings using beautifully hand-painted ceramic tiles in its facades or public places.
Public places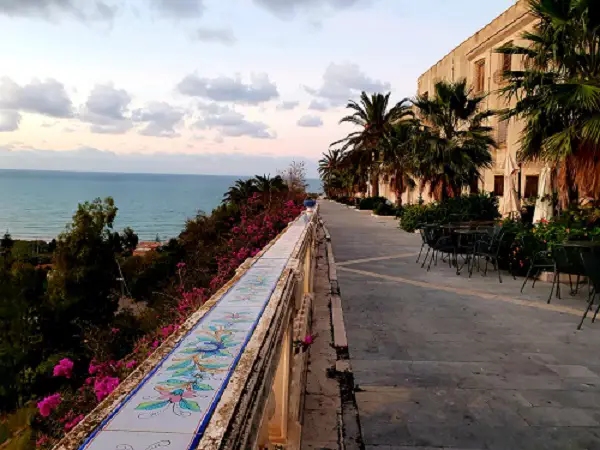 There is the belvedere in the centre of town with the most beautiful balcony balustrade with ceramic tiles as well as bright pink bougainvillea growing along the side of it overlooking the sea. There is a pretty bar with tables and chairs next to it so you can relax and really enjoy this incredible scenery.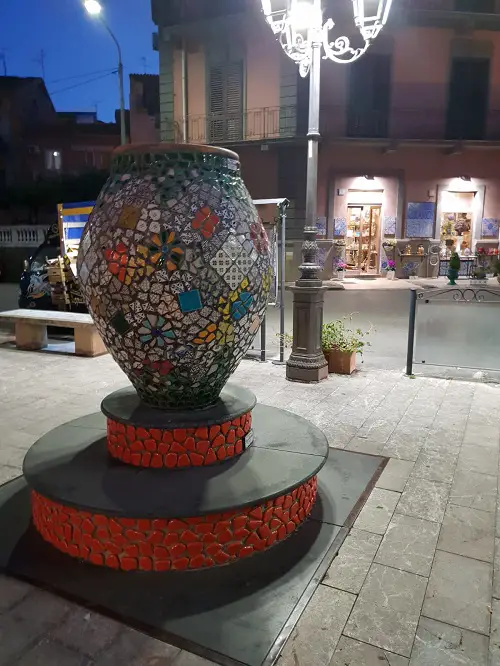 A huge mosaic vase in Sicily
The ceramic tiles are also seen in the walls of the small train station which is very welcoming. Mosaics cover huge ornamental vases which you can see in the streets. Switch panels in hotel rooms with hand-painted ceramic decorations. Ceramic wall panels are everywhere. You can see this in the restaurants and in the B&B where we stayed.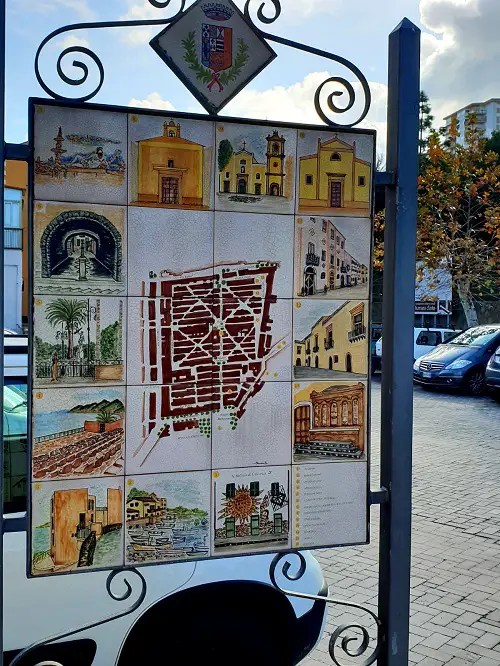 Some of those tiled panels depict stories of the past or show you the main attractions in the town. Sicilian head vases are on the tables in bars, restaurants, terraces. The Sicilians of Camastra are very proud of their town. The public garden has some interesting art work and again, wonderful panoramic views of the town overlooking the sea.
Ceramic shops in Sicily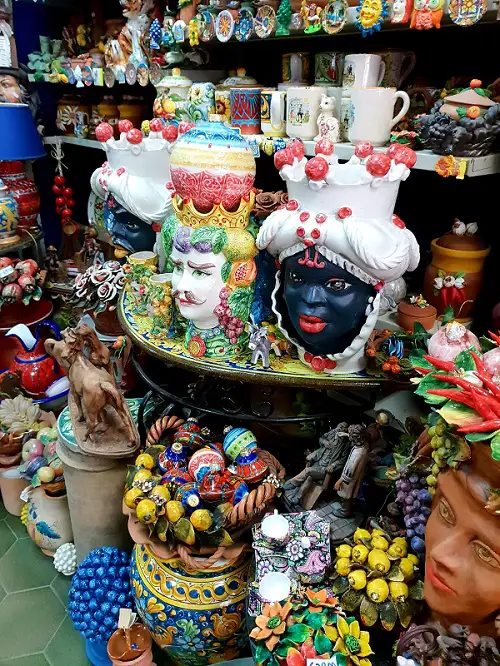 There are numerous ceramic shops where you can buy these products. Sicilian head vases are definitely the most popular. The story goes that a Sicilian lady fell in love with a visitor from a distant land with very dark features. She did not want to lose him, so she cut off his head and covered it with flowers so that she could always look at him on her balcony. These vases have a special name, teste di moro and you can see them everywhere in Sicily. You can also purchase them here.
There are many interesting objects which tell stories about the traditions and culture of Sicily. You will love the number of ceramic shops here. The thing I love about ceramics from Sicily are the colours they use. They are always so bright and vivacious and make good souvenirs to take home and remember this piece of Italy.
Window displays
As well as ceramic shops, there are other shops which always seem to have beautiful displays in the shop windows especially, during Christmas time. There are lights everywhere which contribute to the spectacular magical Christmas displays. There are wonderful churches to visit and small squares.
Bars and restaurants in Sicily
Everywhere you go in Camastra, you will see plenty of bars and a few restaurants. I noticed in the evening the pavement cafes were full of people chatting, enjoying outdoor life in the evening and the Sicilian delicacies. The typical pastries in the bars are cannoli, cassata, delicious ice-cream and other delights.
All the bars and restaurants have those Sicilian head vases, but on a smaller-scale, given the size of the tables. The restaurant we ate in also had ceramic tiles on the floor and these beautiful ceramic panels. Camastra is a ceramic lovers paradise.
Accommodation
There are only a few hotels, but you will find lots of B&B's around the town. We stayed in a nice B&B near the centre. The owner was very friendly and the accommodation was superb. We were a little surprised to go to a bar nearby to have breakfast but it was only 5 minutes away. All the people in this town are very friendly and helpful. The owner even took us back to the train station.
The train station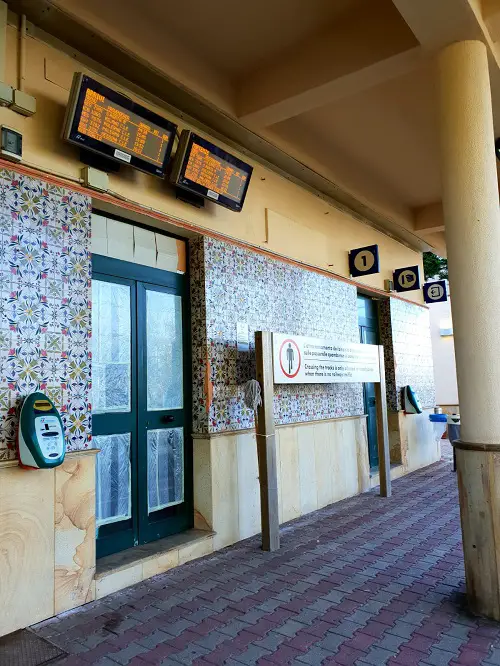 The station is on the seafront of Santo Stefano di Camastra. The actual town centre is situated high up on a hill. It took about 10 minutes in the car to get to the centre of town. The owners of the B&B's understand that when visitors arrive by train, it is not easy to reach and they will come and pick you up. Check this before you book accommodation.
We took the train back to Messina and the hydrofoil to Villa San Giovanni in Calabria. I felt two days were enough in Camastra, but there are so many other places to see in Sicily. You can combine Santo Stefano di Camastra with a trip to Tindari or Taormina. You can also read about the ceramic town in Calabria here. Use my travel resources here to get around and see here which places to visit.