When we think of the scenery in Sicily, we think of picturesque fishing villages and seaside resorts along its many coastlines but we rarely think about the villages in the mountains. Sicily would not be Sicily without these mountains. I would like to share with you my day in the majestic Nebrodi mountains. This mountain range is located in north-eastern Sicily and its highest peak is Mount Soro, which is 1847 metres above sea level. The area is full of streams, rivers and lakes as well as a carpeted forest of beech and oak trees.
The Journey
We left from San Giovanni in Calabria and took the ferry to Messina (30 minutes). We then drove to the town of Patti, which is in north-eastern Sicily. You can also get the train from Messina. The journey to the coastal town of Patti took about 40 minutes. I recommend staying at the hotel Marconi if you would like to stay right in the centre of Patti. It is in the historical centre in the main square. I stayed there with my mother and they could not have done enough for us. It is modern and comfortable and the staff are wonderful. On this occasion, me and my husband stayed at a wonderful farmhouse 10 minutes from the seaside town of Patti. You can read more about this farmhouse here.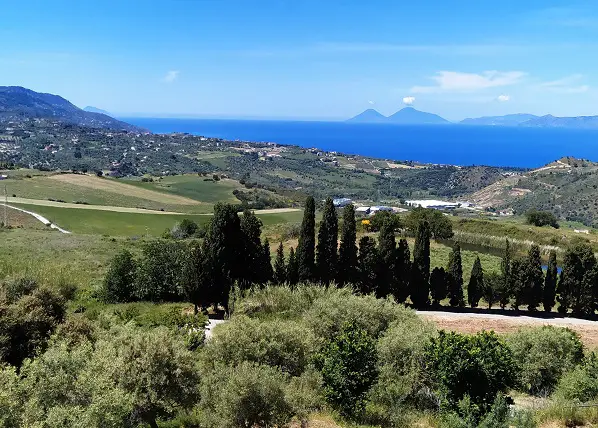 Once we reached the farmhouse location, we really understood that we were in another world. A complete rural experience with stunning scenery. It was like we were in the middle of the countryside far from anywhere and yet we were only 10 minutes away from a beautiful beach resort. We decided to explore some of the mountain villages and we really did feel like we were climbing to the top of Mount Soro as the roads got steeper and narrower.
Ancient mountain villages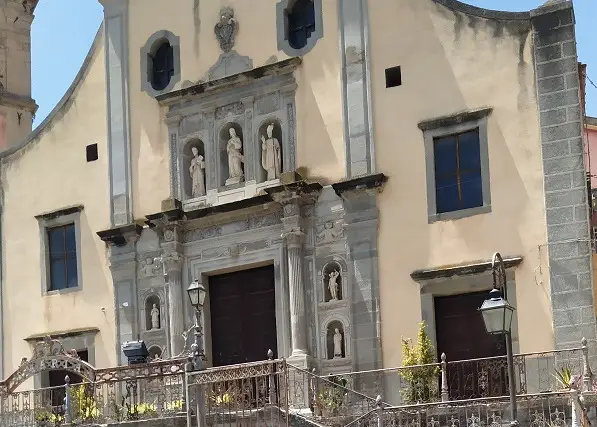 As we were climbing up, we could always see that unforgettable view of the Aeolian islands. Once seen, never forgotten, especially from up there. In fact, it was like these seven islands were floating in the clouds and seemed closer to us than when we were on the coastline. You can read more about these islands here. The first village we stopped at was San Piero Patti. It is located 450 metres above sea level.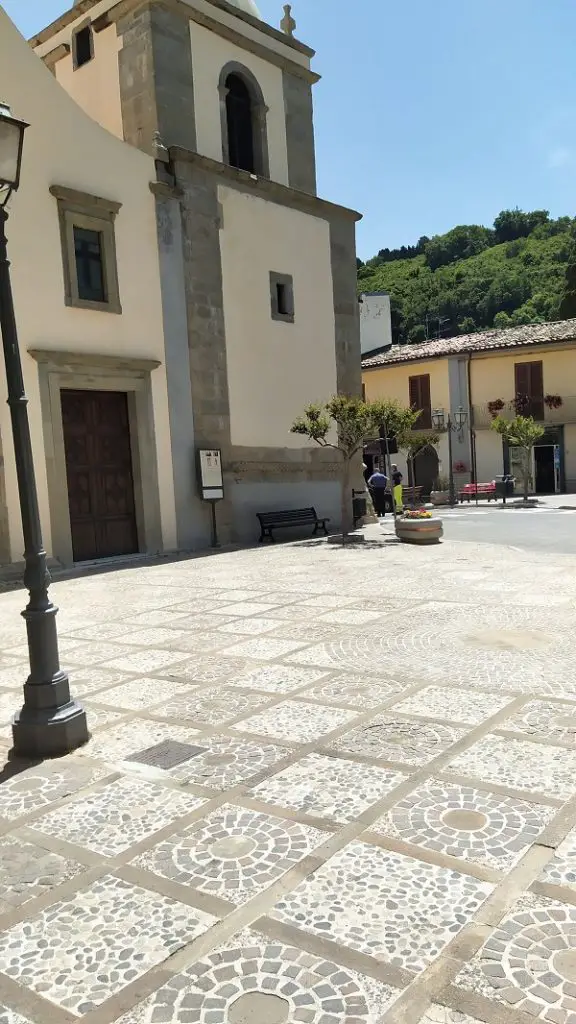 I instantly fell in love with this village. It really does take you back to the old Sicily where hardly anything has changed, including the Arab district. The Arabs invaded it in the 9th century, hence its name Arabite (Arabs). Although some of the buildings are in a state of disrepair, it still holds its Arab charm.
However, many Italians born in San Piero Patti who have lived and worked abroad are returning and transforming these houses into wonderful homes as well as many foreigners. We visited the main square which is very pretty with its beautiful church, cafes and shops.
Stunning scenery from this viewpoint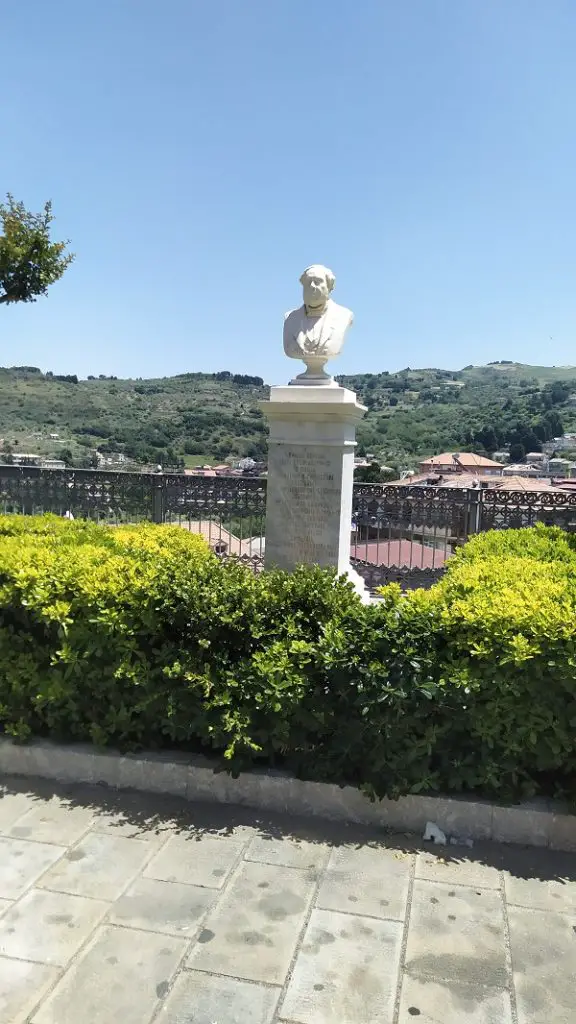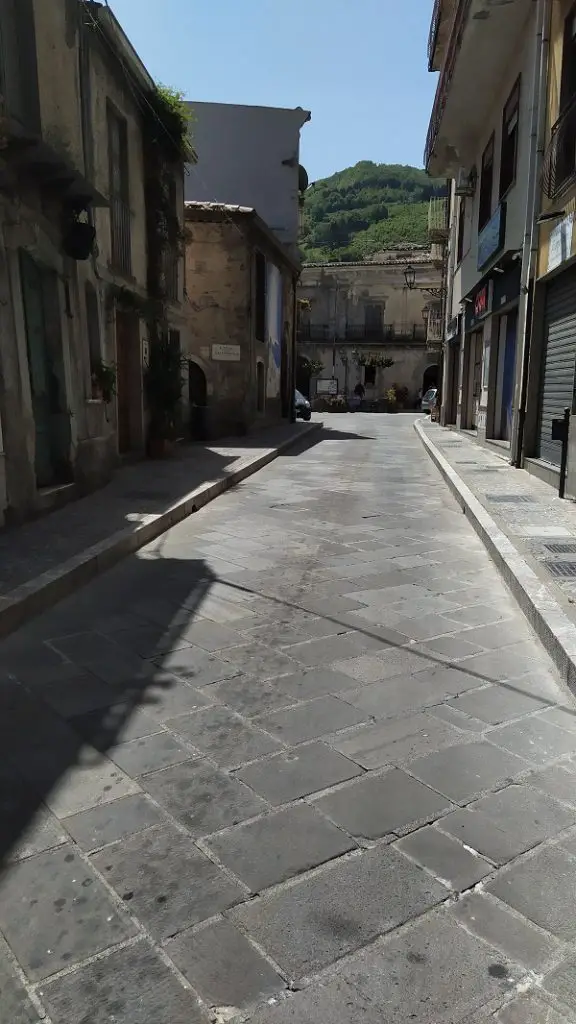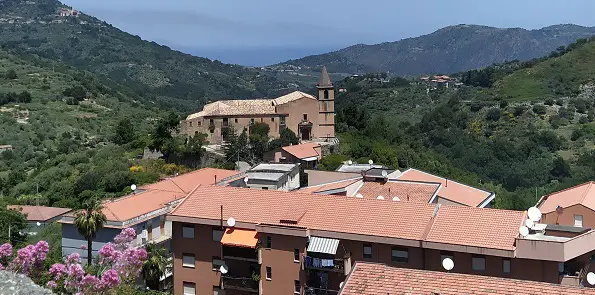 We wandered along the centro storico which is a real joy to visit. It has plenty of cobbled streets going off in all directions but with always a view of the magnificent Carmelite convent, which often holds classical concerts and exhibitions. There are plenty of shops, eateries and cafes in this town. My favourite part was the church of Santa Maria Assunta. It is a beautiful church with a wonderful viewpoint where you can admire the rural scenery and see clearly in the distance the Aeolian islands.
There are benches close to it so you can sit there all day and enjoy that wonderful view. It is a very quaint medieval town with plenty of character and views. The inhabitants do not need go to down to the coastline to swim as they have their very own waterbodies on their doorstep including river Timeto and a few lakes.
White mountain scenery
There are plenty of walking excursions here and a paradise for mountain bikers. They have many cultural events in this town all year round. Christmas time is also a nice time to visit as they do not economise on decorations. The streets are full of them and likewise in the summer with their hanging umbrellas or different coloured ribbons.
You might even be lucky to enjoy a white Christmas there as it snows in the winter. The scenery is even more stunning covered in this thick white blanket of snow. There are two wonderful B&Bs in San Piero Patti, a cosy B&B which is only a five-minute walk to the main square or this B&B right in the square. I have stayed in both of them and both offer incredible hospitality and comfort. It is also usual to find farmhouse accommodation Agriturismo outside the town or anywhere around the Nebrodi mountains.
Stunning views of the sea and the countryside
We stopped at the village of Campogrande at a nice bar for a cannolo and cappuccino, not so far from Tripì. It was then time to head to the next village. The village of Tripi was a roller coaster ride experience. To reach it, we had to drive along a very narrow road and as we got closer to the village, the road would get steeper and even more narrower. It is famous for its necropolis but you need to have exceptional driving skills to go there.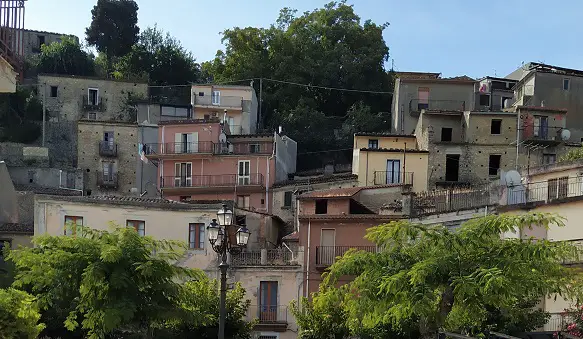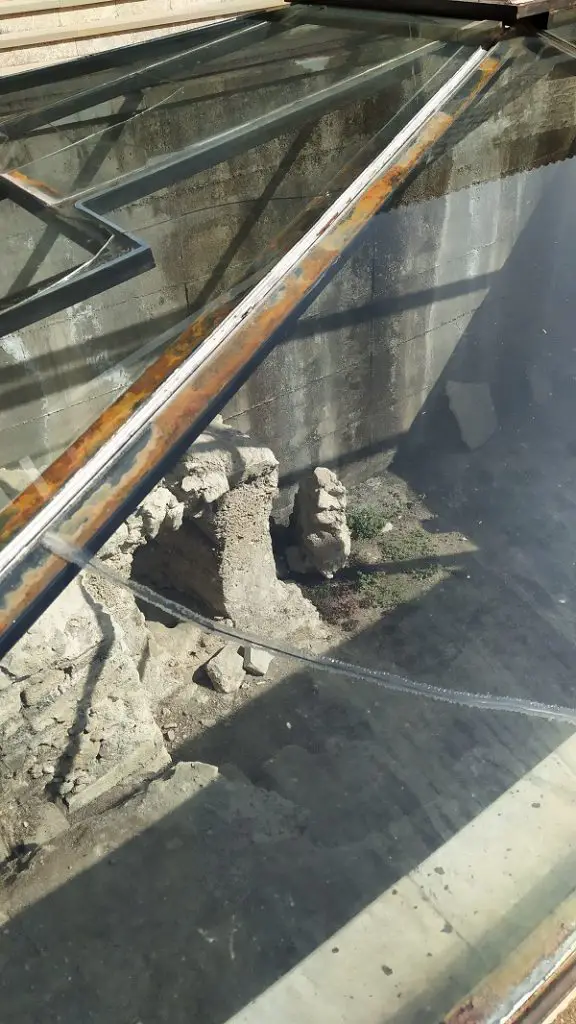 We then headed to Basicò 550 metres above sea level, but the road was much flatter and easier. Another pretty village in a remote area with stunning views of the sea and the countryside. Only 500 people live in this small village. We stopped for coffee before exploring the area. Some of these villages are museums within themselves, although you can visit the baron's palace and the folk museum in Basicò as well as the interesting crypt outside the town hall. Basicò is famous for its provola festival.
Medieval wonders in the Nebrodi
Our last town was Montalbano d' Elicona which reminds you of inspector Montalbano, but actually, it does not have anything to do with the TV Series. It is a beautiful medieval town with a wonderful castle and definitely much larger than the other small villages, but an absolute highlight. You will find plenty of shops, cafes, bars and restaurants as well as churches and that magnificent castle built by order of Frederick II. The Nebrodi is full of medieval wonders. Read more here about the Nebrodi mountains.
It is located high above the town and the views are breathtaking. We decided to have dinner in the evening at this wonderful Agriturismo near Tindari called Antica Tindari. I defintely recommend the food and wine there. They even make their own wine and there are rows and rows of vineyards right in front of the restaurant.
Food and scenery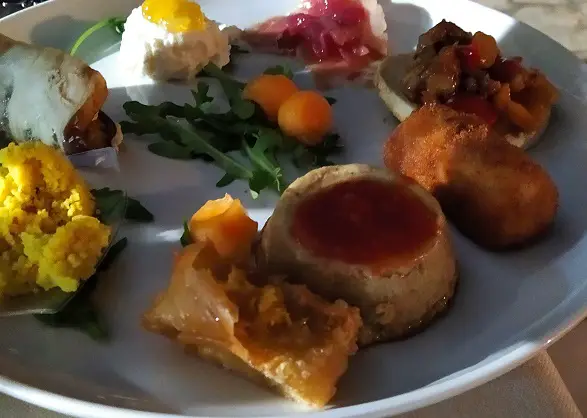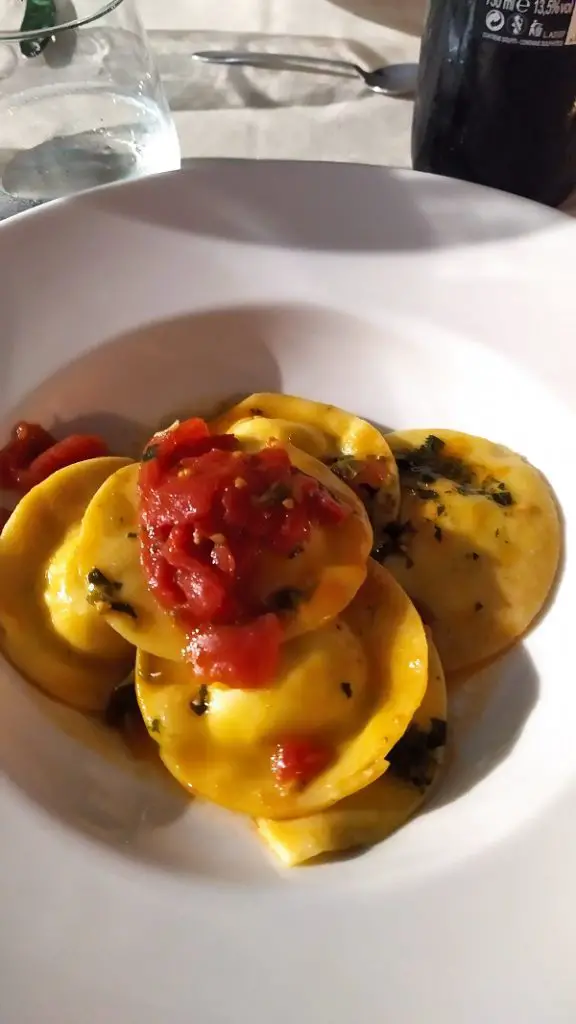 We ate outside in their pretty garden. I had the typical antipasto. It came with eight Sicilian specialities. I definitely recommend it. The starter was fresh pasta with ricotta and a tomato sauce. For the main course, I had Involtini di maiale (rolled pork done in breadcrumbs) and a bottle of their divine red wine. The starter was only 10 euro and that would have been enough. I was too full to even order a dessert.
One day is definitely not enough to see what the Nebrodi mountains offer, but only a taster, which means I will have to return again and again to see everything. The scenery takes your breath away. I recommend at least one week or more. I would like to see San Piero Patti at Christmas time so look out for this post.
All good things must come to an end and unfortunately, we could only visit a few. Of course, there are many more of these mountain villages to visit, each one unique but what they all have in common is that spectacular scenery.
This is why you cannot miss the Nebrodi mountains when you come to Sicily. You can read more here about my trip to Enna, the highest province town in Italy or why not combine a mountain experience in Sicily with one in Calabria. Read more here about my weekend to the Sila mountains in Calabria. You can use my travel resources to get around here.