Calabria is not only about sea, beaches and flat coastal towns, but it is also has incredible mountains with spectacular alpine scenery, ski resorts in the winter and home to the most beautiful Corsican pines (Black Pines), The plateau is about 650 square miles, the UNESCO world heritage site is in three areas; Sila Greca, Sila piccola and Sila grande. This protected national park in Calabria will take your breath away with its ancient thick forests as it did mine. There are plenty of mountain villages as well as skiing.
Winter in Calabria in the mountains
It is beautiful both in summer and winter, but I definitely recommend winter when it is covered in snow and everything is white. It looks like a fairytale land resembling Narnia. Also perfect for ski enthusiasts. The highest peak is Mount Botte Donato, 1928 metres. Camigliatello Silano, Palumbo and Lorica ski resorts are very popular with skiers. They have ski runs for beginners and experts as well as plenty of other winter sports activities. Let a professional ski guide take you on one of these routes with lunch included.
or enjoy a wonderful trek snowshoeing amidst incredible snowscapes
How to get to the Sila National park from Lamezia airport
We headed for Cosenza, We were part of an organised tour. The Sila National park is approximately 1 hour and 35 minutes (111 km) from Lamezia airport, Calabria's international airport following signs for Spezzano della Sila. The most popular resort to stay in is Camigliatello Silano as there is plenty of accommodation and amenities. You will find some good deals below:
I recommend renting a car as it will make it easier to get around and visit many different parts of the park or why not rent an e-bike. Our hotel was located near Moccone as part of this trip was to go on the historic train of the Sila.
Cupone walking trails right in the mountains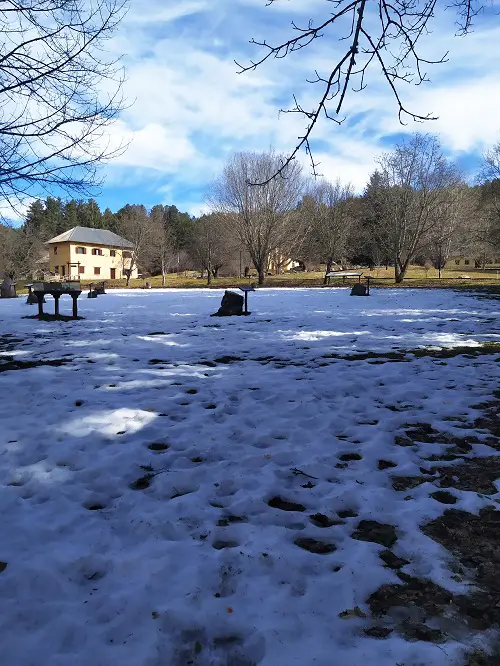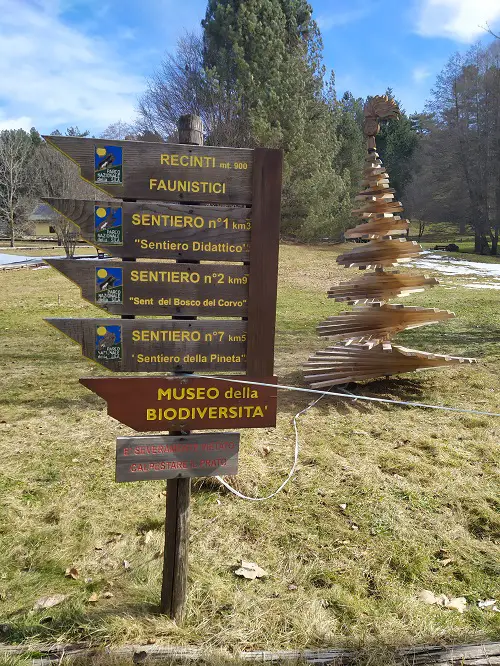 We stopped first in Cupone which is amazing for its flora and fauna and trekking. There are some incredible trails for keen walkers. We went on a short walk with a superb Alpine guide who lead us along a wonderful trail where we could see the Sila's incredible flora and fauna. We saw some beautiful red deer, roe deer, horses and could even see in the distance, the park's resident wolf. There is an interesting museum you can visit to learn more about this park. You can also go on a walking trail with a professional Alpine guide on this excursion
The Corsican pine trees surrounded by mountains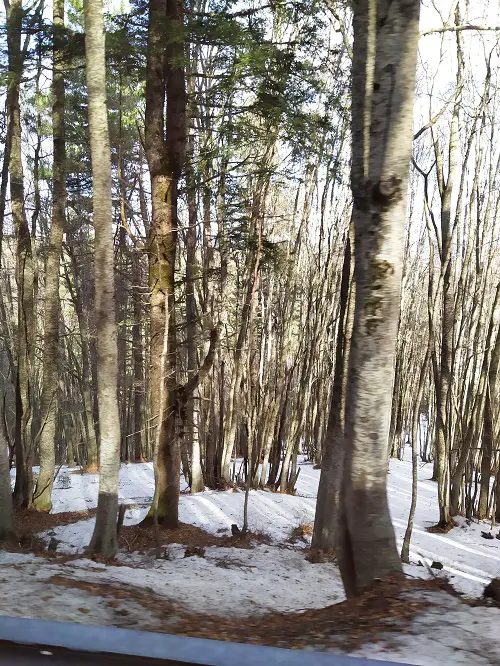 It was an incredible experience and the views were something else. I had never seen so many tall trees grouped together. These majestic Corsican pines are everywhere you look. Ancient thick forests all around you. Some of them grow between 40 to 60 metres tall and live to more than 500 years old. The Corsican pine or Black pine is native to the Sila mountains. Another incredible hike with a professional guide includes lunch. Read more about this trek.
Snow had fallen in the last few weeks but unfortunately, It was starting to melt when we went. You could see this in the mountains. The locals explained that more snow was to fall, but unfortunately time was against us and we were going to miss this spectacle. I would like to see the Sila completely white and snowing so I will return soon. Nevertheless, there was still enough snow for me to enjoy its incredible beauty.
The hotel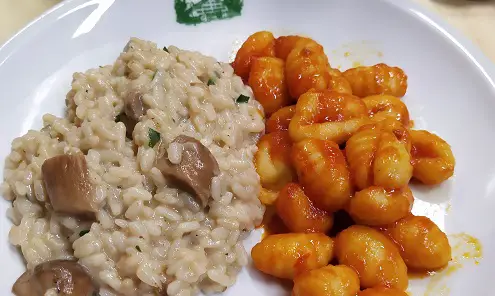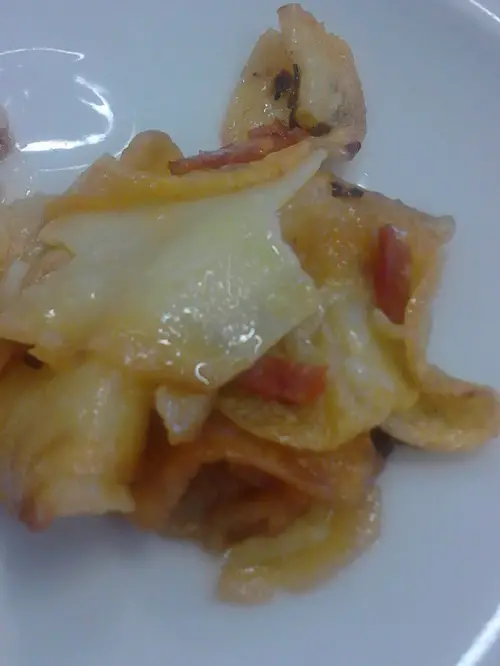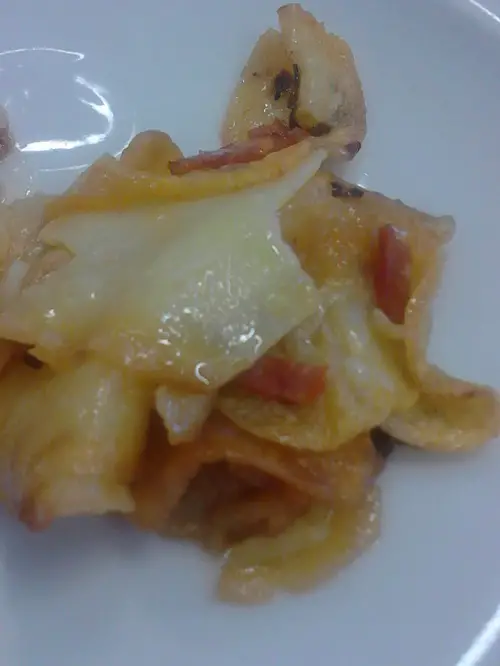 After our trek and admiring this incredible scenery, it was time to retire to the hotel. It was a busy hotel with trekkers, skiers and other excited visitors ready to capture the beauty of the Sila mountains. After a rest, we headed to the hotel restaurant where we were served the delights of the Sila. Risotto cooked with mushooms from the Sila and another type of pasta gnocchi, meat and of course, potatoes from the Sila mountain range. I have to say they were the best potatoes I had ever tasted. An old Silan recipe called 'mpacchiuse and tiramisù with local red wine.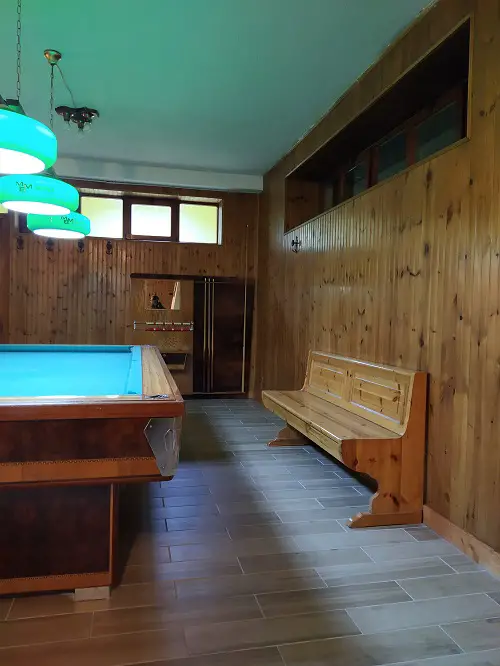 I could not help noticing the group of jolly diners next to us. There were at least twenty of them sitting at a very long table. After dinner, we were all invited to the entertainment evening organised by the hotel. First we went to the games room which gave you that alpine feel with the room cladded in wood and a roaring fireplace which made it very cosy. There was a large bowling alley, snooker and poker tables.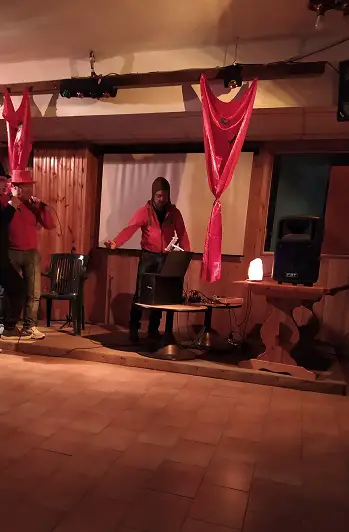 Next to this room was a small theatre where they held shows. We all headed off to this room where we were entertained by two entertainers. The entertainment was excellent and the group who was sitting next to us in the restaurant could not stop laughing. I then learnt the next morning that one of the entertainers was actually a hotel guest, the one who belonged to the group at the long table. I think the hotel should hire him. He was a natural and got everyone involved. The entertainment at this hotel was wonderful. We had such an enjoyable evening.
The historic train from Moccone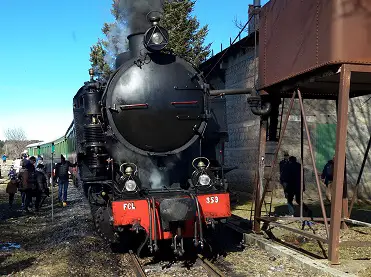 The next morning, it was time for breakfast, which was definitely plenty for everyone and delicious. It was then time to head off to the old-fashioned train station of Moccone to catch the historic train of the Sila. We were all patiently waiting for our train to arrive. It really was an old steam train, something you would never see today. The experience however was incredible.
Once we were seated, a group of Calabrian musicians boarded the train. We were accompanied throughout most of the journey by these folk singers who were dressed in traditional costume singing in Calabrian as they were playing their instruments. Everyone on the train got excited and started clapping their hands and dancing.
It was something you do not see very often on a train. You need to book this train well in advance online as it only runs on certain days of the month http://www.trenodellasila.it The cost of a ticket is 15 euro return and it stops at three stations; Moccone, Camigliatello Silano and San Nicola Silvana.
The scenic train ride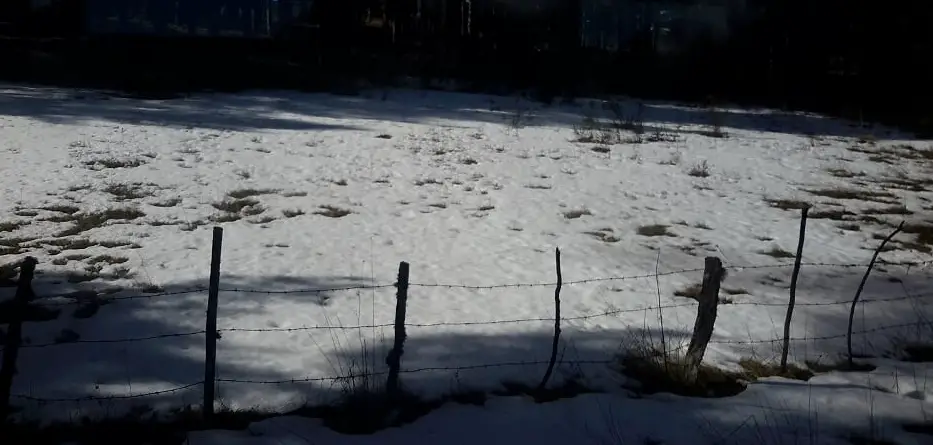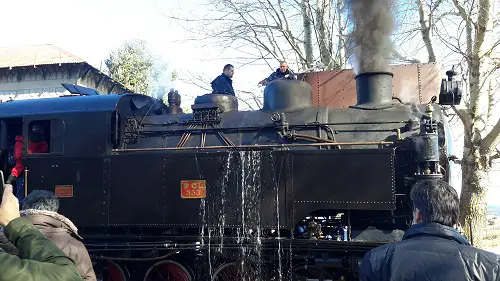 The journey itself was spectacular. The scenery was incredible as we passed forests, fields and could see the mountains in front of us, one equipped with ski lifts ascending the mountain. We suddenly came to a halt in the middle of this scenic field as they started to fill the train with water and all passengers had to disembark from the train. You could breath in pure fresh air with the occasional smell of smoke coming from the train. It is recommended to keep windows closed inside the train.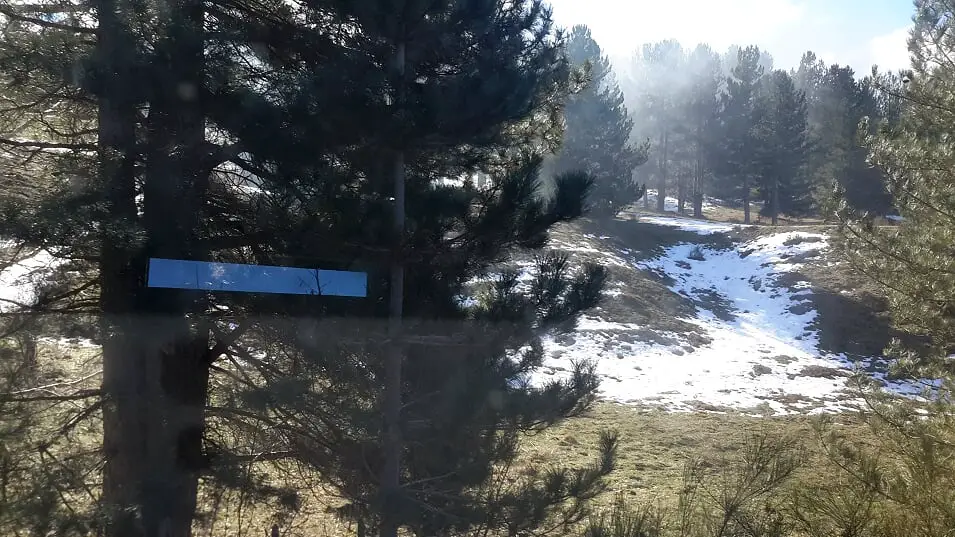 The interior of the train was simple. Wood cladding and interesting light fittings. We all got back on the train with more singing and music. After another spectacular scenic ride, the train stopped at its final station. This was the most interesting part when the front of the locomotive was being turned around ready to join the rest of the train for the journey back. There is also the option to have lunch in a characteristic train carriage at the station of San Nicola Silvana with the mountains in the distance.
Tasting typical cheese from the Sila
Once you arrive there you will be able to taste the delicious cheese Caciocavallo della Sila, typical cheese made in that area. As soon as you get off the train, there is a cheese stall laden with pieces of cheese to offer to the visitors. You can also buy the cheese as a souvenir. It was a wonderful experience this weekend, but really it was only a taste of the Sila for me.
I will be heading back soon to try some ice skating at the ice skating hotel Palaghiaccio where the hotel has its very own ice rink and close to the ski slopes. Look out for this post in the future. I keep saying this but it is true, Calabria is full of hidden delights and surprises. You could be sitting in the sun one minute and then climb up to the Sila mountains to see a winter wonderland in winter. Definitely recommended. You can read more here.