If you are looking for scenic views, look no further than Enna in Sicily. Enna is located in central Sicily surrounded by valleys and farmland. Not only is the town a joy to visit, but the views from there are truly spectacular. There are scenic spots all around the town where you can admire these views and the drive up to this hilltop town is something else. Views, views and more views. Enna is the highest province town in Italy. It isn't close to the sea but it has a beautiful lake called Pergusa and wonderful fountains around the town.
The journey
We were coming from Palermo and therefore, took the motorway Palermo-Catania and followed signs for Enna. It is about 1 hour from Catania. You can also get here from Calabria, but then I would recommend at least a couple of nights or more in a rural farmhouse. You will find plenty of them in Enna. A real rural experience.
If you decide to come from Calabria, you will need to take the ferry from Villa San Giovanni to Messina (car hire is recommended for Enna) and take the motorway Messina- Catania and then the motorway for Catania-Palermo exiting at Enna. The journey is worthwhile. Perhaps you can combine it with the hilltop towns of Militello and Taormina.
I had a special reason for visiting Enna which I would like to share with you before telling you about the scenic spots of Enna. I grew up in Scotland and spent a lot of time at my best friend's home. Her name's Maria. She was born in Scotland, but her parents Antonio and Anna came from the scenic hilltop town of Enna. Antonio left Enna at the age of 18, who is now 70 years of age.
Italians from Enna in Scotland
Many Italians came to Scotland in the second half of the 19th century looking for work and better opportunities. Antonio was one of them. He worked hard at the beginning, often being exploited and after a few years, he set up his ice cream cafe and returned to Enna where he married Anna and brought her back to Scotland.
They worked long hours in the ice cream café but it paid off. Subsequently, he bought a hotel and to date he has 5 successful Italian restaurants. They will never live in Enna but they go back every year to see their beloved town. You can see many pictures of Enna in their home in Scotland and they often talk about it. You can read more about southern Italian immigration here.
It is remarkable what the Italians did in Scotland. They could see what the land in Scotland offered. Two wonderful products; fish and potatoes. This was something Scotland did not lack in. They turned these two products into a tasty substantial meal. It is no wonder that there is a fish and chip shop in almost every street in Scotland. Not only this, but they made and still make the best ice cream ever. Read more here.
Delicious Italian ice cream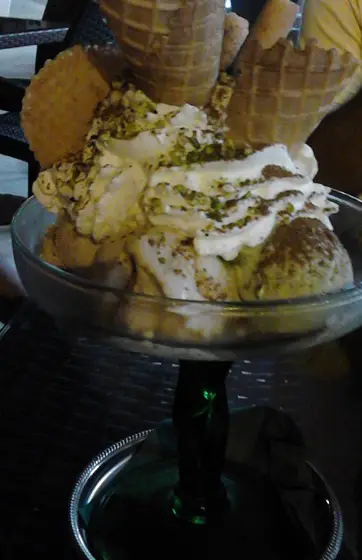 Did you know that you only need just a few simple ingredients to make ice cream? The main ingredients are milk, cream, sugar and whatever you want in your ice cream, pistachio nuts, hazelnuts, chocolate, strawberries, etc… If you do not use an ice cream machine, you only have to transfer the mixture into a container suitable for the freezer and mix every 30 to 40 minutes until you get the texture you like.
Incredible scenic views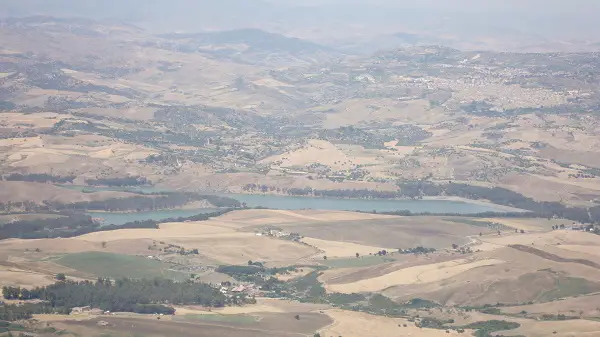 The Italians also opened up ice cream cafes everywhere in Scotland and the rest of the UK not to mention that ice cream cafes are now all over the world. Going back to Enna, they told me a lot about it and I felt I knew the place before I had even seen it. That was it, I was going to visit Enna no matter what. I managed to convince my husband to take me there. My husband was doing the driving. I, on the other hand, could not stop looking at the incredible scenic views as we were heading up this long winding road.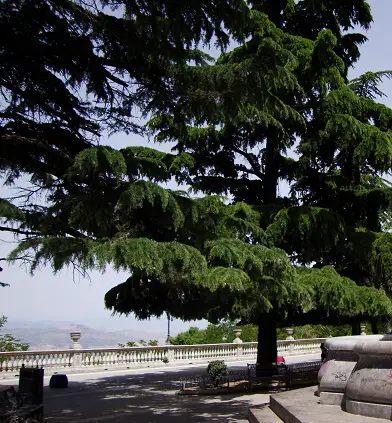 It was so high up among valleys and mountains. It was like we were in the middle of nowhere with only those views, not to forget the majestic volcano of Etna in the distance. You can read more about Etna here. We could clearly see it from there. We finally reached the top of the town and the views were more scenic than ever before, especially from the viewpoint "il belvedere", a balustrade balcony overlooking these picture postcard views.
Scenic spots in Enna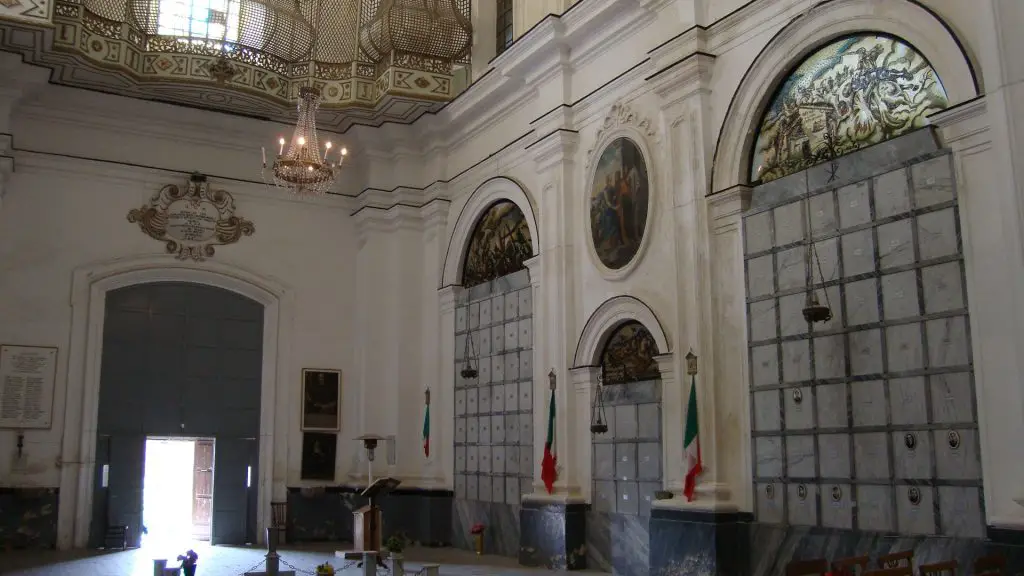 My jaw dropped. I kept wondering how Maria's father Antonio managed to leave such a beautiful place. We reached the centre of town and the first thing we saw was the beautiful church. Frescoed ceiling and floor and other incredible treasures lay within this magnificent building. The processions at Easter time are a definite must. We wandered along all the narrow streets, looked at shops and found a beautiful fountain where we were able to dab our foreheads with that cool water.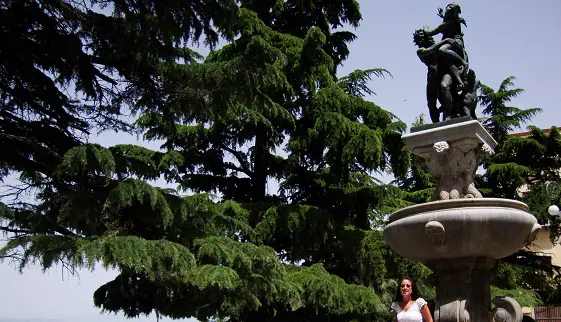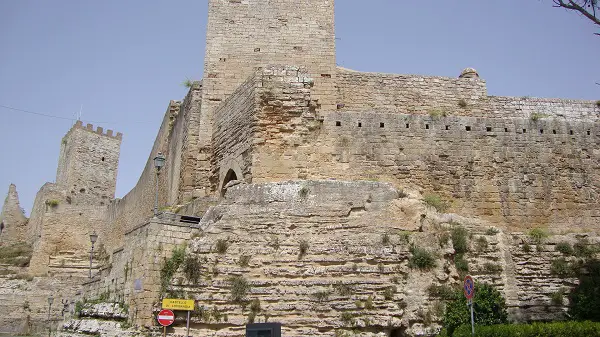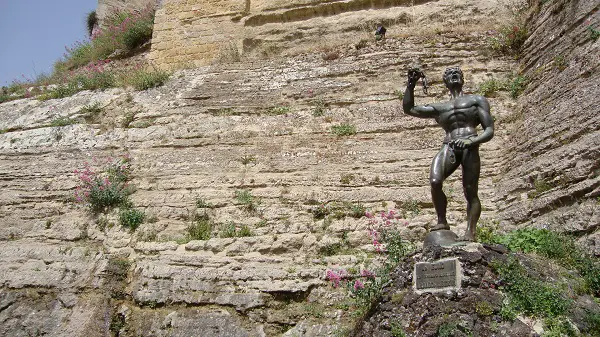 A fountain with a sculpture depicting the story of Persephone. It was very hot even if we were high up in the clouds. The next stop was the impressive Lombardia castle, one of the oldest in Sicily. There was a slight walk up to it from the centre but rewarding once you reach it. The sculpture of the Roman slave leader Enus greets you on arrival. It is like walking back into the past, the castle where many battles took place, all wanting a share of this magnificent structure.
Different architectural styles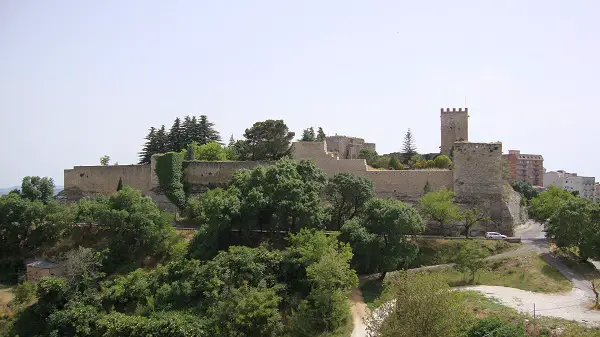 You can see different architectural styles; Norman, Byzantine, Arab, Swabian, etc… reminding us of the many different populations who tried to attack this impregnable stronghold. For even more scenic views from Enna, I recommend climbing up to the top of one of the 6 remaining towers. You feel you really are on top of the world up there. You can see surrounding towns such as Gangi, Geraci Siculo and others.
A visit to the Roman Villa in Piazza Armerina would not be complete, but due to time constraints, we had to return to Calabria. If you are staying overnight, this is possible. Not only does Enna offer you all of this coupled with scenic views, but it is close to one of the world's UNESCO heritage sites Piazza Armerina, the remains of a 2000 year old Roman villa with the most incredible mosaics depicting daily life, hunting and females in bikinis.
I will definitely go back to Enna but this time I will book a farmhouse stay for a few nights. Look out for this post in the future. You can read about my farmhouse stay in Mazara del Vallo in Sicily here. Enna is full of scenic spots and views to take your breath away. I will never forget these views.