December is a wonderful time to visit southern Italy during the festive season with its many Christmas lights, decorations, cribs and events. I love the Christmas atmosphere in these traditional Sicilian towns so I decided to stop over in a small town called San Piero Patti in the Nebrodi mountains before heading to Palermo. This small town is located in north-eastern Sicily. I would like to share with you my experience in San Piero Patti.
The journey from Villa San Giovanni in Calabria
We left Calabria on the 23rd of December from Villa San Giovanni in Calabria. We took our car onto the ferry Caronte. It was very modern inside with comfortable seating and a well-equipped bar full of these Sicilian specialities. It was no wonder there was a long queue of people waiting to enjoy these delights.
The ferry even had its own Christmas tree and everyone looked excited to reach the island of Sicily whether it was to stay with family, relatives or simply just to visit the island at this very special time of the year. It was not as full as previous years. This was obviously due to COVID restrictions and being in possession of a green pass. We luckily had our green passes and travelled with no problems. We reached the town of Patti in about 40 minutes,
The Nebrodi mountains in December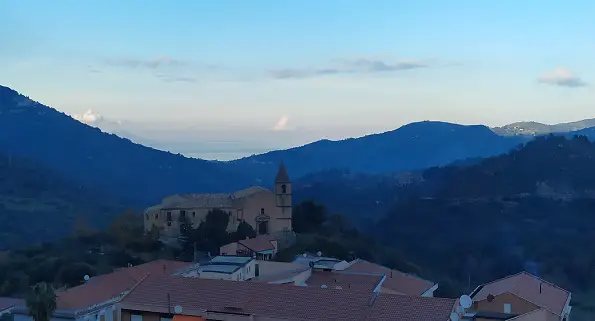 We stopped for coffee before taking the winding road up to San Piero Patti. Every time we go to Palermo, we try to spend one night in a Sicilian village. We had previously visited San Piero Patti in May but I really wanted to see it during the festive season. You can read more here about my stay in the Nebrodi mountains. I was hoping for a white Christmas but unfortunately, it did not snow and was not cold enough for it.
Instead, it was about 14 degrees with bright sunshine when we arrived. We really did feel the cold at night though when it drastically went down to 5 degrees. Still, there was no snow to be seen. I will try again in January or February as it would be wonderful to see this place in a blanket of snow. We slowly made our way up the winding roads admiring the scenery and the Aeolian islands as we got higher.
The B&Bs in San Piero Patti
There was not a cloud in the sky and you could see very clearly the outline of the volcanic islands. We reached the town from Patti in 30 minutes. Our first stop was a bar to eat Sicilian fast food arancine (rice balls), and later cannoli and cappuccino. We had planned to go for dinner in a typical rustic restaurant to try the local specialities but due to COVID, all the restaurants were closed.
It was a week day and they only open now at the weekend for various reasons, however, we were lucky to find a pizzeria so at least, we could eat something. Failing that, the bar in the square serves Sicilian street food and wonderful pastries as well as delicious ice cream.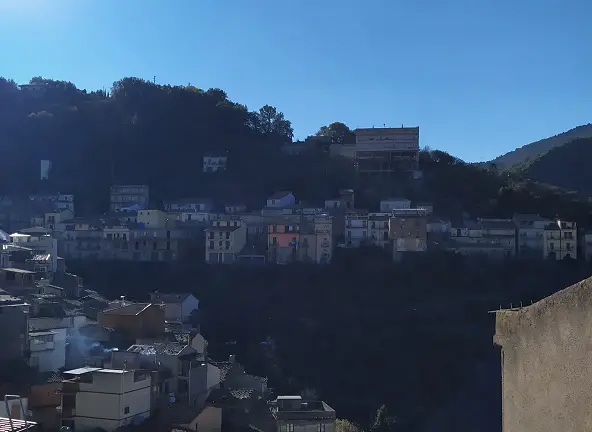 The owner of the B&B met us in the square and accompanied us to the accommodation. It was a quirky B&B with many Sicilian objects and furnishings. Our view was spectacular as it looked onto the town which in the evening looked like a nativity crib all lit up. The B&B was only a 5 minute walk to the square and was very comfortable. I highly recommend it.
The festivities in December
The owner was so kind. We had breakfast in the room which was a basket of croissants, melba toast, jams, cakes and wafer biscuits. There is a coffee machine in the room so you can have coffee when you want. There was even a bottle of water and fruit juices in the fridge. You can read more here about this B&B. We then went around the town but unfortunately, the festivities were cancelled due to COVID. I would also like to mention that on another occasion, I stayed in another B&B right in the square of San piero Patti.
This B&B was also a surprise. Not only did it have that wonderful typical Sicilian décor that we foreigners love, but the owner was so friendly and had all the time in the world for her guests. The establishment is beautiful with large rooms and bathrooms as well as being immaculately clean. The location is perfect. See more about this B&B here.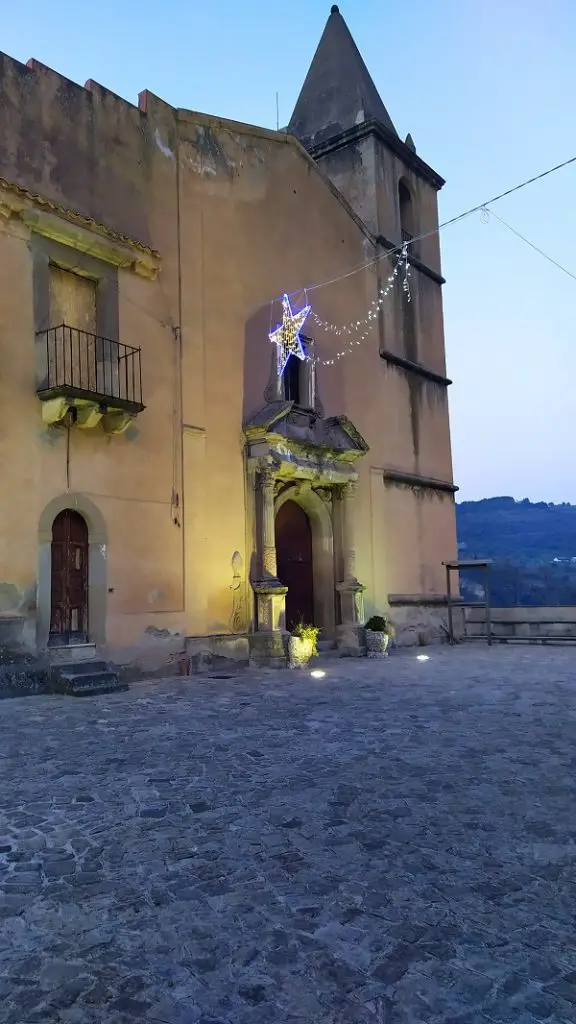 We managed to visit the churches and the outside of the Carmelite convent. The views from there are breathtaking. You can see the Aeolian islands, the sea and the other side of San Piero patti. There is usually an extensive programme of Christmas events during this time but that was cancelled again due to COVID. We hope we can return next year as they usually have Christmas stalls with food tastings, local crafts and music.
Walking in San Piero Patti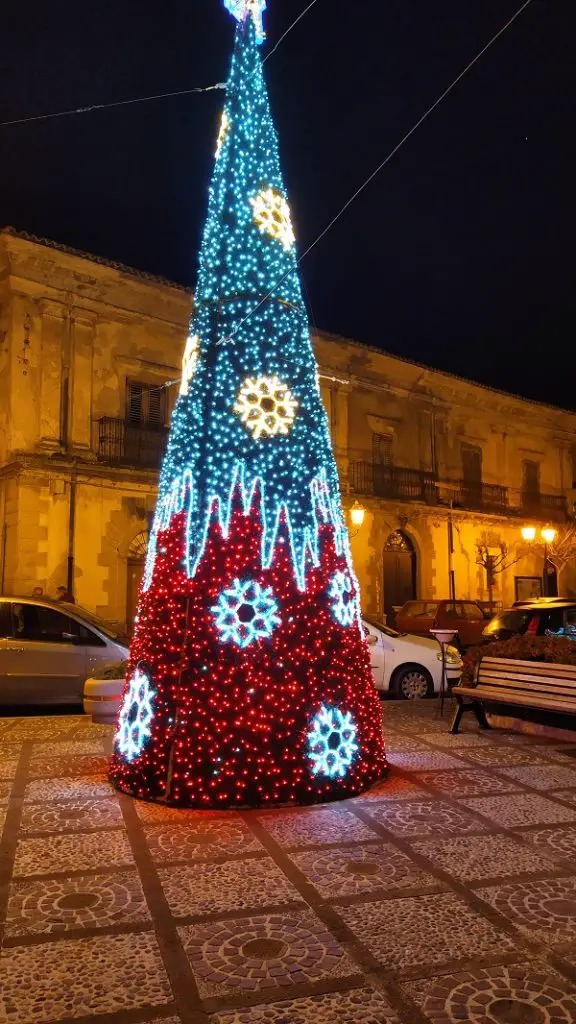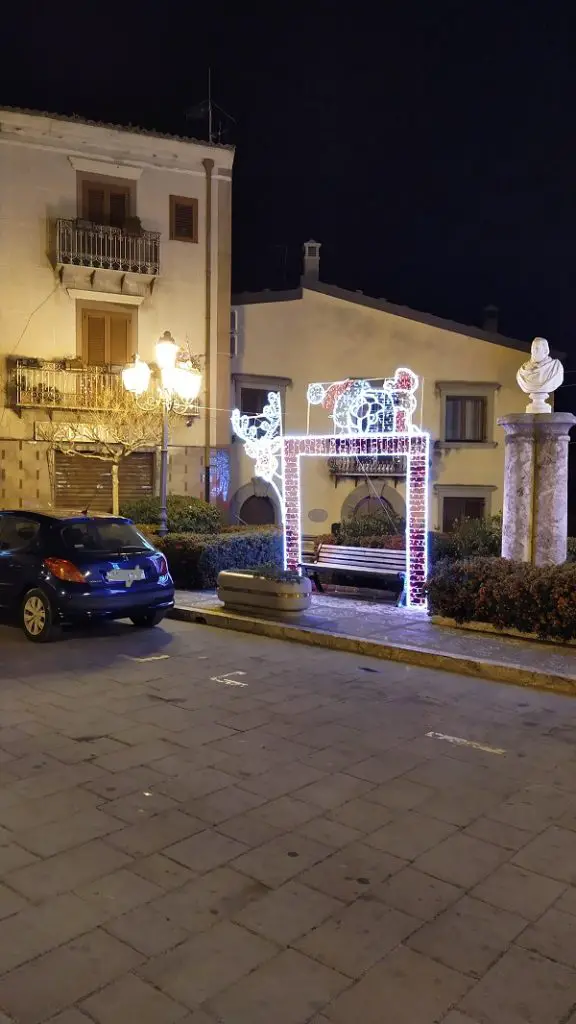 You can see the nativity cribs in the churches. At least, one of the churches was open. December was a nice time to come as the Christmas lights and decorations did not disappoint. They had a beautiful Christmas tree in the square and other decorations. San Piero Patti is a pretty traditional town and you can visit at anytime of the year. Easter is also a special time for their spectacular processions.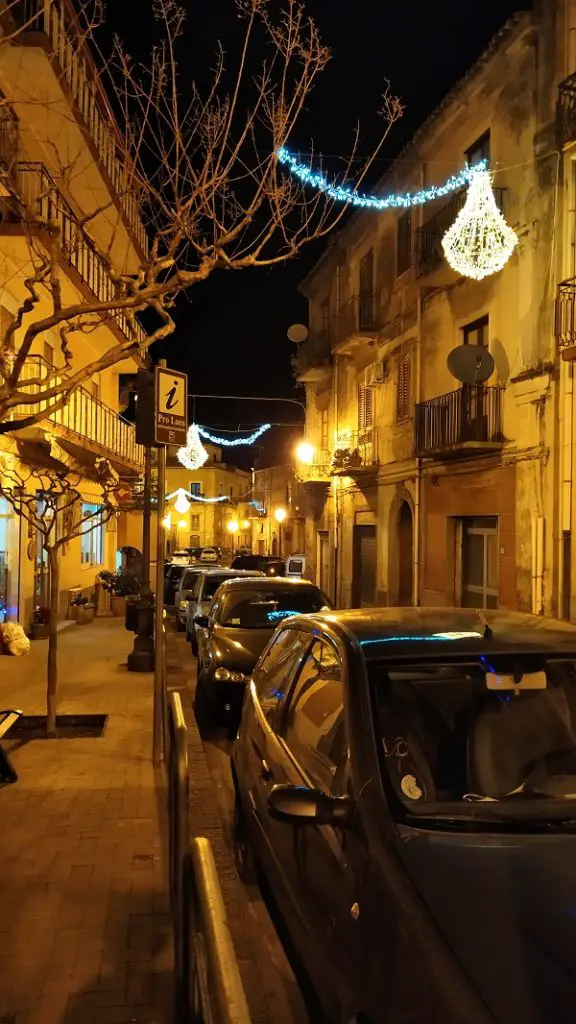 Look out for this post as I would like to see it at Easter time. We walked around the town in and out of its narrow cobbled streets. It is a little hilly and some streets can be quite steep but if you enjoy walking, you will love this town. It is a typical traditional Sicilian town with these old-fashioned shops that we foreigners just love. The good thing about this place is that it has never lost its charm and never will.
Tranquillity and nature in December
There are also plenty of treks near the town which are ideal to do in the summer. For nature lovers, you will love it here. The town is quiet and a great place for those seeking tranquillity and nature. December is a time for many Sicilians to come back from abroad or the North of Italy to visit their families. Therefore, It was a little difficult to find parking at that time of the year.
We had previously come before and you could practically park anywhere. If you however find a parking spot, you can only park for 45 minutes in the centre of town. Luckily we managed to find a place which was free. My advice is that if you come in December to park outside the town and go on foot. It is so much easier and this way you can see everything. You can read more here about San Piero patti.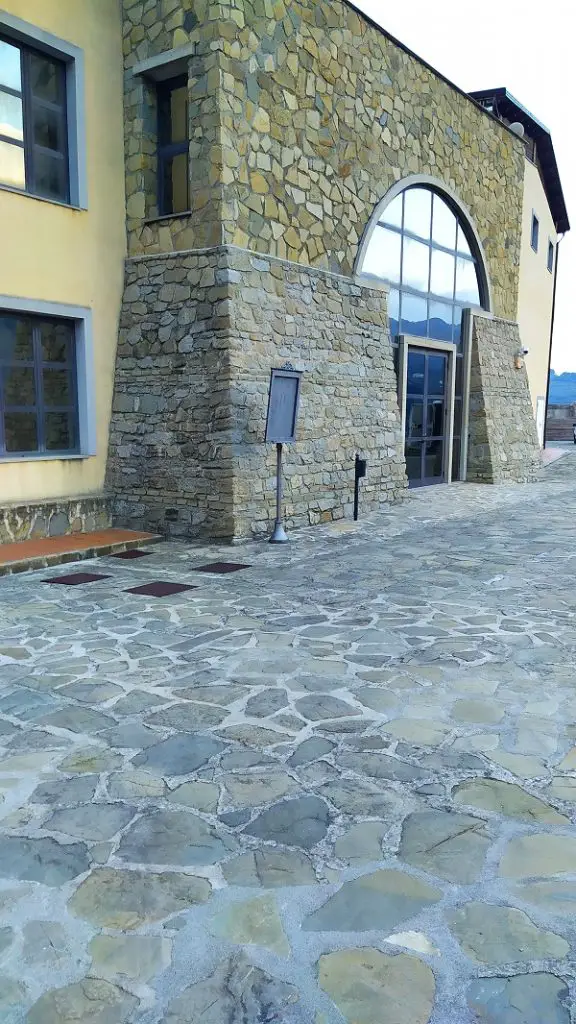 We walked up to the castle, which is now a museum and auditorium, but was closed. Again the views were breathtaking from up there. The town was very quiet and there were not many people around. It seemed like everyone was at home with their families. This was also due to the COVID restrictions.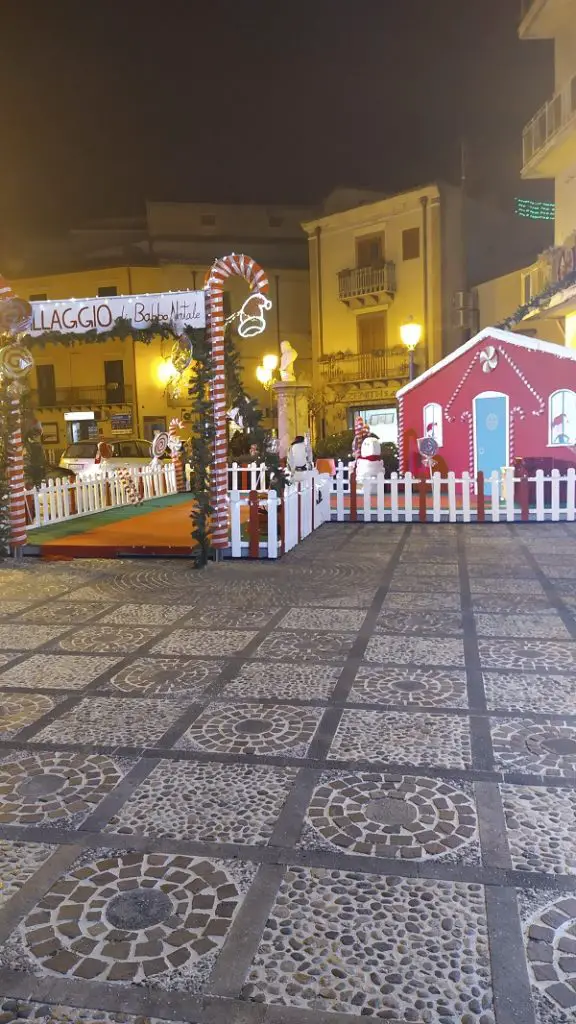 What I really liked about it was the festive atmosphere in December. They made a huge effort to illuminate the town with its wonderful lights and decorations. On the 8th of December all the residents gather in the square to wait for the lighting of the Christmas tree and the opening of Santa's grotto. They hand out to kids a cup of delicious hot chocolate and when the kids have had enough, the adults are allowed to drink the remaining ones. Music is played in the square and all residents dance and cheer.
Unfortunately, we could only stay one night as the next day we were heading to Palermo to visit my husband's family for Christmas. You can read more here about Palermo. Why not spend Christmas in Sicily and New Year in Calabria. Read more about New Year in Calabria.