New Year is a great time to come and visit Calabria and enjoy the culture and traditions. Besides the mild climate, the good food and the festive cheer, you can still go sightseeing. There is plenty to see and do without the crowds. I wanted to share with you my New Year in Calabria. If you book a hotel, you will be able to stay overnight. Most hotels include this in the price of the New Year's Eve dinner.
The New Year preparations
If someone invites you to spend New Year with a Calabrian family then this is a real treat. If on the other hand, you prefer enjoying the festive atmosphere with other party-goers then you have to choose a restaurant or hotel. Most Hotels, Farmhouses and restaurants organise a New Year's Eve gala dinner with a welcome aperitif, a 4 course dinner, pandoro with spumante and plenty of entertainment.
Book well in advance for New Year
You have to book this event well in advance as many people plan early. This way they are guaranteed a place. If you leave it to the last minute, you could be disappointed as places get filled up quickly. Most Calabrians like to stay home for Christmas, but for New Year this is a time to celebrate it with friends in a nice restaurant, farmhouse or hotel.
The restaurants prepare a very special New Year menu which includes the traditional lentils, pandoro and of course, the bubbly spumante to bring in the New Year.
The restaurant at New Year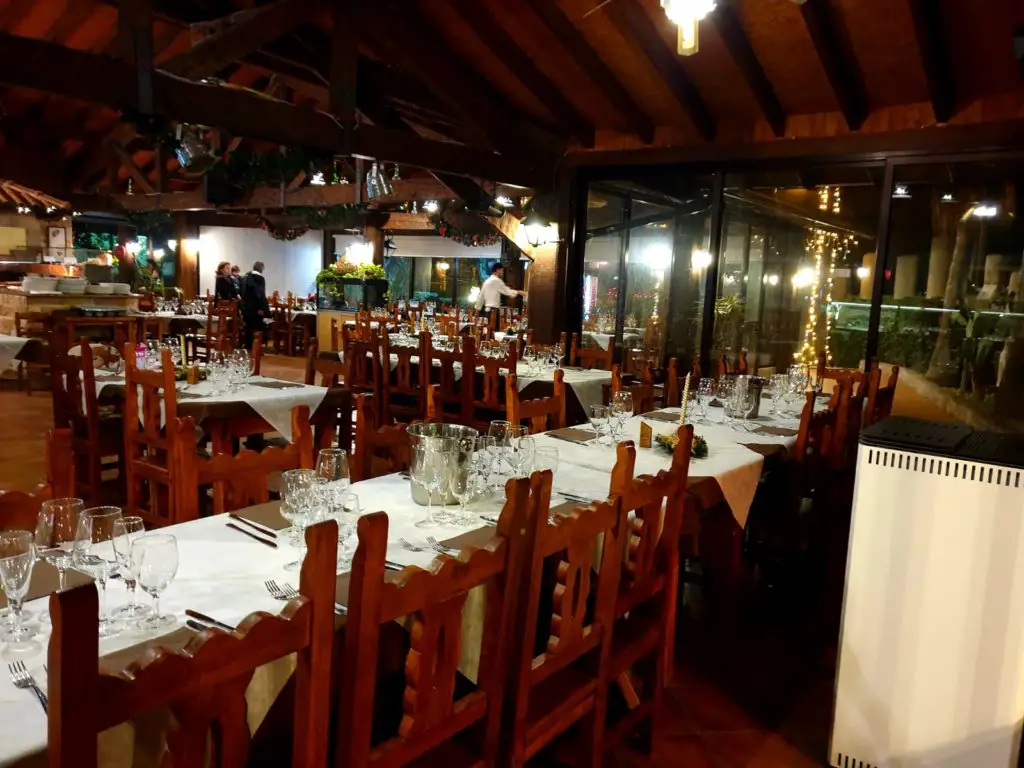 This year we booked a local restaurant. We left early so we could be at the restaurant in plenty of time. We were the first to arrive and then slowly the party-goers started to arrive. First there were a few couples, then groups of friends and then whole families sitting at very long tables. Soon the whole restaurant was completely full. Whilst we were waiting on our antipasto, the cheerful singer was singing softly in the background.
The food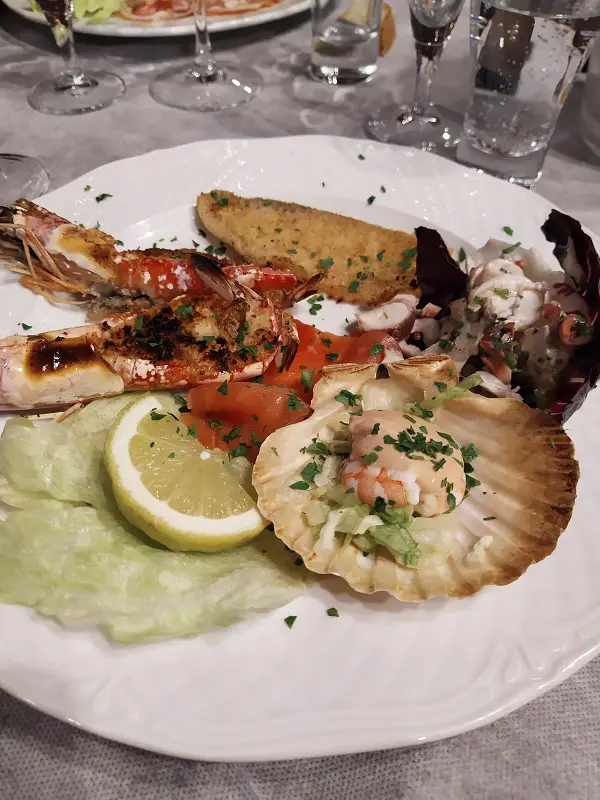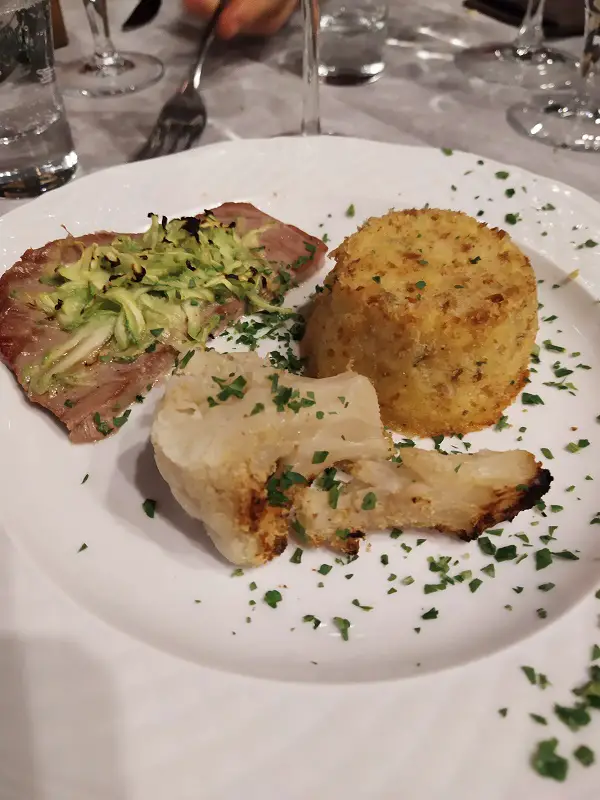 Our antipasti arrived. Some of us had that wonderful Calabrese rustico with cured meats and others mixed hot and cold seafood dishes. Next came four types of pasta, two seafood and two meat-based then fish and meat with plenty of vegetables, bread and wine. Luckily there were breaks in between each course with entertainment.
Entertainment for the New Year
There was a friendly joyous singer and musician entertaining all the diners. A mixture of traditional and modern Italian music as well as some English music including well-known Frank Sinatra songs. Tarantella dancing and then a break to involve everyone in the most traditional game played every year at Christmas and New Year time in Calabria Tombola.
This is very similar to Bingo. Most people took part and I noticed as I observed the party-goers, that an elderly man sitting at a long table with many other members of the family had won the game three times. It was incredible to watch his joy and enthusiasm as he played. Prizes were wine and pizza for two.
Spumante and lentils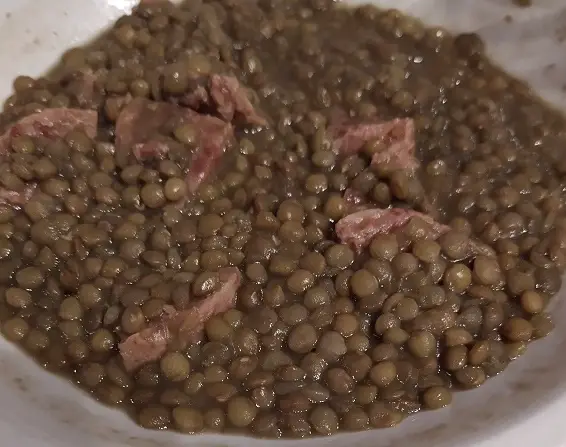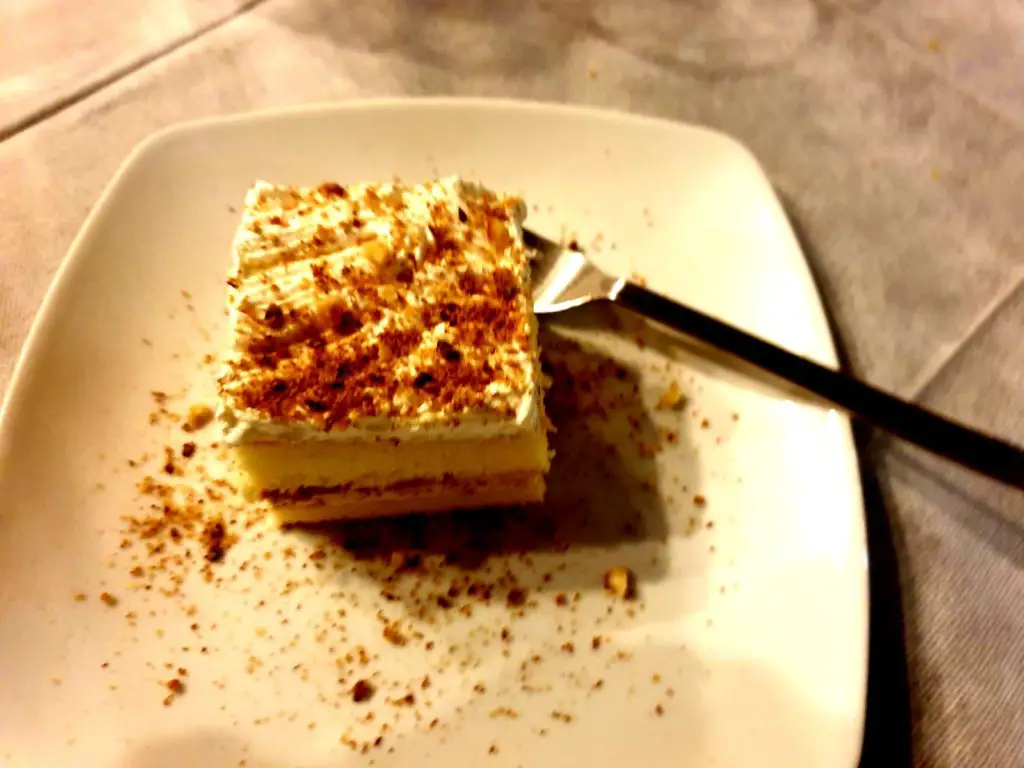 It was time for dessert, a delicious torrone cake made with a light sponge, pandoro and a bottle of Spumante. We had to wait one hour before opening that bottle and after a few bottles of wine, everyone started to dance. Just before midnight, a bowl of lentils was served.
They say the more lentils you eat, the more money you will have and it was fascinating to watch everyone eat as many lentils as they could. I tried to eat some but after all that food, it was not easy.
The New Year
The large screen TV was showing the massive party in Potenza which was shown on Raiuno, Italy's main TV channel. There were many famous Italian celebrities, concerts and fireworks. Everyone was watching this TV channel and all together we started the countdown. As soon as we got down to number one, the corks started popping and we could hear the sound of fireworks outside. Ship sirens in the distance were saluting passing ships. All the family members, relatives and friends started hugging each other and wishing other diners a happy new year.
The atmosphere was wonderful. We all ran out of the restaurant to see a wonderful fireworks display on the beach. Some brave ones were swimming in the sea. It was rather cold and I could not wait to get back into the restaurant. The restaurant was very warm and all night people stayed there and danced.
The festive square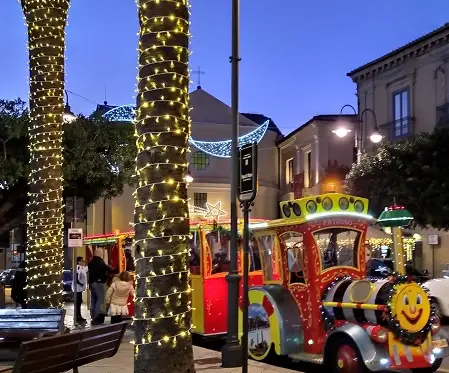 Once we had left the restaurant, we headed to the square. A very pretty square with hundreds of people congregated around a stage dancing and celebrating the new year. Everywhere you went, people would wish you "Buon Anno". There are concerts and fireworks in every square in Calabria with people bringing in the New Year.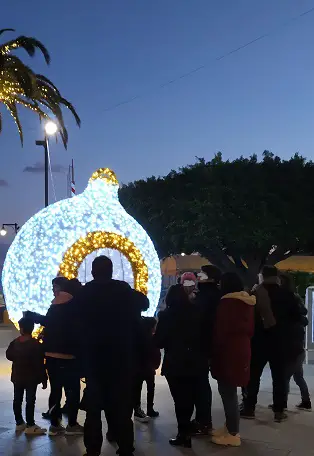 The square is the meeting point for all events and you are sure that during this period, it will be full of people and festive cheer. There was even a festive train playing Christmas music and beeping its horn. Many people were taking pictures of themselves inside the Christmas ball which seemed to be the main centre of attention.
The night went on for New Year
You could stay out all night if you wanted to and you would still see people singing and dancing in the streets. Some people even went to bars and ate hot croissants with nutella at early hours of the morning. I recommend spending Christmas and New Year in this wonderful region where people are so friendly and there is plenty of entertainment as well as festive decorations all along 800 km of coastline.
Every square and town in Calabria is decorated and many different events are organised for this period. Most hotels and B&Bs are open and eager to welcome guests at any time of the year, but this period is truly a magical time to visit Calabria and enjoy their festive traditions. The Palazzo Mottola in Tropea is only 15 minutes from Lamezia airport. Great for a long weekend and New Year.
You can also take advantage of the booking.com Calabrian deals on the home page, but remember to book early to make sure you take part in these wonderful traditions. You will have an amazing time with such friendly people. Sicily is also a great place to celebrate this festive season. Read about my experience from Calabria here. Happy New Year to all my readers wherever you may be.