Imagine being able to visit one of the most beautiful cities in the world such as Palermo. You can for a weekend or more from Calabria. The stunning region of Calabria gives you the opportunity to also visit Sicily. Perhaps having made good use of the beaches and exploring Calabria, you could squeeze in some time for a weekend away to Palermo. You won't be disappointed. It is certainly possible. I would like to share with you my weekend in Palermo from Calabria. I recommend staying at least 2 nights in Palermo to really appreciate the city. If you can stay more, even better.
The journey
We departed from the port of Villa San Giovanni close to Reggio Calabria and Scilla with the ferry and in 20 minutes, we reached Messina. We then headed onto to the motorway signposted Palermo. It takes about 3 hours to reach, 2 hours and 30 minutes if you are driving fast. (approx 224 km). You can also take a direct train from Messina train station direct to Palermo. This also takes about 3 hours. The cost is about 14 euro.
We had a couple of coffee stops at the autogrill service stations. There are quite a few along the motorway in case you need to get fuel. I noticed that there are many tunnels on the way but on one side, you have the wonderful coastline to look at (only for the passengers) and the stunning countryside on the other side with lots of colourful houses clinging to the mountains.
There is a toll station at Cefalù and the toll charge is about 9 euro. This is the only one we came across. This is a great opportunity to visit Cefalù for a few hours (not to be missed). You can read about Cefalù in my earlier blog post. It also breaks up the journey.
Once you reach the outskirts of Palermo, you will be in for a bit of a culture shock coming from Calabria and other parts of Sicily as all you will see is tall apartment blocks everywhere. Ignore this part and wait for the best to come. Once you reach the main centre of Palermo, especially the historic centre, you will be blown away.
The historic centre of Palermo
We managed to find some parking down a side-street and headed towards the historic centre. My advice is to park the car at the hotel or just outside the centre. It is chaotic driving in the centre. Even my Sicilian husband gets stressed.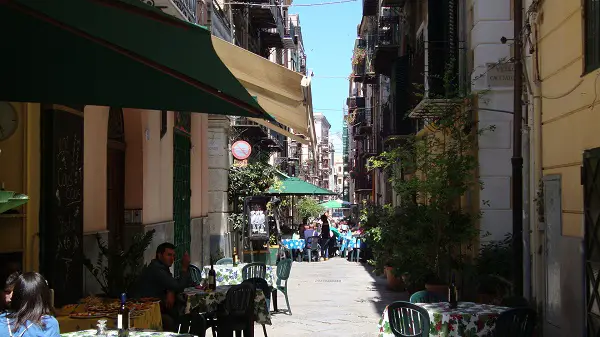 You can easily walk around or even better take the red sightseeing bus and hop on and off when you want. It is much more relaxing. You can book it online. You can get around the historic centre on foot. Another great way of getting around is on this bike tour.
If you have been to Sorrento, it will remind you of Via San Cesareo, the cobbled streets with lots of artisan shops, not to mention all the trattorias with the tables outside on the street. It is an incredible atmosphere walking along this street with all the smells in the air. If you want a local person to take you around, you can enjoy this free 2 hour walking tour (max 5 persons).
I recommend eating in one of those trattorias. The prices are great. We paid 5 euro for a huge plate of pasta and 2 euro for a half carafe of wine. You will find many small shops displaying paintings of Palermo and ceramics. The local market Vucciria is definitely a must but be prepared for noisy market sellers.
I had never heard so much din at a market but everyone was enjoying seeing the sellers sing and shout their wares. The fruit and vegetable displays are amazing to see as you will come across some weird and wonderful fruit. A real Sicilian experience. You will also taste the best street food in the world in Palermo.
The cathedral of Palermo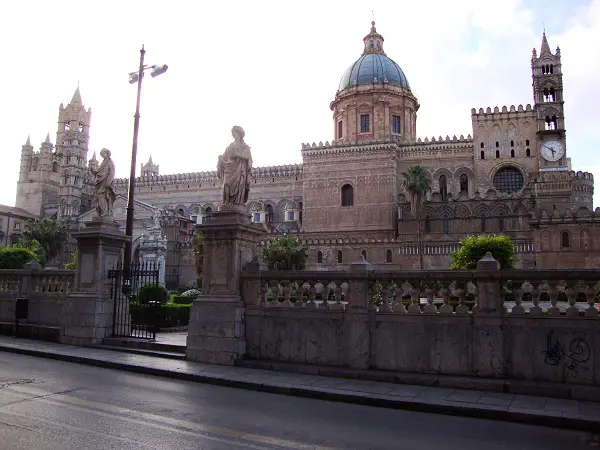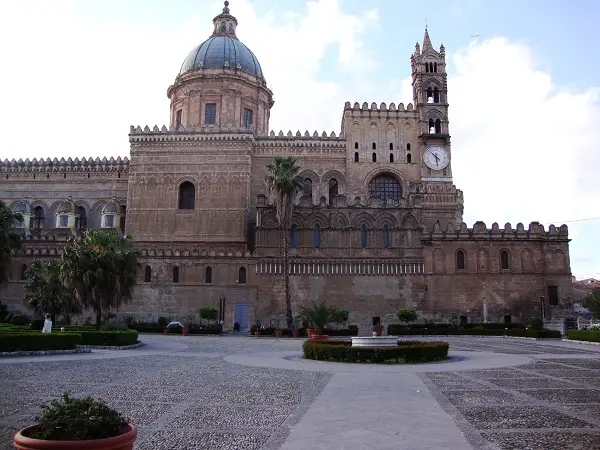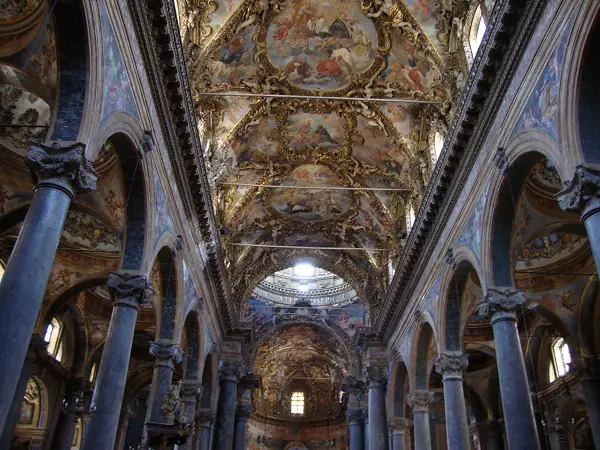 After lunch in the historic centre, we headed to an incredibly beautiful cathedral in via Vittorio Emanuele. The road to get there was full of souvenir shops. I could not resist and bought a little souvenir before visiting one of the most beautiful cathedrals in the world. I was in amazement the whole time I was walking around this huge cathedral astounded by its beauty. Palermo is proud to show visitors this treasure.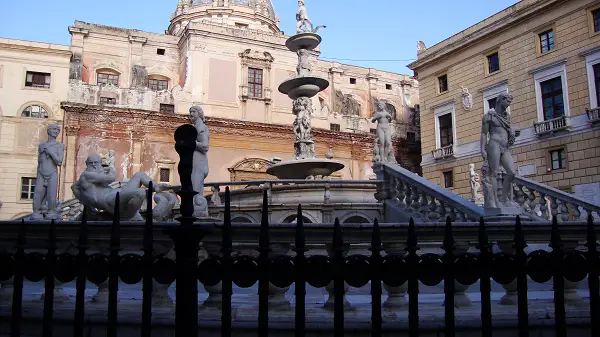 The city of Palermo was conquered by the Arabs in 831 and you can really see this influence in the moorish-style cathedral and in many other buildings around Palermo. I opted out of going into the crypt to see corpses of children and noble figures. This is also something you could do. We then headed to the main square Piazza Verdi where the magnificent Teatro Massimo is located.
Teatro Massimo in Palermo
The one where Al Pacino's daughter in the Godfather was shot. We had seats booked for an evening performance, but unfortunately it was cancelled. Luckily, they refunded us immediately. I am sure I will go back again. Teatro Massimo is the largest opera house in Italy and Europe. Sadly, we only got to see the front entrance that day.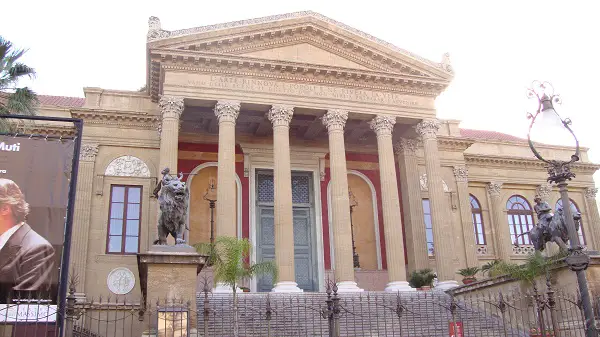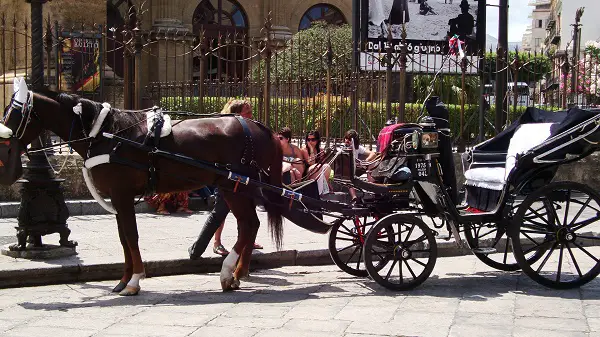 The main square is wonderful to sit and watch everyone. You can also go around Palermo with a horse and cart. You will see many outside the opera house. There are countless bars serving delicious Sicilian pastries and ice cream. They often have free concerts on in the square at different times of the year. New Year's Eve is a great time to come. There is so much to see and do in Palermo so you can always come back. The festival in honour of Santa Rosalia, the patron saint of Palermo is definitely worth seeing on the 15th of July.
Mondello beach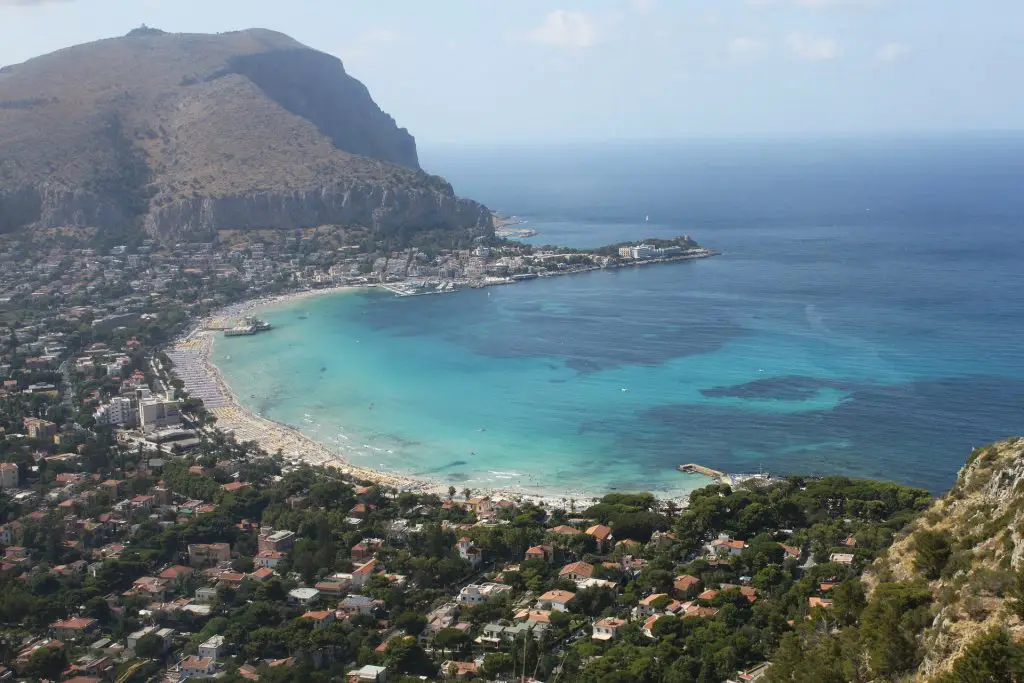 The next place I would like to share with you is Mondello. There is a wonderful paradise beach and many seafood restaurants all located on the seafront. They are lined by an attractive promenade which is always busy with people, especially in the evening. We went in the evening for dinner.
Luxurious villas line the seafront all trying to get space for those spectacular sea views, turquoise blue water with white sandy beaches stretching for miles. Some of these villas have been built high up in the green hills always with that amazing view of the sea. Another spectacular viewpoint is Monte Pellegrino, the sanctuary where the remains of Santa Rosalia are kept.
Monreale in Palermo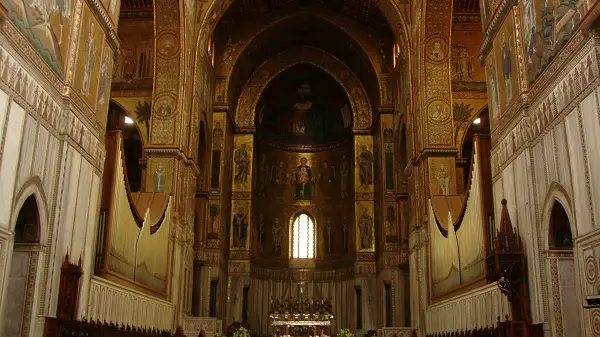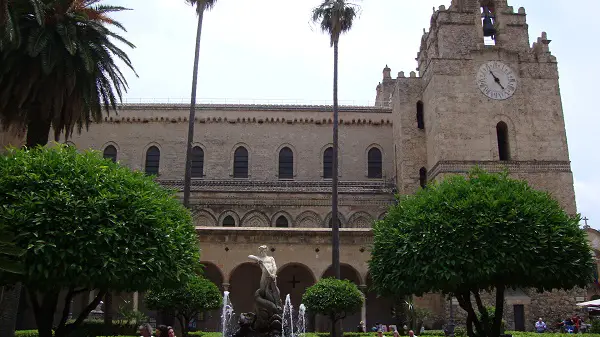 We then drove up to Monreale, this was the best part for me. (10 km) about 30 minutes by car or you can go on the tour to Monreale combined with Palermo city tour.
The masterpiece of this place is the magnificent Romanesque cathedral. One of the most beautiful cathedrals for me after Amalfi. I was blown away even more with this one. It was built in the 12th century, a fine example of Romanesque architecture. After some time in the cathedral and its cloisters, we sat in the square in front of the cathedral sipping a lemon granita.
The town is very pretty with nice shops and bars. The views from up there looking down onto Palermo are spectacular. You can ride around the town on a horse and cart if this is something you would like to do. They are usually outside the cathedral. The carts are beautifully decorated and the horses well-groomed. The next day was shopping. You will love the shops and prices of items in Palermo. A shopper's paradise.
Nightlife in Palermo
We went to Via Candelai. To me it resembled a typical Arab street. It was full of young people. The street is full of bars and eateries selling cous cous and kebabs. There were nice trendy bars with sofas bedecked with bright colourful vibrant cushions. I even saw people smoking hubble bubble pipes. It was just like being in Morocco. Another incredible experience. The historic centre is a great place to go at night.
Unfortunately, It was time to go. We visited my husband's family first for a few days and then headed back to Calabria following signs for Messina then ferry to Villa San Giovanni in Calabria. There are many hotels and B&Bs in Palermo. I recommend staying in the centre of Palermo. You can also take the train from Palermo Centrale station to Punta Raisi airport. The journey takes 1 hour and the cost is about 6 euros. It takes you right into the airport. You only need to take the lift to departures. I once took the train from Platform 10 at Palermo Centrale train station but this could change so it is better to check it.
The great thing was that before I got off the train from Messina to Palermo train station, the platform number for the airport train was already showing on the monitor. The name of this special train is called Trinacria. It departs every hour for Punta Raisi airport and viceversa from Palermo airport to Palermo Centrale train station, platform 3 and takes 1 hour. There is now a new express service called Genio express which runs in the summer and takes only 34 minutes. I highly recommend it. There are also plenty of hotels near the airport if you have to stay overnight. Some of them have an airport shuttle.
You could also stop off at Cefalù on the way back if you didn't coming.
Another opportunity to see this world famous resort. This is the wonderful thing about staying in Calabria, you get to visit Sicily. My advice would be to spend one week in Calabria and one week in Sicily.
If you want to be part of a tour with an English speaking guide to enjoy all the highlights of Sicily including breakfast, lunch, transport and 4 star hotels, you can join this tour. The maximum number is 13 people. It starts from Palermo and goes to Trapani, Erice, Agrigento, Ragusa, Noto, Siracusa and Taormina.
Bus transfers from Palermo airport to city centre €6 euro one way