Spending New Year's eve in Calabria is a great place to bring in the New Year, especially if you enjoy dancing to folk music. All the hotels and restaurants organise a special gala dinner with a live band and dancing. You will definitely dance to the Tarantella in Calabria. Besides, dancing, you will have a 6-course meal with wine and spumante included. Some places organise fireworks for the countdown. I would like to share with you my experience on New Year's Eve in Calabria.
The New Year's eve welcome
We had booked our evening well in advance as we know it can get very busy at that time of the year. The welcome started with prosecco and appetisers and a musician playing the saxophone. It was such a nice welcome. All the guests arrived more or less at the same time. The waiters were very professional and seemed just as excited as us to bring in the New Year in such a beautiful restaurant.
We chose an elegant restaurant which really reminded me of being on a cruise ship. It had exactly the same ornate décor that cruise ship dining rooms tend to have. All the guests were dressed for the occasion. It was the Grand gala dinner and why not. Most men wore dark suits and women wore beautiful long dresses.
The musicians
Formal dress was required for this particular restaurant, however there are many restaurants and hotels that organise a gala dinner without formal wear. You need to check this with your chosen restaurant. I really liked the music band. They were two young musicians who were perhaps twins, and were playing different instruments simultaneously.
They seemed so happy to play for the excited diners who were walking around the restaurant with their glass of prosecco waiting for their 6-course meal. I must admit I hadn't eaten anything all day and was quite peckish. After some instrumental music, appetisers and prosecco, we finally sat at our assigned tables. The tables were well away from each other and diners felt relaxed in those COVID times.
The menu for New Year's eve
I looked at the menu and could not believe all the courses I was expected to eat. I kept thinking to myself how on earth am I going to manage. The waiters served us different seafood delicacies and plenty of them. I had to tell them to stop as they were piling the food onto my plate. It was extremely generous of them as in some places they hardly give you a morsel. I was so happy, as you should know by now, how much I love my seafood, especially in southern Italy.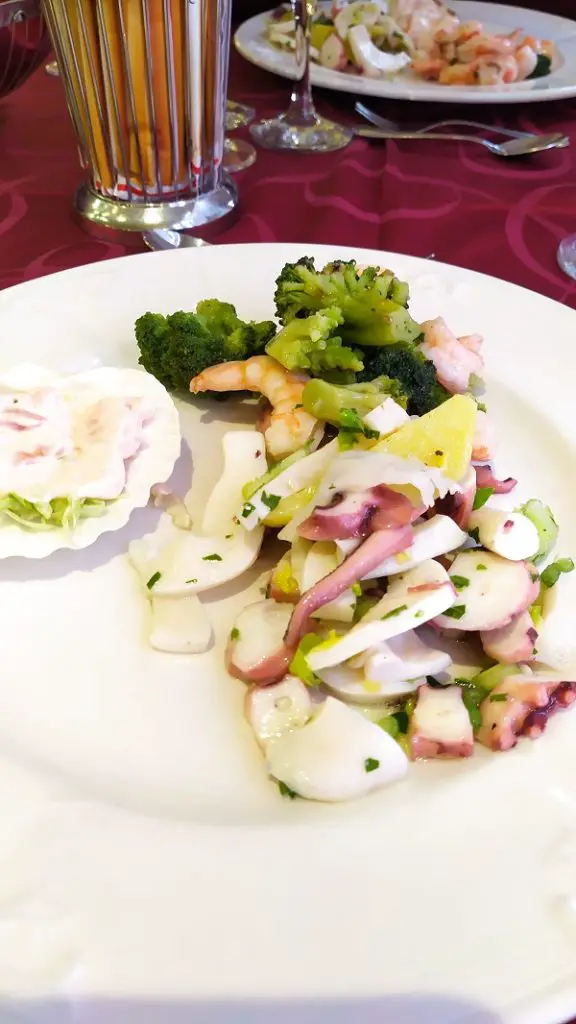 My plate was already half-full with slices of octopus and squid so I decided to eat, thinking that was it. I even took a picture of it but that was only a third of what we were going to eat. Next came scallops and breadcrumbs, sword fish, prawns, Sicilian-style sardines, crab and salmon. I was in heaven. A bottle of white wine was accompanied with the meal. After that antipasto, I was already full but knew I had to pace myself to get through that banquet.
The banquet
My husband had no problem, as being Sicilian, he was a good eater. We had a little break and as we were eating, the wonderful band started playing traditional Italian songs. The diners were singing along to the ones they knew and hummed the less known ones. The more wine they consumed, the louder they got. It was a great atmosphere. Next came the pasta in a seafood sauce. It was delicious. The waiter was about to load my plate but I managed to convince him to stop.
Special requests on New Year's eve
I knew there was going to be another pasta course. Sure enough, after that one, another type of pasta with seafood came. The food was so fresh and excellent. I was so happy that I had chosen that restaurant to celebrate my New Year. Now, going back to the music band, they stopped playing their instruments and traditional songs and put a list of songs on everyone's table.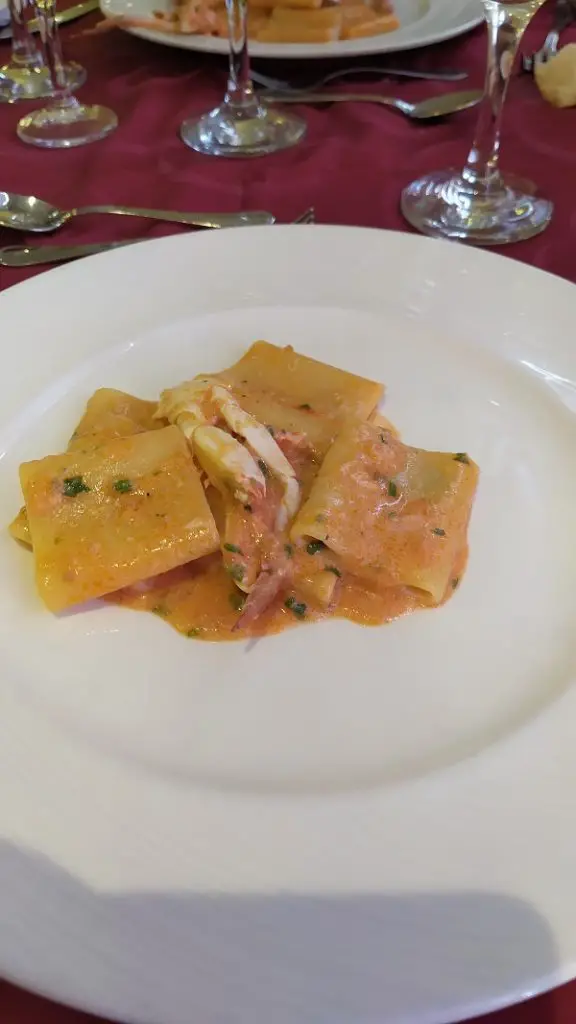 You only had to use your phone to make a request for the song you wanted. You had to send it to the musician's phone and he would play it reading the special message aloud that one had written. There was another break and this was when they brought us lemon sorbet in order to clean the palate ready for the next course. You could tell instantly that the lemons were local. They had that strong distinct taste of lemon flavour.
The dessert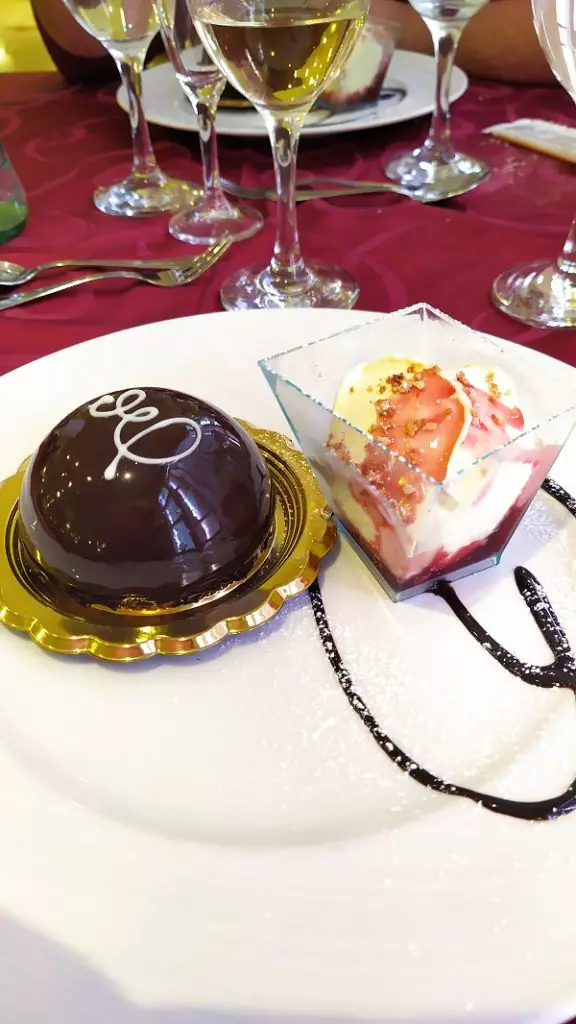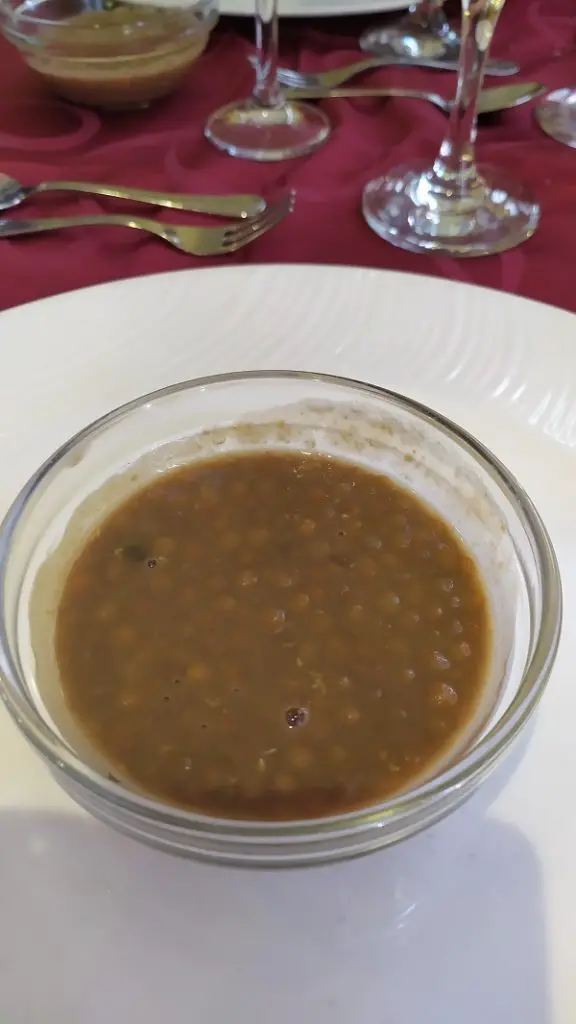 The sorbet was very light and refreshing. Next came the main course. Fresh lobster and prawns as well as salad and lentils. I was grateful that it was not heavy after having eaten appetisers, a starter and two portions of pasta. There was a longer break before serving us that exquisite dessert. I was glad of the break as by this time, I was so full up. Italians never have this problem.
The music was getting louder and so were the diners singing along to the music. Everyone's face lit up when they came with this well-presented dessert. It was a ball of pure chocolate. They call it the seven-layered cake made of sponge, chocolate, hazelnut cream, hazelnut crunch, chocolate mousse covered in a thick chocolate glaze. It also came with a delicious vanilla ice cream and sauce. By this time, I was ready to burst.
Tarantella folk music
The only thing to do was to do what all the other diners were doing and that was to dance or rather join the choo choo train dance. The train had formed a long line of excited diners hoping to digest a little before the panettone and spumante. Next came the folk dancing, the Tarantella. Almost all of the Calabrians were dancing to this wonderful folk music. You can read more about the Tarantella here.
After lots of dancing, the waiters started to serve panettone and spumante. The lead party-goer in every table had his hand on the cork of the bottle ready to open it as soon as they had counted down to zero. After zero, you could only hear the sound of corks popping and bouncing off the tables. The lead party-goers filled everyone's glasses with that wonderful dry sparkling wine and all raised their glasses to wish everyone in the dining room and waiters a happy New Year. You can read about some unusual New Year traditions here.
I hope you all had a great time wherever you were. Perhaps next year you will be celebrating New Year in Calabria. You can read more about my New Year's eve in Calabria a few years ago here.