Calabria is a wonderful experience and a great base to travel around the South of Italy. I have travelled to Naples, Sorrento, the Amalfi Coast and eastern Sicily from Calabria. I would like to share with you my travel experience in Puglia from Calabria. One week in each region is ideal. You can combine Sicily with Calabria and Puglia in one holiday. Each region is unique. but if you do not have a great deal of time, I recommend at least 4 to 5 nights in each region.
The Journey to Puglia
It took about 5 hours to drive to Puglia from Calabria, including coffee stops. (approx. 440 km). You can also get there in 4 hours. We preferred not to rush the trip and followed the signs for Crotone, Trebisacce and Taranto all the way to Manfredonia. Crotone and Trebisacce are seaside resorts in Calabria, Taranto is in Puglia. Everything is well signposted. The scenery is breathtaking along the Calabrian coastline. Only after a few hours, we arrived in Puglia.
You know when you are in Puglia as all the houses are chalk-white. They say this is to keep the homes cool during the summer as the heat can be very intense in Puglia. Everywhere you go, you see agricultural land with olive groves, dusty roads and villages full of white dwellings.
The accommodation experience in Manfredonia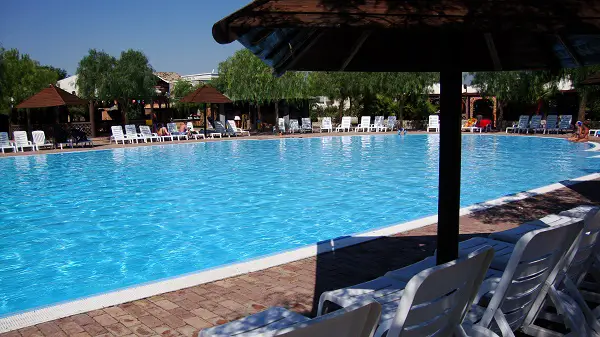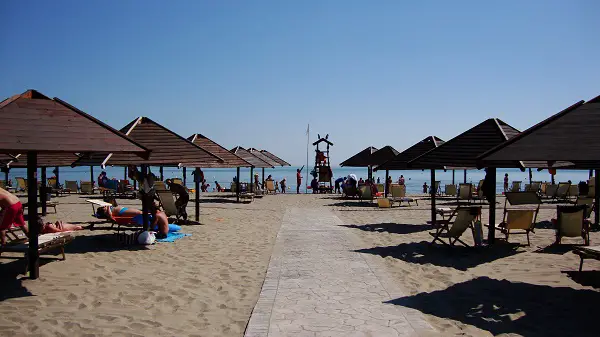 We finally arrived at our accommodation in Manfredonia. It was a holiday complex. We stayed in my husband's holiday home. It was more than a home rather than a basic apartment. It was bright and cosy. The gardens were immaculate and it was full of Italian holidaymakers who had just arrived. We could only spend 4 days here, which was too little. I would have liked to have stayed longer.
The large swimming pool was a surprise. We went for a swim in the pool that afternoon as it was hot and we were tired from the journey. It was so refreshing. It was early afternoon and there were not many people at the pool.
The apartment was very close to the beach so I decided to have a swim in the sea. The beaches are beautiful in Puglia as well as the wonderful sea. I waded out quite a bit, but the sea never went beyond my knees until I had to swim out much further.
A great beach for kids and there are plenty of sandy beaches in Puglia. The great thing about the beaches in Puglia is that they are ideal for kids. If on the other hand, you are looking for tranquillity then I recommend a farmhouse experience in Puglia. You can find plenty of accommodation here.
The seafront of Manfredonia
We had breakfast in the holiday home before setting off to explore the town of Manfredonia. It is a pretty seaside resort town with plenty of shops, bars, restaurants, a beautiful cathedral and a magnificent castle. It has about 55,000 inhabitants and is about 1 hour and 30 mins from Bari (approx 130 km) and is located in the province of Foggia.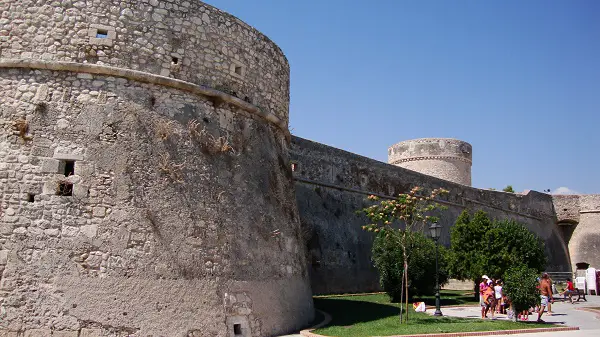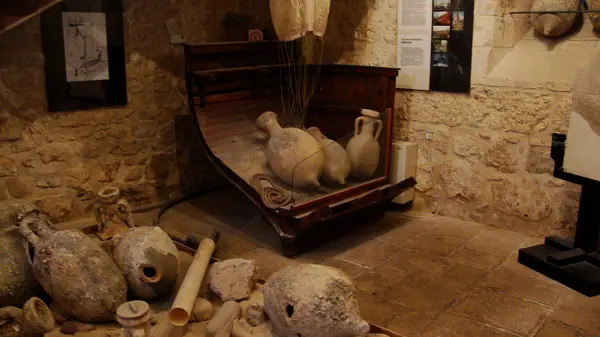 The attraction of this town is of course the magnificent Swavian-Angevin Castle. It houses the National Archaeological Museum with some incredible relics from the past, including the Daunian stele (stone funerary monuments), terracotta pots and broken pieces of ceramic as well as other interesting objects.
This castle is amazing. I felt like a kid. I loved going through its passages and long dark corridors. When you get up to the top of the tower, there is light and a wonderful view of the sea. As regards to shopping, Corso Manfredi is the best place. There are lots of small shops and boutiques in this pedestian area. A real shopping experience.
Manfredonia is also beautiful at night all lit up as well as the castle. There are also many colourful streets besides the chalk-white ones. You will find plenty of restaurants along the seafront if you like fresh fish, especially mussels. Puglia is famous for its mussels. You see many families going for a walk along the harbour. Manfredonia was an important port town, especially during the Magna-Grecian period.
The town of Barletta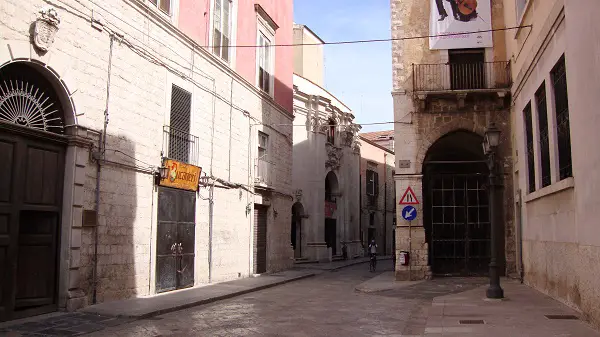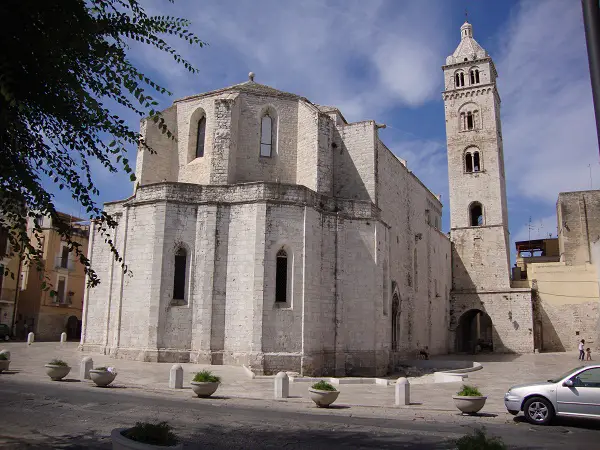 The next day we had breakfast and headed to the town of Barletta. Another seaside town along the coast, about 1 hour away from Manfredonia (approx. 55 km). We visited the beautiful cathedral Santa Maria Maggiore opposite another magnificent fortress. You will see castles everywhere in Puglia. We were also lucky to see a wedding party have their photos taken outside the cathedral. The very same wedding party headed over to the castle after the ceremony.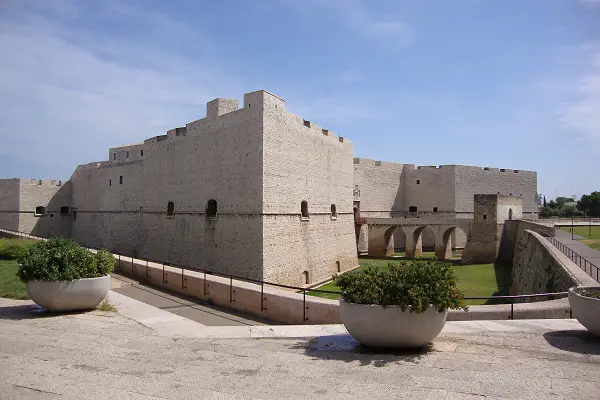 A wonderful setting for a wedding. This castle was built in the 10th century by the Normans with manicured gardens surrounding the castle right in front of the sea. You can read more about weddings in southern Italy here. We spent a lot of time in the old part of Barletta walking through its cobbled streets.
This is a much larger town than Manfredonia. It has about 90,000 inhabitants. Do not miss the Archaeological site of Canne, the battleground where the Romans fought against the Carthaginians.
The trulli houses of Alberobello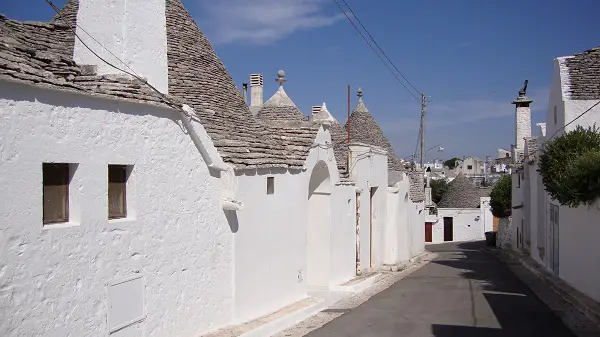 This was the place I had been waiting to visit, a fairy-tale land of tiny houses and funny cone-shaped roofs. The Trulli is the name in Italian. This town is unique as there is not another one like it in the world.
The local people want it to stay this way, thus any new building must use the ancient form of construction. This involves using local materials from the area. They build them in this peculiar shape using dry stone from the surrounding area and painting them white so as to keep them cool in the summer and warm in the winter. You will see some odd-looking symbols on the roofs of these houses. These are the zodiac signs of the owners.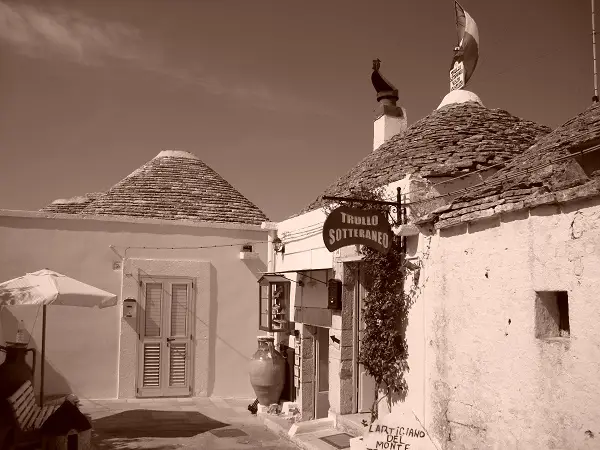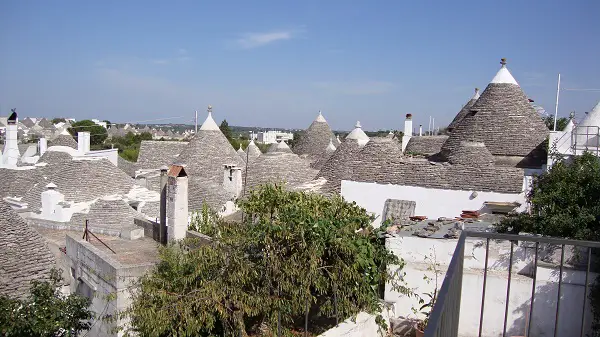 It is amazing to experience the houses inside. You can visit one that has a small museum. They look small from the outside but actually inside, they are quite spacious. The town is full of these houses all sitting next to one another with beautiful flowers, which really stand out against the white, especially bougainvillea flowers. When you go high above the town, you can get a superb view of these rooftops. A great place for pictures and selfies. The local church is also a trullo.
The Tarantella festival
There are lots of shops, bars and restaurants all in the shape of guess what? That's right, trulli. I have never stayed in one of those but if you have, Please share it with us. You can see inside a real trullo which is rented out for holidays in the above video. The holidaymaker shows us how spacious it is. Puglia is full of festivals including the Tarantella. They are very similar to the ones in Calabria. Read more here about the Caulonia Tarantella festival in Calabria.
The food experience in Puglia
Most of the bigger trulli houses have land surrounding them as well as olive groves and a swimming pool. You can stay in the famous Masserie which are used mostly for farmhouse stays. You will get complete tranquillity and stunning views of farmland. Perhaps next time, I will stay in one of those. I could not help but buy a souvenir of the trulli houses. You will find many souvenir shops selling these objects in all different sizes. You can see some of these in the video above "dormire in un Trullo".
The food is amazing in Puglia. There are great restaurants. Make sure you try the orecchiette-shaped pasta with broccoli and the mussels. They are famous for their mussels in a wine tomato sauce, panzerotti and olives. The bruschetta, taralli, bread and focaccia are incredibly tasty.
My Puglia experience
I would get up very early on this trip as I did not want to waste any time. I had breakfast in the holiday home, went to the beach early morning as we only had to walk out the door and the beach was there. We spent the rest of the day driving around these 3 towns and in the afternoon relaxing at the pool and on the beach.
Our evenings was a walk at night along the seafront and back to the complex for a cocktail looking at the sea. However, there is plenty of nightlife in Puglia. You can read more here about Puglia.
We spent only 4 nights here and managed to see a lot. I think you need at least 1 week to see more. There is so much to see in Puglia so I will definitely be back. If you can, it is definitely worth visiting also Calabria, Naples and Sicily. A real southern Italian experience. You can read about my Neapolitan experience here.
If you are flying into Puglia, the nearest airport is Bari. Perhaps after your stay in Puglia, you can drive to Calabria only 4 hours away, spend time visiting the beautiful region of Calabria before taking the hydrofoil from Villa San Giovanni to Messina and experience the wonderful island of Sicily with Mount Etna in the background. You can use my travel resources here to get around.