Imagine getting married in some of the most romantic places in Southern Italy such as Campania, Calabria, Basilicata, Puglia, Sardinia and Sicily. All of these regions are perfect for a wedding, usually held from April to October because of the nice climate. There are usually weddings every day as couples choose seaside resorts for their dream location. Some of them even get married on the beach. I have been to a few weddings now in Southern Italy and would like to share with you my experience.
The wedding guests
The wedding morning starts with the bride getting ready with her cousins and bridesmaids. Weddings in Italy are a huge affair. Parents are completely in charge of the wedding. They make most of the decisions and decide who to invite to the wedding. The wedding has to be expensive and have at least 200 guests. These guests include also distant relatives who the wedding couple may not have even met. Many couples are now choosing to have smaller weddings, but no less that 100 in Southern Italy.
The ceremony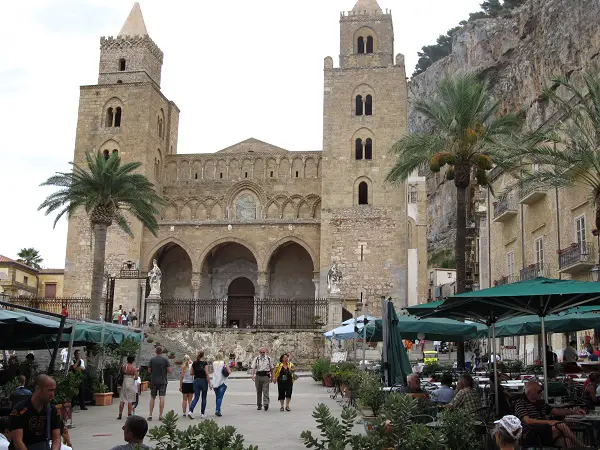 The marriage ceremony is usually at the local church with the priest, or for non-religious weddings at the local town hall performed by the mayor or on the beach. Mass can last for as long as 2 hours. Some couples choose musicians to play wedding music as they enter and leave the church. Once the wedding couple are ready to leave, the guests usually wait by the entrance door to throw rice over the newly-wedded couple. This symbolises good luck and fertility. After the guests have congratulated the wedding couple, it is time to head to the chosen location for the reception.
The chosen location popular for weddings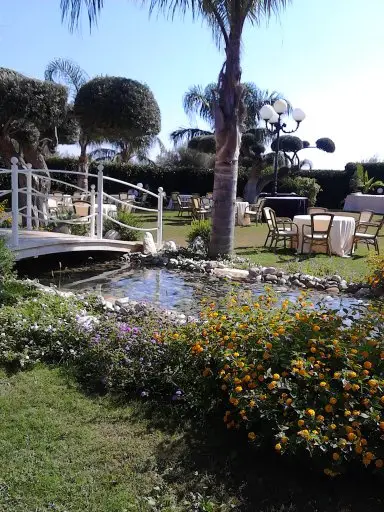 Some couples choose small elegant hotels or private villas set within magnificent grounds, usually with a swimming pool. They need a lot of space for their 200 guests. Most of these hotels and villas are located in spectacular settings, some with sea views, others amid olive and lemon groves. Once you enter, you are greeted with an aperitif and it is time to see all the other guests making a grand entrance.
The wedding outfits
The guests always wear expensive outfits. Appearance is very important in Southern Italy. Some guests spend a minimum of 1000 euro on their wedding outfit. I could see many of the guests observing in great detail one another while examining the outfits worn by the wedding couple. The wedding dress usually costs between 5,000 to 10,000 euro. Some people have to take out a loan for some of these weddings. I also noticed that many guests wear dark colours to weddings in Italy.
Wedding gifts
Speeches are made and focus is on the white envelope as guests line up to fill the envelope with money. This custom is disappearing as many people just deposit money directly into the couple's bank account. Some couples compile a gift list before the wedding and you can choose which gift to give them. The shop then takes care of the delivery.
The feast at weddings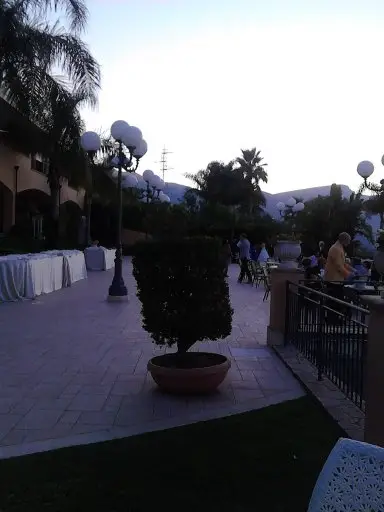 There is usually a grand buffet in the garden with tasty hors d'ouvres before the actual meal. I have to admit, I am usually already full after the first buffet. The actual meal is inside the hotel or villa restaurant. It usually consists of two pasta types on one plate as a starter. The main course fish or meat is accompanied with several different types of vegetables. For dessert there is another grand buffet where every Italian dessert you can think of is present.
Confetti always present at Italian weddings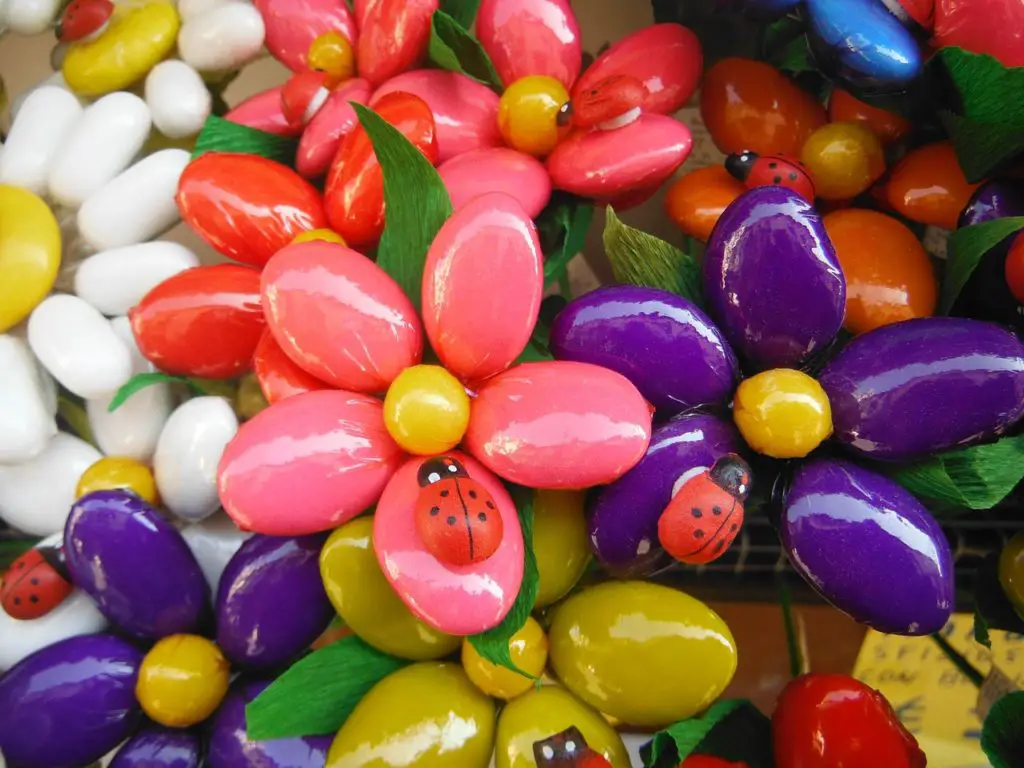 Next to the dessert buffet, there is an incredibly beautiful confetti corner with all colours of the rainbow. Giant jars hold scoops so you can scoop out the different coloured confetti (almond flavoured sweets with a sugar coating). They are also given as wedding favours along with a gift (bomboniere) to the wedding guests to thank them for their attendance.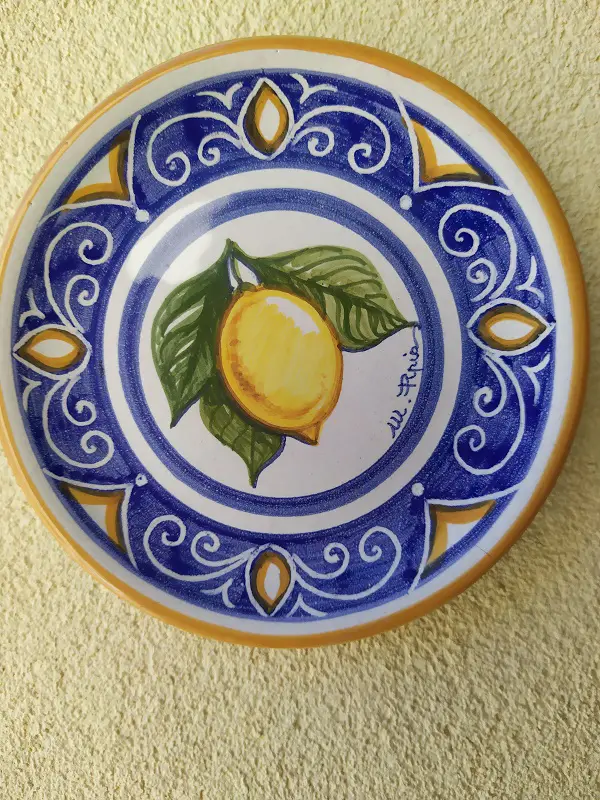 The couple's name and date of the wedding is on a tiny piece of paper attached to the pretty bag with the sugar almonds inside. I was happy with mine as we were given a small ceramic plate with a picture of a lemon on it.
The ice cream trolley
Next was the ice cream trolley full of every flavour of ice cream you can imagine with wafer cones decorating the whole of the trolley. After the meal, there was coffee and digestive liqueurs. The dancing went on for hours. Weddings usually start at 10am and end at 2am or later. Some guests are lucky to stay in the hotel, others have to wait until everyone is ready to go back together on the private buses.
A romantic setting for weddings
The setting is usually spectacular, especially when the sun goes down. Some guests set off fireworks to create a message in the sky to wish the newly-weds good luck , some light lanterns and let them float in the sky. A live band entertains the guests all throughout the evening. Party games are popular as guests consume more wine. It is a wonderful experience to attend an Italian wedding.
Getting married in Italy
Quite often you can see wedding couples have their pictures taken on a beach or going around the town. Many International weddings take place as this is becoming popular in some locations. Many people dream of that Italian wedding and it can be done. Wedding packages include a local holiday planner who takes care of all the documentation and all the other details. If you do not use a wedding planner, it is important to have an interpreter to request documents from the town hall in the town you wish to get married. You can read about my weekend in Cefalù, a very popular place for weddings.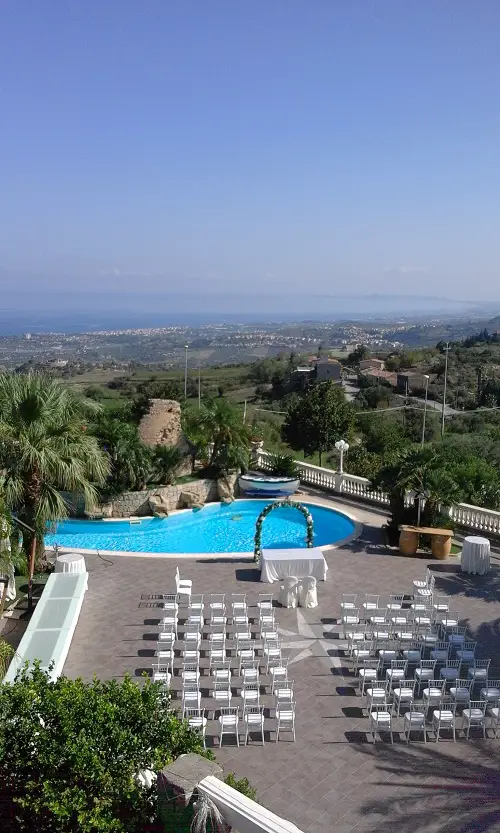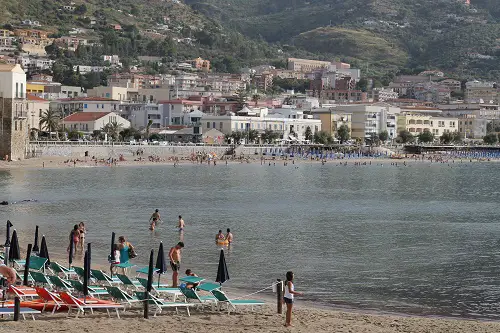 Weddings in the hotels
Some people like to have their wedding in a hotel garden or on the beach in front of the local mayor. Most Italians prefer to have religious weddings in churches. You may be lucky to see an Italian wedding at your hotel as many hotels cater for them. I remember staying at a hotel where there was a wedding party at the pool after dinner. We could have joined in if we wanted to. When we went back to the room, we did not hear a thing and yet our room was facing the pool. When we opened the patio door, we realised how noisy they were and yet once we closed it again, there was complete silence in the room.
The windows were completely soundproof. Many hotels understand that weddings can be noisy so they also have to ensure that normal guests won't be disturbed.
Getting married in Italy is something really special and possible to do. If you book a wedding package, you do not need to do anything. All you have to do is enjoy that special day with the most incredible views that Southern Italy offers in spectacular settings.