Calabria practically faces Sicily. A common question is how do I get to Messina from Calabria? You can reach Messina in 20 minutes by ferry or hydrofoil from Villa San Giovanni in Calabria or from Reggio Calabria.
Messina is definitely worth a visit. Travellers who stay in Calabria are really fortunate to be able to visit two parts of Italy in one holiday; the stunning region of Calabria and the beautiful island of Sicily.
Ferry or hydrofoil
A NEW UPDATE ON FOOT PASSENGERS. IF YOU ARE NOT TAKING YOUR CAR ONTO THE FERRY, FOOT PASSENGERS NEED TO USE THE HYDROFOILS
In fact, Sicily is so close to Calabria that you can easily see it when you walk in Reggio Calabria. You can also see Mount Etna in the distance as well as Messina. If you are only going for the day to Messina, you can take the ferry or the hydrofoil.
If you need to get trains from Messina station, it is better to go with the hydrofoil. It stops right outside.
The port area of Messina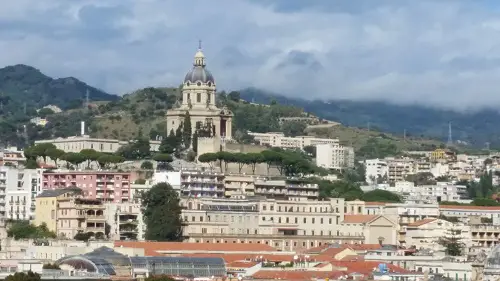 There is a self service bar/restaurant right opposite the Blu Jet hydrofoil ticket office. There may be times when you have to wait for the next hydrofoil. You will find plenty of bars and restaurants near the port. You will also see large cruise ships full of excited cruise passengers peering down from the main deck.
Messina is the 3rd largest city in Sicily after Palermo and Catania and one of the most important port centres in the Mediterranean. Cruise ships arrive every day. Cargo ships full of citrus fruits ready to be shipped to the North of Italy and other countries. Tourists coming off ferries and hydrofoils from all parts of Sicily including the Aeolian islands, Milazzo and Ustica. It is a very busy port centre.
What to see in Messina
A large part of Messina was in ruin after the earthquake in 1908 and few historical buildings survived. However, you are still able to see some important buildings of the past such as the cathedral and bell tower with its astronomical clock in the main square Piazza Duomo along with its stunning 16th century Orion fountain.
There are many old churches and small squares in Messina which you can visit. Messina has a pretty seafront with a long promenade facing the port area shaded by trees. There is a shopping street Viale San Martino where you will find plenty of shops and eateries.
You can go on an organised walking tour of Messina with a local guide to really discover this amazing city. [widgets_on_pages id="Messina walking tour"]
You can also go on the red sightseeing bus and hop on and off at all the major attractions. Buy your tickets online here so you can just board the bus without queuing. The ticket is valid for 24 hours.
If you love the Godfather films, like myself, you will enjoy visiting the locations where the films were made. You can learn all about the Corleone family on this day out. Lunch included. Ideal for cruise passengers. Excursion is from the port of Messina.
Lake Ganzirri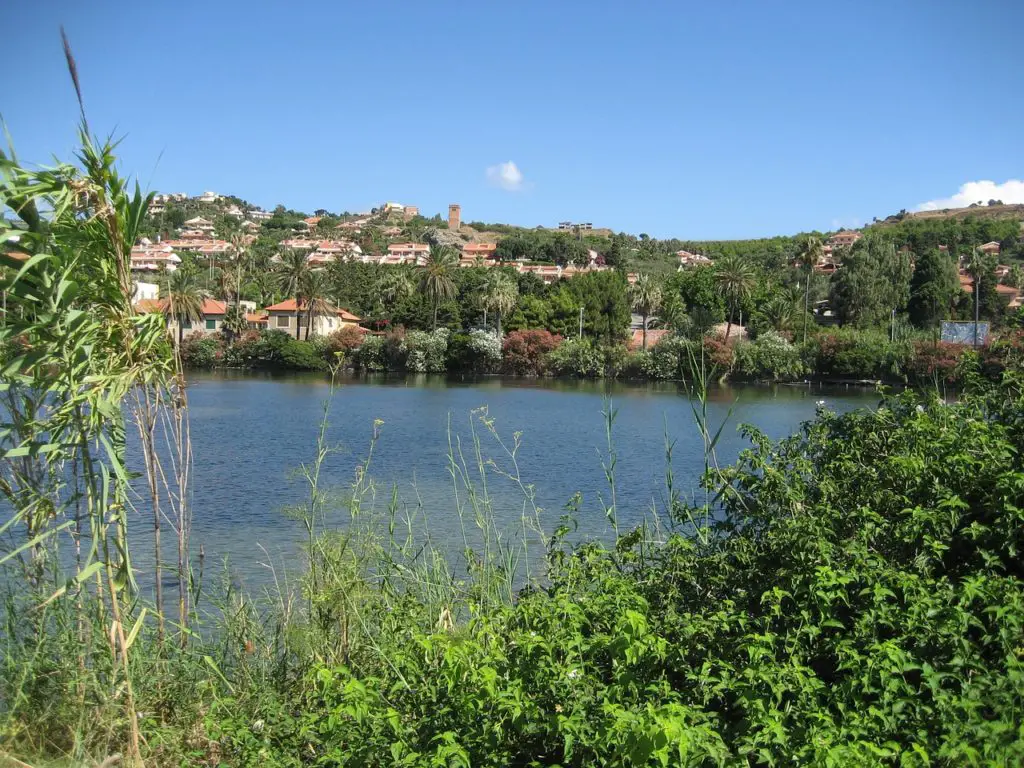 One place not to miss in Messina is the lake. We went to Lake Ganzirri by car, but it can be reached also by bus or taxi. It is not far from the port of Messina. It is about 11 km from the port. When you come out of the port area, you go onto Viale della Libertà and follow the panoramic road SP43 for Lake Ganzirri.
As you leave the port behind, you will start to see the beach area, which is very busy in the summer with bars, restaurants and lidos all the way along to the lake, a beautiful salt-water lake used for farming mussels. Night-life is around the beach area in the summer. Sicilians like to sip a drink or eat by the sea. There are many nice restaurants here. You can see Reggio Calabria in the distance as it faces Sicily.
A peaceful spot to escape the city where many people come to walk is the lake. There are many luxurious villas around the lake with the most beautiful gardens and vegetation as well as plenty of restaurants where the speciality here is of course, spaghetti with mussels or clams followed by swordfish.
They prepare also other delicious delicacies such as swordfish rolls, pasta with sardines and stuffed squid. There are plenty of benches so you can relax and enjoy being near the lake.
Capo Pelero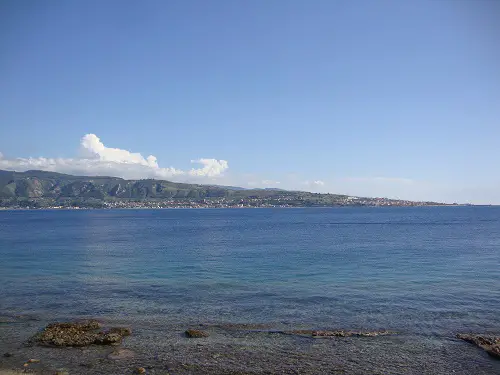 Not so far from the lake, you will see a tall steel pylon. It was used to power electricity from Villa San Giovanni. In fact, you can still see the steel pylon in Villa San Giovanni today and the other one in Sicily in Capo Pelero close to the lighthouse Torre Faro, the northernmost point of Sicily. They are important landmarks.
Ganzirri is also a picturesque fishing village worth visiting with a nice church. Many people come here for their Sunday stroll. They do boat trips on the lake which last for 30 minutes with a local guide who will tell you all about the history of the lake.
According to legend, Charybdis inhabited the waters near Capo Pelaro while Scylla remained in Calabria. A place steeped in mythology.
Accommodation in Messina
If you want to stay longer than one day, you will find a wide range of accommodation in Messina from hotels to guest houses and B&Bs. I recommend staying near the port area. You can reach Piazza Duomo in 6 minutes on foot from there. Most of the main attractions are around this area. You can use the map view at the top of the page to search for accommodation near the port and take advantage of the deals below:
[widgets_on_pages id="Messina deals"]
Typical Sicilian pastries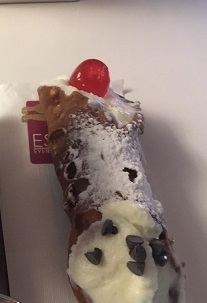 Before you leave Messina, you must try the typical Sicilian pastry cannoli. Crunchy deep fried cannoli shells filled with sweet ricotta cream and candied fruit with pieces of chocolate or crushed pistachio nuts.
You will find many of them in the bars in trays, but the best ones are when they make them while you wait. You will often see a sign cannolo espresso which means they need to be made up.
If you want to combine trying cannoli with a city tour of Messina including transport and guide you can with this tour [widgets_on_pages id="Messina city tour and cannolo tasting"]
The return journey back to Calabria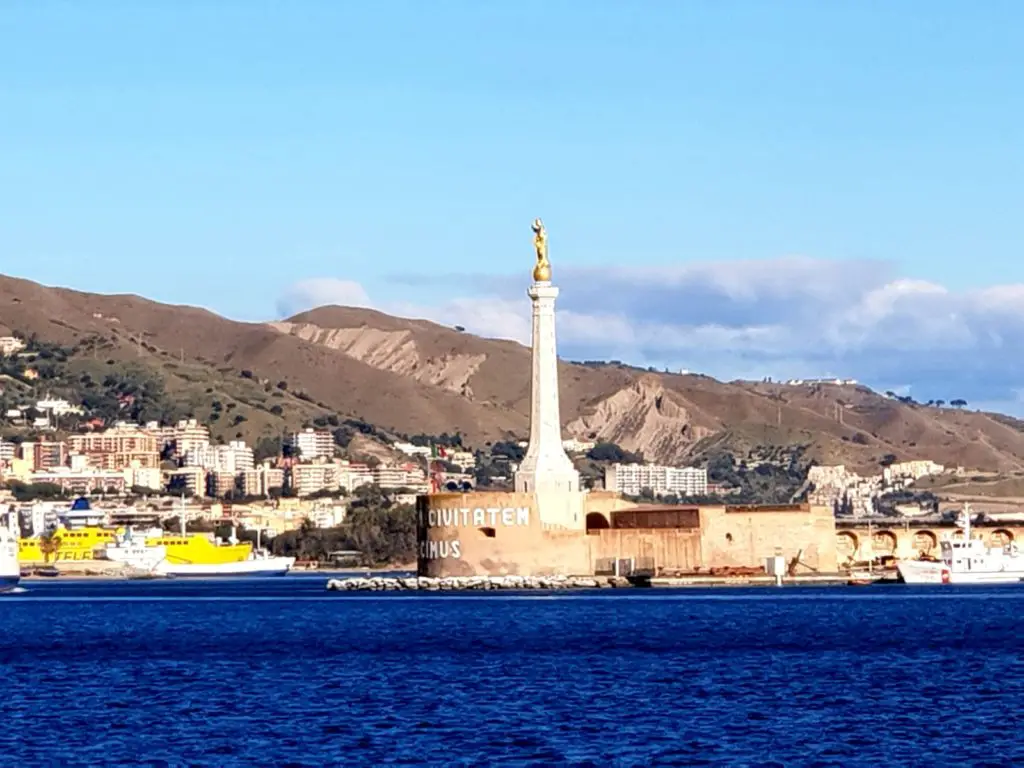 If you go with the hydrofoil, you need to go back to the train station and look for signs and arrows leading you to the port area and Blu Jet ticket office. This is where you get the hydrofoil back to Villa San Giovanni. If you want to get a coffee while waiting, there is a bar opposite the ticket office. I often go there when I have to wait.
If you decide to go with the ferry which is Caronte, they are located in another port area which is far from the station.
The crossing takes 20 minutes back to Villa San Giovanni or Reggio Calabria. You will notice as you arrive and depart from the port, the beautiful golden statue of the Virgin Mary which was erected to welcome and bless the ships.
A day in Messina is plenty, however if you can stay longer, it is well worth it. You can combine Messina with a trip to Taormina, Etna or Tindari. Read here about my day trip to Taormina. A good base to stay in Calabria is Scilla or towns within one hour from Villa San Giovanni or Reggio Calabria.