If you are a solo traveller and want to travel in Taormina alone, I can highly recommend this experience. The people really make you feel at ease, it is a great way of meeting other travellers and you get to see what you want in such a beautiful place. I recommend winter time. The climate is mild and there are less crowds so you can really explore this magical place. I would like to share with you my experience as a solo traveller in Taormina.
Travelling solo in Taormina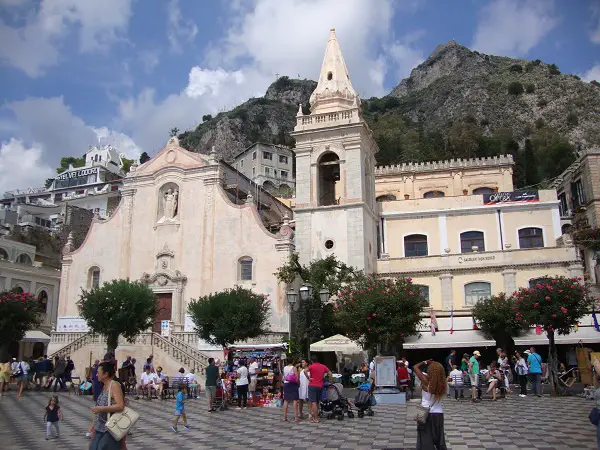 I decided to go to Taormina in January for a winter break for 7 nights half board. I chose a small hotel close to the centre. You can meet many people in a small hotel so it is ideal for a solo traveller. There are less people to stare at you in the dining room or wonder what on earth you are doing there alone.
I could not find anyone to go with and besides this, I had always travelled alone. It was more exciting and a great way to meet many like-minded people. Most of my colleagues were on different tours so I could not find anyone to join me.
The Hotel for a solo traveller
As a Tour Manager at that time, I often ate alone in the hotels so I decided to go for it. I am glad I did. At first, I must admit, I was a little apprehensive not knowing anything about the place. I flew from Rome to Catania and a taxi transfer to my hotel in Taormina. It is about 65 km from Catania Airport, approximately 1 hour traffic permitting. You can also get the bus Interbus from the airport to Catania bus station and then from there to Taormina.
The hotel staff were very welcoming and instantly made me feel at home. In fact, this small characteristic hotel was more like a home than a hotel. Sadly, it does not exist anymore. If I remember well, the owner was an artist and a collector and there were many interesting objects on display. The hotel was very close to the centre. Once I checked in, I spent some time in my room before braving the streets of Taormina alone.
Female solo travellers in Taormina
I then picked up my camera carefully hiding it in my small backpack along with a guide book so I did not look like the usual tourist with it hanging around one's neck. Although, today we can easily use our mobile phones. Anyway, I was going to take lots of pictures whether I looked like a tourist or not. Taormina had always been on my to-see list and finally I was there.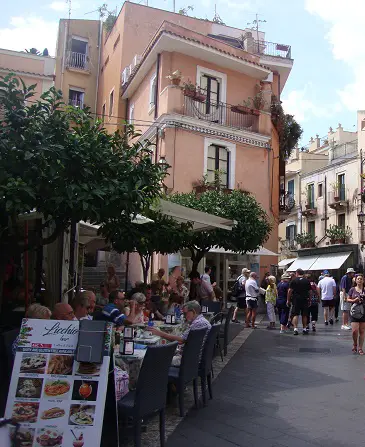 There was a tiny bit of apprehension being a female and not knowing what to expect, but I was not going to let that put me off. I headed for the main street of Taormina, Corso Umberto. As soon as I walked along that street, I felt completely at ease. Nobody looked at me strangely even if I was sitting in a bar with my cappuccino and solitary cannolo. The male population was very respectful and polite.
Taormina is full of colour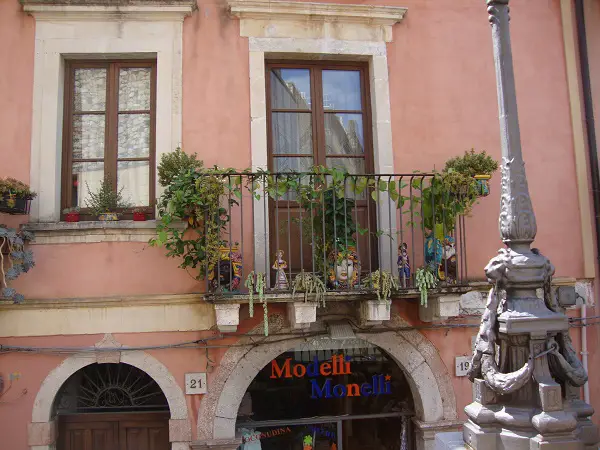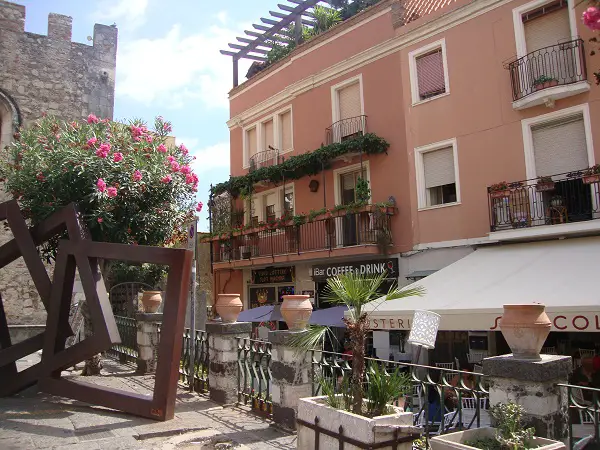 I felt so at home. I was also excited and happy to be in such a wonderful place. Taormina for me is one of the most beautiful places in the world even surpassing Positano. Actually, I have to be honest. I have travelled a lot and never seen such beauty. It was almost like a scene from the wizard of Oz when Dorothy enters the land of Oz (my favourite childhood film).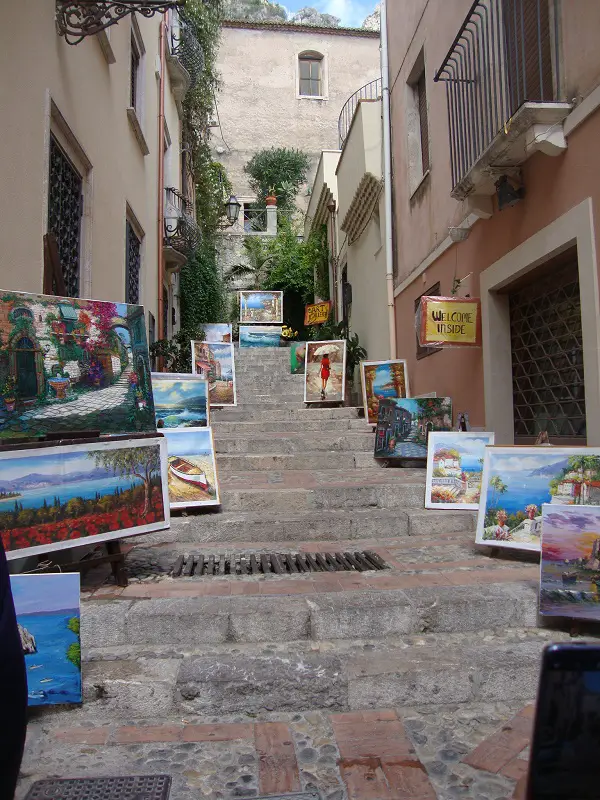 The town is so colourful with buildings, mostly in pastel colours. There are yellows, pinks and terracotta. Bougainvillea in all colours hang from balconies as well as huge ceramic planters in the streets containing the most beautiful flowers. There are lemon trees and artists' paintings everywhere. An artist's paradise. See more here about art in Taormina. The beauty of this town takes your breath away.
The flowers of Taormina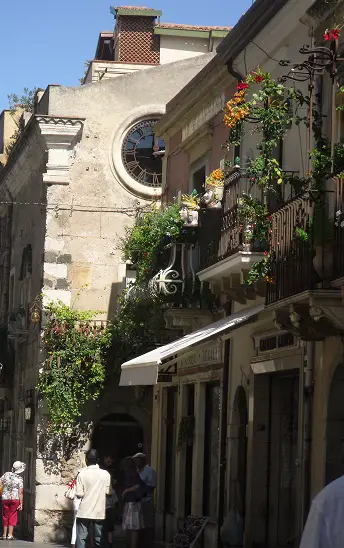 You can instantly smell the home-made Sicilian pastries as you pass the bars and the fragrance of the flowers coming from the balconies just above your head. These colourful Sicilian head vases are everywhere.
More flowers surround you as you walk down the back streets of Taormina. I did not feel lonely at all. The friendliness of the local people puts you at ease immediately, especially in the bars as they tell you their life stories while serving other customers.
A solo traveller's breakfast
Being a solo traveller gave me the opportunity to meet lots of interesting people. I only felt sad when having dinner in the hotel, but even that feeling didn't last for long as I ate such delicious food and wine. I stayed in the hotel that evening.
The next morning I made my way up to the roof terrace for breakfast. What a view! I could see the rooftops of Taormina as well as the church domes. Freshly baked croissants with different flavours of jam and cappuccino was my breakfast.
The solo traveller walk around in company
There were only about 8 of us at breakfast that morning, a family of 3, two couples and myself. After breakfast, I went exploring the streets of Taormina. I went first with a walking guide so I could be part of a group and learn more about the magnificent Greek theatre. It is in every painting and postcard of Taormina. An impressive construction first built by the Greeks and then the Romans.
Many performances take place in the theatre during the summer evenings. The day is for visitors. After an excellent guided tour of the theatre, we went around the town. It was very useful as the local guide shared interesting stories with us. You can see a similar one here.
I decided that afternoon to go for a coffee in the main square of Taormina, of course alone. This time I was feeling a bit nervous as sitting in a bar on your own in the main square would look so obvious.
The solo traveller in Piazza IX Aprile in Taormina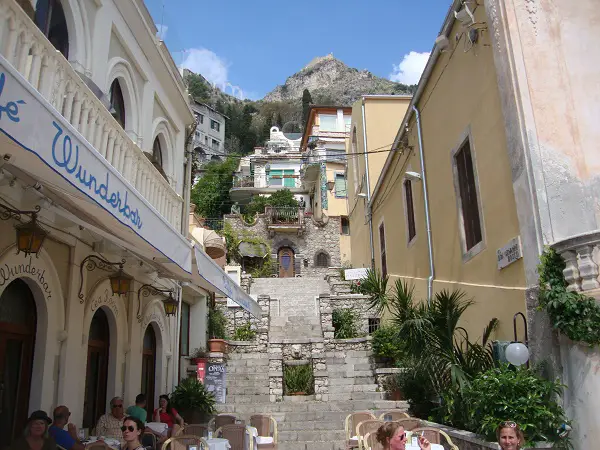 I sat at the back of a pavement cafe filled with people in the main square of Taormina, Piazza IX Aprile. My slight feeling of apprehension disappeared as two men dressed in traditional costume started playing the tune to the Godfather. The square filled up as people listened with immense gratitude to the musicians remembering these incredible scenes, some shot in the nearby towns of Savoca and Forza d'Agrò.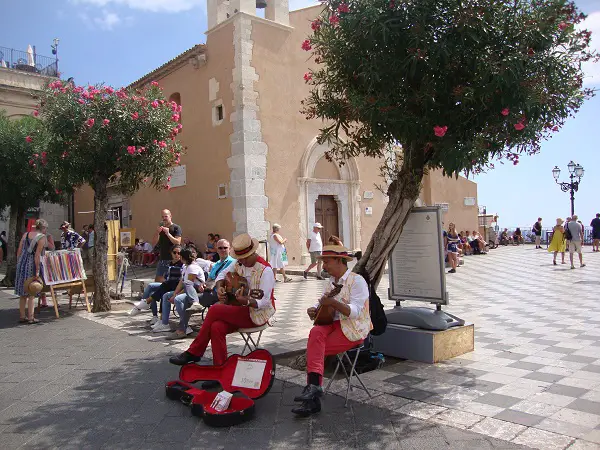 It was quiet until the two men stopped playing and once again, that very lively square was filled with people's chatter and excitement. There is always some form of entertainment going on in this square at any time of the year. The next day I went on an excursion to Mount Etna. Since then, I have been several times to Mount Etna. You can read about it here.
A solo traveller and company
It was coming to the end of my holiday and my heart started to ache. I could not bear the thought of leaving so soon. Undoubtedly, I had fallen in love with Taormina just like many others. I still had two weeks free from work so I decided to book into a B&B for the rest of the time. I found a small friendly B&B close to the public gardens of Taormina. The owner was so friendly. The name of the B&B is Grazia.
The public gardens of Taormina
That very week, a group of American girls staying at the B&B invited me to go sightseeing and a drink in the evening. I really enjoyed their company. I was able to try out the numerous wine bars without being on my tod. Although, I never felt like a solo traveller in Taormina even if I was.
I spent most of my time in the public gardens as it is a peaceful place with incredible views of Etna and Giardini Naxos. In fact, every time I come here, I go to the gardens for these breathtaking views. You can enjoy these views from your hotel balcony or terrace.
Taormina is expensive but you can find places to suit your budget. You can also find places selling street food if you do not want to eat in restaurants every night. Wine bars serve bruschetta and that can be a meal in itself.
I often had it for dinner as I booked bed and breakfast only at the B&B. There are countless excursions to go on if you do not have a car or prefer not to drive for a few days and let someone else do the driving on these winding roads. See excursions here.
The hotels in Taormina
Make sure you visit the hill-top town of Castelmola. There is always something to see and do here. You can take the local bus in the centre of Taormina to go to Castelmola. I completely recommend it. It is a pretty town with amazing views. The climate is mild here in winter. Some of the tourists wear shorts.
In fact, I had to carry my cardigan on a few occasions. When the sun is out, it can be quite warm, even hot but cool in the evenings. Most hotels have heating and air conditioning. Unfortunately, I could not stay any longer but knew I would always return.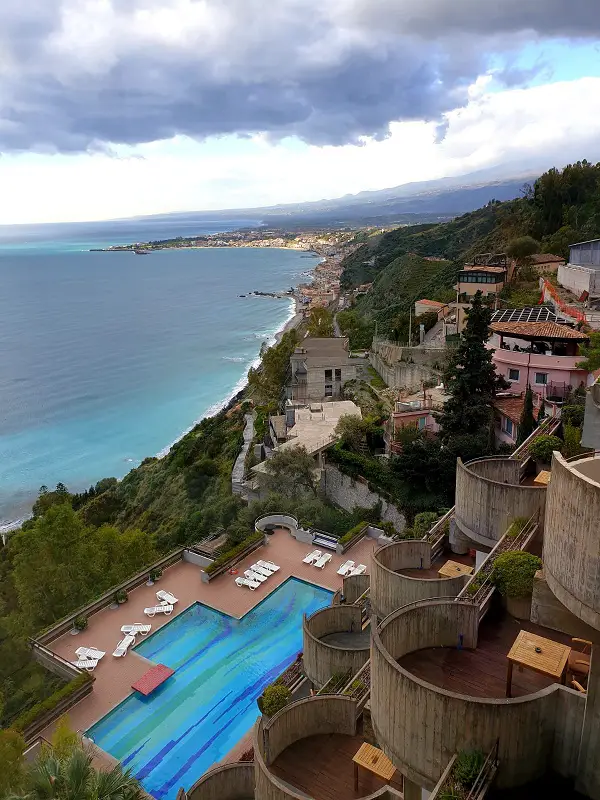 Living near Reggio Calabria has given me this opportunity. I only need to take the hydrofoil from Villa San Giovanni next to Reggio Calabria and in 20 minutes, I am in Messina. Taormina is only 1 hour from there. I go back often and stay in different hotels. I have been there in December and January and the summer months. I honestly prefer the winter time. You still get nice weather in Sicily.
You can see pictures of my favourite hotel here for its location, breakfast and incredible views. Make sure you book a seaview in Taormina. I also go at Christmas time. You can read about my festive weekend from Calabria here.
Every time I return to Taormina, there is something new to see and do. I have booked the Godfather Tour for December so I will let you know about it. If you have been on it, Please share your experience with us. The hardest part about Taormina is leaving it and all the people you meet when you are a solo traveller. You instantly feel at ease in Taormina when you travel alone. Read more to find out what you can do in a day trip to Taormina.