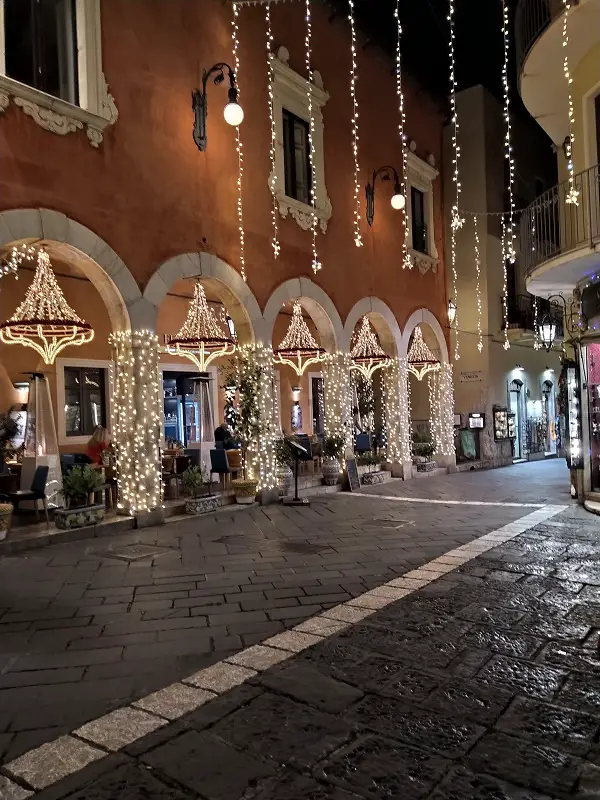 Calabria and Sicily are wonderful regions to visit during the festive season. I decided to go for a weekend to Sicily on the 21st December to see all the decorations and enjoy the festive season. I chose Taormina and Santo Stefano di Camastra. At this time of the year you will have a magical time.
The journey from Calabria during this festive season
We arrived in Villa San Giovanni hoping to get the hydrofoil across to Messina. Unfortunately, the weather was bad and sadly, they cancelled the hydrofoil. Luckily, we could still get across on the ferry. The price was 2,50 euro for a 20 minute crossing with the Company Bluferries which left us right at the train station.
After a 5 minute walk from the ferry, we were inside Messina Centrale train station. Whilst we were waiting on the train, I could not help but notice this spectacular fountain across from the station. They had put poinsettias all around it for the festive season. It was breathtaking to watch.
It was time to head to our platform ready to board the train for Santo Stefano di Camastra in Sicily. The journey took 1 hour and 30 minutes and the B&B owner was already waiting to take us to our accommodation. We booked a small B&B in the centre.
The festive Christmas tree with hanging ceramics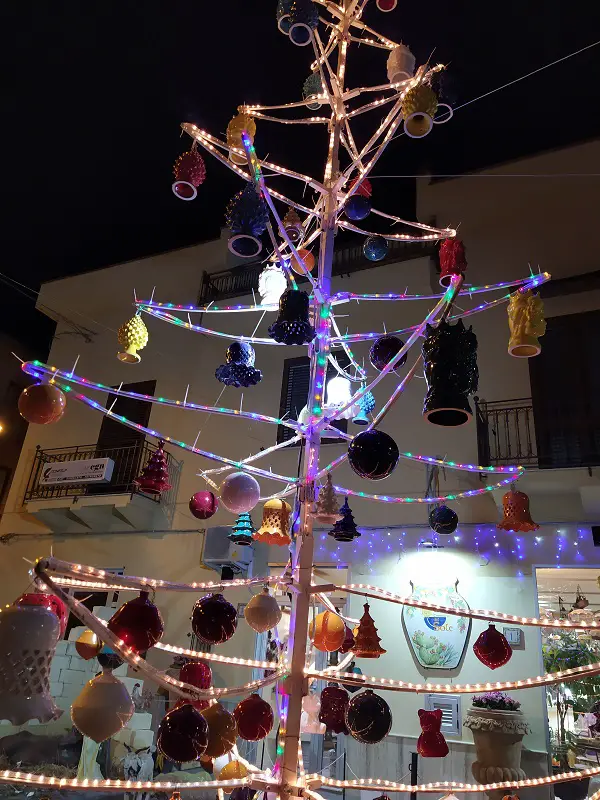 Unfortunately, it was very windy that day and most people decided to stay at home. It was quiet, but luckily there were a few shops and restaurants open. The first thing that caught our eye was the beautiful Christmas tree in the square with the nativity crib next to it.
As Camastra is famous for its ceramics, and you will see plenty of them here, I saw beautiful ceramics hang from its branches. One of the most typical Sicilian ceramics is the pine cone, symbol of fertility. Many people keep it in their homes for good luck, peace and serenity. They decorated it with ceramic pine cones for the festive season.
There were many of them on the branches of this tree in different colours. You can purchase a similar one here. All the window displays were wonderful to look at. We stopped for cappuccino and Sicilian pastries before we decided to explore more.
The giant coloured ceramic and mosaic vase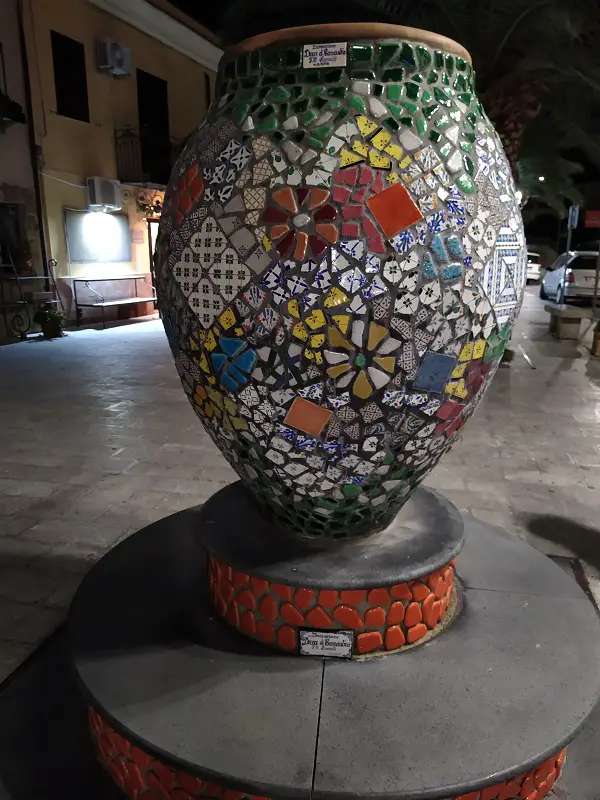 There is already colour everywhere in Sicily so you can imagine the colours you can see during Christmas time. Delicious pistachio flavoured panettone everywhere as well as the Sicilian heads full of poinsettias. The atmosphere is incredible. Make sure you visit the giant ceramic vase, Camastra's masterpiece at the end of the main street. You can see its different colours shine in the distance.
Once you get close up to it, you will appreciate its sheer size and beauty. Ceramics and mosaics adorn this incredible piece of pottery. We went around some of the shops just looking at the craftsmanship of some of these objects. I had to buy one of those pine cones. We then started to feel peckish and as the wind was howling away, we decided to have dinner in a typical Sicilian trattoria.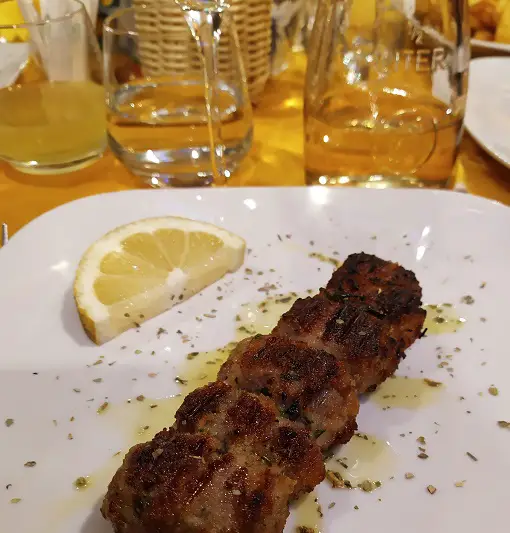 I had the involtini (pieces of meat rolled over on a skewer with cheese and breadcrumbs and other flavours typical of the area). This dish was the speciality of the restaurant. Pistachio flavoured semifreddo for dessert and zibibbo as a digestive liqueur. After going around taking many photos and videos, it was time to head back to the B&B.
The journey to Taormina
The next morning we set off for the train back to Messina. It was a comfortable train ride with only 1 hour to wait in Messina for our train to Giardini Naxos/Taormina. We boarded the train and within 1 hour we were in Giardini Naxos. A beautiful summer seaside resort in Summer. A little deserted in winter.
The unusual train station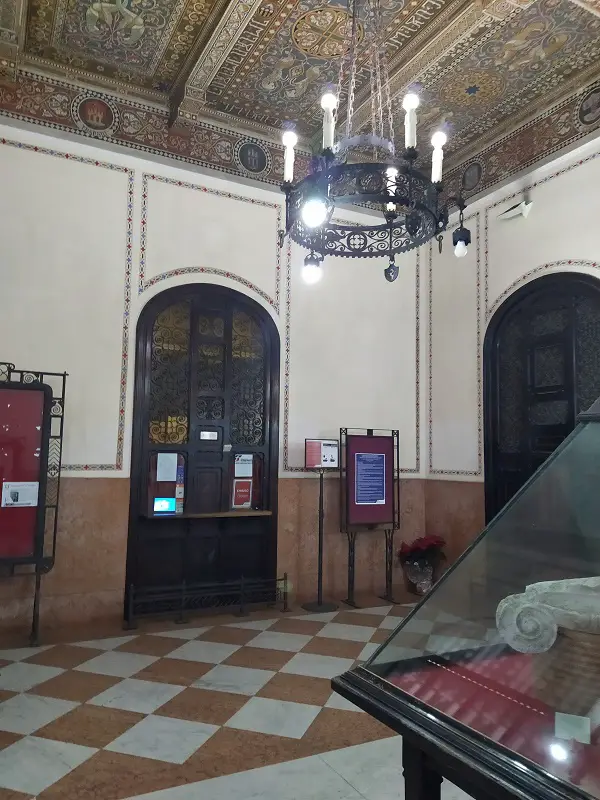 The station was unbelievable. It looked more like a museum than a train station. The ceiling is frescoed with mosaic flooring and a glass display in the centre of the room with an ancient Greek vase and other artifacts inside this glass box. I had never seen such a beautiful, clean and ornate station before.
Our taxi was waiting for us outside which was 15 euro from the station to the hotel in Taormina. You can get the bus for 2,50 which takes about 20 minutes to the bus station in Taormina with Interbus Company. The bus stop is outside the station.
The Hotel during this festive season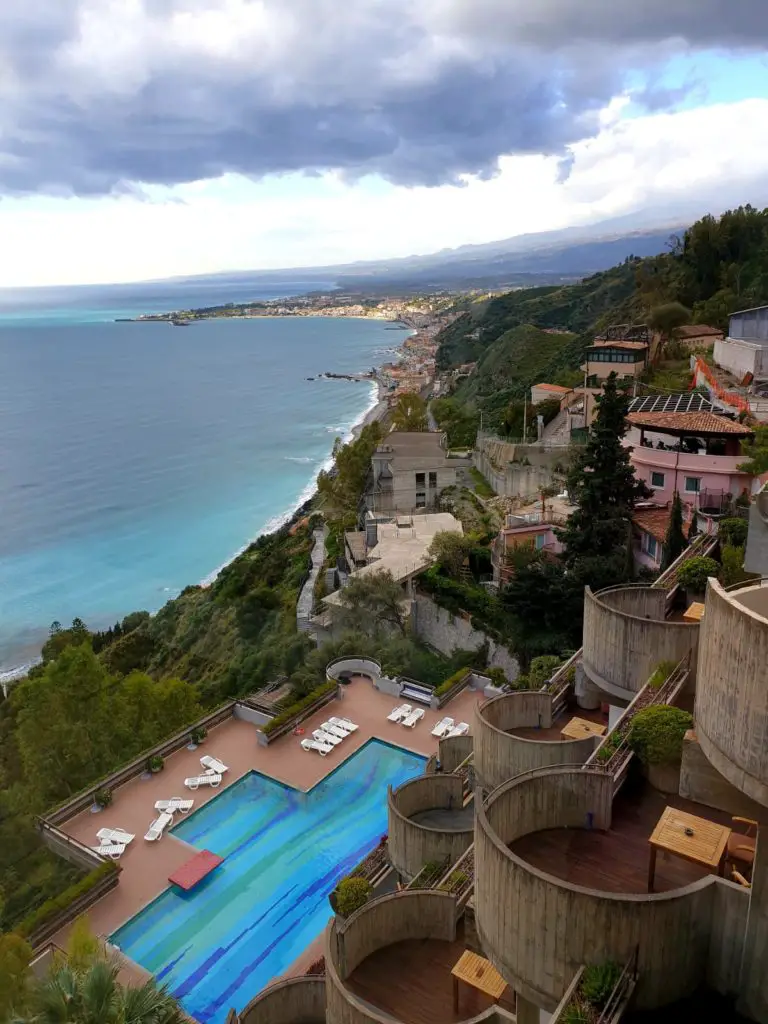 We stayed in a beautiful 4 star hotel in a junior suite. It has an incredible sea view in a perfect location right in the centre of Taormina next to the public garden. The hotel had plenty of decorations for the festive season. The staff gave us a warm welcome and took us to our hotel room which was accessed by going up in a glass lift.
This ride was fun and breathtaking as you could see the whole coast through its full glass doors. The hotel is built into a cliff so the views are stunning from every angle. The room exceeded my expectations as well as the balcony and the large bathroom with Jacuzzi bath.
Christmas illuminations
After resting for a couple of hours, we could not wait to explore the town. Words cannot describe the beauty of this town. Poets and artists have been praising it for centuries. You instantly fall in love with it. I had been many times before but it always feels the same every time you go back. This time it was even more special with all the Christmas illuminations. There were lights twinkling everywhere lightening up every corner of Taormina.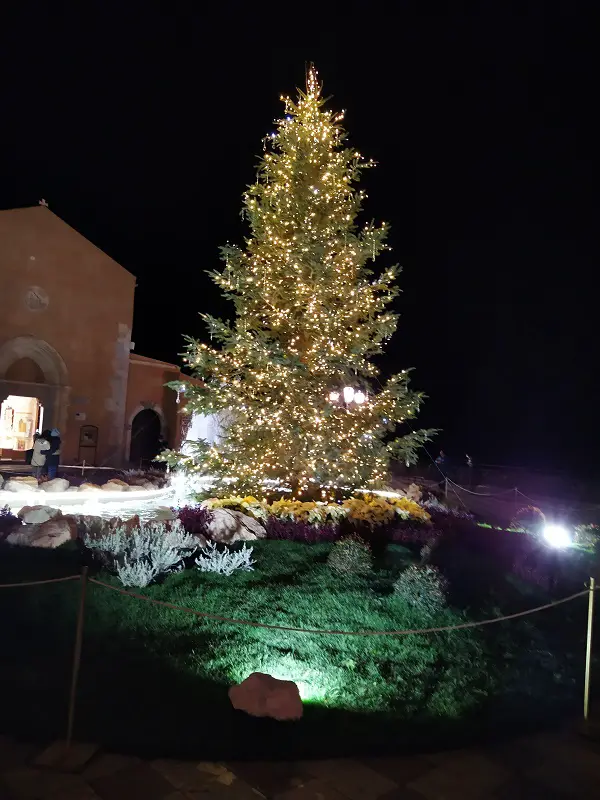 This was a spectacle that you should not miss. Everywhere you looked you could see different coloured lights. I definitely recommend visiting Taormina for this sparkly occasion. Christmas music is everywhere and you could hear the sound of the Christmas bagpipes from a distance.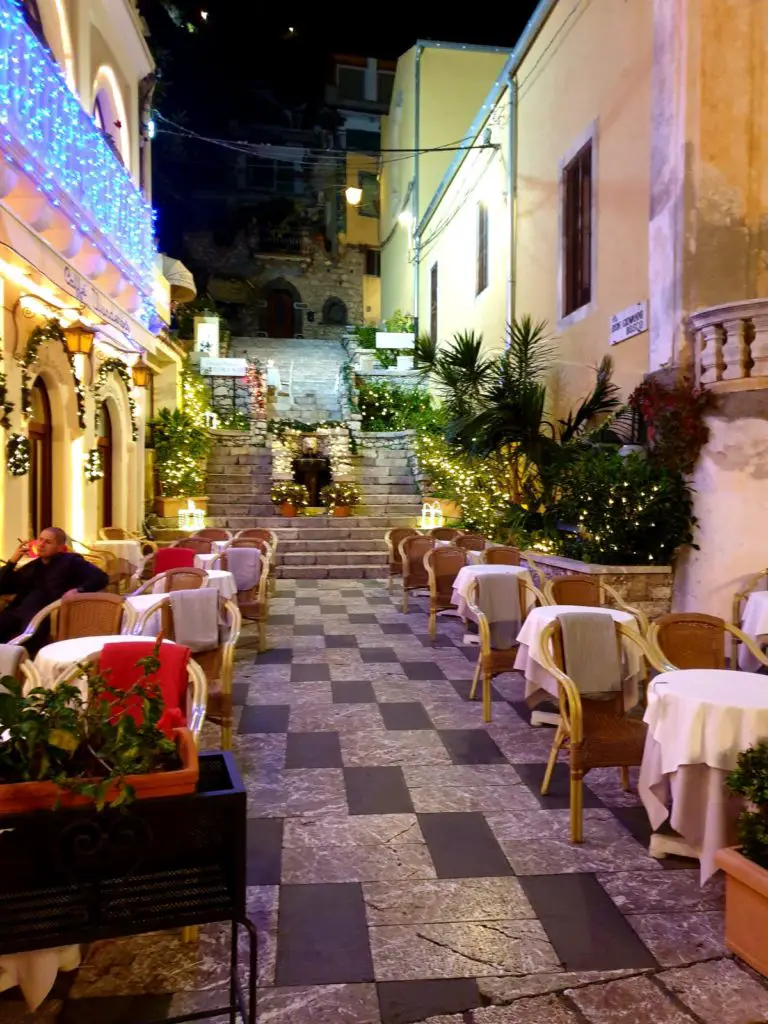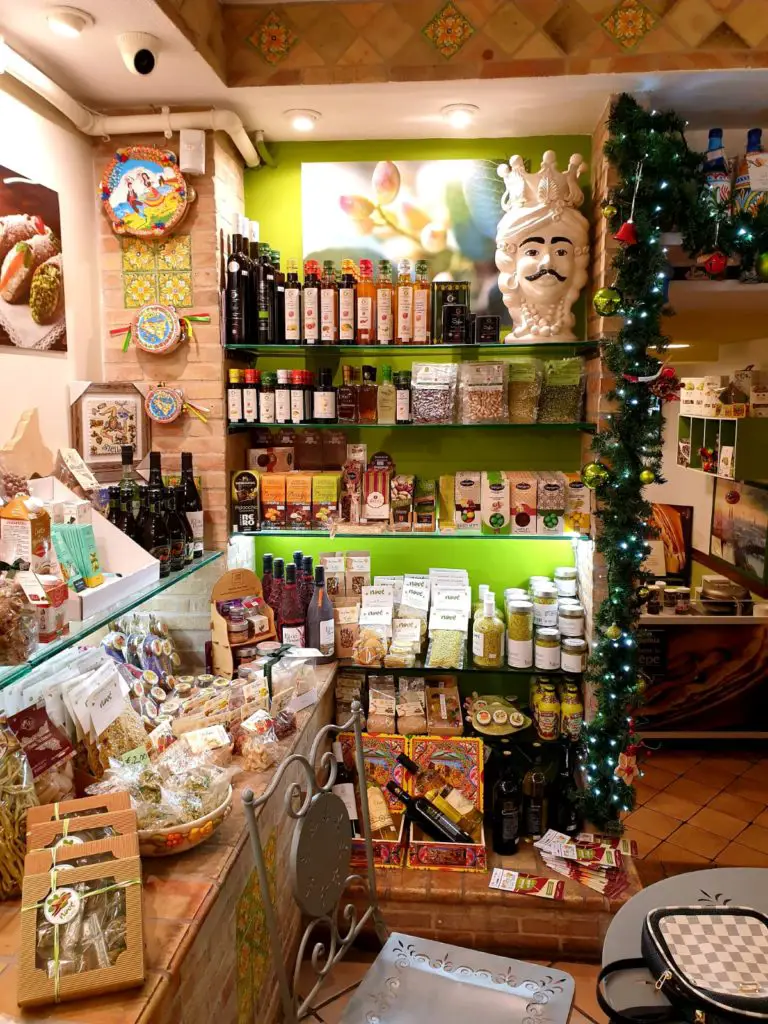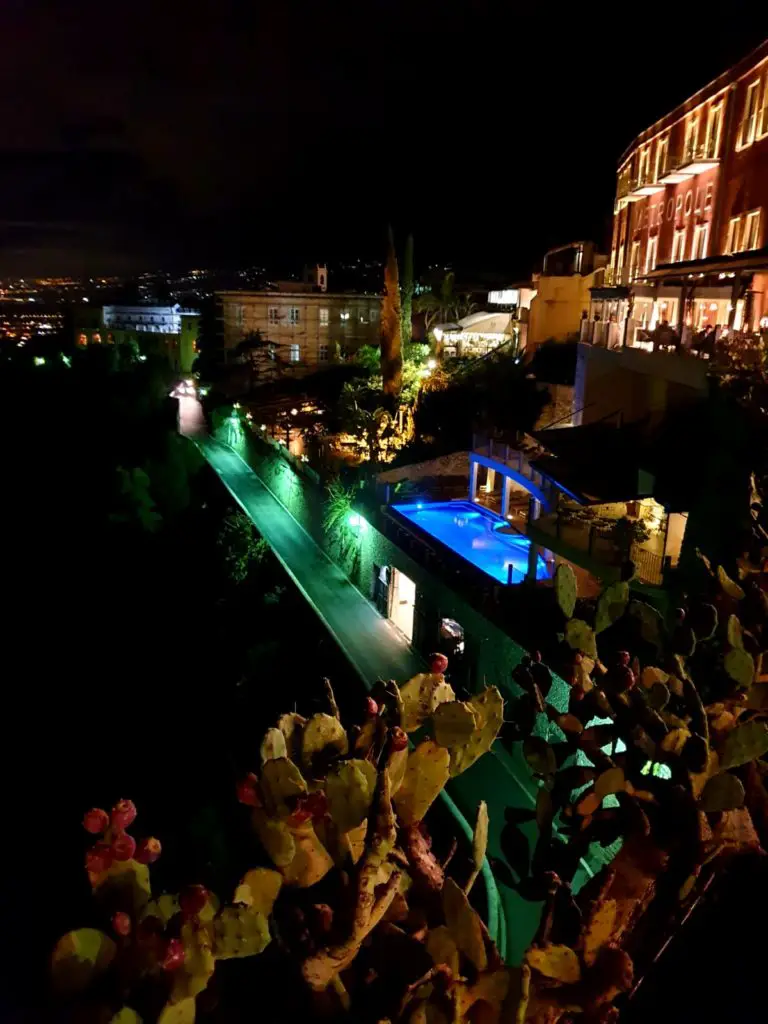 It was wonderful being able to walk through the streets of Taormina without crowds of excited tourists. I had never seen it so quiet nor had I seen so many panettones. They were being displayed in every shop along with the Christmas delicacy torrone. This is usual for the festive season not to have many crowds.
After browsing so many shops and tasting pistachio flavoured liqueurs, it was time to have dinner. I was a little annoyed as I had hoped to eat my Sicilian speciality dish sarde a Beccafico. Unfortunately, the restaurant did not have any left. I settled for pasta alla norma. Taormina is very expensive so be prepared to pay high prices.
Prices in Taormina
It always surprises me as it seems to be three times more expensive than Calabria. I usually pay 1,50 for a cappuccino and when asked for 3,50, it seemed a lot. It is usually like this and not just for the festive season. The usual story when you go to places that are world-famous. I did not let that put me off but continued to have an amazing time in Taormina. Why not have fun making a pizza in Taormina and enjoy it along with other pizza enthusiasts in this pizza making class.
The public garden
The next morning I woke up early to have a delicious breakfast in the hotel with sea views. I knew I was travelling back to Calabria so ate plenty. I then headed to the public garden as the sun was shining. This is a place that would make you never want to leave. It was so warm, even during the festive season.
Mount Etna in the distance
I had to take my jacket off and gaze at the views that take people's breath away looking over at Mount Etna in the distance, even though it was a little cloudy that day. You can visit Mount Etna on this tour from Taormina [widgets_on_pages id="Etna from Taormina"] Unfortunately, it was time to head back, but not so unfortunate as I was heading back to Calabria. If you are staying longer, you might want to consider the [widgets_on_pages id="The godfather tour in Sicily"] including lunch.
Platform 1
Our taxi driver picked us up from the hotel and took us to the train station in Giardini Naxos/Taormina. He was such a kind man informing us that the train to Messina was showing platform 3 but then, it would change to platform 1. He told us this so we would not panic dragging our cases to the platform opposite. The platform could only be accessed by a flight of stairs and my mother struggled a little. We really appreciated his help.
The taxi driver
I was a little apprehensive but decided to take his advice and sure enough, just before the bell rang, the screen was showing Messina platform 1. All the passengers who had been waiting at platform 3 were panicking, some of them with heavy luggage and even carrying a Sicilian cassata for Christmas day fled down the stairs eager to make this connection.
I could not have thanked this taxi driver enough. His name is Nino and he usually sits outside the train station. He waited until we had boarded our train.
The ferry back to Villa San Giovanni
Again, they cancelled our hydrofoil due to bad weather. We had to take the ferry which this time was a real surprise. We travelled with Bluferries and paid 2,50 for a luxury ferry ride. This was one of Bluferries' newest and modern ferries. It was beautiful inside with lavish interiors, comfortable large leather seats with plenty of leg room, a bar and clean bathrooms.
I have been travelling on ferries for years from Messina to Calabria and never had such an enjoyable and comfortable ferry ride. It was almost like we were not moving although, I am pretty sure we were as we reached Villa San Giovanni in 20 minutes. I definitely recommend Calabria and Sicily for the festive season. Read about New Year in Calabria here.