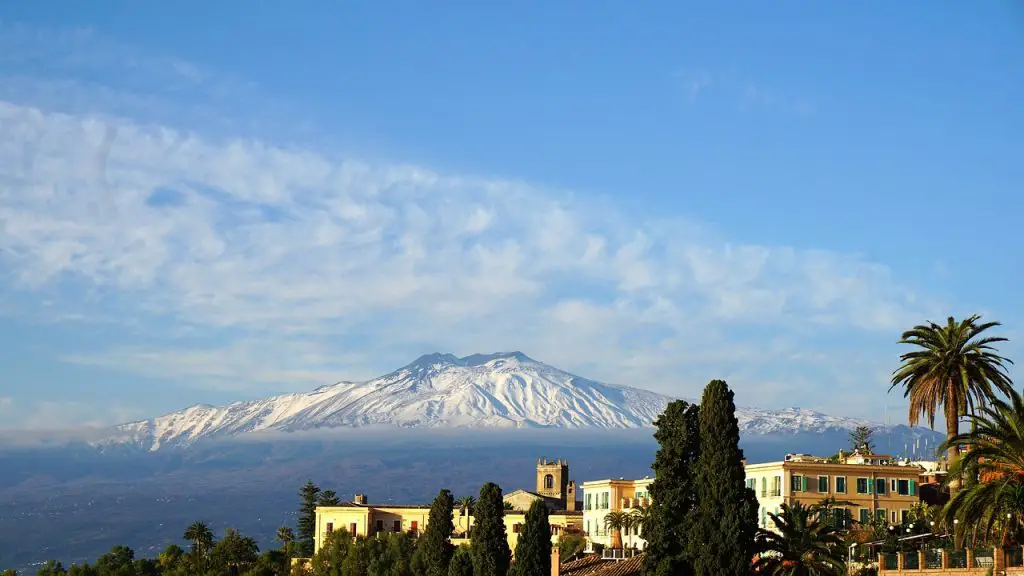 Imagine being able to visit one of the most famous volcanoes in the world, Mount Etna from Calabria. It is right in front of Calabria in the South of Italy. In fact as you head towards Reggio Calabria, you can see it in the distance. On a clear day on the promenade of Reggio Calabria, the view of Mount Etna takes your breath away. It seems almost as if it is right there. It is only 1 hour's drive from Messina.
We set off very early from Villa San Giovanni in Calabria to reach Messina, We drove first to Mount Etna (approx 1 hour) before spending the rest of the day in Taormina. It was a hot day so the last thing I was thinking about was dressing up for winter. In fact, I recommend taking some warm clothes as believe it or not, you can get very cold as you approach the summit. Unfortunately, I was only able to go half-way up. Cable cars take enthusiastic skiers right up to the top. They usually have the right wear for it.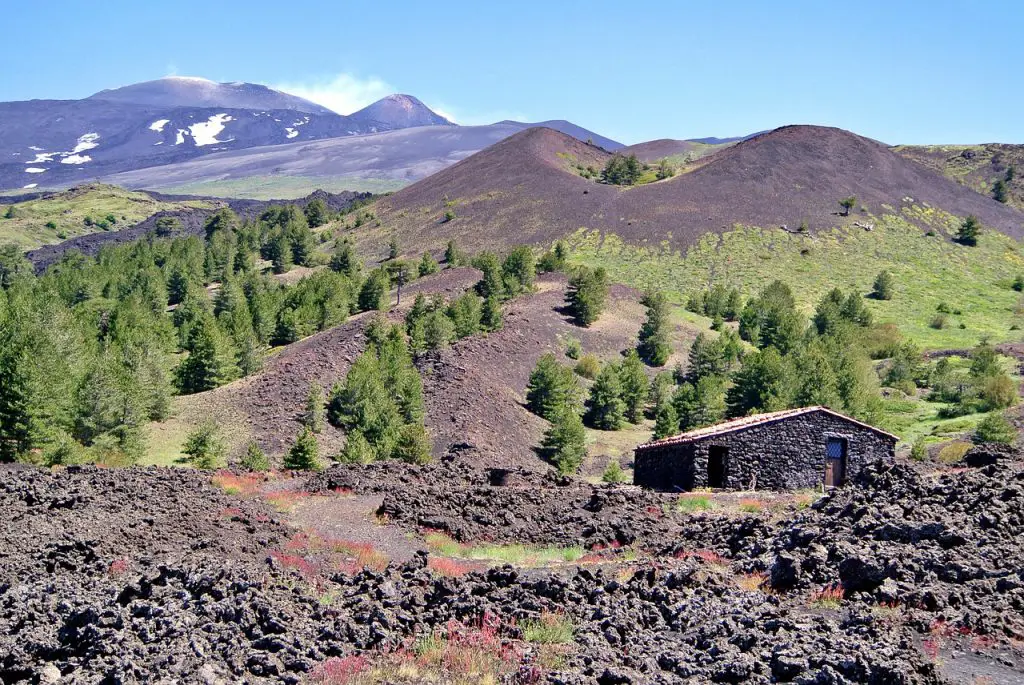 The local Etna wine
We walked along different parts of the volcano and in one part saw the rooftop of a house partly uncovered. The rest of it was completely submerged in ash. The volcano is one of the most active and highest in Europe (3.350m) and sometimes bursts into smoky flames. I remember one winter Calabria was slighly covered in black ash from Mount Etna. All the streets and roads were black. I had to literally sweep the ash off the balcony. Some parts around the volcano are very green and fertile. The local Etna wines come from this area such as the DOC Nerello Mascalese, an excellent red wine. Its grapes grow well on the slopes of Etna.
The last major eruption was in 1669 when it destroyed several towns. There have been minor eruptions since. However, they constantly monitor it and when safe, they allow visitors to ascend. The experience of climbing the throne of Vulcan (God of fire) is incredible. The views from up there spreading as far as Taormina, Giardini Naxos and beyond is something else. In fact, you can get a very close view of it from Taormina.
The Sapienza Refuge on Mount Etna
Mount Etna is located in eastern Sicily approx 1 hour away from Taormina. After exploring some of the volcano, we headed to the Sapienza refuge, where you can find many huts for shelter and something to eat and drink. I had hot soup, which was welcoming due to the cold temperature, and me in my shorts and t-shirt.
I could not believe the difference in temperature. Down on the coast, It was extremely hot and up here I was feeling cold. The last time I visited, I brought something warm and it made such a difference. I also recommend this so it does not spoil your visit.
The excursion with tour guide
I noticed many souvenir shops in the Sapienza refuge (1.935m high) where you can buy ornaments made out of lava and other interesting souvenirs. It is a very popular site with many organised excursions. They even have the fire glowing in some huts during the winter. It is fun going alone but you learn so much more about the volcano with the tour guide. They also know which parts of the volcano are the most interesting.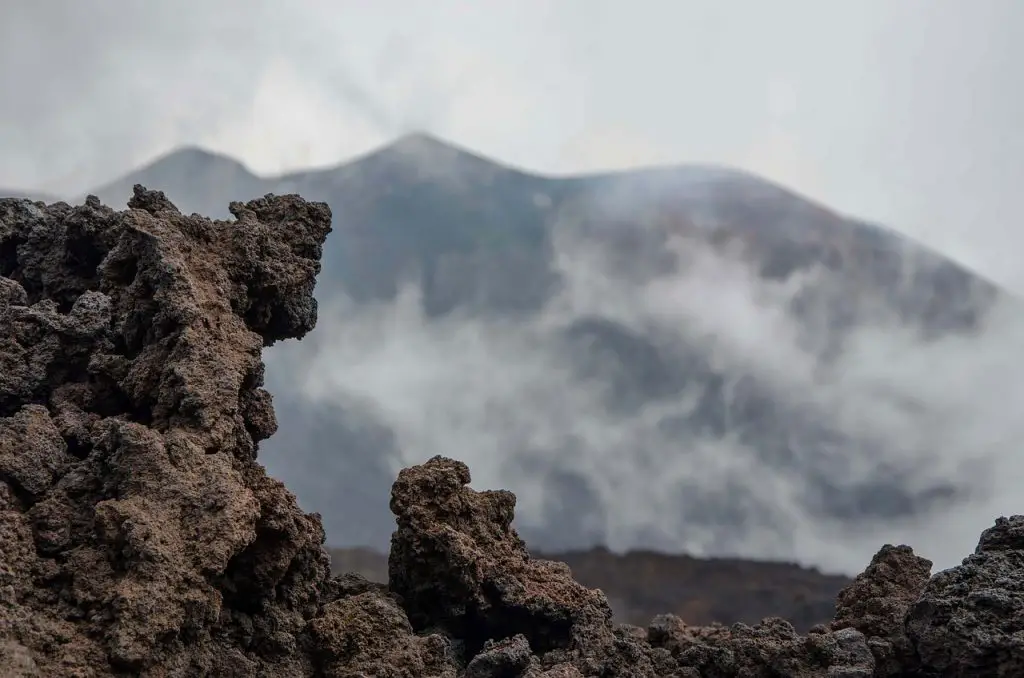 Visit Mount Etna 12 months of the year
We just randomly walked around not knowing where we were going. The place is vast. There are many walking trails taking you all over the volcano. It can be a bit tiring walking over the stones and some little rocks scattered all around. Make sure you wear comfortable shoes and not sandals. A good walking staff will support you. You can visit Mount Etna 12 months of the year. Summer for tourists and winter for skiers. You can visit at any time of the year. There are two ski resorts on Etna; Nicolosi and Piano Provenzano.
I recommend going on this excursion. I have been a few times to Mount Etna and I felt better going on the tour. They pick you up from Messina and bring you back. Great for cruise passengers. After lunch and our morning hike, we headed to the beautiful hill top town to spend the rest of the day in Taormina.
Stay overnight in Taormina
The tour also takes you there giving you plenty of time to explore. Only 8 participants allowed on the excursion. If you want to read more about Taormina, you can see my earlier post Taormina. If you get the opportunity to come to Calabria, you will be able to visit this place.
You can do it in one day or if you want to relax, you can spend a night or two in Taormina. Visitors from Sicily can take the opportunity to visit Reggio Calabria and Scilla for a day or two or more. You can use my travel resources here to get around.