If you have always dreamt of being in ceramic heaven, Calabria and Sicily are the ideal locations for you. Everywhere you look, you will see ceramics, especially in the 3 ceramic towns I would like to tell you about. If you have read my earlier blog posts, you will know that I am also a ceramic enthusiast and collect ceramics from all over southern Italy.
Ancient Greeks in southern Italy
Ceramics is one of the oldest forms of art-making in southern Italy. We can see this in the many museums scattered all over the area. These objects boast witness to how the ancient Greeks brought their activity to southern Italy in the 8th and 9th century BC.
Did you know that the word ceramic originated from the Greek word keramos? The meaning is similar to firing clay. But can you imagine spending most of your holiday in ceramic towns and being able to make the ceramics yourself. You will be surrounded by the brightest Mediterranean colours in these towns.
Ceramic course in Taormina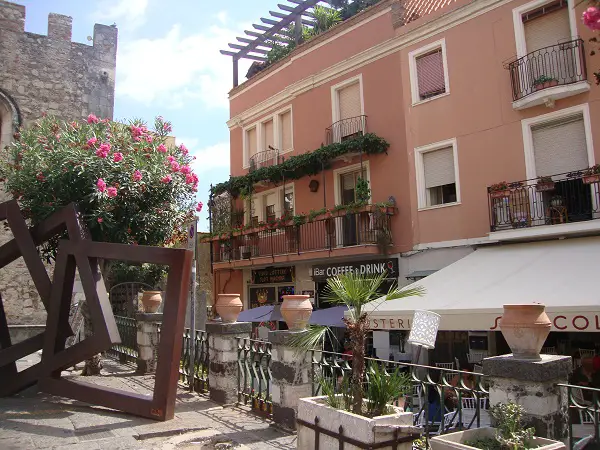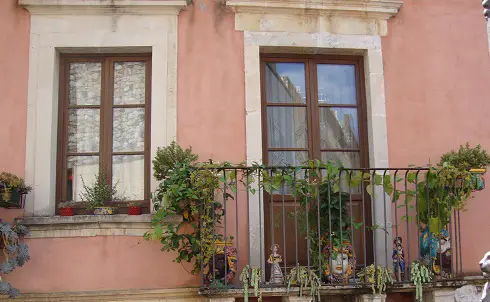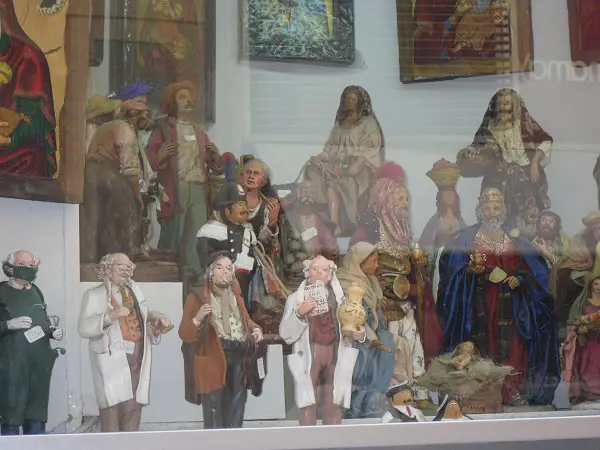 Decorating ceramics
You can do this staying at the Isoco guest house in Taormina. This little town in eastern Sicily is one of the most beautiful places in the world. You can read about Taormina in my earlier blog post. Firstly, I would just like to mention that it is a haven for ceramic lovers and artists.
The artist/owner runs a course for his guests, which lasts for about 20 hours and is split into two parts; the first part is modelling and sculpture (working and shaping the clay), the next part is about decorating the objects.
In this second part you learn about glazing and painting. You can then take your finished work of art away with you and I am sure wherever you place it in your home, you will have memories to cherish for a long time. The object will be even more special knowing you created it in such a beautiful place.
A visit to the ceramic town of Seminara in Calabria
From Taormina it is fairly easy to visit the ceramic town of Seminara in Calabria. This town is definitely worth visiting if you love ceramics. It is Calabria's little pride and joy located near Reggio Calabria. I recommend staying overnight in Scilla and visiting here for half a day.
You can easily go around the town in about one hour, but you may want to spend a while browsing in these ceramic shops and visiting the ceramic museum and church. There are some interesting objects made by the craftsmen of the town. You will love the Seminara festival in August.
If you decide to stay first in Calabria then Scilla is a perfect base to visit Seminara along with Palmi and other places such as Reggio Calabria. You can read about Seminara in my earlier blog post.
How to reach Taormina from Scilla
You can take the hydrofoil or ferry from Villa San Giovanni over to Messina. Scilla is right next to Villa San Giovanni making it an ideal place to stay. It only takes 10 minutes by car or 7 minutes with the train. You can easily reach the guest house in Taormina ready for your ceramic-making experience either by car or train. It takes 1 hour from Messina to reach Taormina.
After a few days in Taormina, you can then visit the next ceramic town Santo Stefano di Camastra, which is approx 135 km from Messina either by car or train. You can read about Santo Stefano di Camastra in my earlier blog post.
Ceramics and mosaics everywhere
This place was built for ceramic enthusiasts. The minute you arrive at the train station, you will see that it is covered in ceramic tiles and everywhere you go, there are ceramics and mosaics as well as plenty of these ceramic shops with workshops at the back of the establishments. Sometimes you can be lucky to see these incredible ceramists in action.
3 ceramic towns in southern Italy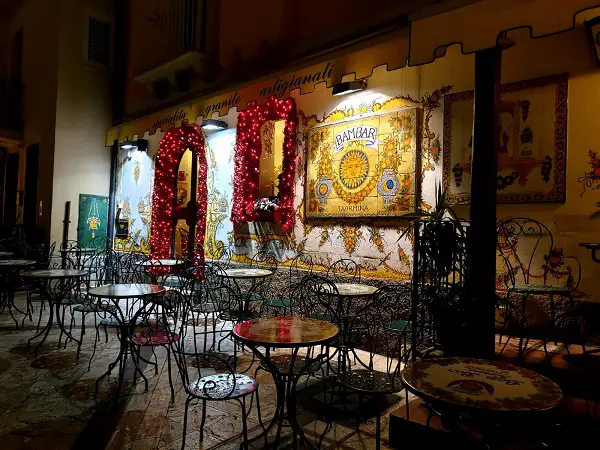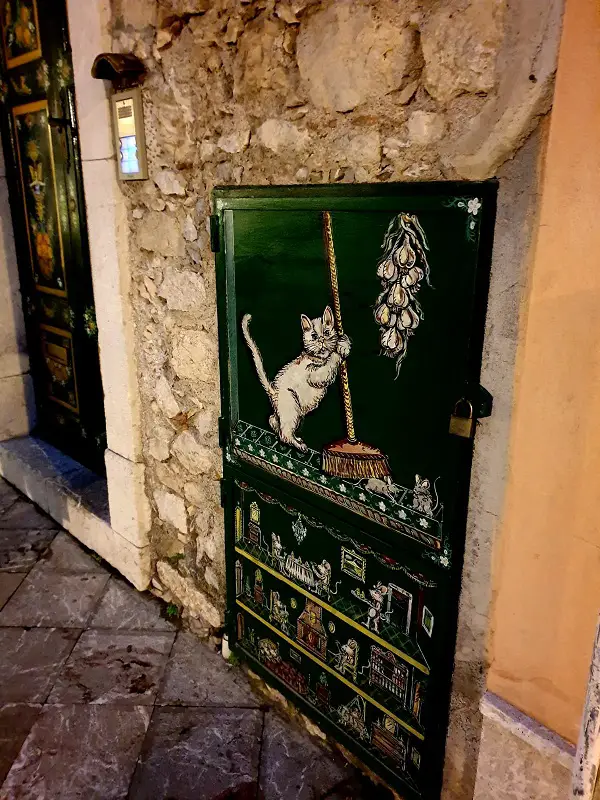 3 ceramic towns perfect for ceramic lovers. I would like to share with you some of the ceramics you can see when just simply walking around these places. Most of these ceramics can be seen in the street or are part of public buildings such as the train station: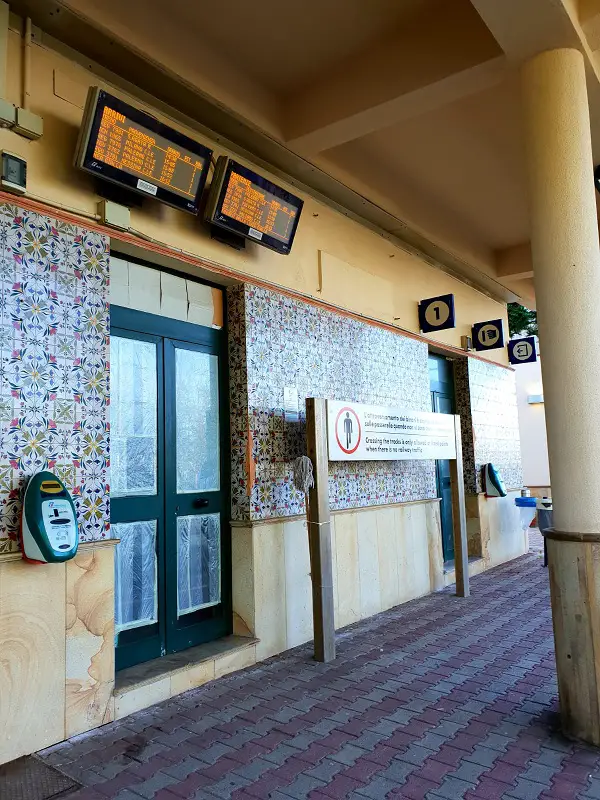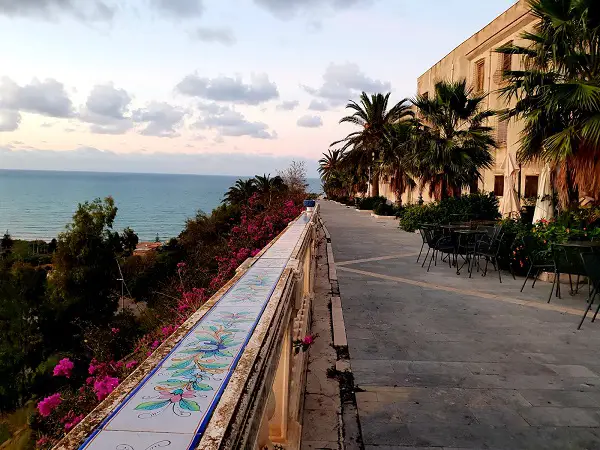 the train station in Santo Stefano di Camastra is a real welcome for ceramic lovers as it is all decorated in ceramic tiles
the public garden in Santo Stefano di Camastra with ceramic benches
the ceramic-tiled balcony in Santo Stefano di Camastra
the giant vase in the street
the train station in giardini Naxos with terracotta vases
the church and museum in Seminara
the large flower vases in Taormina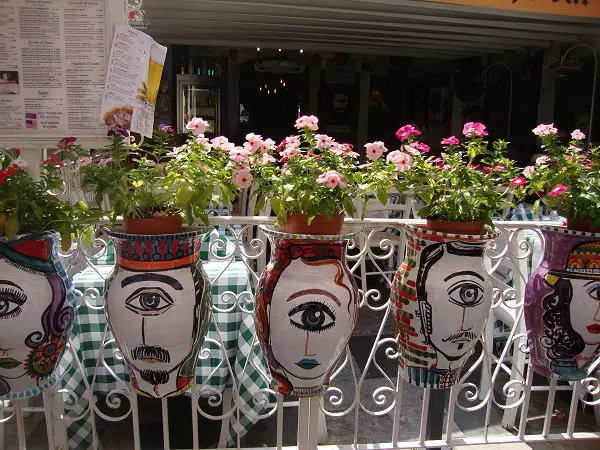 Ceramic towns in Sicily
There are of course many other important ceramic towns in Sicily such as Sciacca, Caltagirone, etc… but I wanted to share with you the towns that are close to Calabria so you can combine your Sicilian ceramic experience with the Calabrian one.
The ceramics in these towns are all very different in design and colour however, each one has its own pattern making them truly unique. You can read about my favourite ceramics in an earlier blog post and see the different styles from each ceramic town and below: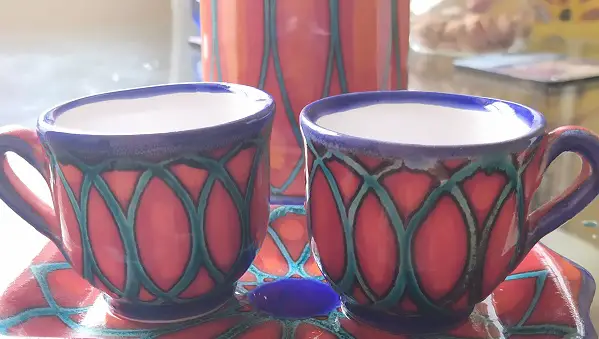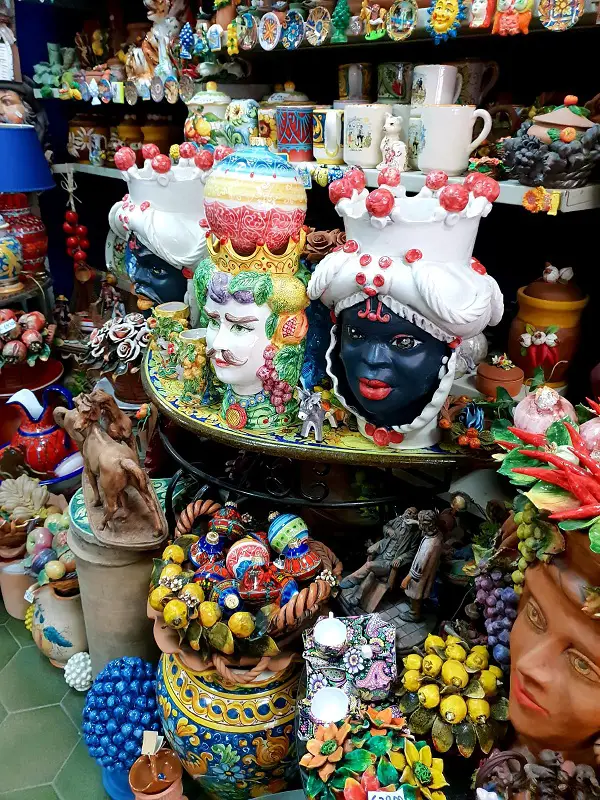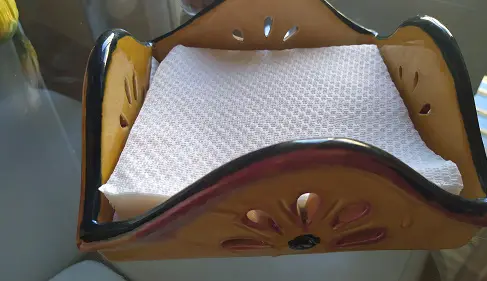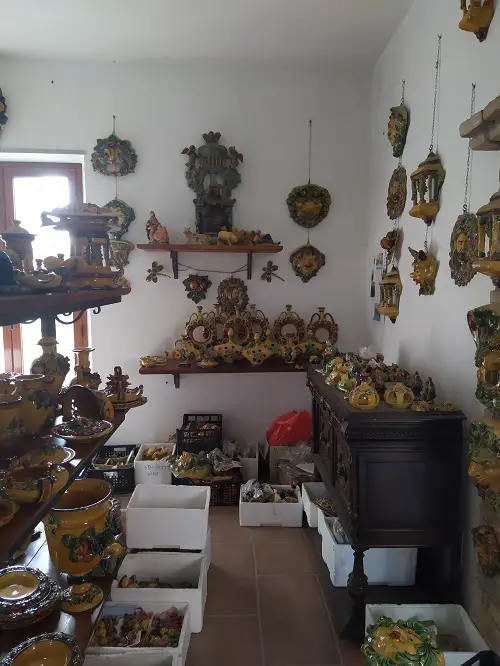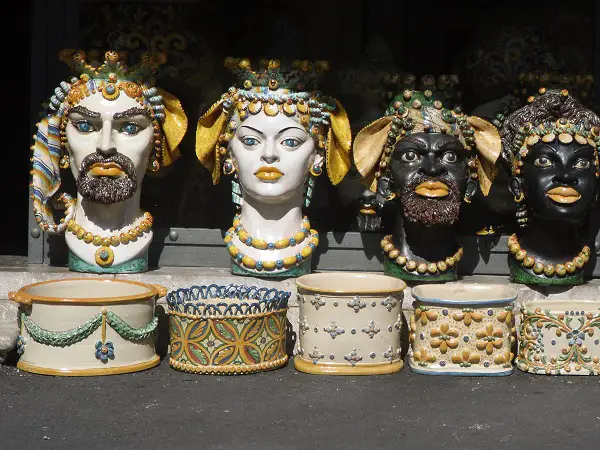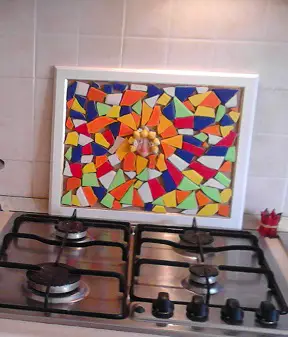 If you are not able to travel, you can find the famous Sicilian heads here or try to make some ceramics yourself with this ceramic making book. If you do make ceramics or have made them in the past, please share your pictures with us. Christmas time is a wonderful time to visit Taormina. You can read about my festive weekend in this town.
Besides being completely immersed in ceramics, you can also go on different excursions in small groups or privately as well as food and wine tasting tours. You can find a list of excursions here.
3 ceramic towns all very different but they have one thing in common, their ceramic skills are impressive. Most of them will also give you a certificate of authenticity. Calabria and Sicily is a dream come true for artists and potters.