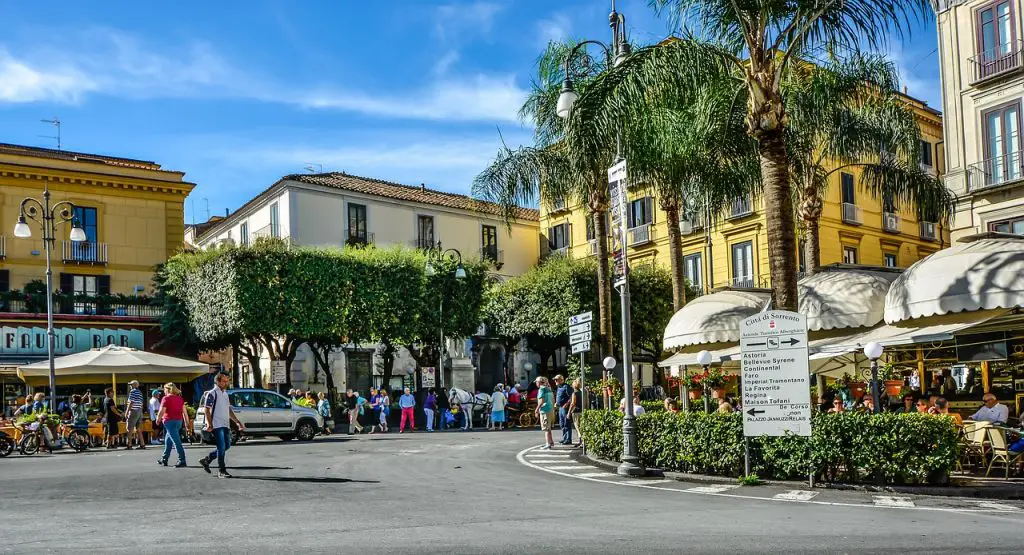 Join me for a walk around Sorrento in this blog post. The little town of Sorrento is in the region of Campania, only 1 hour on the train or 30 minutes on the hydrofoil from Naples. I recommend the boat ride from Naples. It is definitely faster and more pleasant to reach Sorrento. The maritime Company is Alilauro. You can buy tickets at the ticket office in Beverello port before you board the hydrofoil.
A one-way ticket costs about €13. You can see timetables here. Of course, there is always the view of Mount Vesuvius in the distance with incredible views wherever you go.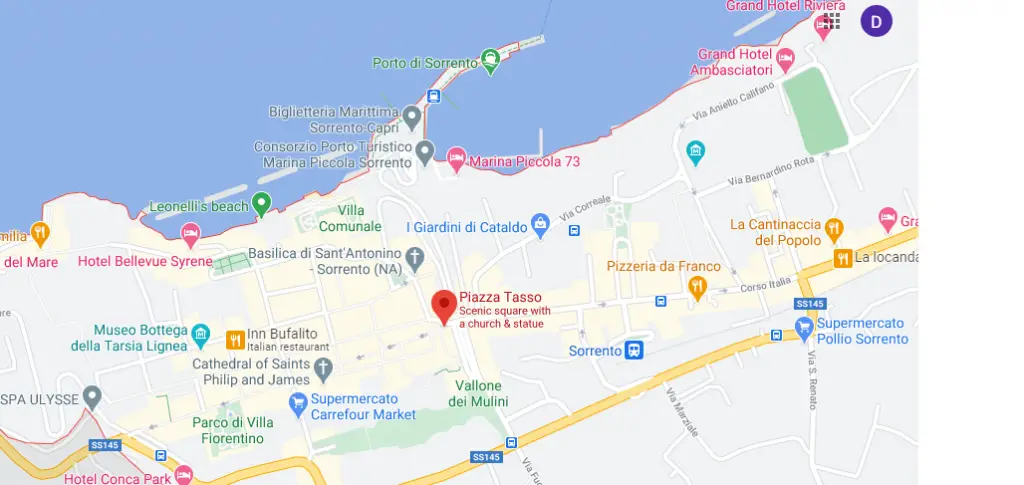 A walk around Sorrento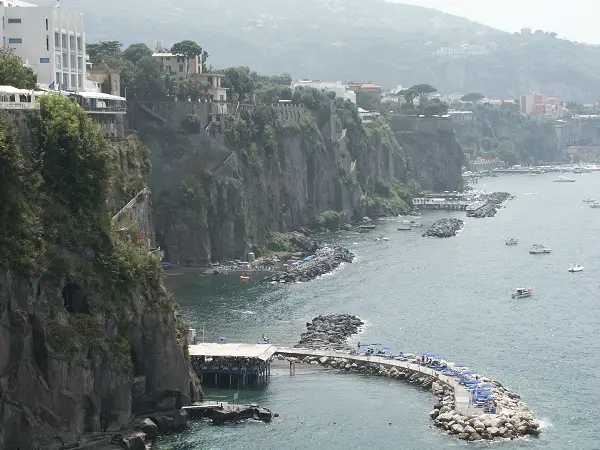 The best way to see Sorrento is from the sea. However I would like to take you on a walk around the world-famous resort of Sorrento on foot. I suggest grabbing a cup of coffee and looking at the above map and joining me on this walk. Let's start from the main square of Sorrento, Piazza Tasso. There is the statue of the 16th century poet Torquato Tasso in the square. He was famous for his epic poem, "Gerusalemme liberata".
Piazza Tasso in Sorrento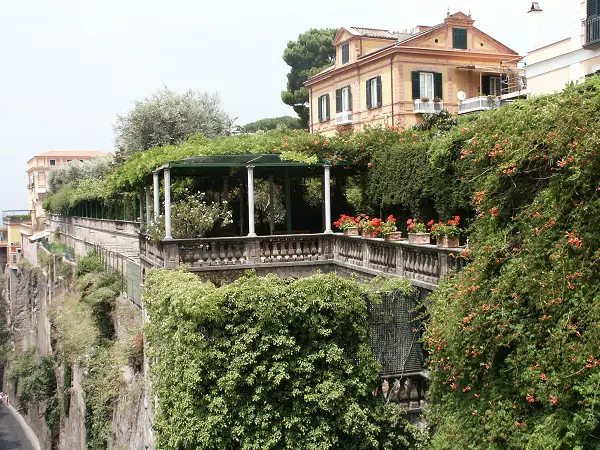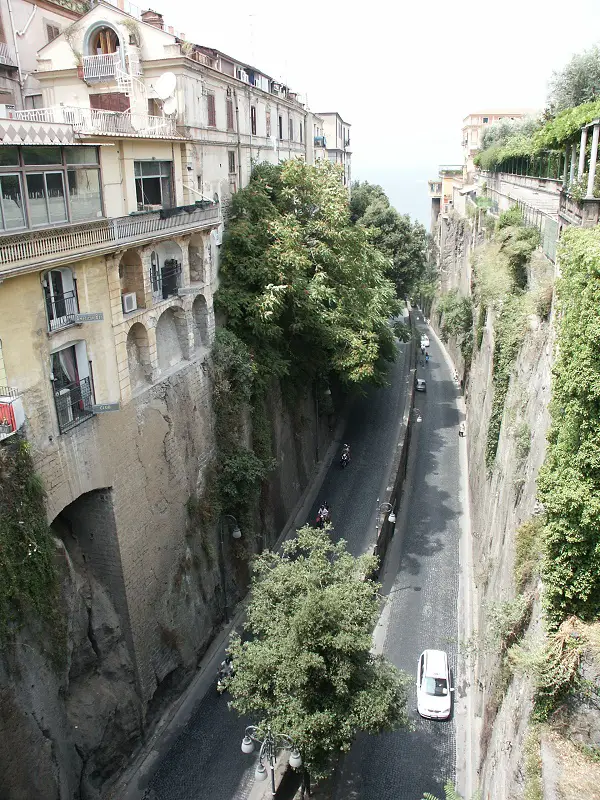 This square is the place to be day and night. It is very lively with elegant pavement cafes. A great place to people watch. You will see the luxury 5 star hotel Excelsior Vittoria, one of the most elegant and oldest hotels in Sorrento. You can see pictures in the above link. Next to the hotel, there is a balcony railing with many flags. It is here you can take the steps or the winding road down to the port of Marina Piccola.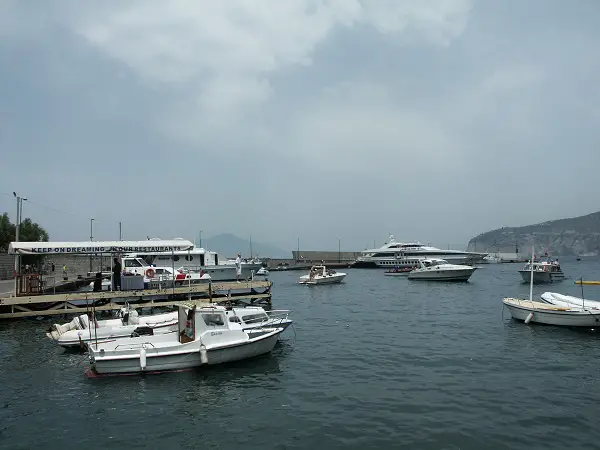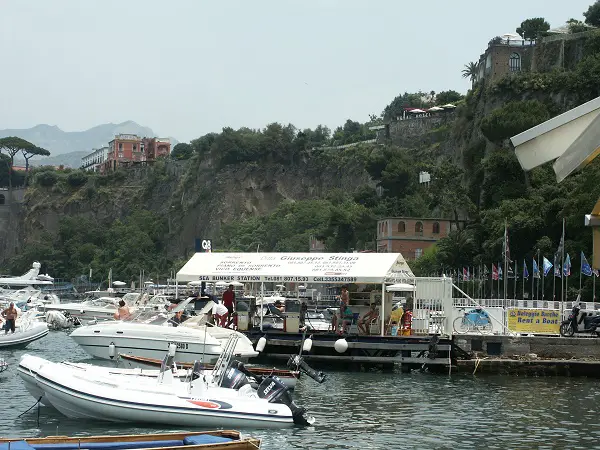 An attractive port area with wonderful fish restaurants, souvenir shops and a great place to watch the boats arriving and departing. It is spectacular in the evening for dinner and a walk. You can take the hydrofoils to Ischia, Naples and Capri from here.
Piazza San Antonino in Sorrento
We are now going to head down a street from Piazza Tasso keeping to our left into Piazza San Antonino. This is the square where you can see another statue, San Antonino, the patron saint of Sorrento with its beautiful church opposite. It is no surprise that everyone is called Antonino in Sorrento. We then follow the road along to via San Francesco towards the public gardens.
Just before the gardens, you can see the statue of San Francesco with a bird in his hand. It is said that he could communicate with the animals. The church of San Francesco is a beautiful church with a pretty cloister where classical concerts take place in the summer. It is also very popular with weddings.
A walk around the public gardens of Sorrento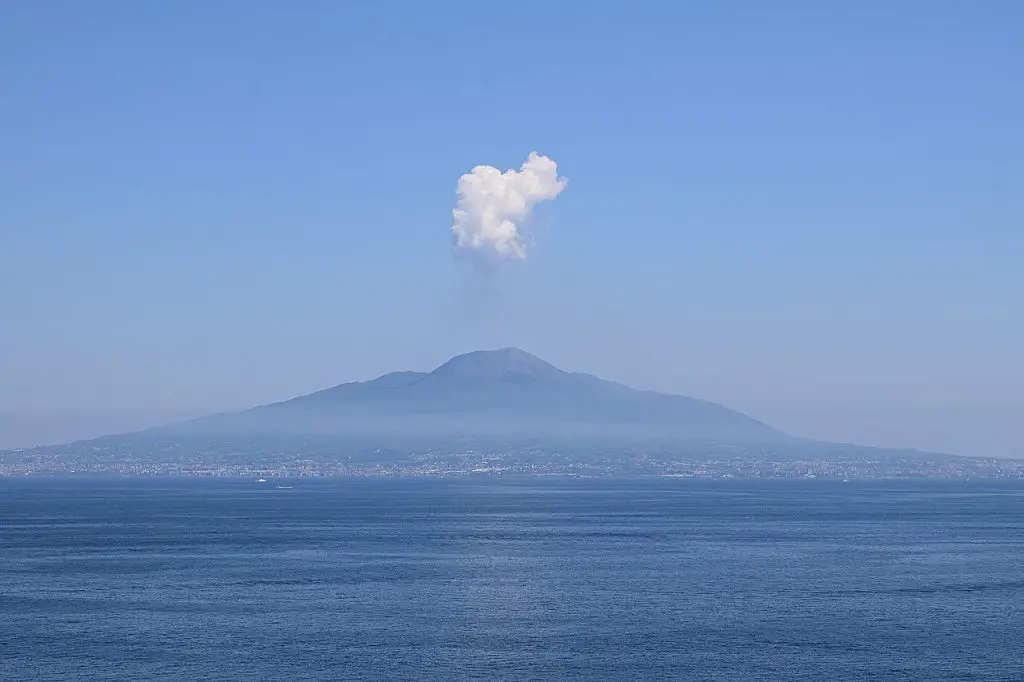 We then make our way into the pretty public gardens (Villa Comunale) with a wonderful view point where you can get a clear view of Mount Vesuvius. Unfortunately, still an active volcano. Its last eruption was in 1944 and its major one in 79 AD when it completely covered the city of Pompei in volcanic ash and lava.
The volcano stands at about 1200 metres high and is on everyone's to-do list. You can spend a while in the gardens looking at that view. It is very peaceful with some nice shrubs and flowers.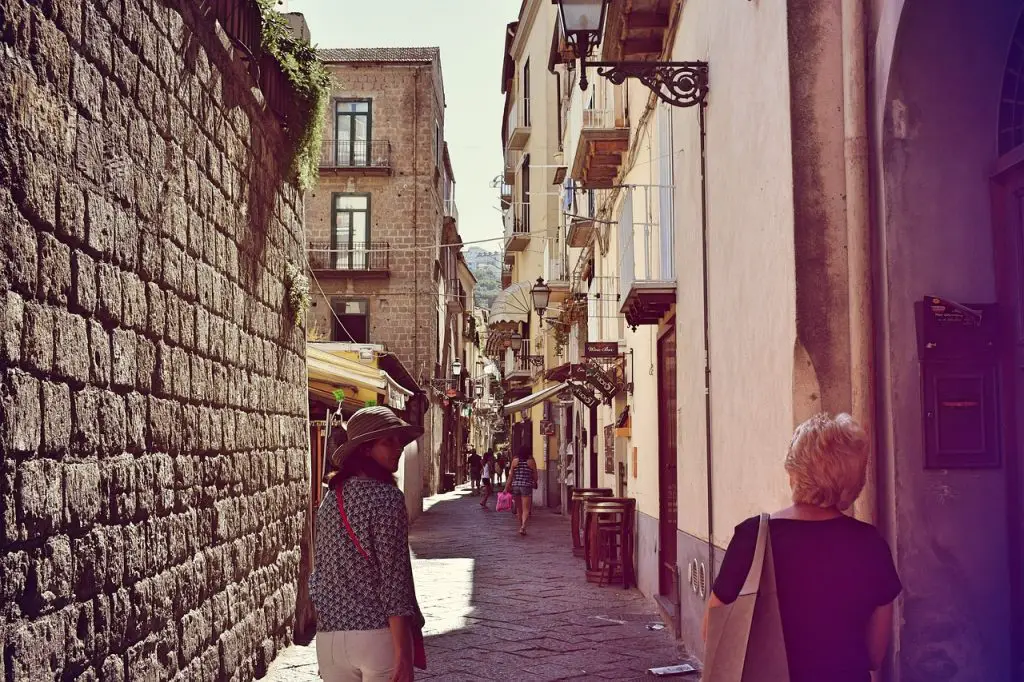 The luxury hotel Bellevue Syrene and the Hotel Imperial Tramontano are close to the gardens offering incredible views. You can see the private and public bathing lidos below. Unfortunately, it's time to leave the gardens and head into the historic centre of Sorrento. Cobbled-street lanes going in all directions full of small characteristic shops, bars and restaurants.
We will stop for a delicious ice cream cone. Past Davide's ice cream shop, we continue straight up the narrow street up to the bell tower and onto the main street Corso Italia. A very elegant street with designer shops, cafes and more restaurants. A great street for shopping.
The inlaid wood of Sorrento
From here there is a wonderful cathedral on the opposite side of the road. It is definitely worth visiting. You can see some examples of the local craft named marquetry inside the cathedral. Actually, you can see more of this wonderful craftsmanship in a shop near the ancient walls of Sorrento in via delle antiche mura.
They will give you a demonstration of how inlaid wood is made. You will also see pieces of inlaid furniture in many of the people's homes. A tradition that has been handed down from generation to generation. If you want to learn more about this wonderful art, you can visit the inlaid museum in via San Nicola.
A walk around Marina Grande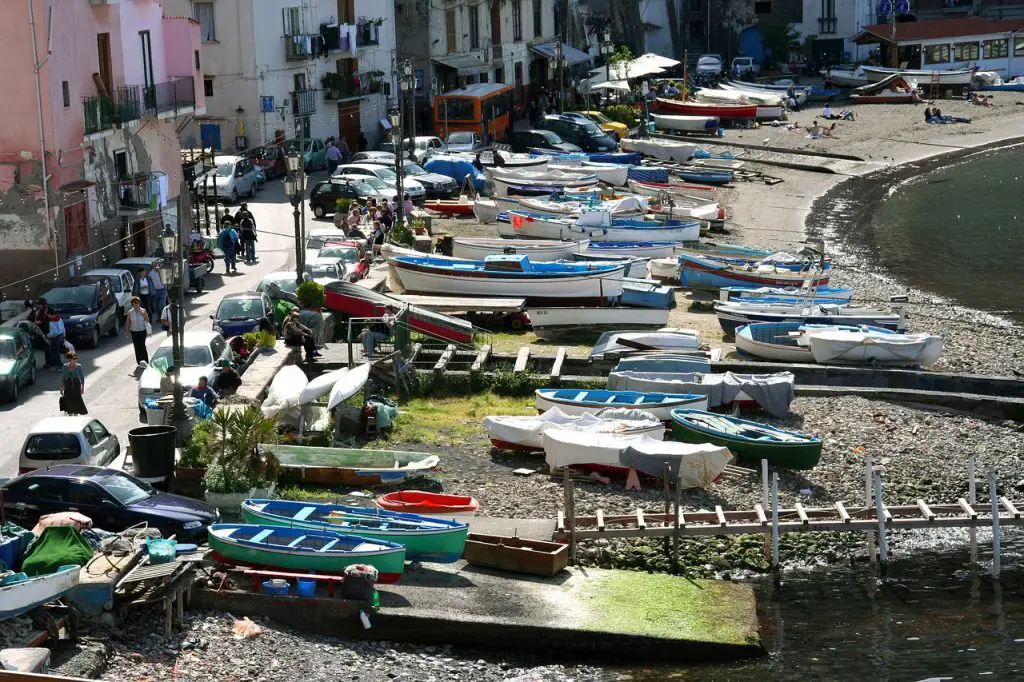 I am starting to feel a little peckish now so let's head off to the fishing village of Marina Grande for lunch. Of course, you can have lunch anywhere you like as there are plenty of restaurants. On this walk, we are heading to Marina grande. We go back down via Sersale and past the cathedral following the road straight ahead past the local hospital, there is a winding road taking you down to Marina Grande.
If you do not want to walk down, there is a local bus from Piazza Tasso. If on the other hand, you would like to follow me on this walk, you need to be fit and energetic as it a narrow winding road. Once you reach Marina Grande, you will be amazed. It is a pretty fishing village with some of the best fish restaurants and incredible views overlooking the sea.
You can wander its narrow streets and see the fishermen's homes all on top of each other as well as colourful fishing boats. It is quite a spectacle. It reminds me very much of the fishing village Chianalea in Scilla. You can read about Scilla here. I definitely recommend also dinner here one evening. Time to have a wander and we will meet after lunch. I am sure you had a great lunch. I hope you tried the spaghetti with fresh clams and the delizia al limone for dessert and not too many limoncellos.
Piazza Lauro in Sorrento
Now it's time to continue our walk. We go back up the road we came from, past the hospital and cathedral, perhaps stopping for a coffee to people watch in Piazza Tasso then going straight ahead to the next elegant square Piazza Lauro. This square is opposite the train station. You can take the train to Naples from there. The buses also depart for the Amalfi Coast and the hill-top towns high above Sorrento.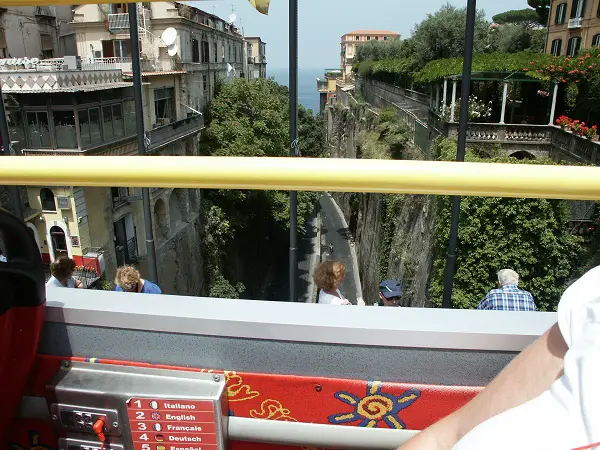 There is so much more to Sorrento than just walking around the centre. I also recommend visiting the towns in the hills. A good way to do this is by going on the red hop on and off bus which leaves from Piazza Tasso.
You will get amazing views of Sorrento as the bus takes the winding road up passing lemon groves and luxurious villas. You can go on a lemon grove tour here. I recommend visiting the hill top towns. Sant'Agata is a pretty town to visit. You can also go there on the local bus and spend as much time as you want. Other recommended towns are Massa Lubrense and Nerano.
Excursions in Sorrento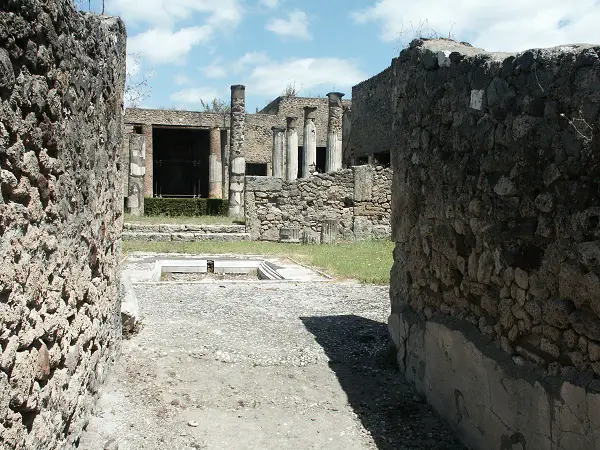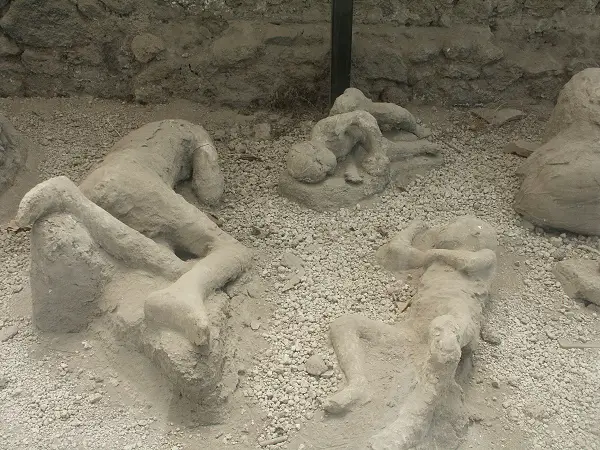 You will find more elegant cafes in Piazza Lauro as well as some nice shops and greenery. Perhaps a limoncello in one of the bars to end the walk. Sorrento is a perfect base to go on many excursions and really explore the Campania region such as the ruins of Pompei and Herculaneum, Capri, Ischia and Naples.
Remember to see the Sorrento Musical at the local theatre in Piazza San Antonino in the evening. It is a great way to learn about the local traditions through music and dance and have an enjoyable evening with a glass of spumante included. See more excursions here.
The myth of Sorrento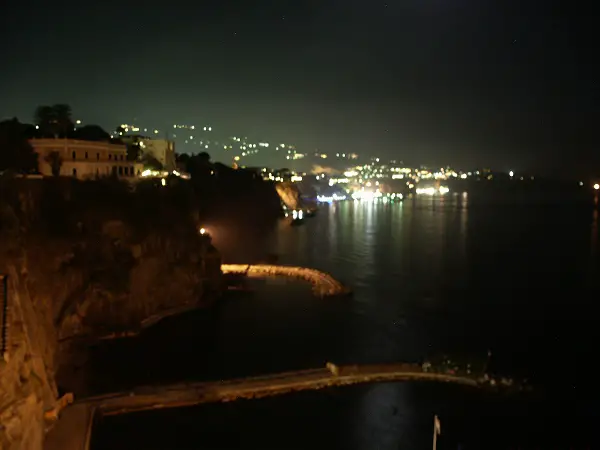 You will not be short of evening entertainment in Sorrento. I also recommend the sunset cruise to see the sea and Sorrento lit up at night. You will fall in love with the town. Sorrento has this spell on most people, almost like when Ulysses had to avoid listening to the songs of the sirens as they tried to charm him.
He would tie himself to the mast of the ship and stuff wax in his ears so he could not hear them. Only by doing this, he managed to sail past. When you get to Sorrento you can go on a real guided walking tour with a local guide here. Lots of free tastings included. You can see all the places I mentioned in the you tube video above.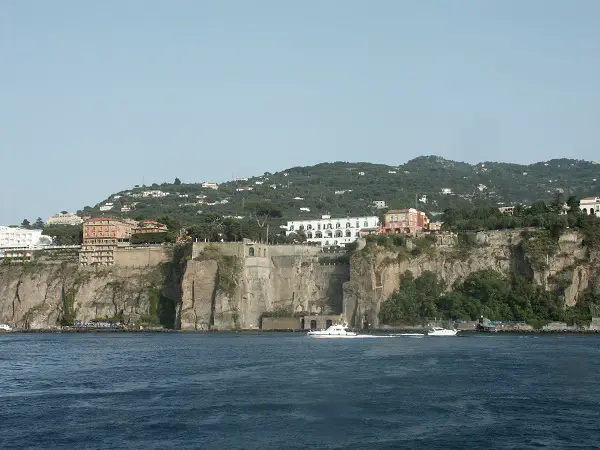 There are plenty of myths and legends in the Campania region. You can visit Sorrento at any time of the year. Winter is a pleasant time to visit the sites as there are no crowds. Christmas is a special time to visit. I have never seen such a tall Christmas tree as I have seen in Sorrento. Piazza Tasso looks like a winter wonderland at Christmas time.
The views are always incredible regardless of the season. I hope you enjoyed the walk. Let me know in the comments and anything else about Sorrento. Read more in my weekend to Sorrento from Calabria.