Calabria is all about panoramic views and breathtaking vistas. There are some really special ones if you know where to find them. You can admire views of the mountains, imposing castles or spectacular sea views. I would like to share with you my top 10 Calabrian vistas. These vistas can be admired from stunning vantage points across Calabria. If you are after views then Calabria is the perfect region for you.
View points with stunning vistas
Most of the vantage points are high above the medieval towns with commanding views of the sea and mountains. Some of the most popular ones are in high demand as many excited visitors wait patiently for their turn to admire the incredible vista. Of course, we must not forget to take one of the most important valuables we have in our possession, "the capturing device" or in other words, "the camera".
Whether it be a professional camera or mobile phone, it needs to capture the very moment we have been waiting on. For some people, this moment has taken years to fulfil. Yes, we have seen the pictures loads of times on Facebook or Instagram taken by other travellers in all different angles, some perhaps with a little Photoshop, but to see it in real life is something else. It is definitely worth waiting on.
Panoramic vistas to remember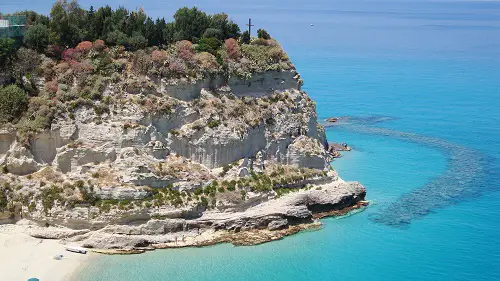 To see them with your own eyes is something quite special, something we can remember for years to come. Actually, these view points play a very important part in our life. They give us something to remember and hold onto, especially if it was not so easy to get there. For some reason, it becomes even more memorable when they are difficult to reach.
Perhaps you had to trek up Mount Etna or some mountain in freezing cold temperatures. In fact, some of these vistas are not always easy to reach and can only be done on foot. Quite often, you have to park the car and walk the rest of the way. Some of them can be strenuous and others fairly easy.
There are individuals ready to do anything just to reach that view point, even if it is a matter of life and death.
Social media photos
These very individuals then post them on instagram, perhaps portraying themselves in the foreground and of course sharing them with the world, letting us know they have been there and done it (now it is your turn). There are others who do not realise that by posting their wonderful pictures and videos, they are making other people dream about doing the same thing and we learn so much about these incredible places. Sites we didn't think existed.
Hopefully not too long until we can start enjoying these vistas again. The positive side is that these view points will never disappear. In short, they have made millions happy and will continue to attract trillions more. Some of them have been admired for centuries. Gone are the days when we had to wait until we got back home to develop the pictures and show our loved ones that magical moment. We can also video it.
Calabrian vistas praised by poets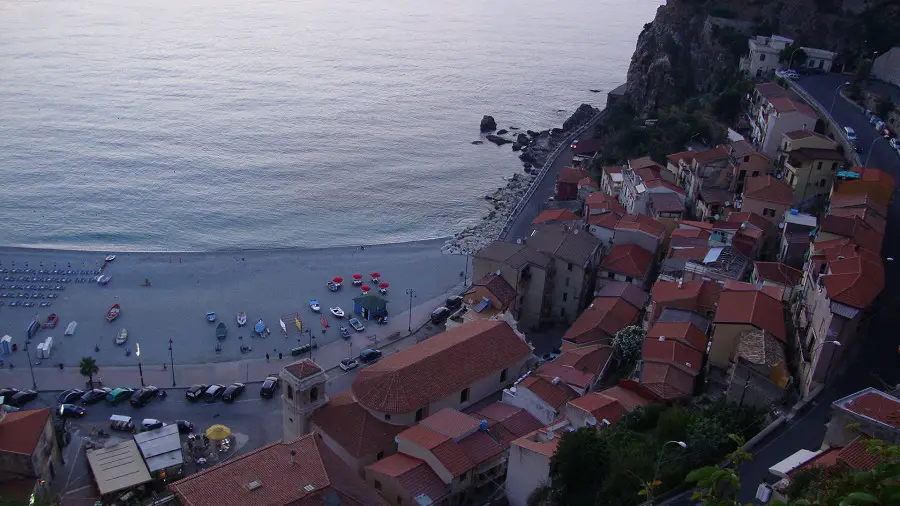 We can now show them instantly to the world, the very moment we are experiencing it. Just looking at these pictures and videos, we can understand how people feel and how happy they are. Some of these vistas will take your breath away as they did mine. Some have been praised by poets and writers in their works such as Scilla's metamorphosis by Thomas Lodge, Homer, Gabriele d'annunzio and many more.
You can spend as much time as you need at these view points or if you cannot pull yourself away, you can enjoy these views even longer by staying in hotels or dining in some amazing restaurants with of course, these wonderful views. I have attached some links from the trusted sites Tripadvisor and Booking.com so you can see pictures of the views and the kind of food to expect. Here are some of my favourite Calabrian vistas:
1) The view point of Scilla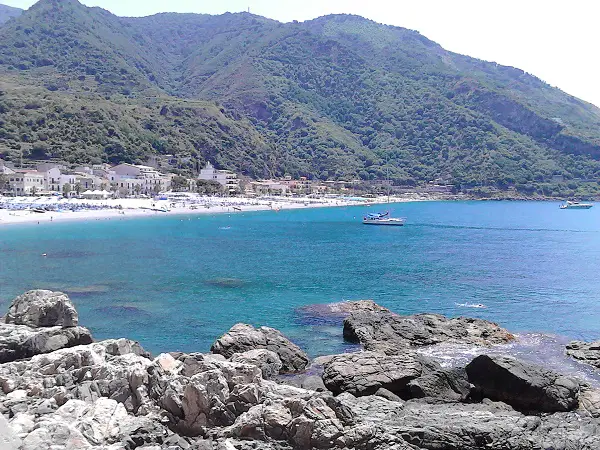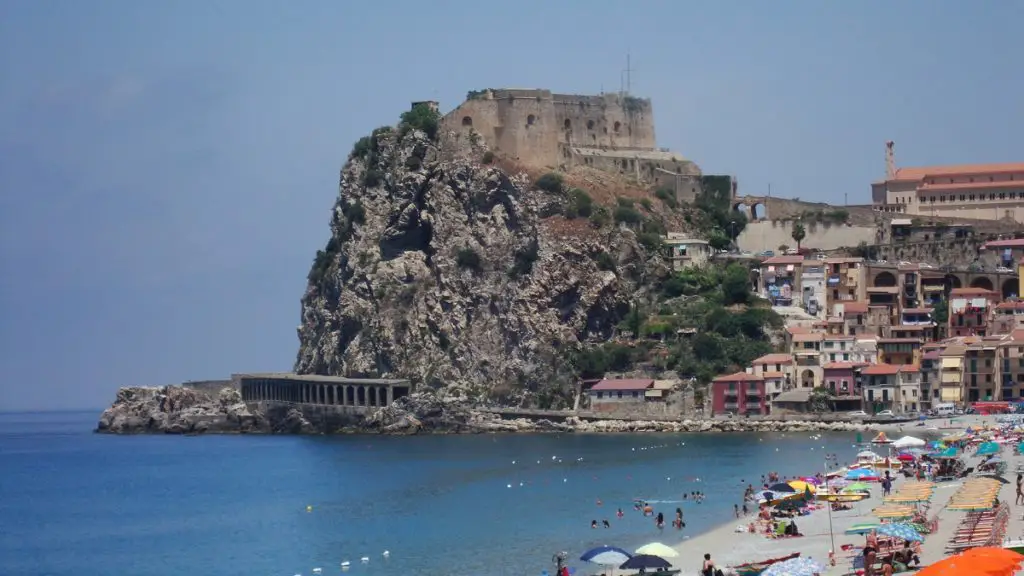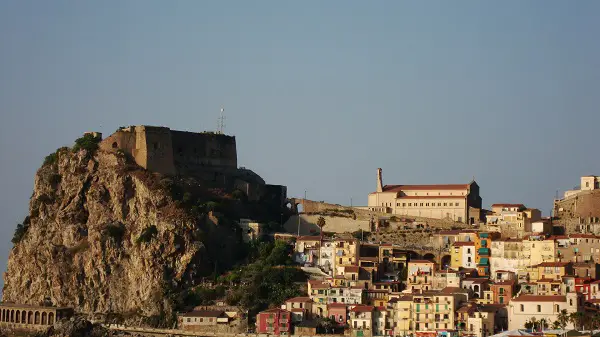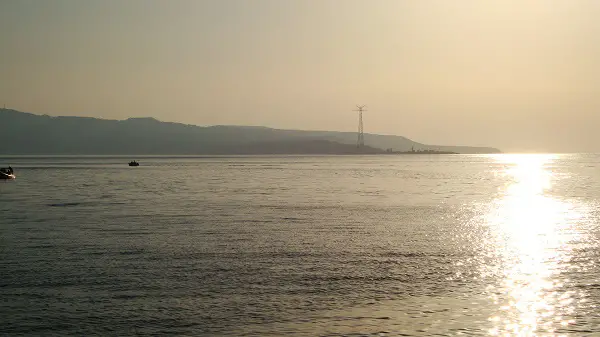 When you follow the winding road down to the picturesque fishing village of Scilla, you will come to a beautiful square with a balcony allowing you to admire incredible views of Sicily, Etna and the Aeolian islands.
There are benches for you to relax and enjoy it. You will also find a few bars, small shops and important public buildings in this square. There is the wonderful view of Scilla's rock and the fishermens' houses below with spectacular sea views.
The other view point is just before you reach the fishing district of Chianalea, just opposite Scilla's rock. Il principe di Scilla is one of my favourite restaurants in Chianalea overlooking the sea. Read more about my weekend in Scilla here.
2) The view point of Palmi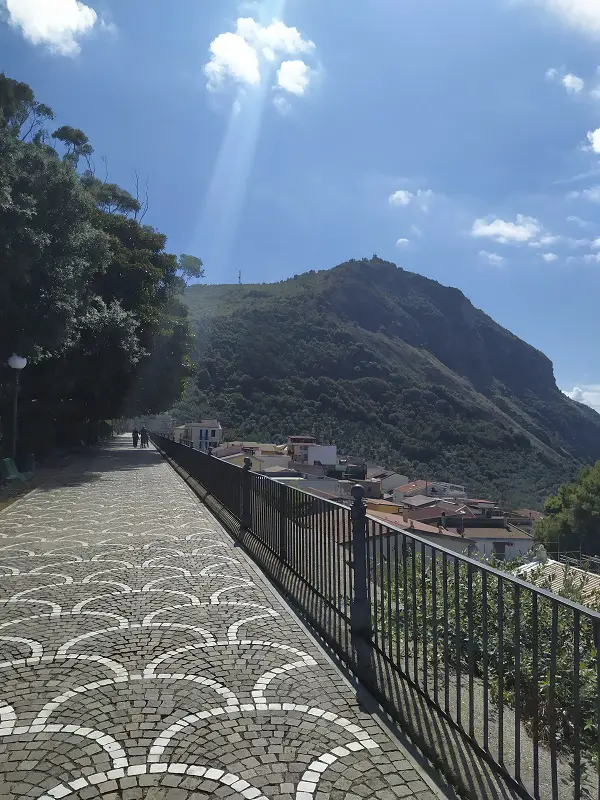 When you head up to the town of Palmi, you can walk through the public gardens. You will see many pathways. Each one leads you to the spectacular view point of Palmi where you can see the Straits of Messina, Santa Trada, Sicily and Capo Pelaro as well as the Aeolian islands. To see more of these views, you can stay at the hotel Caposperone resort or dine at l'incanto restaurant high up in the hills.
3) The view point of Reggio Calabria
The view point of Reggio Calabria is the seafront. Anywhere you walk, you will have views of the Viola Coast, Sicily right in front of you as well as Mount Etna and the Aeolian islands. If you head further up the town, you will get even better views as the streets are steep allowing you to see the sea from every angle. You can dine in ristorante la Capanna to catch more of these views. Read about Sicily and Calabria in one holiday here.
4) The view point of Roccella Ionica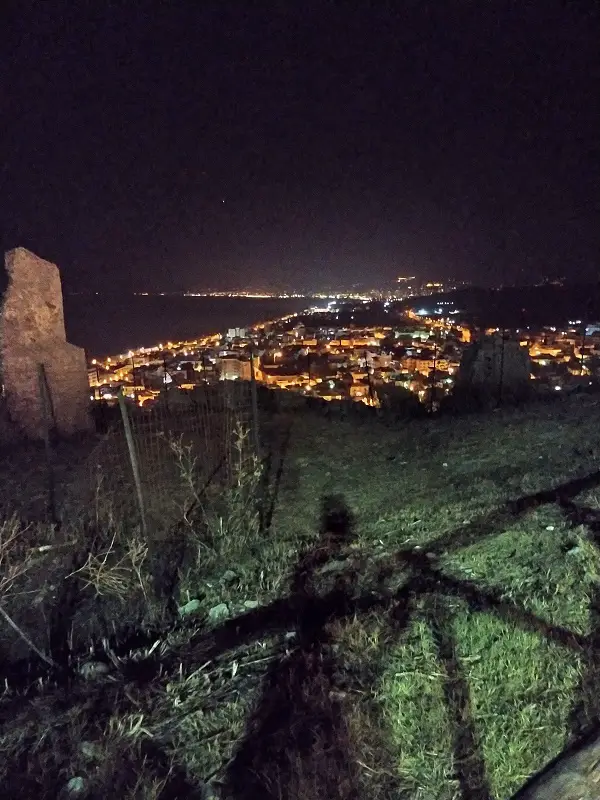 You can take the road from the main square up to the Carafa palace. You may have to park your car just before you get to the top and walk the rest. This is a view that will take your breath away. You can see right along the Locride Coast.
If you look to your right, you can see the mountains and to your left the wonderful coastline, the pretty port and the town just below you. The sea views are something else. It is magical to see in the evening as it is all lit up. For incredible rural views, you can dine in the Pietra di Fonte restaurant nearby.
5) The view point of Tropea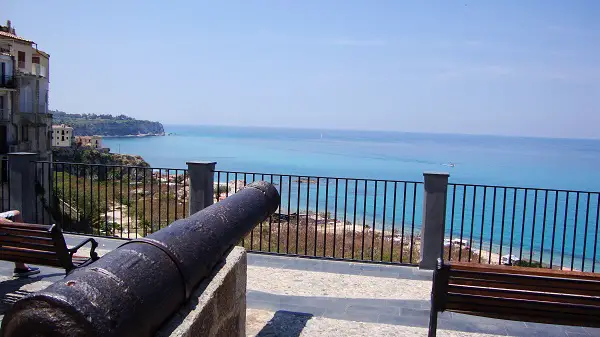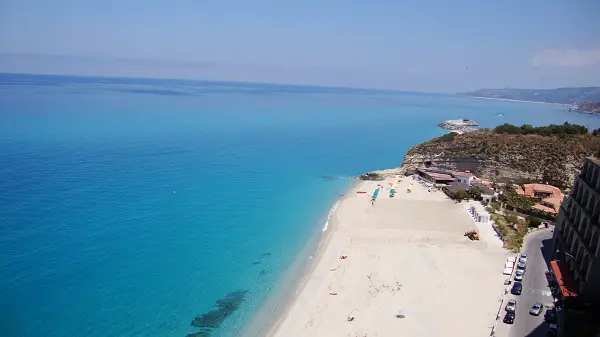 As you enter the town and walk down to the balcony railing, you will see many observers looking at one of the most breathtaking views of Calabria. This is the main view point of Tropea. A visit to the sanctuary of Santa Maria will reward you with even more breathtaking views. You will have views wherever you go in Tropea. For spectacular sea views, you can stay at the hotel Rocca della Sena or dine in Pimm's restaurant.
6) The view point of Gerace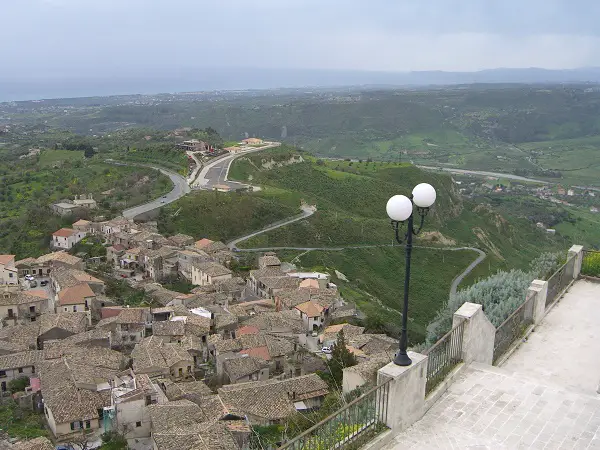 You have to drive to Locri and then you will see signs for Gerace. It is a long winding narrow road to reach the town but the view point makes it worthwhile. You will find this as you enter the main square of Gerace through the arch onto a large terraced balcony, you will be able to see the whole of the Locride Coast with plenty of farmland.
7) San Nicola Arcella
It is in the province of Cosenza along the panoramic Cedro Coast. To really appreciate this view, you need to stand at the top of the stone staircase that winds down to the small beach with the most crystalline turquoise sea. The wonder is the natural arch (arcomagno).
This famous landmark is in every photograph. It has also been used for the new James Bond movie. It is not only the natural arch that takes your breath away but the Crawford tower and the colourful town itself. You will really capture these views staying at Villa Crawford.
8) The view point of Caminia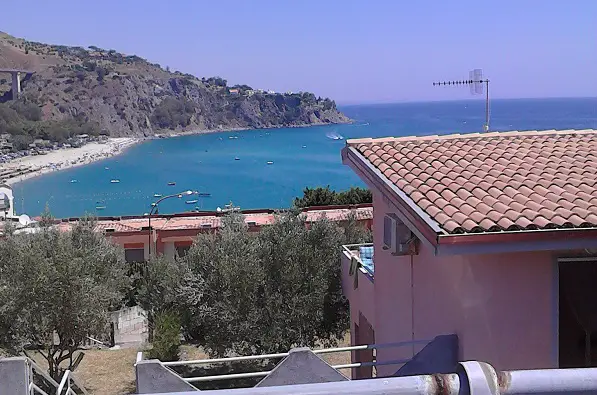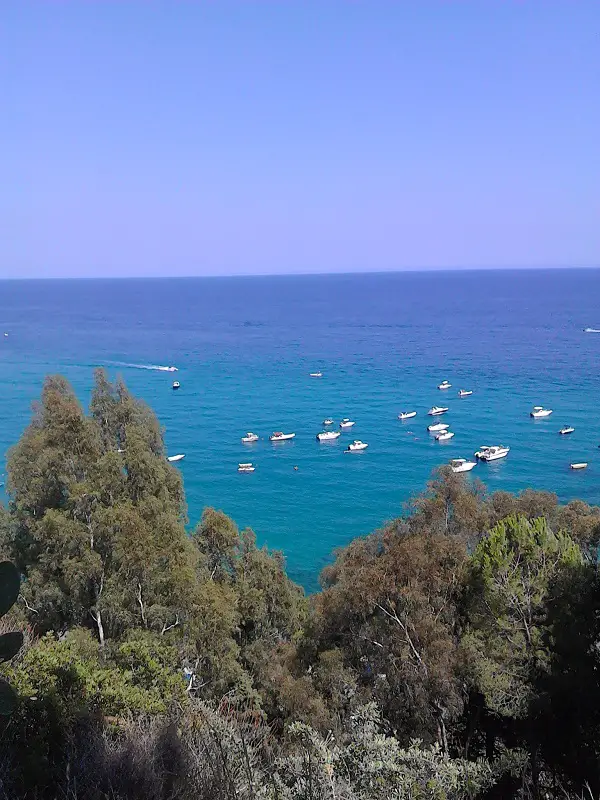 Just before you take the winding road down to Caminia, you have to look at it from above. It is like a picture-postcard. You will see this long stretch of coastline with many luxurious villas and the most beautiful vegetation. Lemon trees are in abundance in this area as well as olive groves and prickly pears. The view of the sea is spectacular. The hotel Baia dell'Est restaurant, la Tavernetta is perfect for these views.
9) The promenade in Diamante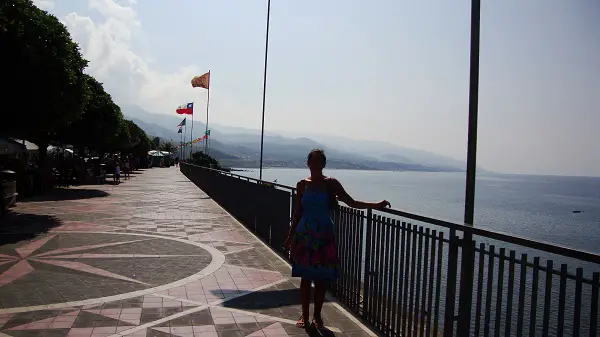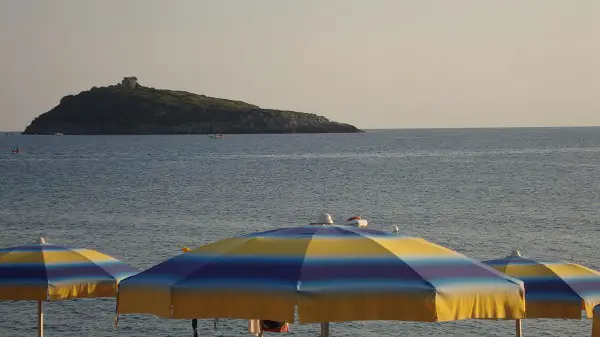 Once you enter the town of Diamante, you will see a panoramic walkway. Any point here is perfect to admire the wonderful sea view and town of Diamante. Cirella is also a perfect area to admire the island of Dino. I ate at the Acquasalata restaurant on the beach. The higher you go up above the towns, the more spectacular the views are.
10) The view point of Capo Rizzuto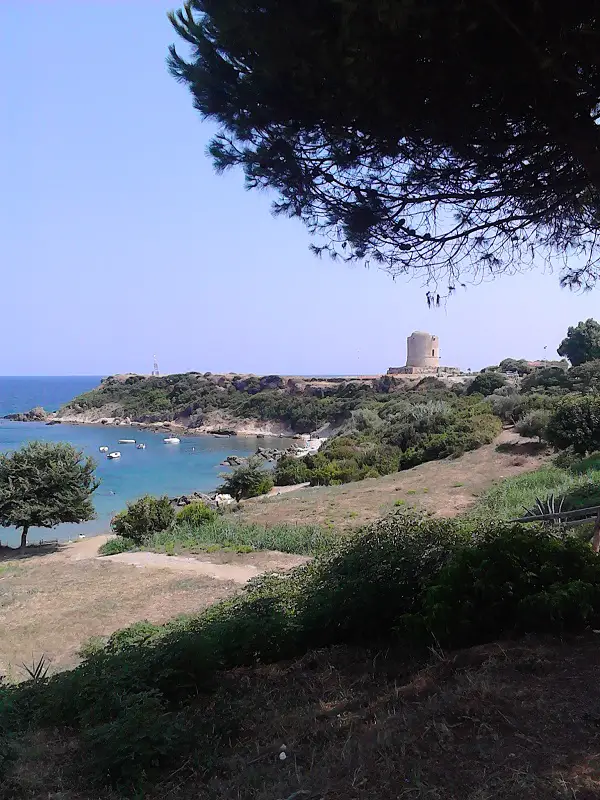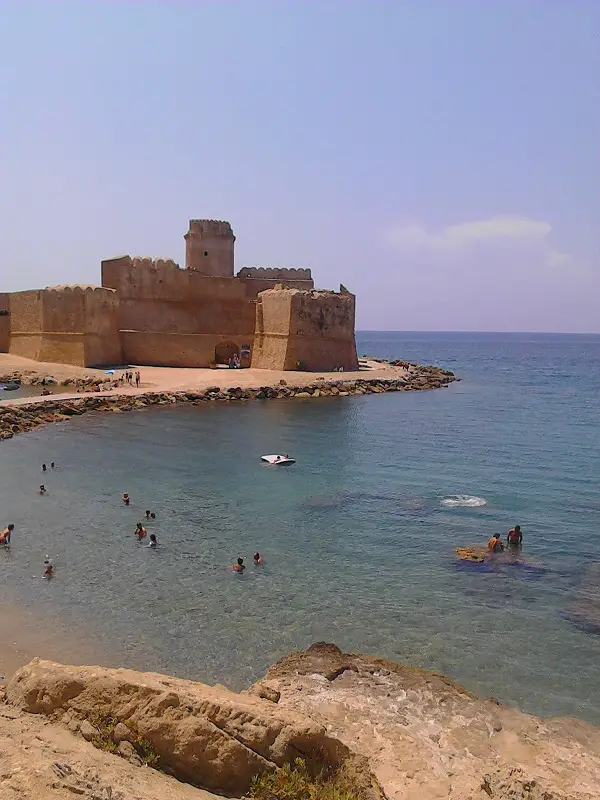 There is no particular view point in Capo Rizzuto as everywhere you go there are view points looking onto the most beautiful sea and landscape. The view of the castle in le castella will take your breath away. I recommend eating at hotel il cavallino to soak up these views. The views are equally as beautiful from the seafront in le Castella.
Calabria is all about views. These are just some of my favourite ones but there are so many. It is impossible to list them all. What is your favourite one? Perhaps if you can think of a nice view point you can share with us, it would be appreciative. You can also go on some excursions with these views here.