New Year is a wonderful time to visit southern Italy. Most hotels, restaurants and farmhouses organise a huge New Year's feast with antipasto, two types of pasta, fish or meat dishes, lentils, panettone and spumante with lots of dancing and entertainment. Unfortunately, it was not the case for 2020. Everything was closed. There were no festivities and all we could do was stay at home. At least, we will be able to celebrate New Year with all the celebrations next year.
Decorations and lights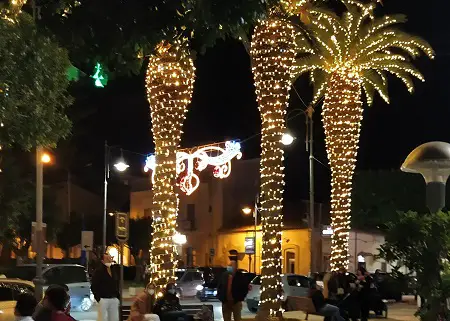 The wonderful Christmas decorations and Christmas lights this year were the only thing keeping the residents' spirits up. In fact, there were more decorations and lights than ever before. It was sad not being able to celebrate New Year with close friends and watch large Calabrian families celebrate together. You can read about my 2019 New Year in Calabria here. I would like to share with you my New Year at home in Calabria.
It was very quiet. There were only 4 of us. When we are in Sicily, we are usually 25. It was the 31st of December and the sun was shining. It felt really warm and strange as the temperature drops quite a bit at this time of the year. Not this year. It felt like spring and the sky was bright blue. We went for a walk, but only near our home. After a short walk, It was time to start preparing the food.
Southern Italian specialities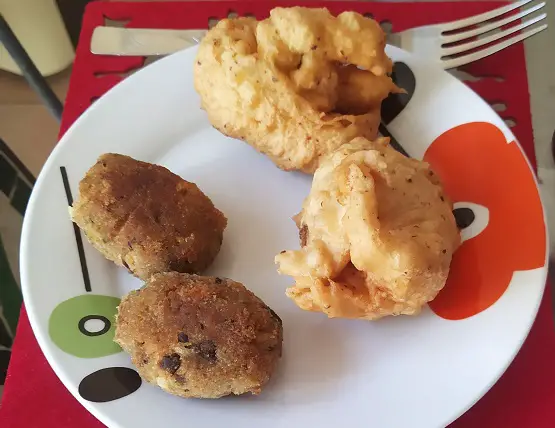 I made some Calabrian and Sicilian specialities. First, the aubergine fritters. You can see the recipe here then the zeppole con acciughe (savoury dougnuts with anchovies. I used flour, yeast, warm water, potato mash and salt for the dough mixture and left it to rise for 3-4 hours. It was a little tricky wrapping it around a spoon, inserting the anchovies and trying to get it to drop into the hot frying peanut oil.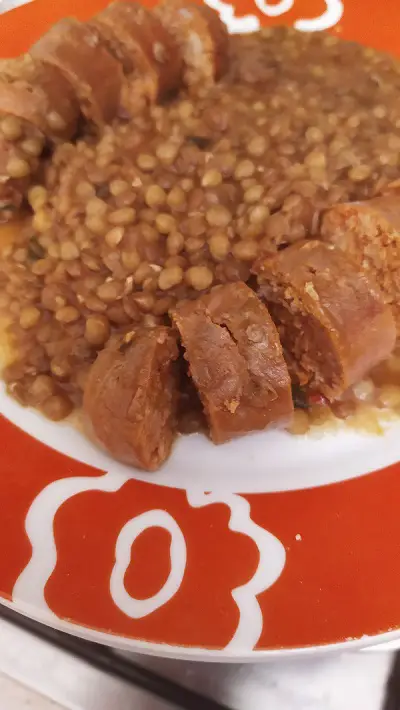 Once it drops, it is like magic. It instantly forms a ball-like shape and cooks in minutes. You have to make sure they are golden brown before removing them. Pat them with some kitchen paper and leave them to dry. Calabrians usually add anchovies or nduya. Next it was the ricotta mixture for the Cannoli shells, ricotta, icing sugar, chocolate drops and a pinch of vanilla sugar. I prepared Calabrian sausage with lentils and ordered this amazing ice-cream cake from our local bar for dessert. It was almost time to eat.
Celebrating New Year at home
We watched the concert on Raiuno and brought in the New Year with panettone and spumante. I missed going to a live concert in the square. There are usually concerts in every square in southern Italy. This year there was nothing. Everyone was at home. New Year's day was also quiet. The sun was shining, but everything was very quiet in the streets. You could hear the clanking of dishes from near-by neighbours preparing their New Year's lunch.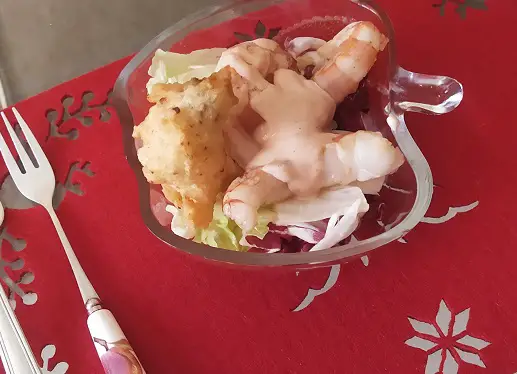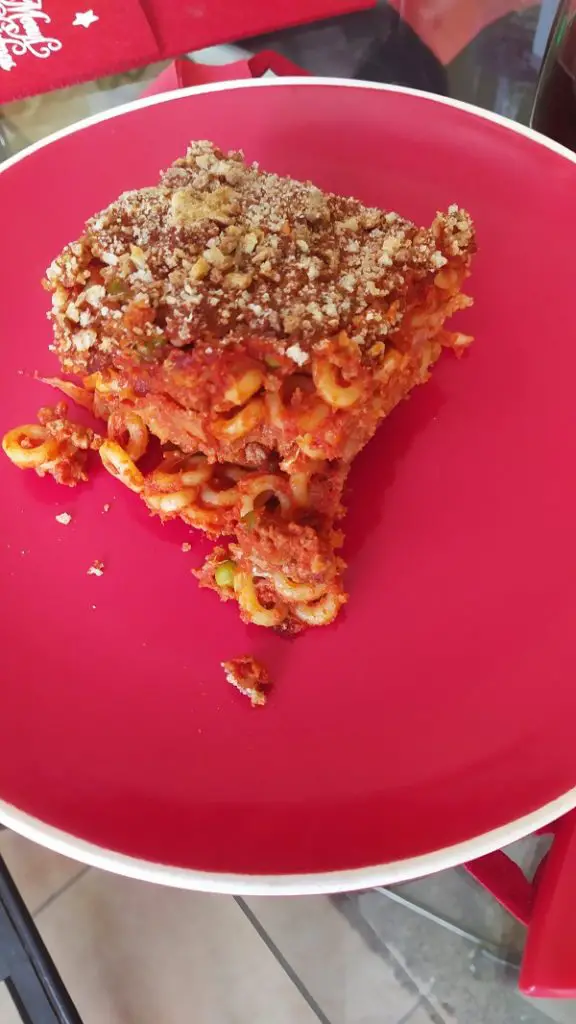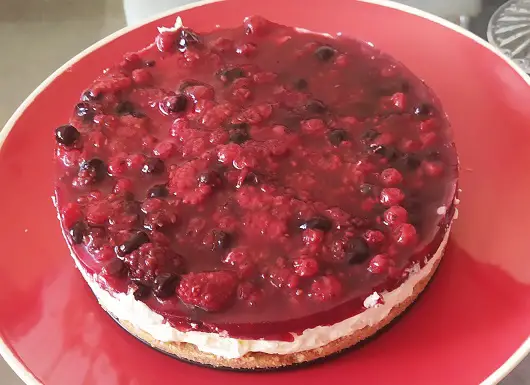 We started our lunch with prawn cocktail, zeppole and aubergine fritters, pasta al forno (baked pasta), meat with potatoes and for dessert cannoli and cheesecake. We ended the meal with pistachio liqueurs and coffee. In the evening we played some board games and watched a film. It is strange to celebrate New Year without the snow but this is only along the coastline.
Snow in Southern Italy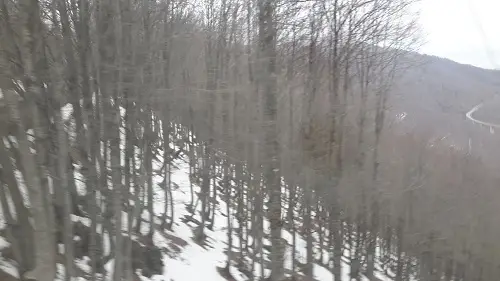 You only need to go up to Calabria's Sila mountains and you will be in for a surprise. There is plenty of snow up there with skiing and bob sleighing. A real winter wonderland. You can read about my weekend to the Sila mountains here. Calabria delights with its diverse landscape and weather conditions, but one thing which makes Calabria unique is the Calabrian hospitality. Everywhere you go, they will make you feel welcome.
Farmhouses and rural retreats are wonderful places to eat and stay in, especially in the winter. They specialise in local specialities and many of them have that roaring fireplace which is always something special in the winter. Once the pandemic is over, hotels, farmhouses and restaurants will be open again and are always ready to give you a warm welcome and introduce you to the Calabrian culture through the myriad of dishes they serve.
Southern Italy celebrations
Once again, we will be able to watch families in southern Italy celebrate an important time of the year. A time when families come together, especially if they work abroad. It will be a joy to see them all sitting close together celebrating the New Year just like they used to before the dreaded pandemic.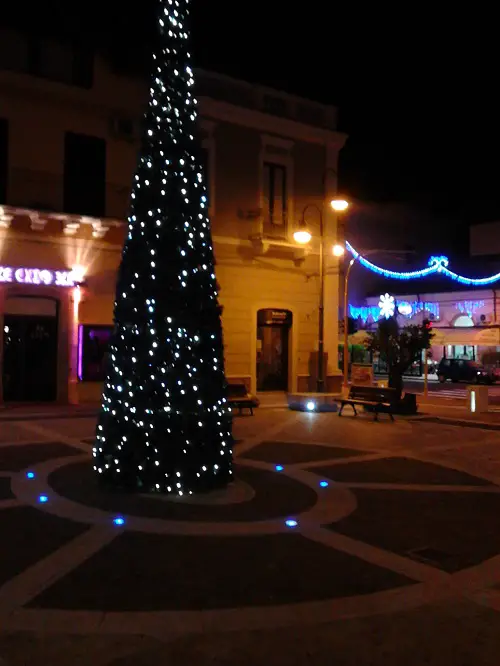 We will be able to enjoy southern Italy's Christmas and New Year celebrations and stay in those wonderful hotels for New Year as well as going to these colourful squares full of lights and listening to live music. You will love southern Italy at this time of the year. I wish all my readers a Happy New 2021. Read more here about festive traditions in Italy.