Christmas was going to be different this year with these new restrictions. At first, we heard talk about these and nobody could really make any plans. We were not sure if we could book any restaurants or our usual New Year's Eve dinner at a hotel or restaurant. Just literally a few days before Christmas, Italy's prime minister Conte announced the new rules. You can read more here.
Hotels and restaurants during restrictions
Restaurants and Hotels were to be closed for these special festive days. We could not go to Sicily as we were not allowed to leave the region due to covid restrictions. You can read about my festive weekend in Sicily in 2019 here. The restrictions would be from Christmas eve to 7th of January.
Luckily, we could take away these delicious pastries and cakes from the bars. I noticed that there were more Christmas decorations in the streets and villages in Calabria. Actually more than ever before. Lights were twinkling everywhere.
The restaurant rules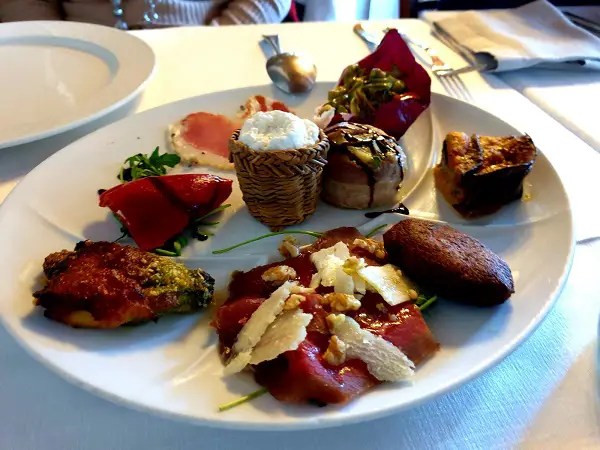 We booked our restaurant for the 23rd December, just one day before lockdown. We chose a wonderful farmhouse. I ordered the antipasto rustico Calabrese, an assortment of Calabrian appetisers, ravioli with a fish-based filling and clams. To end the meal, a delicious chocolate semifreddo, coffee and liqueurs.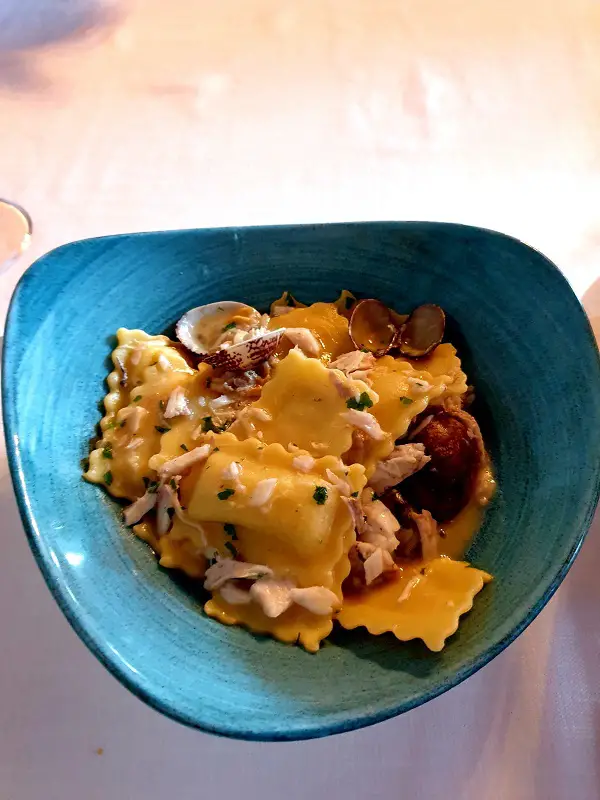 Tables were well spaced apart. They even checked our temperature before we entered the restaurant. Everyone filled out the necessary forms. All covid rules were in place and everyone felt relaxed.
Christmas eve restrictions in Calabria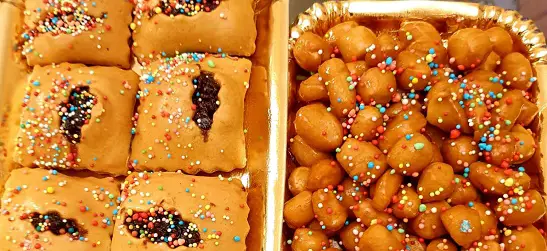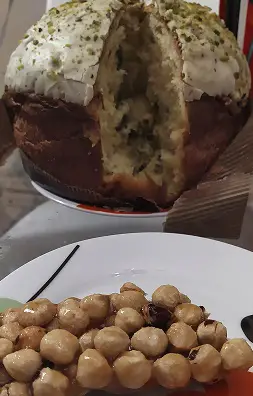 We bought some Calabrian home-made pastries from the cake shop such as pignolata, fig-based biscuits and white covered chocolate nougat. I made my own Sicilian nougat with roasted hazelnuts from Sicily. We cheated and ordered a pistachio flavoured panettone from Sicily for Christmas day.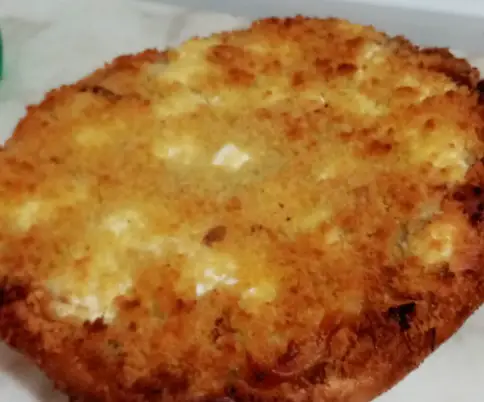 We usually buy it there, but due to restrictions we could only order it online. My husband made his Sicilian speciality sfincione for Christmas eve. A giant focaccia with ricotta, anchovies and breadcrumbs.
Christmas lunch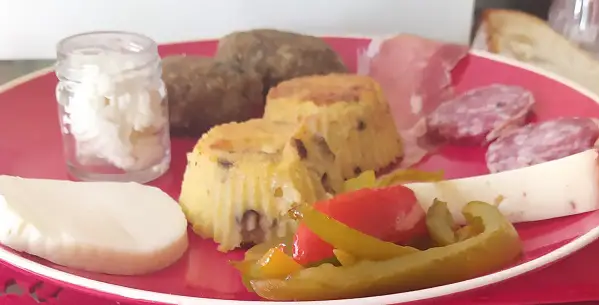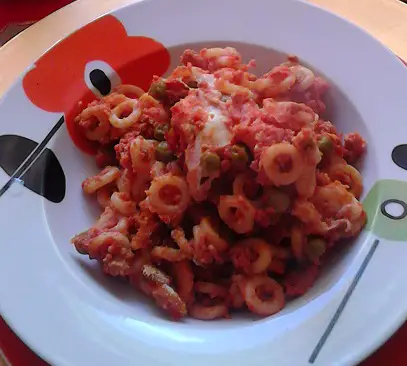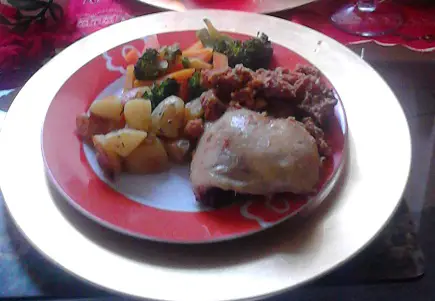 A family tradition. I made some aubergine fritters and bought the typical zeppole (savoury dougnuts with anchovies). We could not go anywhere on Christmas day so we stayed at home. I prepared the Calabrian rustico, similar to the one we had at the restaurant, anelletti al forno (baked Sicilian pasta), roast chicken with chestnut filling and the pistachio flavoured panettone.
We also had the Calabrian biscuits and pignolata, wine, water and pistachio liqueurs. It was a very quiet Christmas this year. I am sure it was like that for everyone.
Covid vaccinations
We hope with the new vaccinations, it will be different next year for all of us. Sadly, I missed being with lots of people around the table, but we had to respect the covid restrictions. Read about my Sicilian Christmas here. Most people book a restaurant or hotel for New Year's Eve, however this year it is not possible.
There will be no celebrations in the town squares. Everyone has to stay at home. Calabria is a wonderful time to visit at Christmas time. Even though there were only a few people walking around, it was still magical.
Calabrian family traditions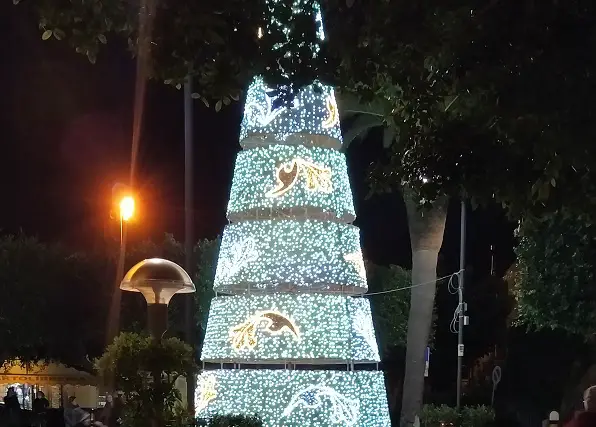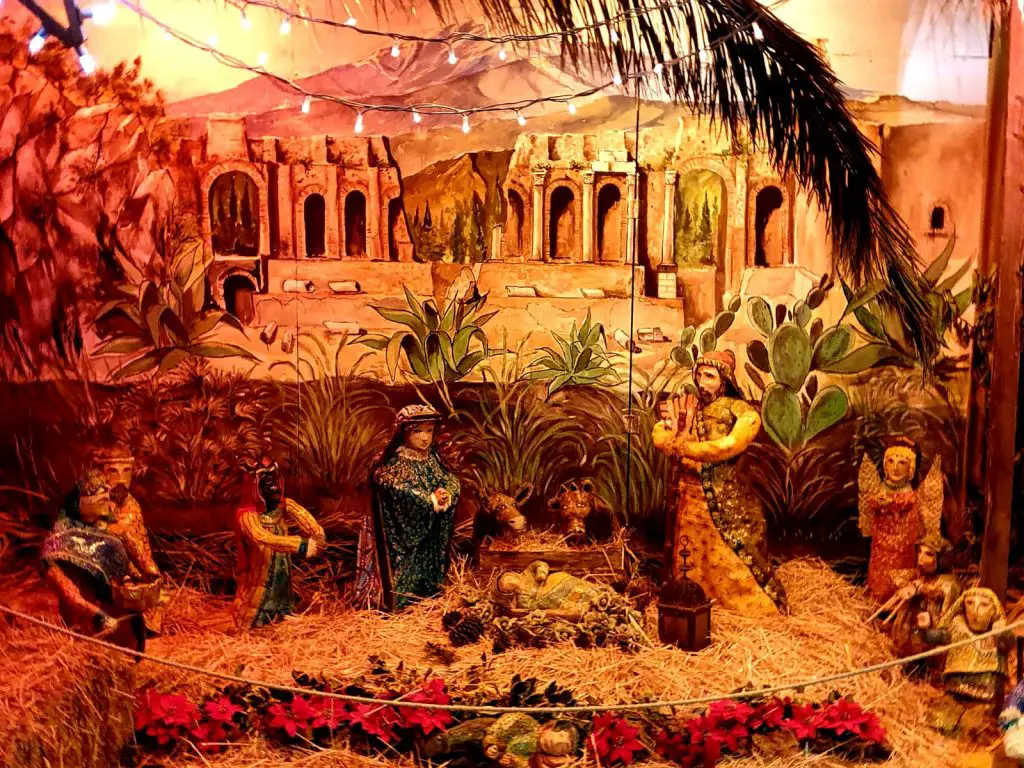 The shops windows, the decorations in the streets and the Christmas cribs in the churches. People from all over the world come here at this time to spend the festive season in Calabria with their families and friends. The food is never-ending. If you ever have the chance to spend Christmas with a Calabrian family, this will be an experience of a lifetime. Family is so important in southern Italy.
A time when all the family comes together (not this year). In normal times, there are usually at least 30 people having Christmas lunch. Close families, relatives, extended families, friends and sometimes even neighbours. You get to know the Calabrian culture through the wonderful dishes they serve.
A typical Christmas meal
Each dish tells a story. They start with the antipasto rustico, an assortment of vegetable appetisers, which always includes the aubergine fritters, zeppole, potato cake with a delicious filling, aubergine with parmesan, pickled vegetables, ricotta, capocollo.
All local ingredients mostly home-grown, two types of pasta, meat and vegetables, dessert, panettone, dried fruit, nuts and oranges not to mention the wine, coffee and liqueurs. Aubergines are predominantly used in Calabrian cuisine. They grow very well in southern Italy.
Respecting the restrictions
There were to be no more than two guests other than your close family this year. I am sure most people respected these rules. Christmas was a little strange, however Calabria will be opening its doors again as from the 7th of January 2021. You can visit Calabria at any time of the year.
Whatever the season, you will have an amazing time in Calabria. Hopefully there will be no more restrictions in Calabria and we can really enjoy this beautiful region.