Did you know that you can enjoy a weekend staying in a farmhouse in Sicily from Calabria? It is possible. There is nothing better right now at this moment of time than choosing a farmhouse for your weekend break or holiday. There are many farmhouses to choose from in Calabria. I recommend combining your farmhouse stay in Calabria with one in Sicily. I would like to share with you my farmhouse weekend stay in Marinella di Selinunte in Sicily.
This place is located in the province of Trapani. There is also the airport of Trapani nearby if you wanted to fly there. It is about 1 hour from the airport. You can also fly to Palermo and drive to Selinunte (1 hour and 30 mins with the car).
The journey to the farmhouse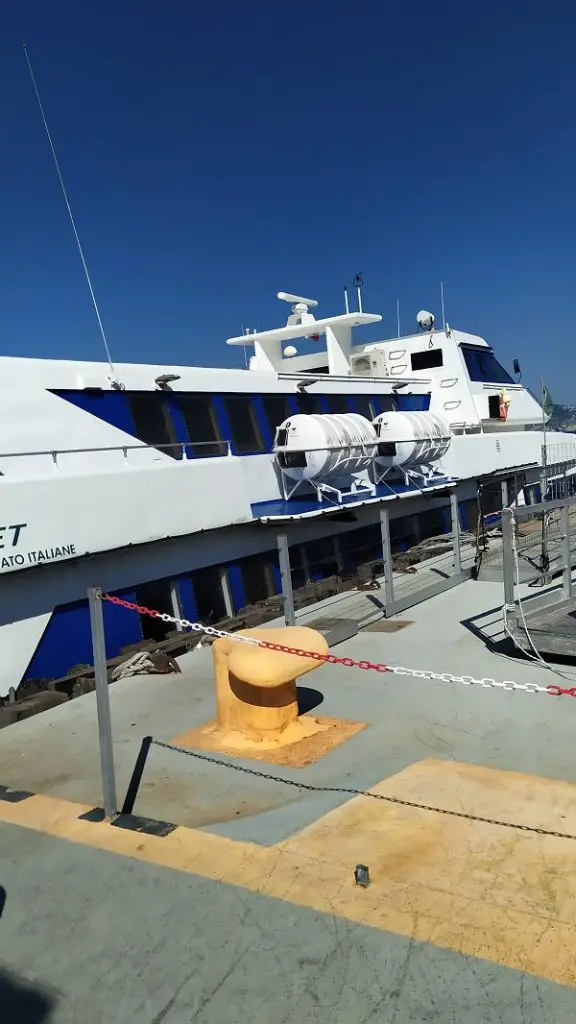 We set off from the port of Villa San Giovanni in Calabria. Many local buses will drop you off right in front of the train station in Villa San Giovanni. We took the hydrofoil to Messina. You can see the times here. We took the 10am one. You can get your tickets from the blujet ticket office in the area where you wait for the hydrofoil.
The journey took 20 minutes. The port is just at the back of the train station. We then took a train to Palermo. The cost of a ticket is 14 euro one way and the journey took about 3 hours. It is recommended to rent a car for the next part of the journey. You can rent a car with our trusted partner here. We arrived at 13.30 so you could just drive to the farmhouse in Selinunte or spend a day and evening in Palermo.
The wonderful farmhouse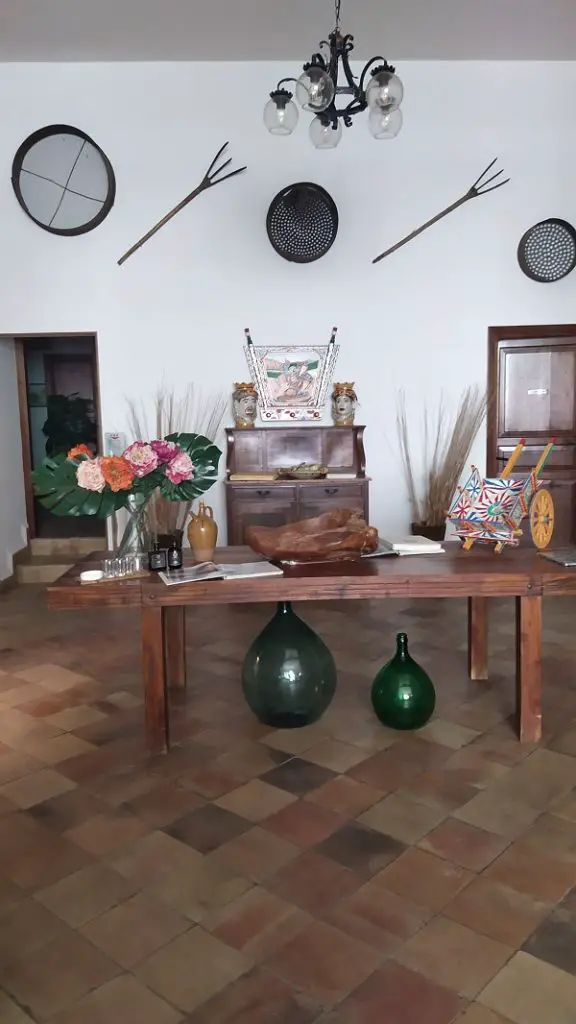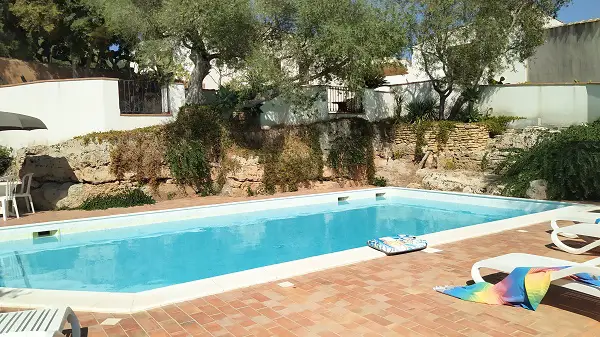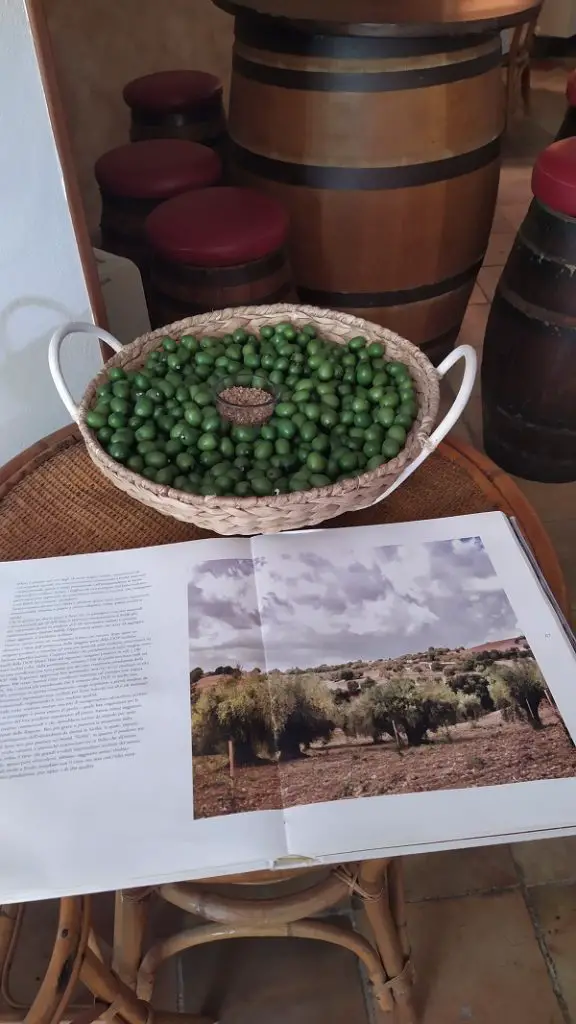 I recommend staying one night in Palermo if you can. Read more about Palermo here. The next day after a delicious breakfast at the bar, we drove to Castelvetrano in the province of Trapani. It took about 1 hour and 30 minutes. The farmhouse is very close to the Archaeological Park of Selinunte, Marinella di Selinunte and Mazara del Vallo.
The farmhouse was not at all difficult to reach. It is close to the main road for all the attractions, but still far enough to not hear a sound. You can see more photos and the farmhouse here. Once we arrived at the farmhouse, it was like another world. Everything was so quiet.
There were quite a few guests which I was surprised to see at a time like this. The hotel had all Covid regulations in place and seemed very well organised. We had a tour around the farm and could taste local products if we wanted to. It is a real working olive farm and you can buy also their olive oil.
There are two swimming pools and a kids pool. The setting is incredible as you are surrounded by olive trees and lot of different typical Sicilian vegetation. They even have small farm animals with a huge duck pond. The little kids loved it as they were making animal noises along with the animals that kept coming towards them. Luckily, the animals were in a huge enclosure with plenty of space to roam about. The whole atmosphere was amazing.
The temples of Selinunte close to the farmhouse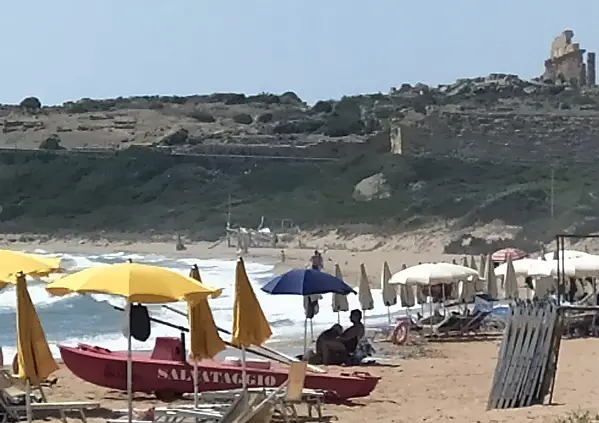 After lots of relaxation, we then went off to do some sightseeing. Unfortunately, it was Sahara heat in August and my husband did not want to go wandering around the site so we could only see the temples from the beach. I recommend going to the park at any time of the year except July and August. The heat is too intense.
You can also go on a little bus that takes you around the park. The temples of Selinunte are only a 10 minute drive from the farmhouse, the largest Archaeological Park in Europe. Another Sicilian wonder and evidence of Greek settlement in Selinunte in the 5th century BC. Read more about it here.
The port of Marinella di Selinunte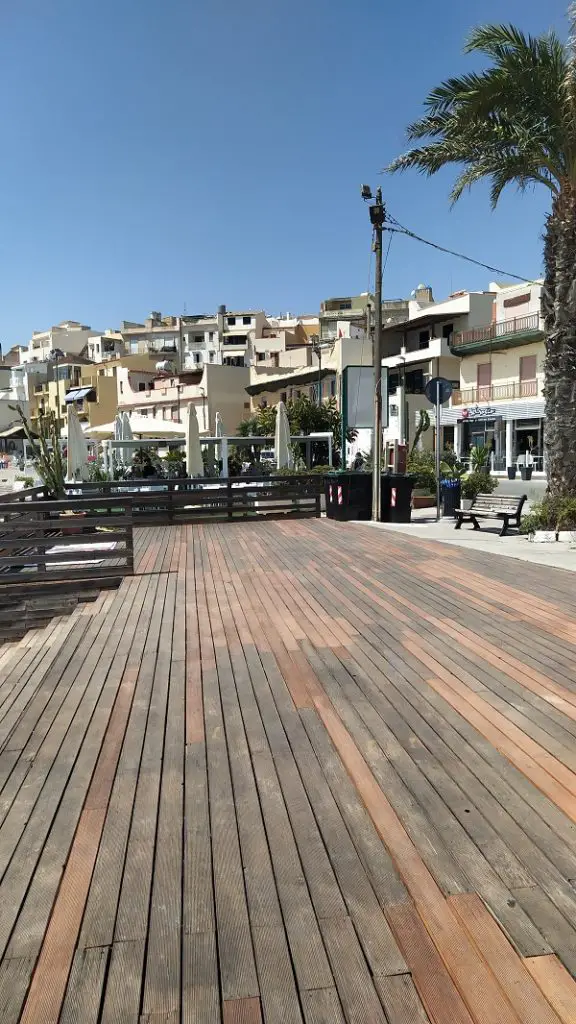 We then visited the pretty port area of Marinella di Selinunte, a small village with 1,500 inhabitants. There are plenty of bars, restaurants and small shops. It is a popular tourist resort. There are lots of houses all built on top of each other. You have great views of the temples from here. Make sure you try the local bread from Castelvetrano, pane nero and the one with olives and almonds inside it. I could not stop eating it. Definitely a must.
The ceramics of Mazara del vallo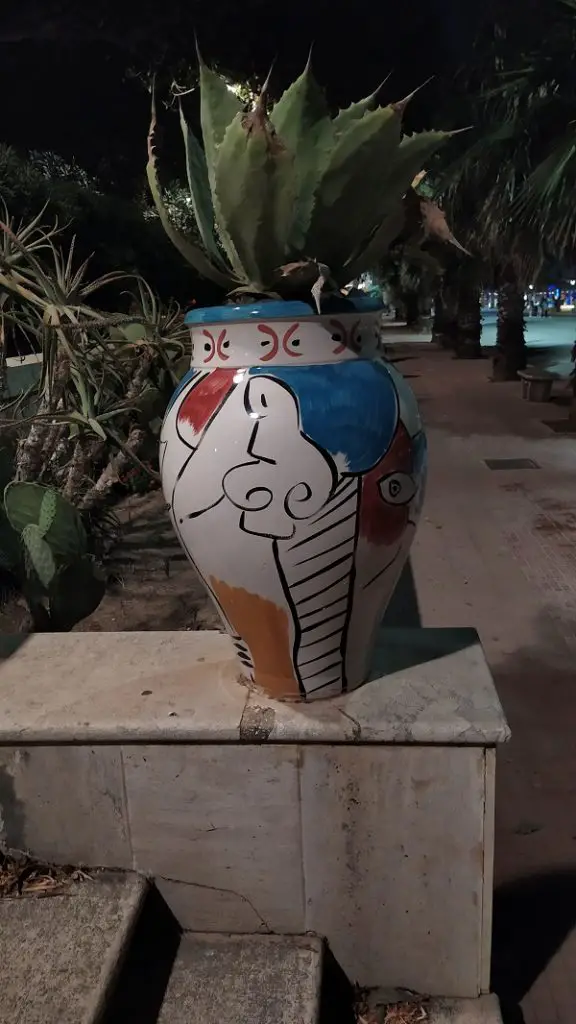 After exploring the port area, we ate delicious ice cream in the square. I recommend this ice cream. The ice cream shop is in front of the square and the only one there. I am sure the place gets lively at night with all the different bars and nightlife. We decided to go to Mazara del vallo for dinner and a walk.
A much bigger place with 51,000 inhabitants. It definitely has Arab influence, in fact, you can visit the Arab district in the historical centre of Mazara del Vallo. Not only is it full of character, but it is extremely clean and pretty.
Ceramic vases and panels
There are ceramic panels and ceramics everywhere depicting the history of the town. Being a ceramic enthusiast, I was so happy walking around here. There were colourful ceramic vases all along the promenade with typical vegetation of the area. Some staircases have been built using ceramic tiles. The bars had ceramic tiled tables. There are ceramic-tiled benches all over the town. The atmosphere at night is incredible. Besides walking along its long promenade with lidos, the historical centre is the place to be.
The historical centre of Mazara del Vallo and Cous Cous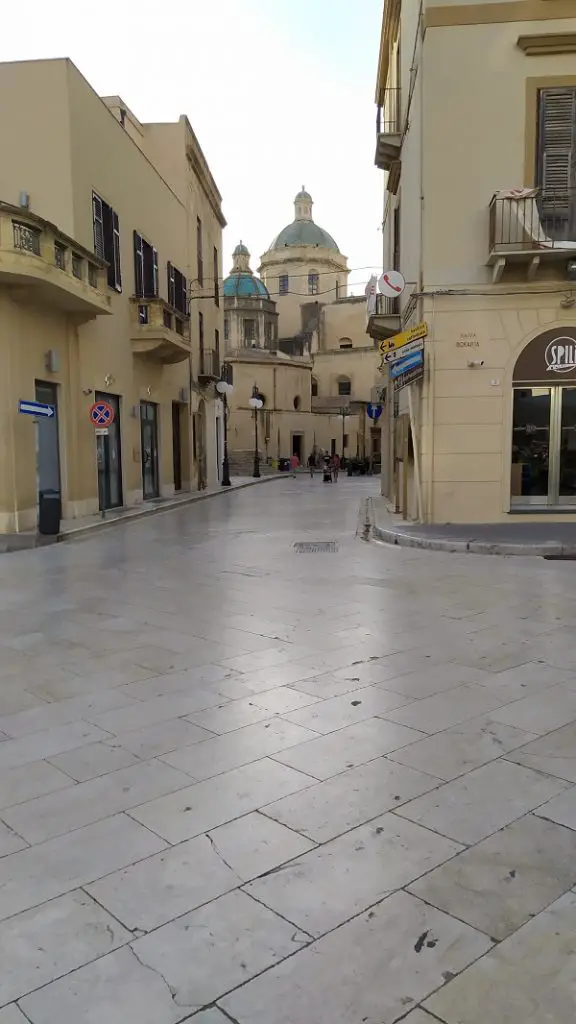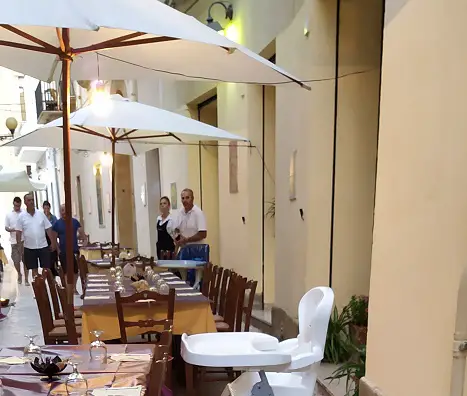 Countless bars and restaurants are tucked away in the back streets lighting up the squares and alleys. We had dinner in a characteristic alley called the Kasbah restaurant. It is amusing as while you are dining you can see many people walking and chatting in Arabic. It really adds to the atmosphere. We ordered the local speciality Cous Cous with fish. It was delicious. It came with a sauce that you have to pour over the Cous Cous otherwise it can be too dry.
Cous Cous is a Maghrebi dish, which is typical in Trapani. This is the only region in Italy where you can eat it. It is no wonder as many Tunisians live and work here. The main industry is fishing. There is a huge fish market in the large port of the city which you definitely need to visit. Did you know that it is only 141 nautical miles to Tunisia from Mazara del Vallo? Just 200 km from the Tunisian coast. There is even a boat service in the summer.
The farmhouse breakfast
The morning after we had a delicious breakfast at the hotel. They could not do the usual buffet service due to Covid so they gave you a menu the night before to tick all the things you wanted for breakfast. The list was endless. We had croissants with home-made jam, pastries, cakes, ricotta, different hams, bread, other cheeses, cereals, fruit salad and coffee. They even asked you if you wanted more once you had finished breakfast. You could have the whole thing again if you wanted to. My husband had about 3 more portions of this delicious home-made apple cake.
The towns along the Selinunte Coast
After some swimming and relaxing at the farmhouse, we visited the towns of Tre Fontane, Triscina and Torre Granitola along the Selinunte Coast. I recommend swimming at the Tre Fontane beach in Campobello di Mazara. It stretches for miles and miles and it never seems to get deep unless you go really far out. I was suprised to see a corn in the cob seller wheeling his bike on the beach. It had a grill attached to it and he roasted the corn. I could not believe the queue of people waiting to have roasted corn in the cob at 11.30 in the morning.
Mazara del Vallo full of culture and history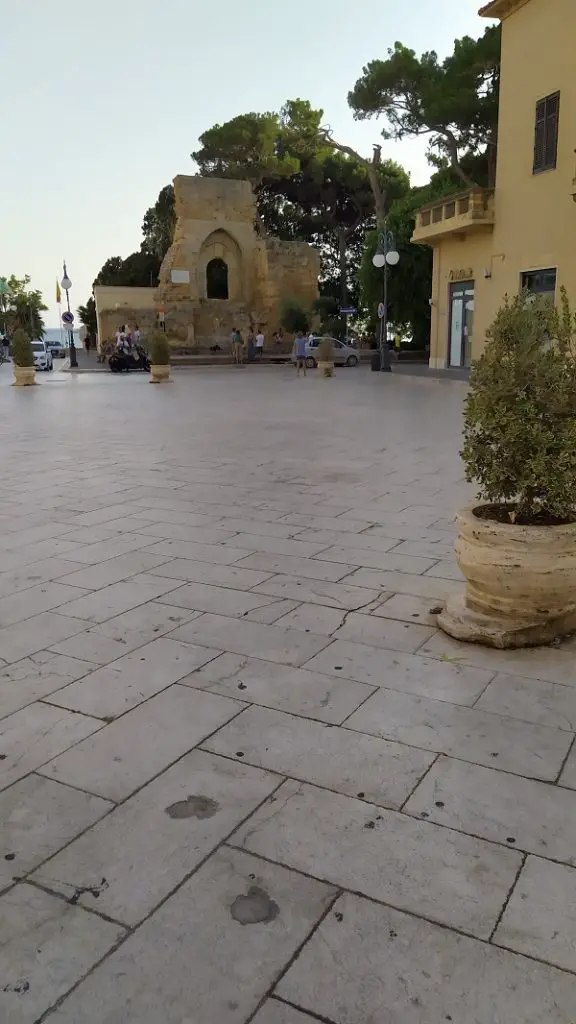 We had already been to Marsala a few years ago so we decided to skip it on this occasion. Definitely worth visiting. All these places are very close to each other. I didn't like the beach in Mazara del Vallo but really that place is for sightseeing as it is full of culture and history. You could spend a whole day there or longer sightseeing. I tried to walk past the ceramic shops without stopping to buy something. It was so hard but really I have too many now and no space for new ones. It was heartbreaking.
A Calabrian/Sicilian farmhouse experience
Again it was extremely hot. At least, there are plenty of nice beaches around the coast to have a dip now and again such as Tre Fontane, Triscina and many others. If you have more time, then it is worth staying longer. We could only stay for the weekend but we still managed to see and do a lot.
We drove back to Palermo and got the train to Messina then the hydrofoil to Villa San Giovanni in Calabria. It is amazing to visit all these places in Sicily but only once you have visited Calabria. See more here about farmhouses.