Southern Italy is well known for its indigenous flora but can you imagine a town having so much pottery for its plants and flowers. You will see countless ceramic vases with plants and flowers all over the city, especially along the seafront and in the centre of Mazara del Vallo in Sicily. Native plants and flowers grow wild as well as the local people planting them in the most beautiful pottery for plants. I would like to tell you about some of this amazing pottery in Mazara del Vallo.
Mazaro del Vallo close to Tunisia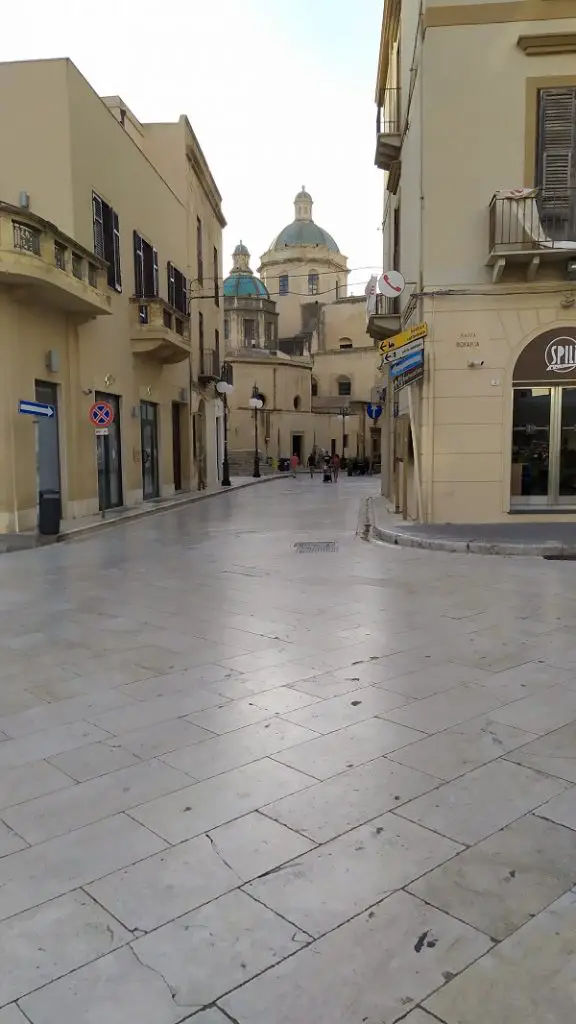 Mazaro del Vallo is in the province of Trapani with 51,000 inhabitants. Actually, 3000 of them are immigrants and the majority come from Tunisia. It is no surprise that there are many Tunisians living in this port city. They work in the fishing port and supply fish to North African countries. Did you know that Mazara del Vallo is only 200 km to Hammamet in Tunisia?Actually, there are boats in the summer to the island of Pantelleria and Hammamet.
We stayed in a farmhouse in Castelvetrano near the Archaeological site of Selinunte. You can read more here. This farmhouse is surrounded in greenery and typical vegetation of the area. It is so beautiful. The vineyards caught my eye. Rows and rows of vineyards carefully planted in the most fertile farmland I had ever seen. The soil was almost like a reddish colour. Never had I seen so many olive trees in one area.
The vineyards of Castelvetrano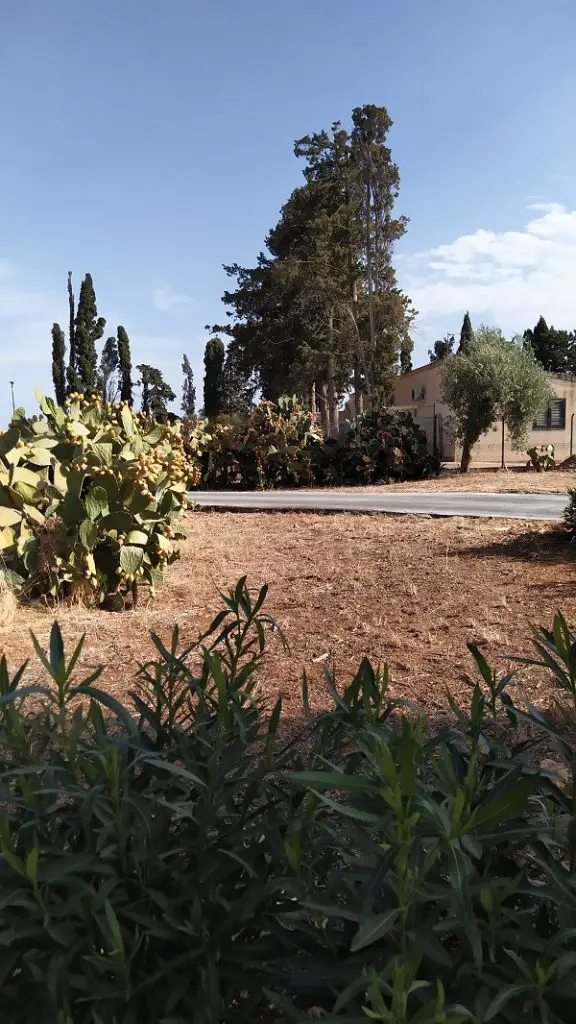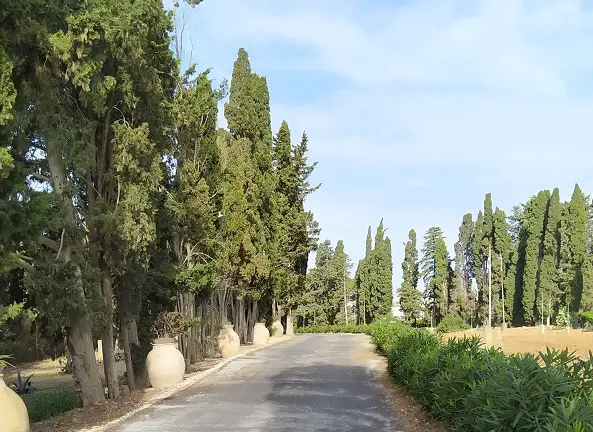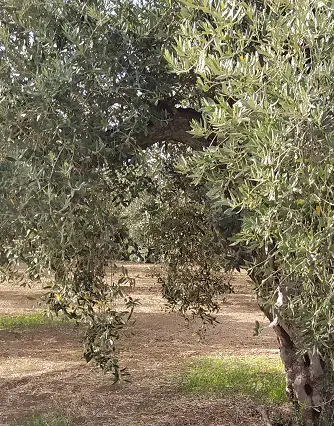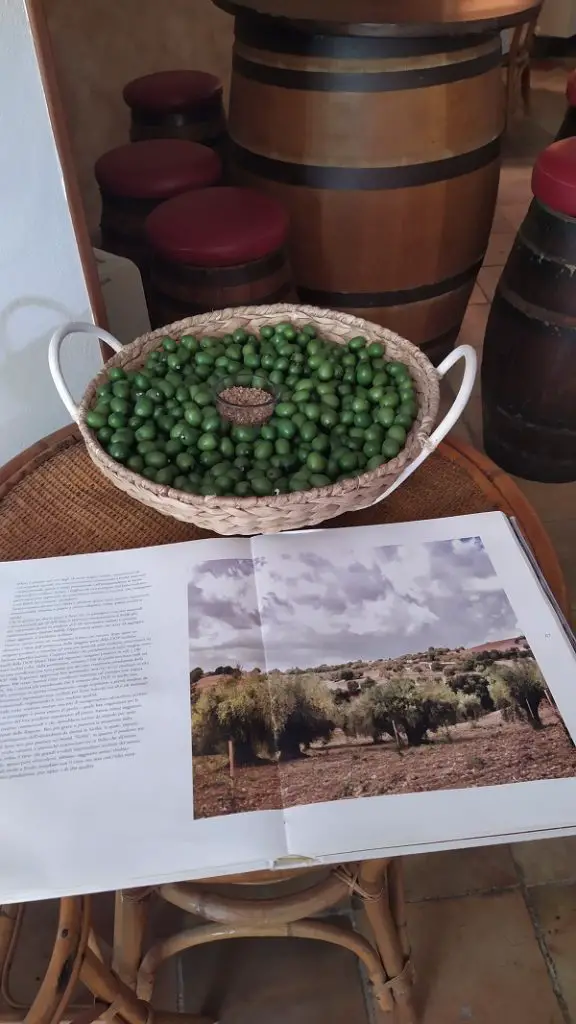 Vineyards and olive trees are everywhere. In fact, they look like an intricate piece of patchwork from a distance. The small bright green olives from Castelvetrano are unique and are used mainly in appetisers. The scenery here is just stunning and very peaceful. If you are looking for a rural setting, I can recommend this farmhouse in Castelvetrano close to Selinunte. The land in this area of Sicily is much flatter in comparison to the hillier land in Calabria. That's why I recommend a farm stay both in Calabria and Sicily. Both offer an incredible experience.
Torretta Granitola and pottery for plants
After a 15 minute drive through all this wonderful greenery, we started to approach the coastline. First passing through the little village named Torretta Granitola. The first thing I noticed was all the walls covered in different-coloured bougainvillea and the citrus trees growing in the gardens of these houses as well as beautiful pottery for plants.
Some of these planters were huge. The beach area is very rocky, although you will find a long sandy beach only 10 minutes away in Campobello di Mazara, le tre fontane. I definitely recommend this place for swimming. After a 5 minute drive, we arrived in Mazara del Vallo.
Mazara del Vallo for me was the highlight as being a ceramic enthusiast, I could not believe the amount of pottery for plants as well as ceramics everywhere. There are ceramic vases all along the seafront with the most striking patterns, mostly depicting sea creatures and marine life.
Visit the fish market of Mazara del Vallo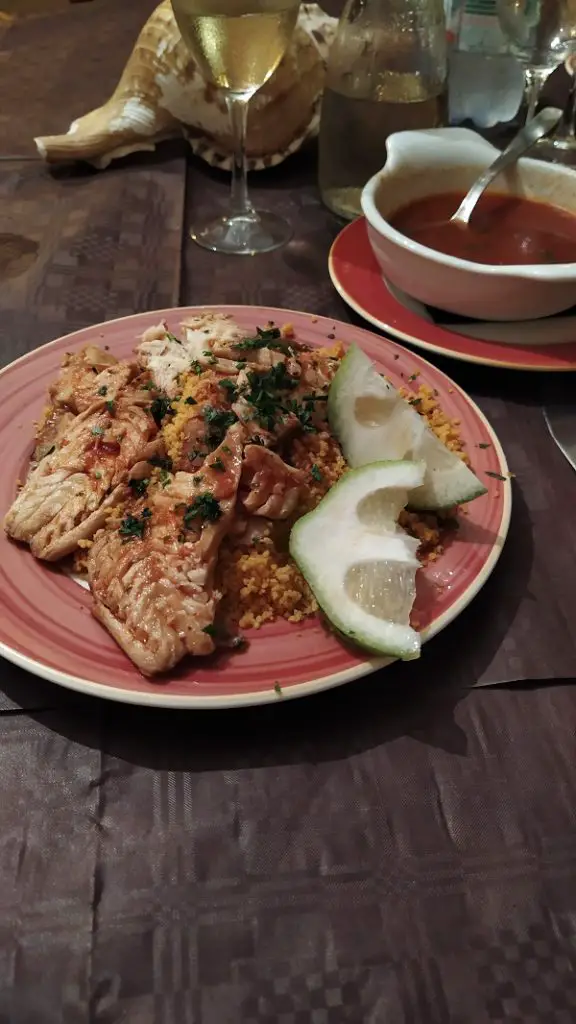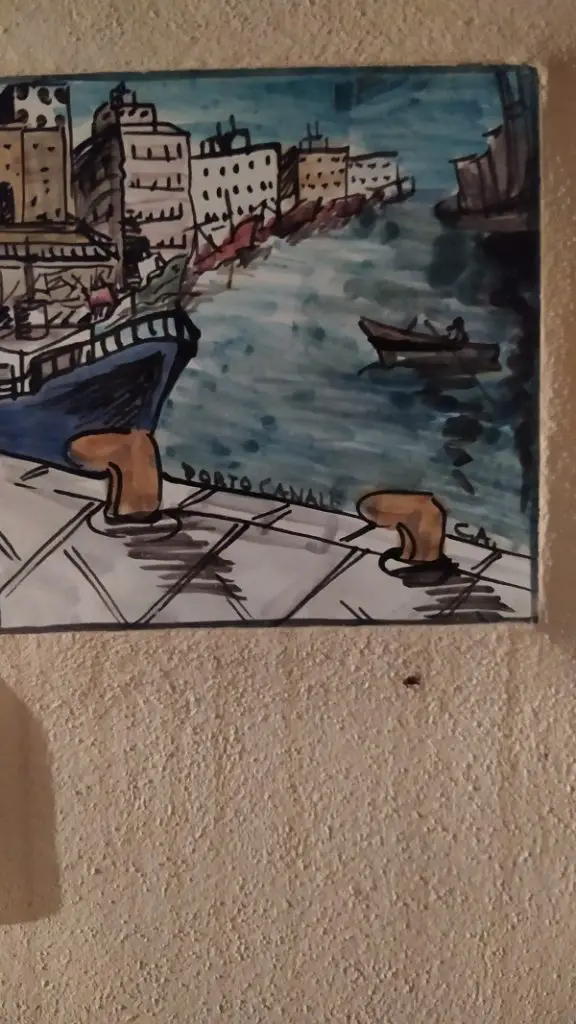 In fact, Mazara del Vallo is an important port city, although it was more important in 827 when the Arabs took control of it. Nevertheless, it is still a busy port and has an amazing local fish market with the weirdest fish on display. Did you know that Mazara del Vallo is famous for its red prawns? Most dishes are served with red prawns. Make sure you try the local Cous Cous with fish in the backstreets of the Arab district "Kasbah".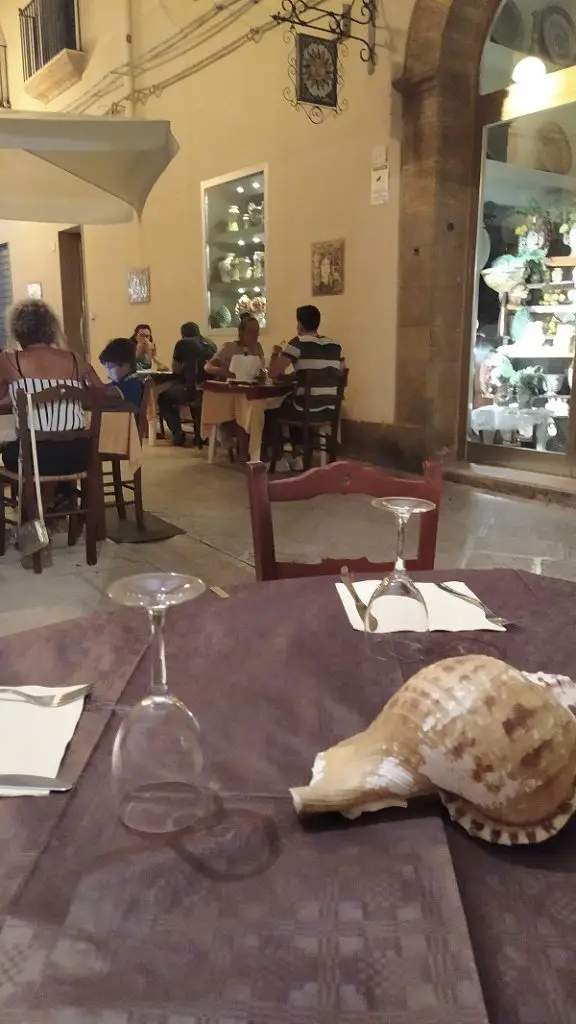 The kasbah is amazing. You can hear the Arabic language as you walk around that area. Actually, during my short sightseeing tour in Mazara del Vallo in the wonderful must-visit square, Piazza della Repubblica, there was a man walking and shouting in Arabic. I was not sure if he was speaking alone or had one of these earphones in his ear, perhaps on his mobile phone.
The beautiful square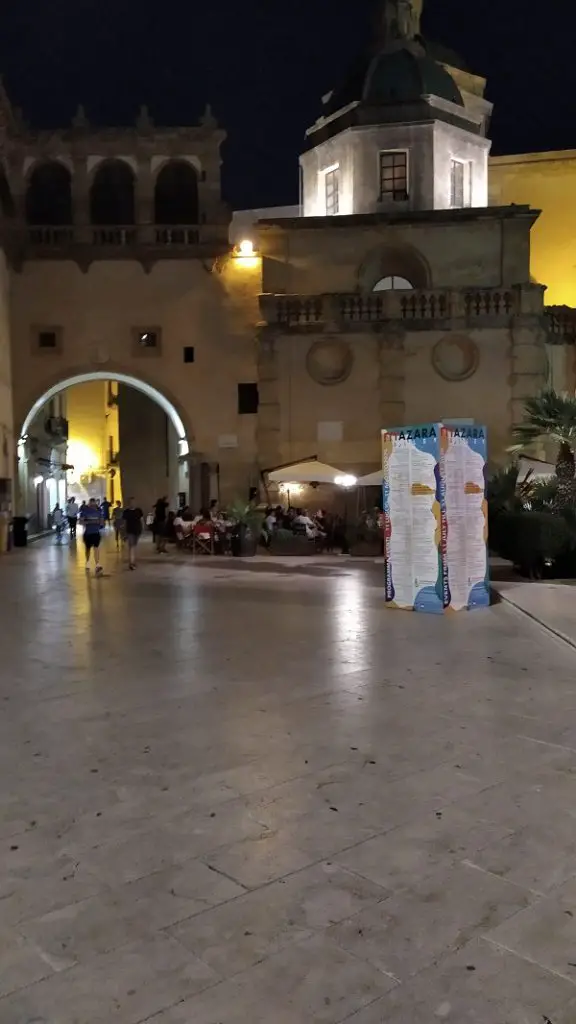 It was certainly interesting to hear. You can hear a lot of Arabic also in this square. It is frequented by many different nationalities and houses the most beautiful cathedral and is definitely the place to be in the evening. There are some nice shops and bars where you can sit and have a drink and enjoy the atmosphere of this elegant place. I could not believe how clean it was.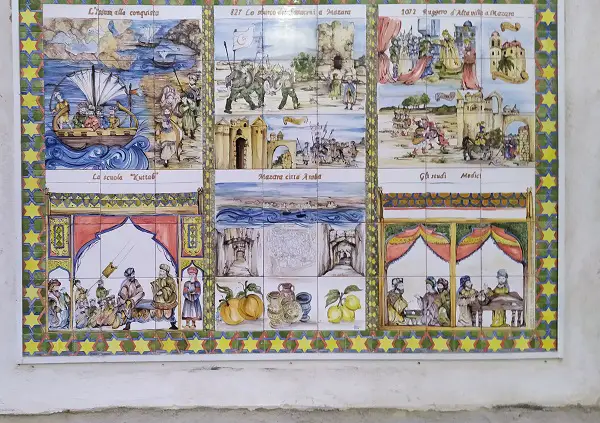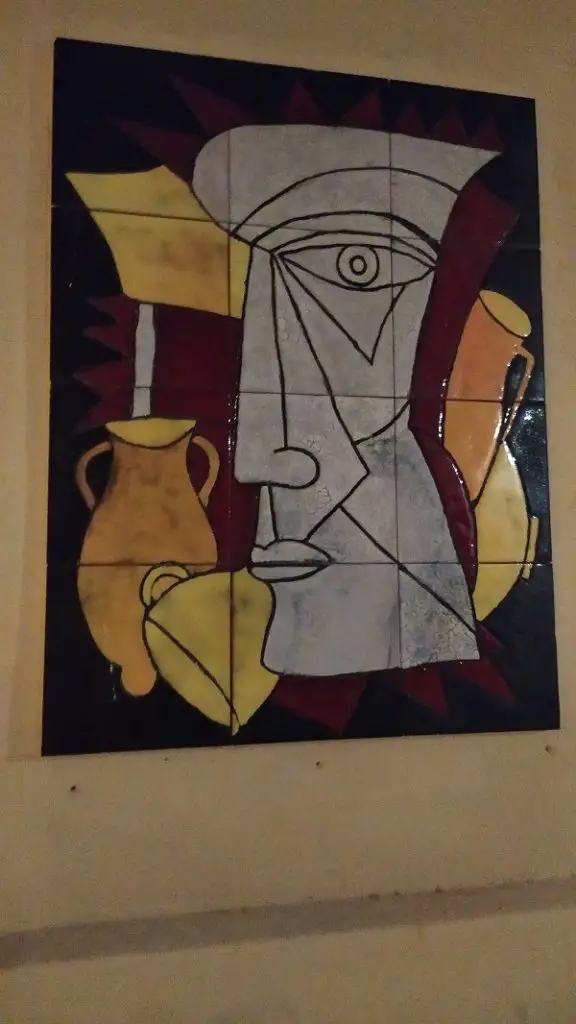 Going back to Arabic, there are also schools that teach Arabic and French as well as Italian. You can definitely see a lot of Arabic influence in this city, especially in the Kasbah. Most of the immigrants live in this area. You can also see this influence in the pottery for plants and ceramic-tiled panels. In fact, these tiles depict the history and traditions of the city. The colours painted on most of these ceramics are vibrant reds, yellow and blue. Some of the decor in bars and restaurants resembles Arabic style.
Expensive looking pottery for plants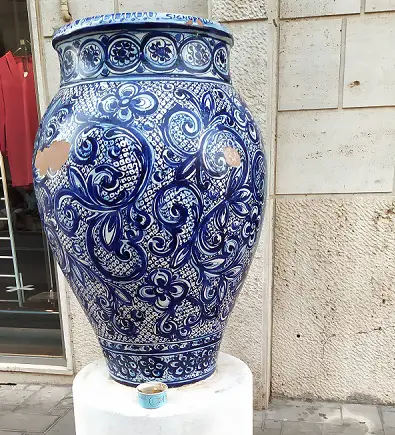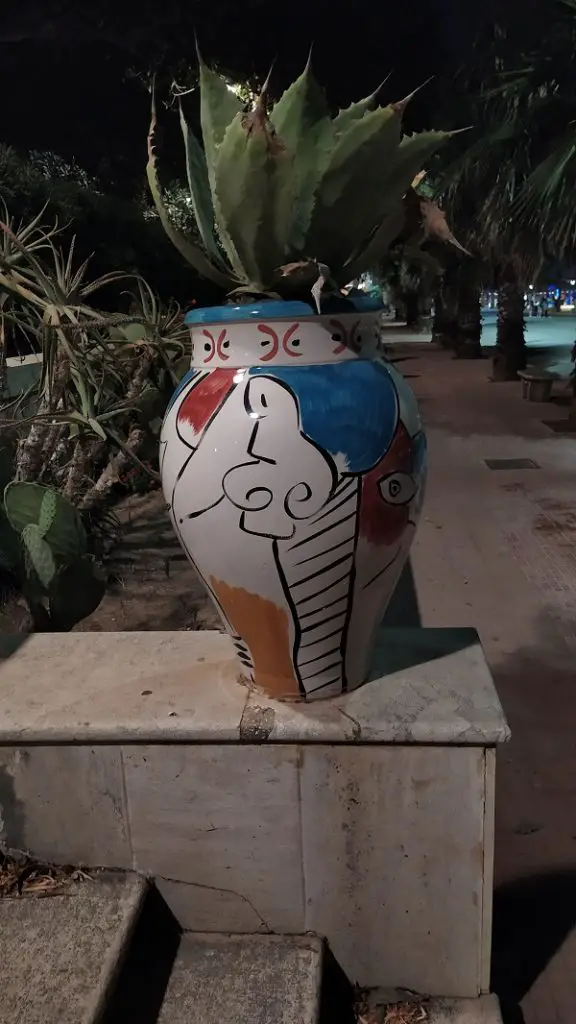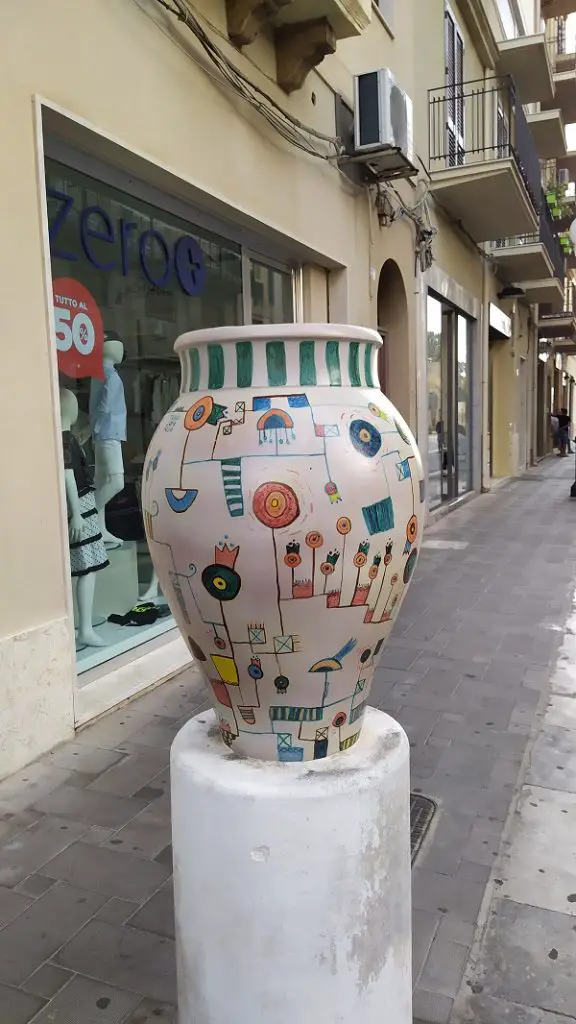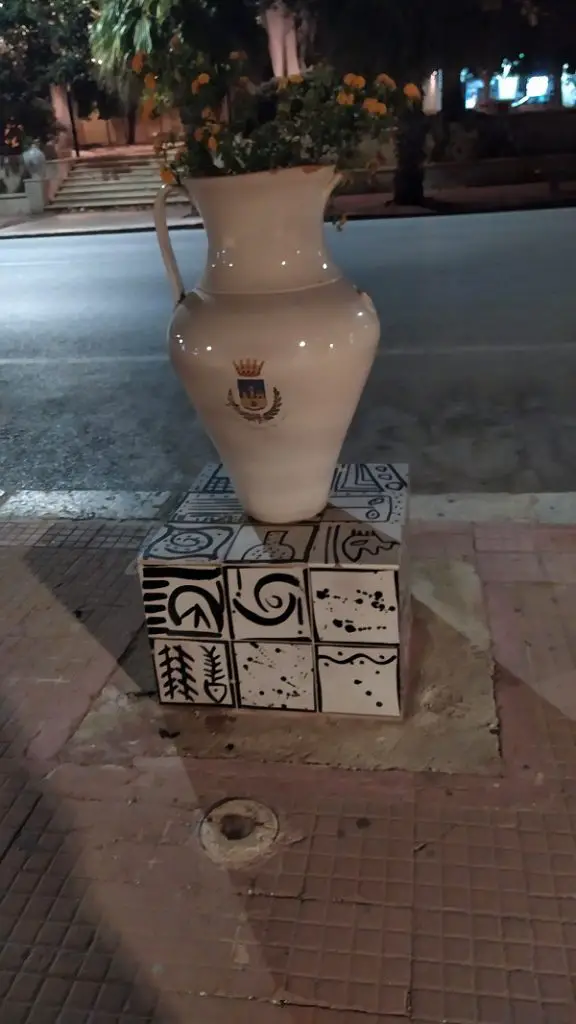 The street vases are full of beautiful plants and flowers of the area. Some of the vases look expensive, yet they do not look like they have ever been damaged. Actually, there was one with a couple of cracks in it. That could be down to decay rather than someone damaging it. The only annoying thing I saw was that someone had left an empty ice cream tub next to it. The other vases looked completely intact. Some of these vases look like they are porcelain and some look like they should be in a museum.
Pottery for plants and ceramics in Mazara del Vallo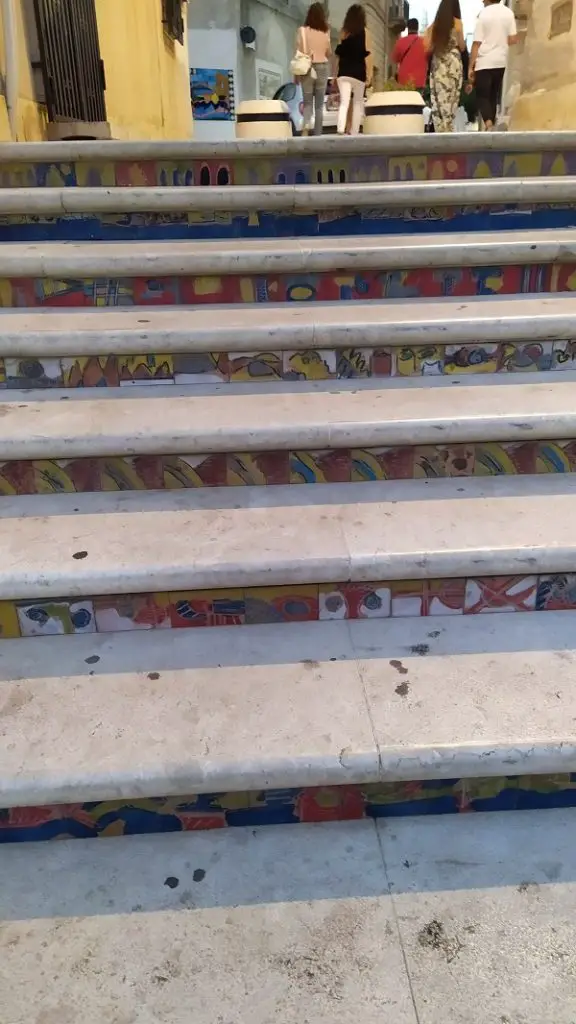 I would hate to imagine if they had been in another place. You also feel very safe in Mazara del Vallo. All the local people are so friendly. If you like ceramics like I do, you will love this place. It is not just pottery for plants but many bars have ceramic table tops, there are ceramic-tiled benches, staircases built with ceramic tiles. There is even a ceramic-tiled panel beneath a huge oak tree that looks like it has been there for centuries.
The dancing satyr and ancient pottery
I recommend visiting Mazara del Vallo not only for its pottery, but also for its history and treasures. You can see the dancing satyr in the museum in Piazza Plebiscito. This bronze treasure was found near the port area. The place is soaked in history and culture, not to forget the Archaeological site in Selinunte where you can visit the Greek temples and see ancient pottery from the ruins of this site in the museum of Castelvetrano. See more things to do in Mazara del Vallo here.
You can fly to Trapani or Palermo. Castelvetrano is a great base to explore all the attractions in this area. It is 1 hour and 30 minutes from Palermo and just 1 hour from Trapani.
A Sicilian and Calabrian experience
Perhaps after having spent a few days in Castelvetrano, you can combine your Sicilian holiday with a few days in Calabria. You only need to drive to Messina or take the train. From Messina there is the hydrofoil to Villa San Giovanni in Calabria. The crossing takes 20 minutes.
There are many farmhouses all over Calabria with incredible flora. You can even visit the ceramic town of Seminara for more pottery and ceramics. Read here about this ceramic town. For the return journey, you can fly from Lamezia Airport or return to Palermo or Trapani. To find out what excursions you can do in both Sicily and Calabria, you can visit here.