Did you know that southern Italy is home to three volcanoes? Mount Etna, Mount Vesuvius and Stromboli are the three most active volcanoes located in southern Italy; two in Sicily and one in Naples. No wonder this part of Italy is so beautiful as a result of these volcanic eruptions. Due to its geological nature, southern Italy has suffered volcanic eruptions, landslides and earthquakes which have changed the landscape over time.
Landscapes shaped by volcanoes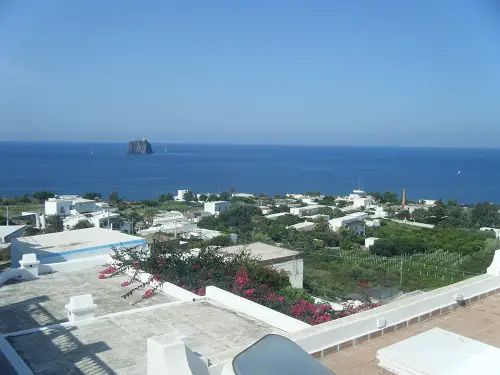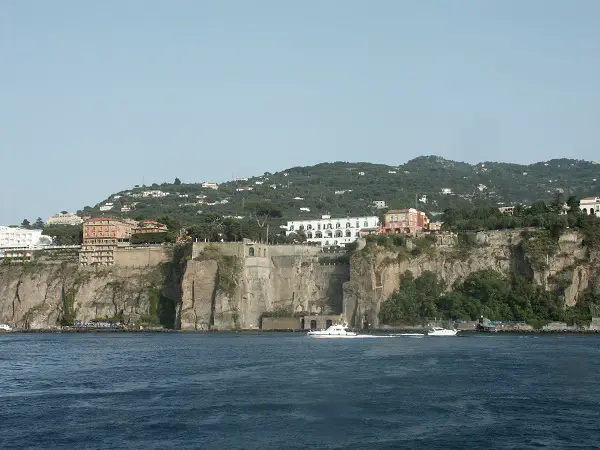 It is this very beauty that takes the visitor's breath away. Tufa rock, granite, limestone, rugged cliffs, incredible gorges, small islands are just some of the volcanic landscapes you will find in this part of Italy. Millions of visitors return year after year, mesmerised by its beauty. Road tunnels carved out of the rock were created to allow people to travel from one area to another.
Before that, it was difficult for people to travel. Nowadays, you can reach almost all towns in different regions. You are probably wondering why people still live near the slopes of the volcano. Could it be because the soil is so fertile in these volcanic towns that people do not want to move away. The land is so fertile that it produces the tastiest fruits and vegetables.
Agricultural land near volcanoes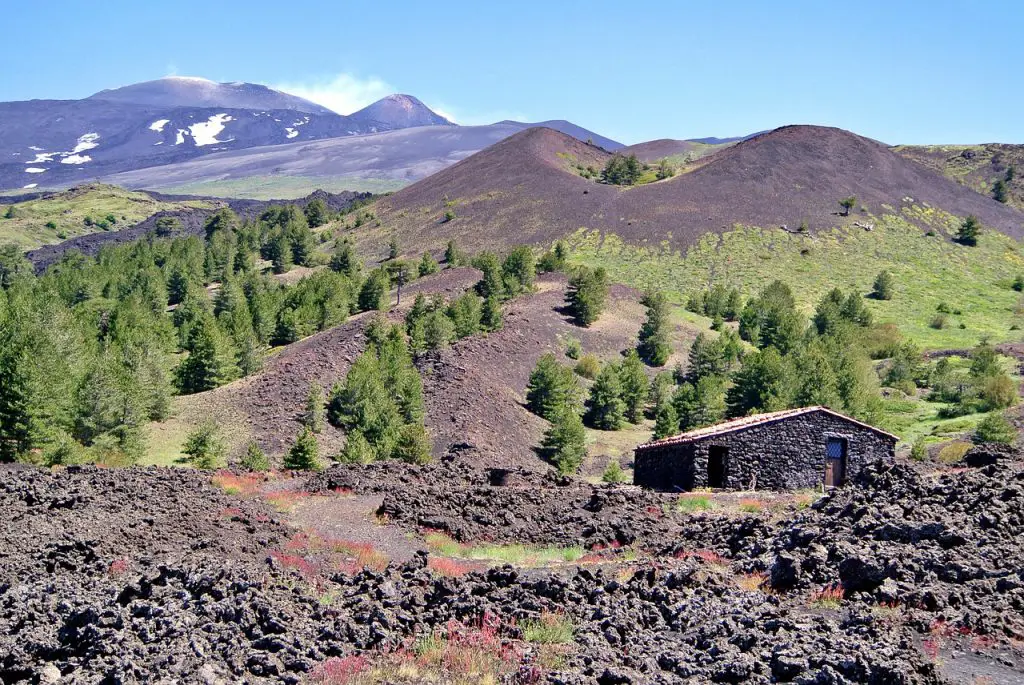 Agriculture plays an important part. This has been their homeland for many years and they can live very well off the land. As it is so fertile along with a pleasant climate, everything grows extremely well thus giving the produce its unique flavour. It would be difficult to give this up. However, the threat of living in the vicinity of volcanoes is real.
Many people have left their towns, others have remained and refuse to move. Currently, there are evacuation plans in force and they test them every so often. These volcanic regions have made these towns rich with the amount of visitors they get. The local produce attracts the tourists as well as the inhabitants. The tomatoes of Marzano in Naples and the pacchino cherry tomatoes in Sicily are fine examples for their distinct flavour.
Living close to the volcanoes of Vesuvius and Etna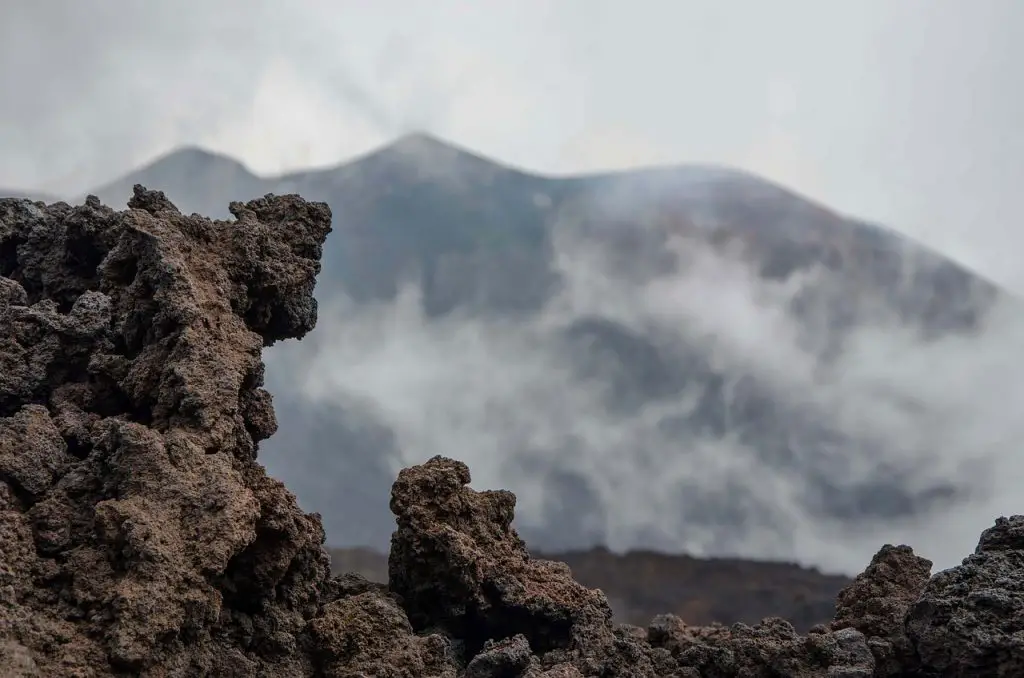 The tomatoes from these areas are distributed all over Italy and exported around the globe. Citrus and exotic fruits are in abundance and vineyards stretch for miles. The best DOC wines are made from the grapes grown on the slopes of Vesuvius and Etna. Falanghina and Nerello Mascalese are just two fine examples. You can read more about wines here. You will see agricultural land everywhere you go.
I have also been living close to these volcanoes for many years now. First in Naples with Vesuvius and now in Calabria. At least Vesuvius is dormant for now. Its last eruption was in 1944, but when it erupts, according to experts, it will be an explosive eruption as witnessed by Pliny the younger. He was able to observe the eruption from Cape Miseno in the gulf of Pozzuoli.
Herculaneum and Pompei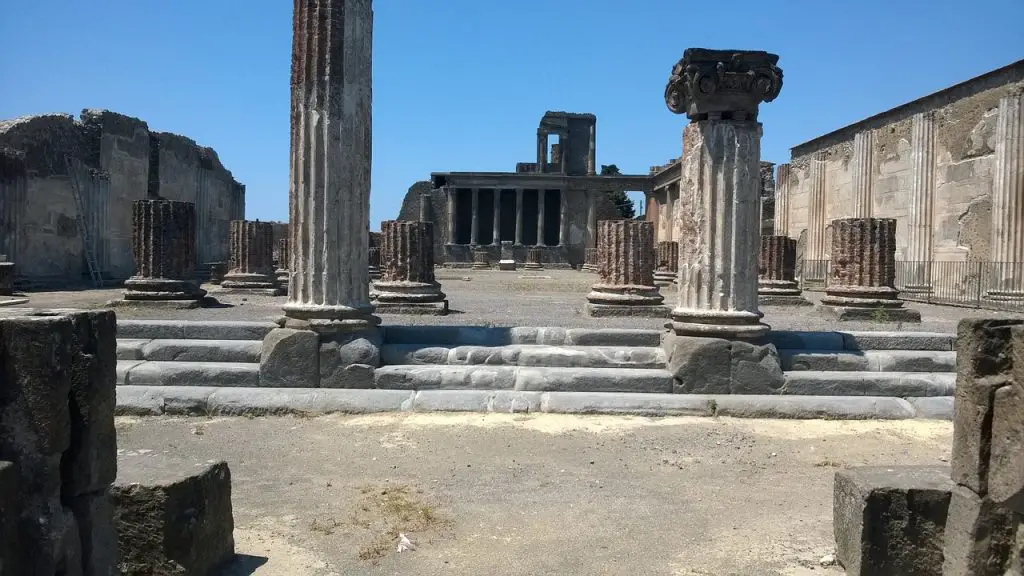 You can read his description here. Its last major eruption was in 79AD when it submerged the towns of Pompei and Herculaneum in volcanic mud and ash. It is said that ash even reached Milan and most people died from the poisonous gas emitted from the volcano. It is thanks to this solidified mud that we can visit the Roman ancient town Herculaneum and the city of Pompei today.
As a result of the eruptions, they are perfect examples of Roman civilisation. They lay buried beneath the ground for years until a farmer accidentally came across them when digging for water. They are still excavating today. Just recently, they found an ancient chariot near Pompei. Thousands of people visit Pompei and climb up Vesuvius every day, at least they did before the lockdown. Luckily, the car or bus can take you 3 quarters of the way up to the volcano,
Climbing up Vesuvius
Unfortunately, the rest you have to hike and you need to be quite energetic if you want to see the crater. I remember taking groups there and half of the group was in their late seventies and would brush past the other half who refused to climb up, sprinting all the way up to the top. They also give you wooden sticks to support you on your way.
The other half of the group was probably in their forties or fifties. They could not wait to reach the nearest bar for a little shade and a coffee. The view from up there was everything for them and to say they had ticked Vesuvius off their bucket list, well that was enough for them. When I first came to Vesuvius many years ago, my mother reached the top before me and my sister.
We were still half-way down. It's an amazing experience whatever you decide to do up there. I agree that volcanoes are a constant threat but as the locals say, the pros outweigh the cons and you learn to accept it.
The volcano of Stromboli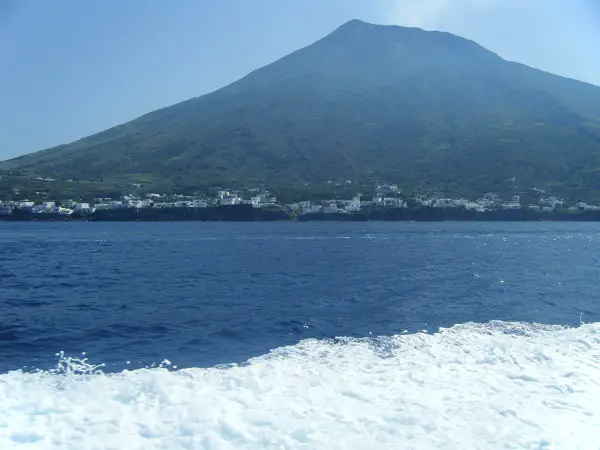 The closest volcano to Calabria is Stromboli in front of Tropea. It is much smaller than Etna and Vesuvius. Stromboli's height is approx 924 metres. Many excursions leave from Tropea for the Aeolian islands, especially for Stromboli. Another active volcano which erupts every 15 minutes.
You can actually see the smoke coming out from the top of the volcano. A popular excursion is Stromboli at night so you can see it erupting against the night sky. It is also a nice place to visit during the day. You can read about my Aeolian island trip here.
Mount Etna eruptions
The eruptions of Stromboli is something quite spectacular although nothing like the eruptions people have been experiencing in these towns near Mount Etna. These eruptions are unusual compared to previous ones in the past. Not only has it been throwing out fountains of lava, but also ash and volcanic stones. People have had to put blankets on their cars and constantly sweep up the ash.
I remember when there was an eruption in 2019, some towns in Calabria were covered in a thin layer of black ash. I also remember sweeping it up in the balcony. It actually had rained ash. So far, we haven't experienced this and yet the eruptions seem more fierier than ever. This has been going on since February 2021.
Incredible spectacles of Mount Etna
Photos and videos have gone viral displaying these incredible spectacles, but they may not be for the people living close to it. This immense volcano stands at about 3300 metres high and can cause destruction. Its last major eruption was in 1669 when it destroyed several towns. I have been to Etna many times.
You can read more about my experience to Etna here. Catania airport has been closed and reopened. Did you know that starting from March 2021 you can now take the train from Catania or Messina and other Sicilian towns directly to Catania's International Airport Fontanarossa?
It is no wonder that everyone is fascinated by these volcanic landscapes and although it seems amazing to have 3 active volcanoes not so far away from each other, It is a little scary. See more on what you can see and do here in this part of Italy. You can use my travel resources here to get around. Subscribe to receive new posts.