The port
The port of Roccella Ionica is on the Jasmine Coast. It is a nice place to relax, have a cold drink and watch the boats coming in and out of the pier. There is a bar/restaurant with numerous tables and chairs, which fills up in the summer evenings, occupying almost the whole of the port area as eager-hungry individuals await their tables.
The port at night in Roccella Ionica
The atmosphere is wonderful in the evening especially when the sun sets. You see all the lights lit up in the little boats and yachts illuminating the port. The balmy summer evening, the stars and the lights from the boats make this place quite a spectacle.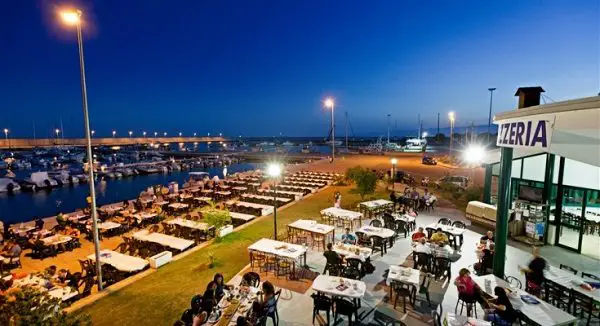 Luxurious yachts dock in Roccella Ionica
The Kismet yacht in Roccella Ionica
When I went for a walk around the port, I could not help admiring the shapes and sizes of some of these vessels. I often wondered where do they come from?
Some of them can come from quite far away such as France and even further… There was this huge yacht quite far out at sea. I could not believe the size of it. I went closer to the beach so I could get a better view. Wow. Before I knew it, it was all over the media. Kismet yacht worth 112 million dollars was in Roccella Jonica.
The locals have never been so proud to have someone come that far and bring their extremely fortunate guests to see Roccella and the Locride coast in one of the world's most expensive and luxurious yachts. Watch the video to see how luxurious it is.
My boat trip Raggio di sole along the coast of Roccella and Caulonia Marina
I had always wanted to go on a boat trip along the coast and last year the port of Roccella introduced the first affordable boat trip (15 euro per person) allowing many to experience its beautiful coastline from the sea.
Comfortable boat trip
I thoroughly enjoyed this experience. We left from the port and headed along the coast of Roccella Jonica. The boat had leather seats and felt very comfortable. The views were breathtaking. Seeing Carafa palace from the sea has another perspective.
Different shades of blue and green
I could not stop taking pictures or taking my eyes off the different shades of blue and green the sea created as we glided across the transparent clear waters of this magical sea. Read more about sailing and boat trips here.