The Calabrian sea in Italy is perfect for sailing holidays and boat trips. The perfect remedy to wind down and enjoy nature at its best. The sea is often calm in the summer months with the most spectacular sunsets. Calabria has two seas – the Tyrrhenian sea to the west and the Ionian sea to the east. The Ionian sea lies between Albania, Greece and Sicily. Only 7 nautical miles from Calabria and you are in Sicily. According to myth, the Ionian sea gets its name from lo, the daughter of Inachus, who was said to have crossed it. And rightly so for the beauty of its waters. The colour of the water constantly changes from deep blue to turquoise green. You can only appreciate this incredible beauty when you are right out at sea.
Charter a yacht with skipper for a real sailing experience
The coastline is 800 km long with many seaside resorts. You can enjoy boat trips or even charter a yacht with your own personal skipper and sail for several days around the Ionian and Tyrrhenian seas. You will be completely alone in the middle of the blue turquoise sea soaking up the sun and relaxing. Some of these yachts also come with your own personal chef so you do not have to worry about cooking or buying food. They will prepare for you and your family or friends typical dishes of the area as well as take you ashore to try some of the typical restaurants.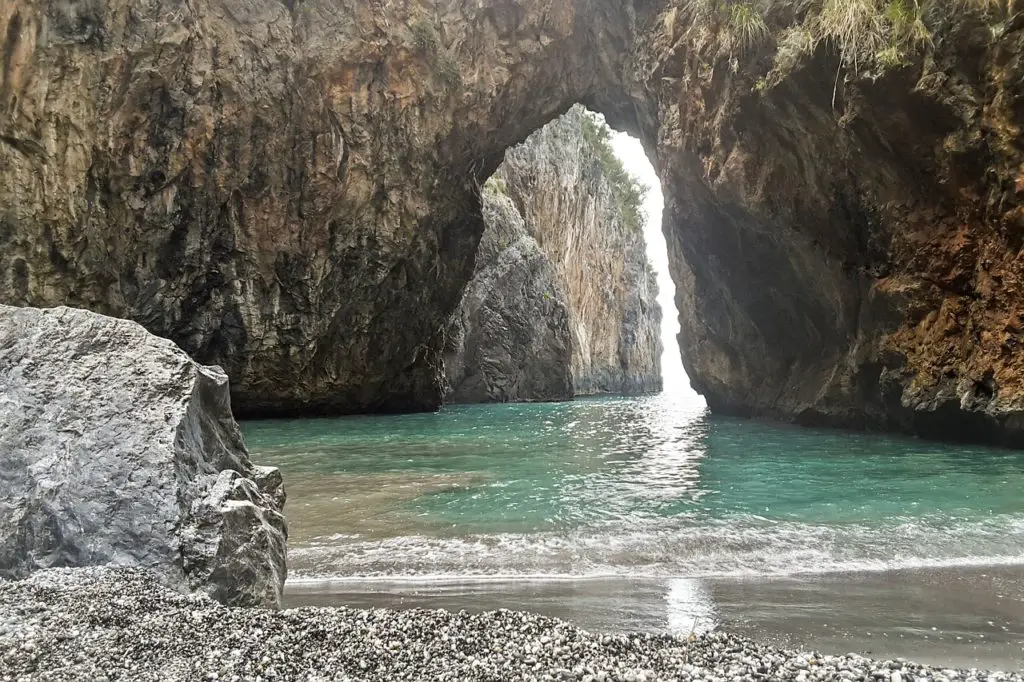 What better way is there than to visit some of these places on a boat. Infact, some of these places are only accessible by boat. By sailing, you will be able to see some of Calabria's incredible sea grottoes without having to walk down a long narrow path (well worth it for the views) from the top such as the Arco Magno in San Nicola Arcella in the Cedro Coast, used also in the new James Bond film (No time to die) and the grotto of San Gregorio in Stalettì, also considered the best areas for snorkelling. You will be able to reach places that only one can dream about. Calabria is all about the sea. 800 kilometres of coastline with the opportunity to sail to nearby Sicily, Naples and other parts of Italy.
Onboard facilities on sailing yachts
Some of these yachts can sleep up to 8 guests with double cabins, a living/kitchen area as well as that important bathing platform for sunbathing and relaxing. They even have onboard paddle boards and an inflatable dinghy so you can really get into these sea caves. Some boat vessels offer spa treatments, pools and hot tubs.
One of the most luxurious yachts to have sailed in the vicinity of Roccella Ionica on the east Ionian coast of Calabria was the Kismet a few years ago. (worth 112 million dollars). I was lying on the beach when it anchored. Seeing was believing. Its size was 312.34ft/95.2m  Everyone came on the beach to see it and the next day it was all over the media. Calabria was proud to have hosted Kismet.
Marina hopping and sailing in Calabria and Sicily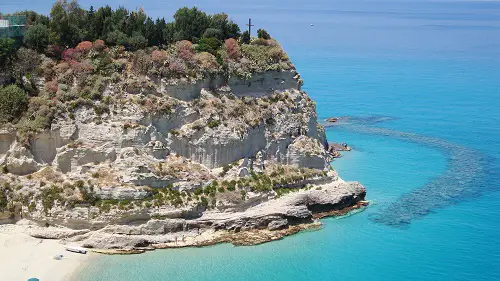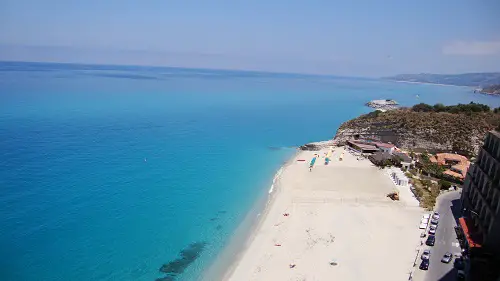 You also have a chance to stop in some beautiful coastal towns as many have their own port or docking area. You can decide which towns you want to visit and see many sights from the sea. Some of these towns are stunning from the sea as you can admire the whole coastline and sight natural wonders such as limestone cliffs, caverns, sea grottoes as well as Saracen towers, castles, churches and long wide sandy beaches.
You are also likely to see dolphins and whales in these waters. It is difficult to see some of the hidden bays and coves from the road such as the ones in Stalettì. You will be able to get very close to them and even go ashore. Another advantage of sailing.
Sailing between Naples, Reggio Calabria and Sicily
Why not sail to other regions and visit famous port towns such as the Aeolian islands, Sorrento, Capri, Amalfi, Tropea, Roccella Ionica, Scilla and Taormina all in one holiday. You will be spoilt with choice here as to what to visit. In 177 nautical miles you can sail from Naples to Reggio Calabria and in only 7 nautical miles to Messina.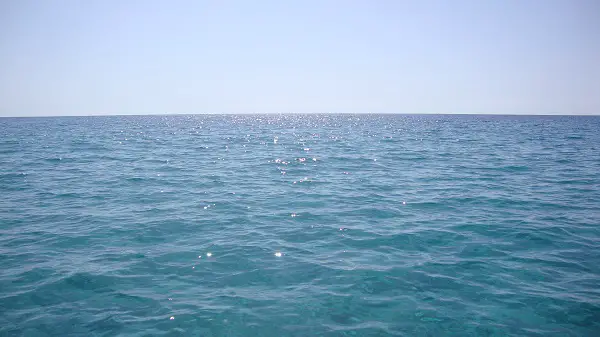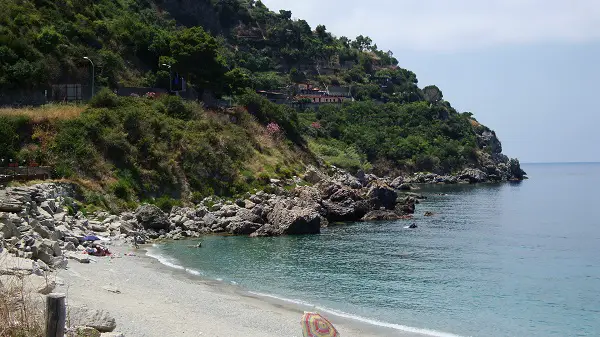 If you are not able to charter a yacht, do not worry as there are plenty of daily boat trips which will allow you to see the coastline from the sea. You too can enjoy Calabria and Sicily's magical blue and green waters. You will have the opportunity to relax and swim for the day on the yacht's bathing platform. Some boat trip excursions include lunch, snacks and drinks. There are sunset cruises as well as boat trips during the day so you can admire spectacular sunsets in the evening sipping an aperitif onboard.
Marine delights onboard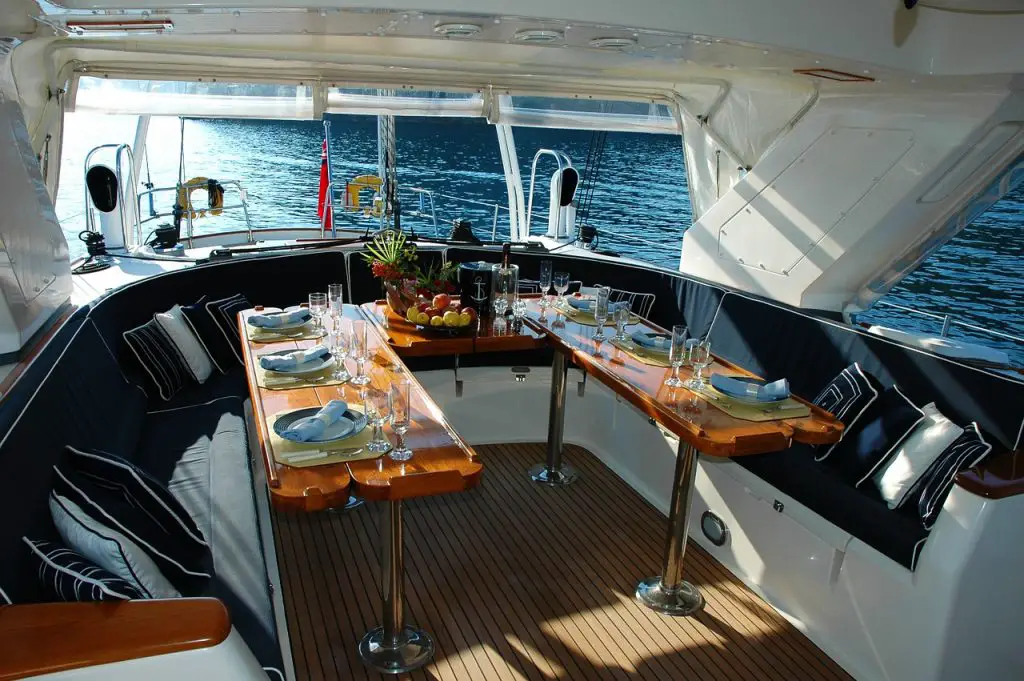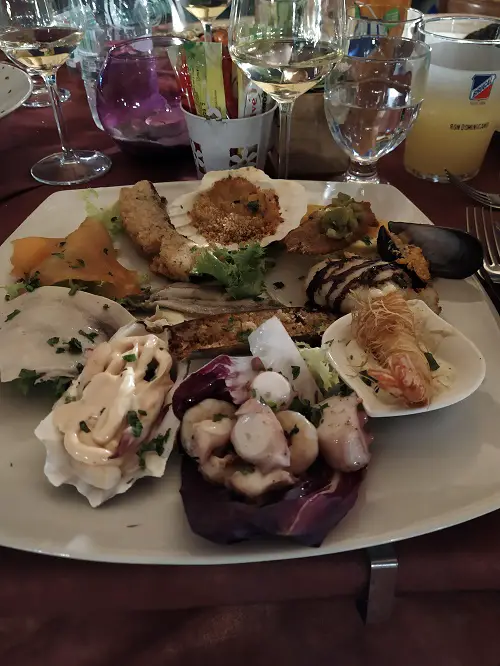 Some of the boat excursions and sailing holidays will ensure you taste the wonderful seafood from this area. Do not worry if you cannot taste it onboard. You will have every opportunity to try the delicious seafood prepared in many different ways in the restaurants. Swordfish, squid, cod and sea bass are just a few to name. There is an array of seafood dishes waiting for you to try. All freshly caught from the sea.
Daily boat trips in Calabria and Sicily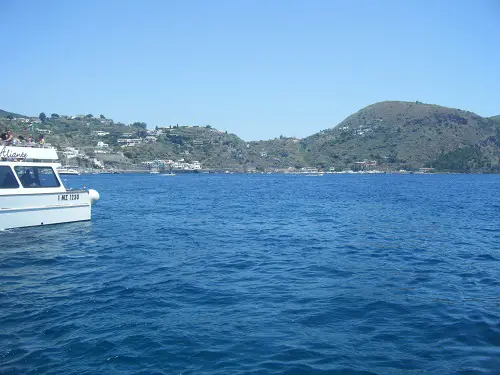 I would like to share with you some of the daily boat trips available so that you can combine this experience with all the other things you plan to do. Read about my boat trip to the Aeolian islands in Sicily. You can click on the links to get information about other tours:
Stromboli by night boat trip from Tropea
Scuba diving and snorkelling trips [widgets_on_pages id="Scuba diving in Calabria"]
Boat trip to the Aeolian islands from Tropea
Lipari and Vulcano boat trip from Messina
Panarea and Stromboli boat trip from Messina
You can also charter yachts and boats for the day for your own private group or for as many days as you want. Sailing holidays are a perfect way to really enjoy the sea. Every day you can wake up in a different port town, stay there for as long as you like and then enjoy life at sea.
Another great way to see the sea is to hire a pedalo. You will find many available on beaches. The sea is everywhere in Calabria and there are plenty of opportunities to see it and sail across it, including ferries over to nearby Sicily and the Aeolian islands. You can also read about the boat trips I went on in earlier blog posts. Happy sailing!