There are many different types of bars in Calabria, the most popular type is the pavement cafe. People love to sit outside and enjoy the sun or even sit in the shade and watch the world go-by. Many of the bars have shady areas as it can get very hot during the day in Calabria in summer. I would like to tell you about the bar culture in Calabria. The bars are a great place to people-watch, which is a favourite pastime for many. They serve pastries, ice cream and coffees. The best way to start your day in Calabria is by going to a local bar for that typical Southern Italian breakfast croissant, espresso or cappuccino like many locals do.
Italian breakfast in Calabria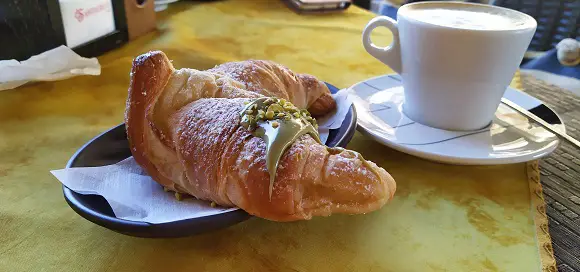 Many people have breakfast at home, but quite often, during the summer they prefer to go to their local bar and have breakfast with friends. Some bars open at 6am ready to welcome the early birds eager for that freshly-baked warm croissant. I heard that some of the bars start making the croissants as early as 4am or 5am. They keep them inside a heated display cabinet so that when the customer orders, they are still warm.
Croissants with different fillings
Some of these croissants go like hot buns. They have to keep replenishing them until all the satisfied customers finally stop asking for them. Croissants filled with custard cream, pistachio cream, different flavours of Jam. The list goes on….. My favourite one is the one with pistachio cream. It is absolutely divine. Make sure you try this when in Calabria. The requests usually stop around 10am to 11am. If you ask for a croissant at this time, you are looked at in a strange way and it is very rare that you will find one.
Breakfast is an important affair in Southern Italy. Some people never have breakfast at home, but prefer the bar before going to the office. This is definitely typical bar culture behaviour in Calabria. Other people prefer to have breakfast at home. I noticed that they like to eat biscuits dunked into milky coffee. This varies from family to family. I have often seen the latter.
The pub culture experience
Not every Calabrian has a croissant at the bar, some of them will just have that small shot of espresso coffee to keep them going until the next one. Some of them have up to 5 a day if not more. Going to the bar is a daily ritual in Calabria. It is part of their culture. Now I understand why there are bars on every corner of every street. The pub culture is a real experience.
Calabrian snacks are part of the bar culture
Some bars open at 6am and close at 10 or 11pm at night, even later in July and August. Some bars never ever close. There are two shifts for staff; day and night. Snack time is usually around 11am to 12 as people start to feel peckish or want to meet friends and will have another espresso alongside perhaps one of those delicious sweet cakes/pastries or skip the coffee to have the Calabrian tapas before lunch. You can also read about pastries and desserts in my earlier blog post. Another hot topic regarding bar culture.
These are in the form of fried doughnuts, pizza slices, nuts, olives and other tasty bites. The afternoon can be a busy time when school kids are free and form a long queue to buy an ice-cream cone or tub, drooling over all 50 flavours of delicious home-made creamy or fruity ice cream.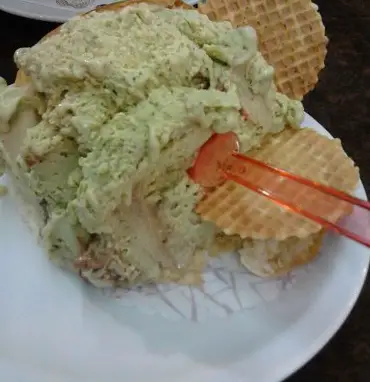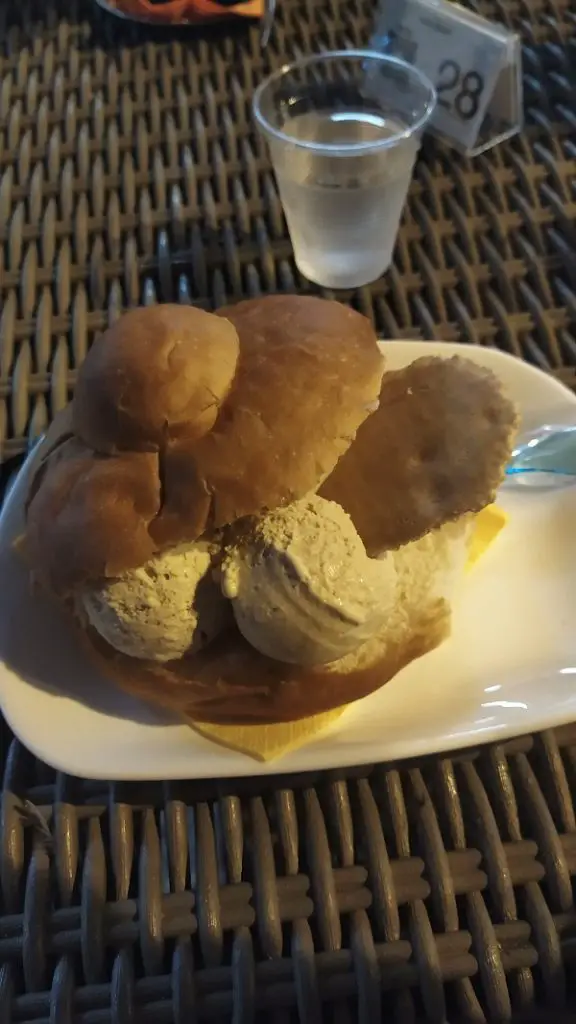 A local speciality is ice-cream in a sweet bun (brioche con gelato). I find mostly adults prefer them. You will see plenty of people eating them. The Italian bars serve mostly pastries, coffee and ice cream and the occasional alcoholic drink during the day.
A Calabrian coffee brand
They serve mostly alcholic drinks at night. You can get inebriated just by breathing in that strong aroma of wonderful grounded espresso coffee. Gugliemo is the local Calabrian brand. The coffee factory dates back to 1943. It is located in Catanzaro. There are lots of ways they drink coffee in Southern Italy, but the most common are the following as well as some popular local drinks:
Espresso – a shot of espresso coffee served in a small cup
Cappuccino – frothy milk with espresso coffee served in a large cup (you have to ask for cocoa powder as it is common for them to serve it without)
Espresso macchiato – espresso coffee with a drop of milk served in a small cup
Espresso corretto – a shot of espresso coffee with a touch of liqueur such as grappa in it.
The bar culture
You can also order tea but if you want milk, you have to ask for it and for them to put it in a separate jug otherwise it is served black with a slice of lemon. Unfortunately, tea is not their forte.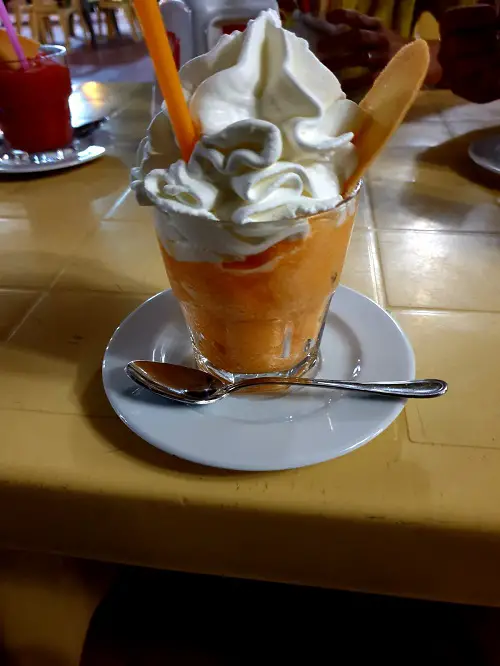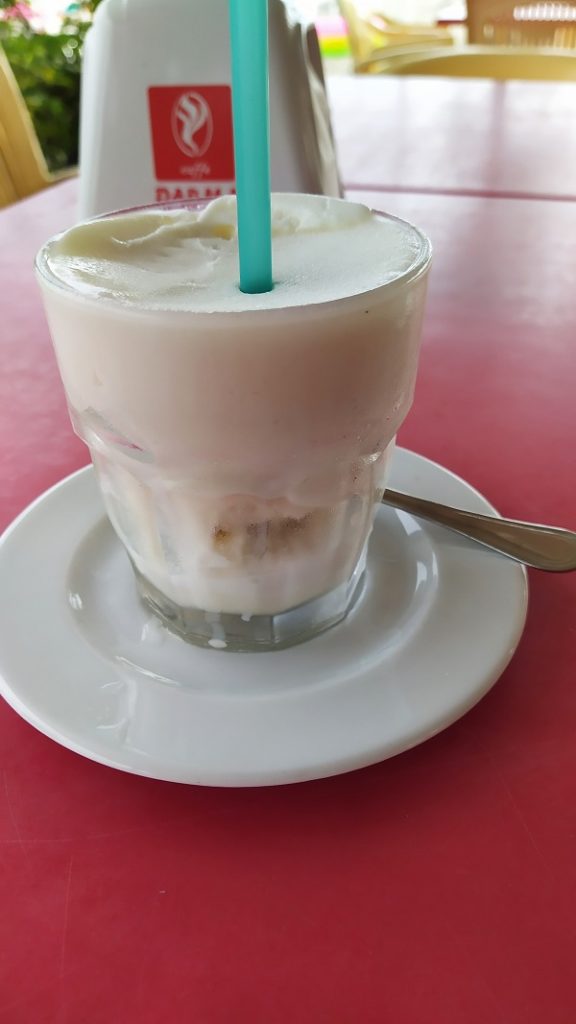 Granita is a popular crushed ice drink served mainly in the summer and made with fresh fruit. Lemon granita is the most refreshing one, especially on a hot day. They even have granita bars where they serve only granita and cold drinks. You can choose among 20 different flavours and even get it topped up with whipped cream.
Drinks made with fresh fruit
The bergamot one is the most popular for Calabrians and a must to try. Some granitas have a creamy texture and others more lumpy. Both types are delicious. Calabrians usually have them in the summer after their evening stroll. Many make them at home. They are easy to make. The recipe for the almond milk one is 500g of almond milk, 200g of sugar and 300 ml of water. You can use any fruit you want.
Heat the the water and sugar in a small pan. Once the sugar has dissolved and the syrup is cold, you add the almond milk. Mix everything together and put the mixture in a container. Place in freezer. After 30 mins, stir the mixture well and do this every 30 mins until you get the texture you prefer.
Frappè is the name for milkshake made with milk and fresh fruit. Kids love them. Other favourites for kids is an almond flavoured drink made with milk (latte di mandorle).
Some people go to the bars for a digestive liqueur such as Amaro del Capo or the typical Calabrian liqueurs liquiriza, bergamotto and the famous limoncello.
Refreshing drinks
Prosecco is the typical summer drink which is really refreshing. Young Calabrians tend to drink this with friends.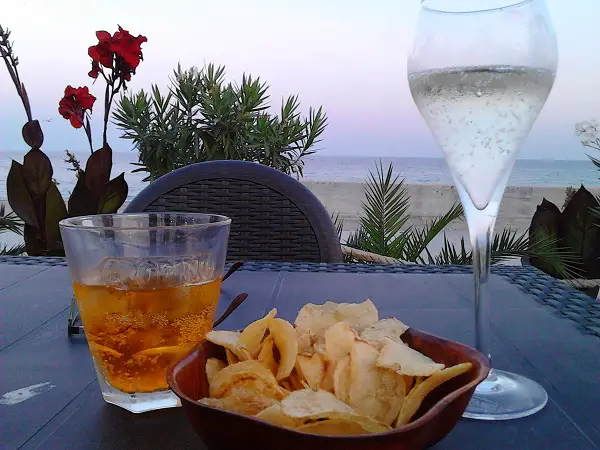 Crodino or San Bitter rosso is a non-alcoholic drink and is mostly served with canapès as a pre or after-dinner drink. It has a slight bitter taste to it.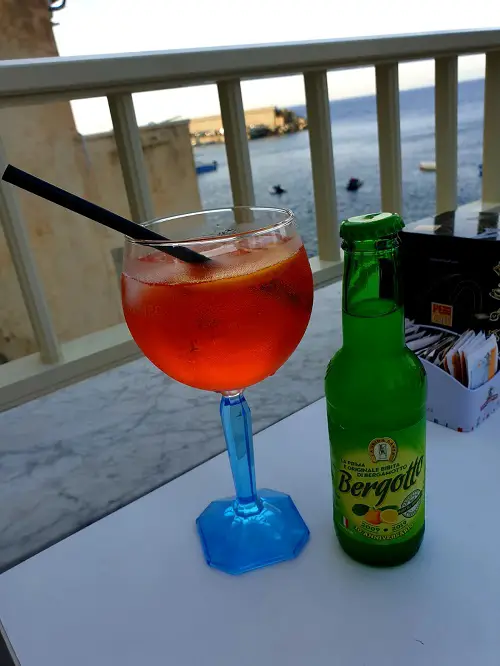 Bergotto contains another magical Calabrian ingredient, bergamot and is a refreshing fizzy drink almost resembling a lemon soda.
Pistachio flavoured hot chocolate usually served in the winter with a biscuit as well as other chocolate flavours, including orange chocolate.
Of course like in any bar, you can find wonderful cocktails and alcoholic drinks at night as well as a selection of different wines followed by canapès in some bars.
Bar types in Calabria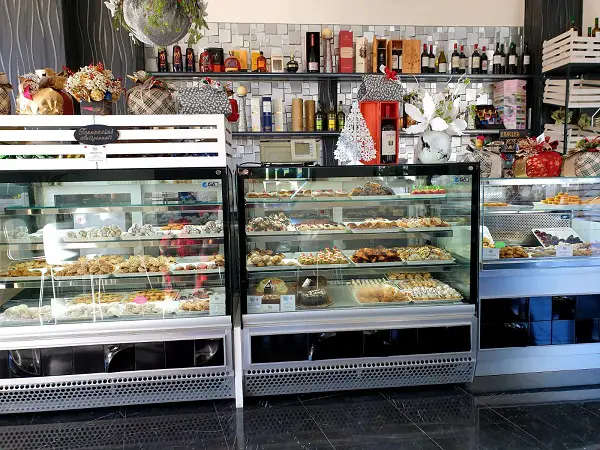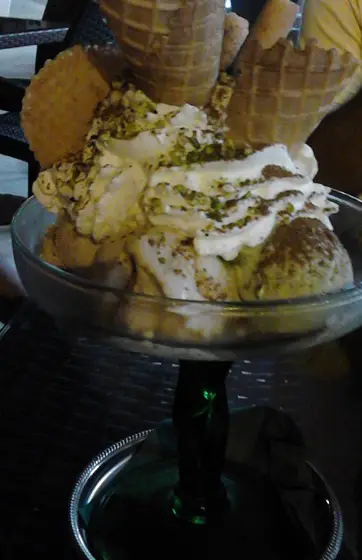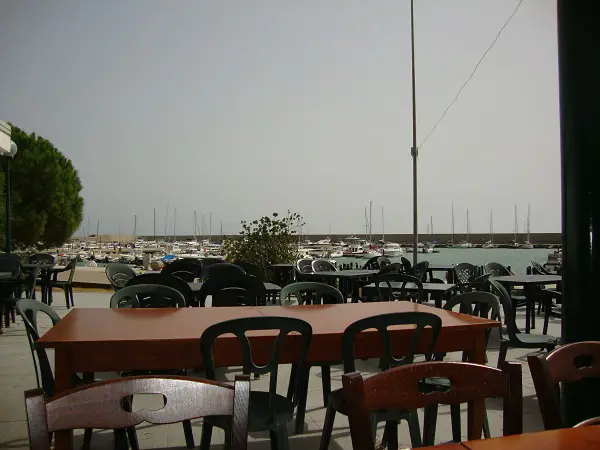 The bar establishments can vary. You can find a run-down bar perhaps selling bottled beer for 1 euro. This type of bar is a no-frills. You will see many men in these bars drinking beer and playing cards. The next type of bar is the typical pavement cafe (Italian ice cream bar) frequented by both genders and all people. Calabrians love ice cream. Who doesn't. The pub culture is great in Calabria.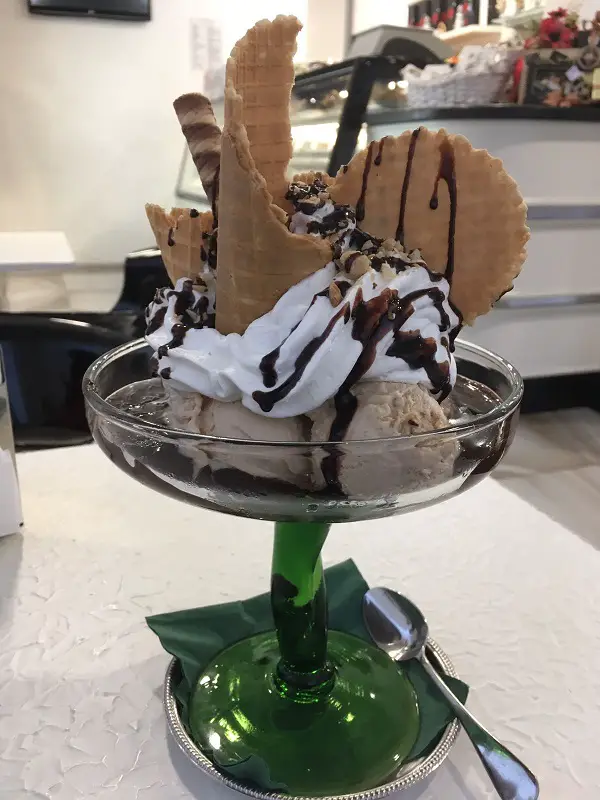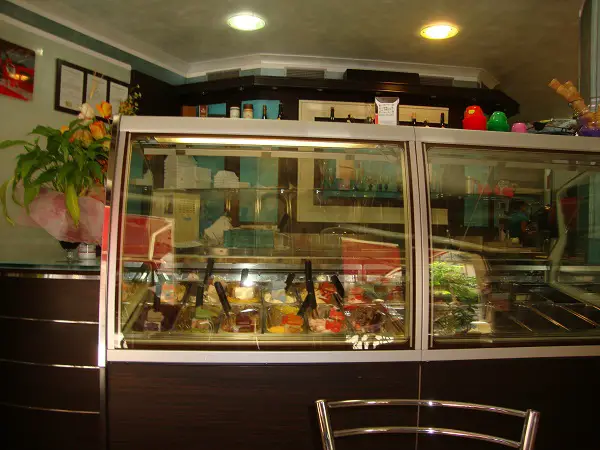 You will be spoilt by choice with all the ice cream bars in Calabria. Not to mention how delicious the ice cream is and how many different flavours you can choose from. It is quite common to ask for two flavours in a wafer cone, bun or tub. You will notice my photos always have pistachio and hazelnut ice cream as these are my absolute favourite.
The ice cream sundaes are incredible. Another bar type is the wine bar where mostly young people go to drink wine, the yogurt bar for teenagers and then there is the pub type. You can usually tell the type of bar from the outside.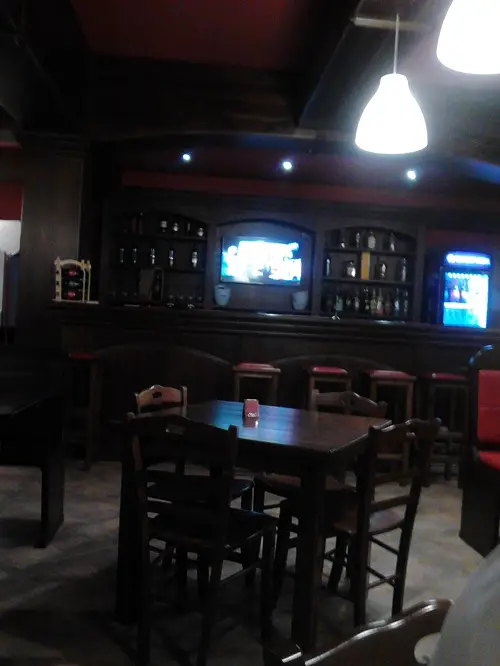 The pub type is usually open only in the evening and serves mainly beer. A lot of young people like these bars as many have live music and it is a chance to meet their friends and socialise. These pub type bars are similar to the ones we have back home. They are very popular in Italy and many call them Irish bars. You can just have a drink or order food, especially filled rolls. A popular roll is the spicy Calabrian sausage with peppers. Cheeseburgers are the most requested served with french fries.
Yogurt and lido bars
The yogurt bar is similar to the ice cream bars except that they serve yogurt of every flavour including yogurt cakes. You can have mini ones, slices or a whole one perhaps to take away. They also serve coffee and are becoming very popular among teenagers and finally the lido bar. The lido bars are wonderful as you can sip your drink looking at the sea. Unfortunately, they are only open in July and August and in some places September.
There are many different bars in Calabria but going to a bar is something special for Calabrians, especially sitting outside in the balmy summer evenings. Going to the bar is part of Italian culture and there is always something wonderful about entering those bars. Whether is is the smell of grounded coffee or the aroma of freshly baked croissants, it is a joy to frequent them and I am sure you will enjoy the bar culture in Calabria.