Italy is famous for its amazing cuisine including some wonderful desserts typical of the South of Italy. I would like to share with you some of my favourite ones. I have noticed that as you go further south, the desserts become creamier and more colourful looking. Could it be because the South of Italy is full of colour and flavour?
Southern Italians love desserts, especially on a Sunday. No lunch is complete without a tray of these wonderful pastries. Every patisserie is full of people on a Sunday queuing to buy the local cakes or pastries. It is the norm that if you go to someone's home, you should take along with you a tray of cakes.
I like the way they wrap them, they almost look like a finished gift with a pretty bow on top. You buy them from the local patisserie who probably wakes up very early Sunday morning to make and bake those incredible delights. I must admit I am a sweet-tooth and enjoy buying them on a Sunday. Most families do this as well as make their own cakes.
Neapolitan desserts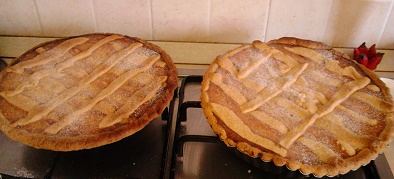 The first cake I would like to tell you about is Pastiera. It is typical of Naples and Calabria. You usually eat it at Easter time and/or on Christmas day. The main ingredients are wheat, ricotta, orange water, candied peel and cinnamon. I was very lucky as when I lived in Naples, I met a Neapolitan lady who taught me how to make the real Pastiera so I do not need to wait for Christmas and Easter.
I can make it anytime. It becomes addictive. You can easily buy it from the bars around Easter and Christmas time to enjoy a slice of this exquisite cake or even buy whole ones to take home. Neapolitans and Calabrians start making this cake on the Thursday before Easter as they can make as many as 10 to give to neighbours and friends.
Cannolo Siciliano – Sicilian desserts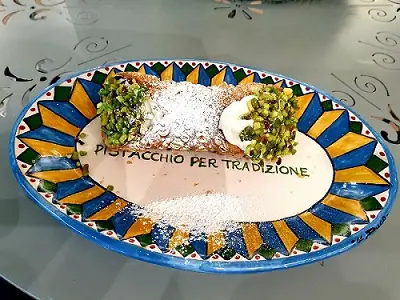 The next dessert comes from Sicily and is well-known around the world Cannolo. You can also find it in most bars in Naples and Calabria. I learnt this recipe from my Sicilian mother in-law. We cheat a little as we buy the cannolo shells from the local shop and make the filling ourselves.
The filling
We make the filling with ricotta di pecora, castor sugar, vanilla sugar with chopped pistachios, cherry or chocolate drops to decorate the sides of them. You can buy them from the bars or pattiseries which make the shells from scratch.
You need special cannoli moulds to make them and then they are deep fried. A little time-consuming, but absolutely worth it for the flavour they give when you bite into them.
Struffoli or pignolata Calabrian desserts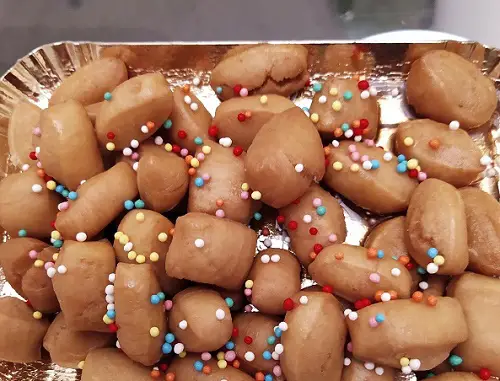 These cakes are both typical of Naples and Calabria They eat them at Christmas time or Carnival. They are little round balls of dough, deep fried and dipped in honey and then decorated with candied peel, sugar sprinkles or silver balls. Some people even put a touch of liqueur in them.
Le pitte di San Martino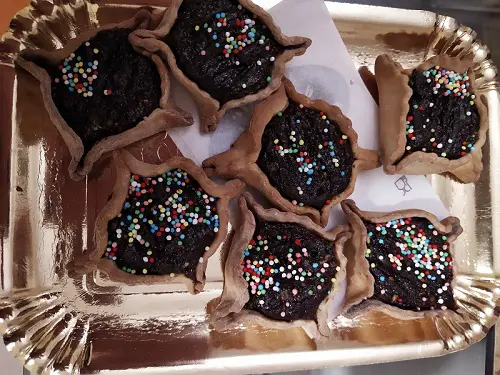 These cakes are typical in the South of Italy but with different names for each region. Le pitte di San Martino is the most common name for the Calabrian ones. These cakes have a very light pastry filled with figs, nuts and honey. Read more about the use of figs here. People eat them at Christmas time. They are of Greek influence as Greeks settled in Calabria in the 8th century and most of the Calabrian desserts are made with fig, honey and nuts.
Cassata Siciliana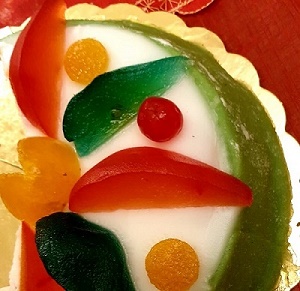 I have noticed also in Naples and Calabria that they serve cassata in most bars. The Cassata, of course, is the dessert of Sicily of Arab influence. It is mainly for Easter or on Christmas day, although now people eat them at any time of the year. It is a difficult one to make so I prefer to buy it from the experts.
The main ingredients are sponge, ricotta (sheep's), marzipan, candied peel, chocolate drops and castor sugar. Extremely sweet, but delicious and very colourful to look at. The bars and patisseries are an explosion of colour with those wonderful cassata cakes, especially for special occasions such as Christmas or Easter.
Mostaccioli
Other typical Calabrian desserts are mostaccioli which are biscuit- based made with honey and shaped to represent rural life and the sea in Calabria. You can find shapes of horses, donkeys, cows and fish. The Neapolitan ones have a similar name but are completely covered in chocolate.
Tartufo di Pizzo
The tartufo di Pizzo is another Calabrian delight. A ball of ice cream covered in thick chocolate and sprinkled with cocoa powder. When you bite into it, the chocolate oozes out. There are many other typical Calabrian, Neapolitan and Sicilian delights, but I just wanted to share with you a few of my favourite ones.
Notice that they use a lot of ricotta cheese in the desserts in the South of Italy with candied peel which makes them look very colourful, inviting and makes your mouth water before biting into them. Read more about southern Italian desserts here.
Please share with us your favourite desserts of Southern Italy.