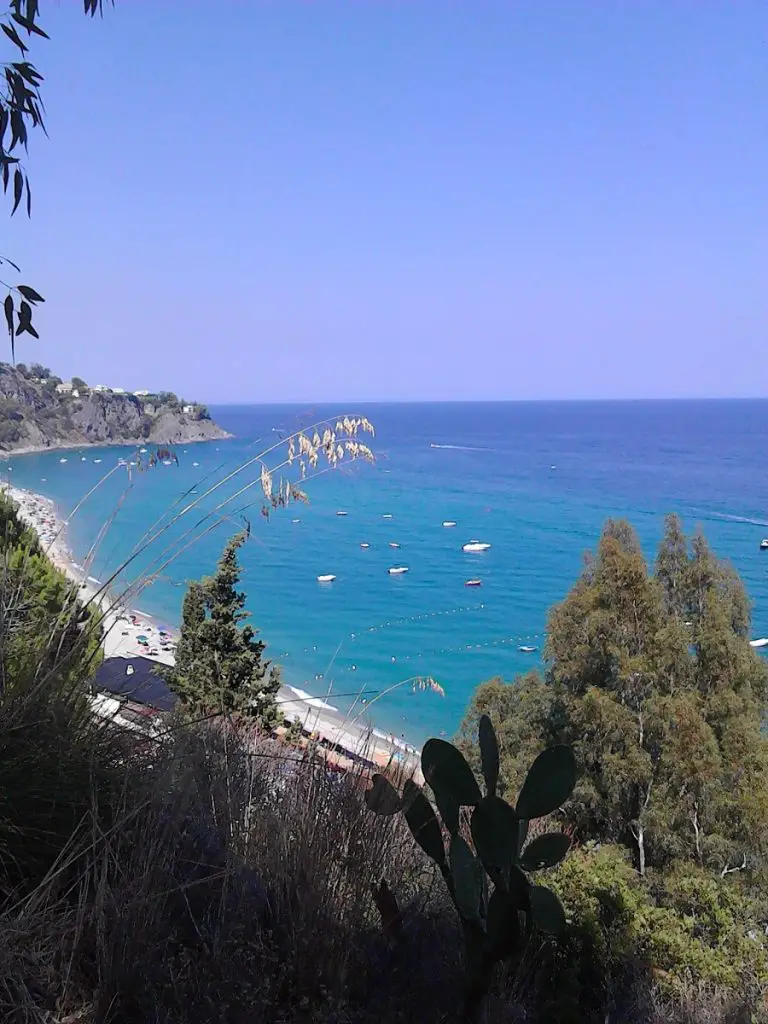 Squillace, Copanello beach and stalettì are among the best beaches on the Costa degli Aranci. (The Coast of Oranges) Just after Pietragrande in the province of Catanzaro. The scenery changes quite dramatically as you approach this coastline. you will start to see sheer limestone cliffs with houses dotted everywhere and many overlooking the incredible transparent blue sea.
Stalettì beach
The main road also gets narrower which again reminds me of the Amalfi Coast. Luxurious villas clinging to the cliffs with the most incredible views all the way to Catanzaro Lido. We can understand why they call it Costa degli Aranci, you can smell the scent of citrus trees and see an abundance of flowers everywhere as well as a stunning beach.
I also noticed many olive trees around this area. Olive oil is their main production which they export to many countries as well as the famous coffee Guglielmo. You can actually smell the coffee when you come into this area as the factory is not so far away. We decided first to head to Copanello beach as we had heard so much about it.
Copanello beach
After Pietragrande, you will see a restaurant built into the cliff Luna Convento on the right-hand side of the road, and it is after this restaurant that the road for Copanello begins. It is quite a winding road all the way down.
Once you reach the bottom, you almost forget where you are. It is like a separate world, so peaceful with many holiday homes and only a few shops for the essentials, but what it does have is one of the most beautiful scenic coasts in Calabria.
One of the best beaches in Calabria
You will find soft white sandy beaches with limestone cliffs all around this area. Some beaches in Calabria shelve suddenly and before you know it, the water is up to your waist, the sea never went beyond my knees. It is only when you go quite far out that it covers you completely. I now know why this beach is popular for families.
From the beach you can see the cliff-side restaurant which blends into the greenery surrounding it. The scenery is stunning as you can see a lot of vegetation around this area. Completely tranquil and unspoilt. It is not easy to find and you would not know that this little piece of paradise actually exists.
The coast is well below the main road. There are plenty of bays, coves and inlets and the best way to see this coast is by boat. Perfect for snorkelling and diving. I recommend visiting la Grotta di San Gregorio, an amazing sea cave and le vasche di Cassiodoro, the pools of Cassiodoro.
You will love the other beaches not so far away such as Caminia and Pietragrande. Many people say Caminia is the best beach in this area.
There are a few restaurants right on the seafront along with holiday homes, luxurious villas and large holiday resorts. In fact, Copanello is very popular in the summer months with Italian visitors from the North.
The cliff-side restaurant on the beach
We decided to eat in the cliff-side restaurant which was a wonderful choice. We sat close to the window which was large enough to see the whole coast of Catanzaro Lido and Copanello beach below. The staff were friendly and professional.
The food was excellent. It is very elegant inside with marine style decor and a wonderful panoramic terrace. They also offer accommodation and organise spectacular New Year dinner parties. The restaurant is open all year round.
The town of Squillace
After lunch, we decided to explore the town of Squillace. It is not far from the restaurant. Unfortunately, we went in the afternoon and it was very quiet as most people were having a siesta and shops were closed. However, it is worth a visit for its wonderful Norman castle, the church and the ceramic shops.
Squillace like Seminara is famous for its ceramic production, but with their own unique design. There are a few shops there where you can buy some of their ceramics. I recommend visiting in the morning or after 5pm. The town is of Medieval origin like most Calabrian towns clinging high up above the cliffs. You have to take a very narrow winding road across the road from the restaurant up to the centre of the town.
It is better to go by car. You will be rewarded with this visit as the views from up there are breathtaking. Words cannot really describe this experience. It is definitely the real Italy. Nothing can be modernised in the historic centre. It is about 344 metres above sea level with approximately 3000 inhabitants.
The town of Stalettì near stunning beaches
The other town you can visit is Stalettì. It is a pretty town with narrow cobbled streets, some shops, several churches, pretty squares and incredible views. Approximately 382 metres above sea level with about 2,400 inhabitants. You will also find bars and restaurants in this town.
The festival of San Rocco in August is worth seeing for its religious procession with a talented band and spectacular firework display. The whole town is full of people walking through the pretty streets of Stalettì. This town offers amazing panoramic views of the coast.
The Archaeological park of Scolacium
Not so far away is an incredible wonder, the Archaeological park of Scolacium surrounded by olive trees in Roccelletta di Borgia. It was colonised first by the Greeks who named it Scylletium and then by the Romans who called it Scolacium.
Accommodation
There are a few hotels on the coast with many B&Bs in Squillace, Copanello and Stalettì. These can also range from large houses with their own pools to small establishments. [widgets_on_pages id="Stalettì deals"] Some of them have the most stunning sea views.
The nearest airport is Lamezia International Airport which is approximately 32 km from Stalettì. You can combine this visit with Caminia, Pietragrande and Soverato if you decide to spend longer than a day. Copanello, Squillace and Stalettì will take up at least one day. You can see some pictures here.
Calabria is full of surprises and this coast for me was definitely a pleasant surprise not only for its stunning coastline, but also for being so close to an incredible ancient site such as Scolacium. I had to attach some videos as words cannot describe these places. Read about Caminia, a beautiful beach along that coastline.