Caminia is right next to Pietragrande in the province of Catanzaro near Soverato. The views of Caminia are breathtaking. You can either access it from Pietragrande seafront or from the motorway signposted Caminia.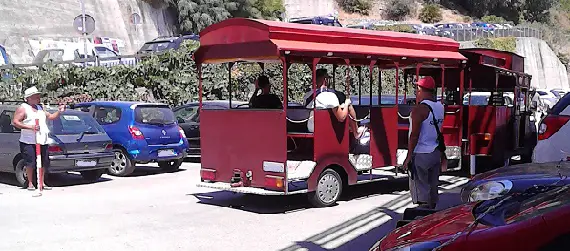 My advice would be to leave your car at the top if you go in July and August and hop on the red tourist train which will leave you next to Caminia beach.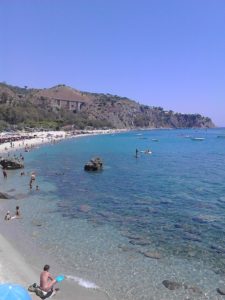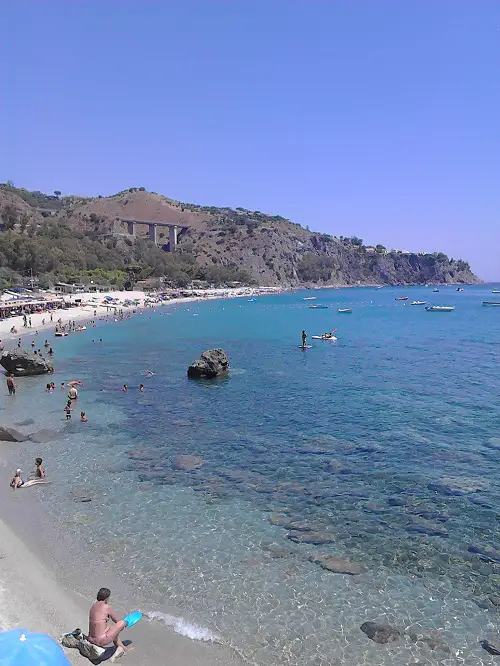 Views of the beach and coastline
Caminia is one of the most beautiful beaches in Calabria with breathtaking views of the mountains. It is a long sandy beach with only a few lidos which have sunbeds, parasols, bars and restaurants.
The sea is a delight to swim in. Crystal-clear turquoise blue water. The view of the mountains from the beach is incredible. It is almost like a hidden cove.
You can see many villas perched on cliffs with an abundance of bougainvillea and prickly pears surrounding them. There is a beautiful hotel among them which is popular for weddings, due to its magnificent location with views as far as Catanzaro Lido.
The lido with views
I usually go to my favourite lido Blanca Cruz at the end of the beach. It is like a holiday resort as they have accommodation on the beach and organise entertainment programs for adults and children so it has a real holiday atmosphere.
We decided to eat in the restaurant which overlooks the sea. A nice interior with shades of lilac and an inviting ambience. The place exceeded our expectations. The food and views were amazing so much so that we decided to celebrate our anniversary there two months later.
Our anniversary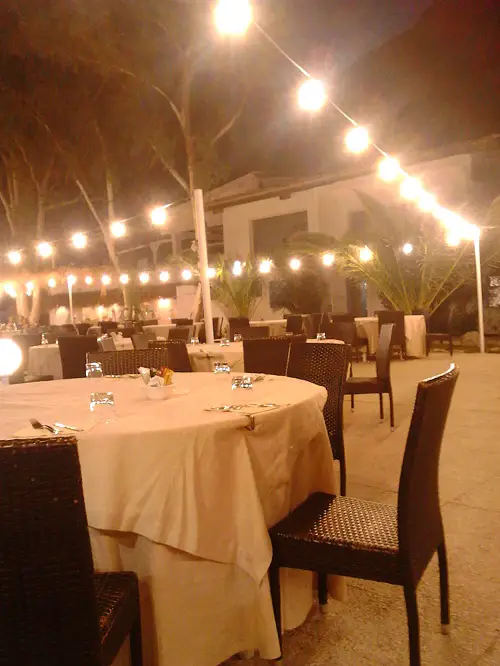 We decided to come early afternoon so we could watch the sunset early evening. It was so romantic and as the sun set, the whole place lit up like a christmas tree. There were twinkling lights everywhere.
We then made our way to the restaurant thinking that it was going to be the same one which had made us re-book. It was not, but even better, the restaurant owners had extended it onto the beach which made it even more special and romantic.
We sat there in the moonlight eating excellent food and drinking Calabrian wine. I recommend this place also in the evening. It completely changes from day to night. Anytime you go, it will have your heart racing.
Accommodation with panoramic views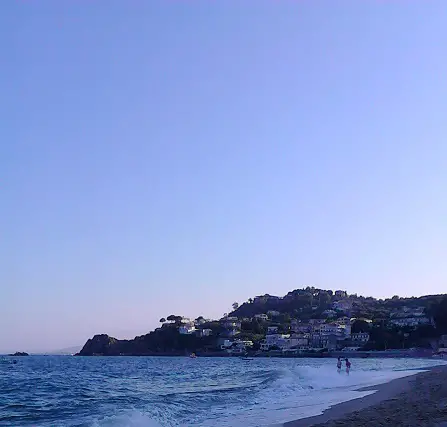 Although, there are only a few hotels, you can find many B&Bs and holiday apartments. If you are looking for views, I recommend the Hotel Baia dell'Est.
It is located above Pietragrande and overlooks the sea of Caminia and Pietragrande. The views from up there are breathtaking.
Many Italians from Rome and Milan come here so if you want to come in July and August, you need to book well in advance. It is also an incredible location for weddings. You can read about Pietragrande here.