Can you still enjoy winter holidays in Calabria? Many people ask this question and the simple answer is absolutely. Calabria like Sicily can still have sunny days during the winter as they are closer to Africa. Flights and accommodation are more affordable.
However, you will not be able to swim in the sea as the water is a little cold in winter, but you can definitely sit on a terrace, or in a pavement cafe and enjoy the sun.
I remember having to take my jacket off on a few occasions in the winter during the day. I have also seen people swim in November. They may have been tourists but if you do not mind cold water, you could even still swim.
The climate in winter in Calabria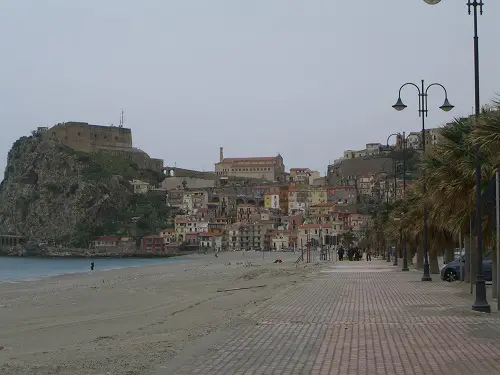 Early morning you can feel some cold air and in the evening but during the day, it can be warm. You still get some sunny days but also cold, rainy and windy days. The temperature rarely goes below 10 degrees celsius during the day perfect for winter holidays.
The advantage of having winter holidays in Calabria is that there are less tourists and you will still be able to visit the main sites and attractions. Luckily, they stay open.
You can easily walk around these sites as there is no intense heat like in the summer. Only January and February are the coldest months of the year with many sunny days during that period.
If you really miss the snow in the winter, you can still see it in Calabria providing you go to mountain resorts in January or February. These are the coldest months of the year so only a short winter season for Calabrians.
Ski resorts in Calabria are popular for winter holidays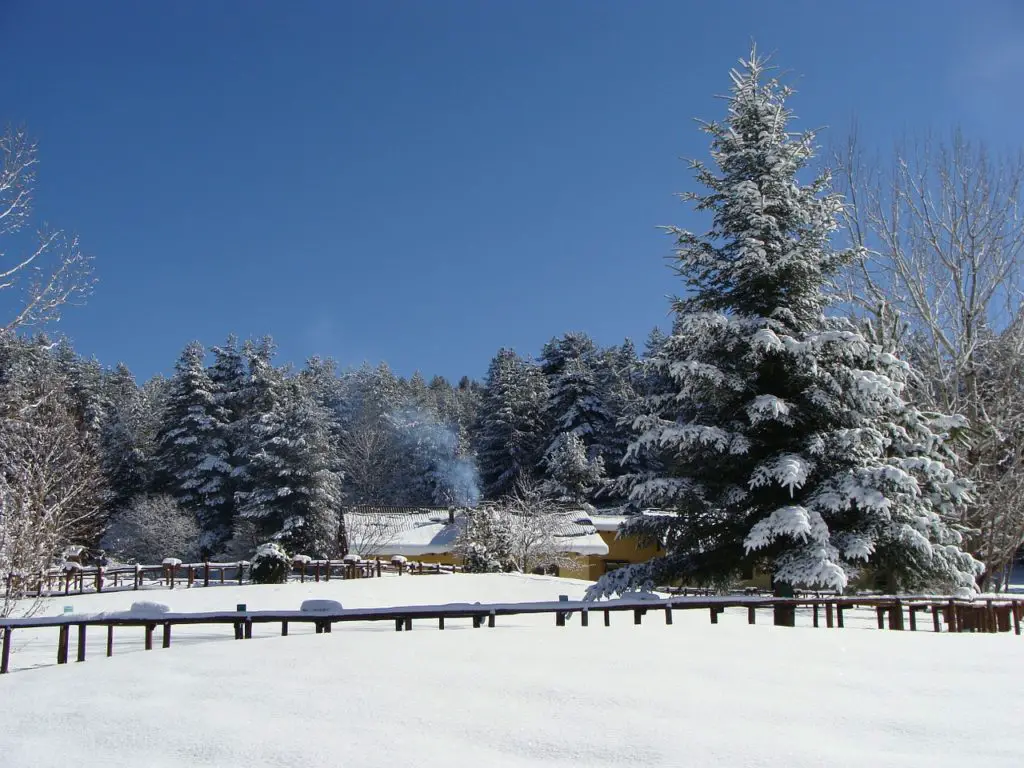 There are two important ski resorts where you can ski or go ice skating or just enjoy the winter scenery. The most popular one is Camigliatello in the Sila Mountains or Gambarie in Aspromonte. Unfortunately, the vintage steam train only runs regularly in the summer and on certain days during the winter. Snow rarely ever touches the ground near beach resorts but you will find plenty in the mountains in January or February.
Flights operate all year round
Most of the towns are not just tourist resorts where everything closes down for the winter. Flights operate all year round. Many Calabrians live in these towns so you will still find shops, supermarkets, restaurants and bars open. Many people come to Calabria and Sicily for their winter holidays, especially for the festive season. Read more here.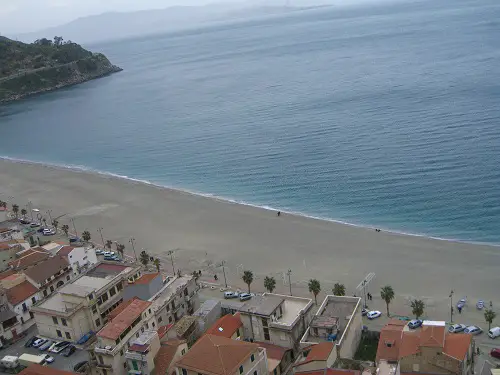 The beach bars and lidos will be completely gone in winter. They start putting them up again after Easter so they are ready for the summer months and then by September, they have to pull them down and put everything into storage. The reason they have to do this is because of the very strong sea currents during the winter.
Sadly, there can be some days in January or February when the coastlines get hit by sea storms and some of these structures could easily be swept away into the sea so they have to dismantle them before the winter. Most of the town centres in Calabria are far from the seafront which means everything else will stay open in the town and you can still enjoy your winter holidays.
Entertainment during the winter
People often go for a stroll along the promenade even though it may be very quiet, it can also be pleasant just to sit on a bench and look at the blue turquoise sea. Life still goes on during the winter with some busy celebrations such as Christmas, New Year, Carnival and Easter.
These attract all the family members who work abroad and come back to Calabria to the winter holidays with their families. The towns repopulate at these times of the year.
Christmas and New Year in Calabria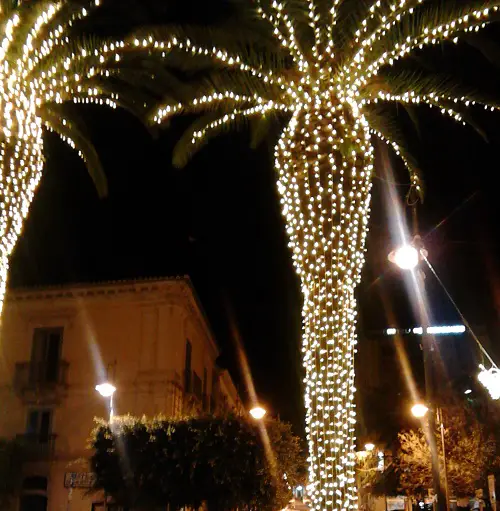 There are many festivities organised in the town squares so there is always something to see and do. They take Christmas and New Year very seriously with the amount of decorations they put up in every town along the coast. 800 km of coastline all decked with the most beautiful Christmas lights and decorations.
They even put lights on the palm trees Some towns hold Christmas markets and most importantly, religious processions.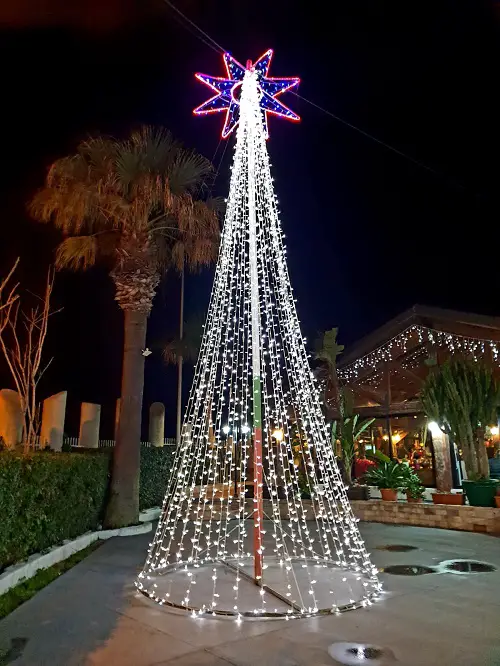 Restaurants organise Christmas lunch and New Year gala dinners which are usually a six-course meal including wine and spumante. You have to book well in advance. It is a wonderful time to spend Christmas and New Year in Calabria. Hotels stay open all year round.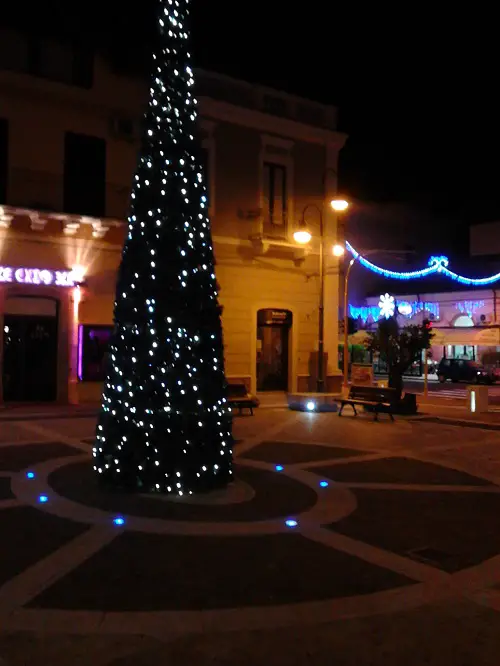 Towns in Calabria always have concerts in the main squares, especially for New Years Eve along with fireworks to bring in the New Year. You will find many people dancing to the music. They always look so cheerful as they celebrate this important time with their families. Family is very important for Calabrians, especially during the Christmas period.
You can really enjoy the Christmas and New Year Calabrian traditions if you are invited to a Calabrian home. Calabrians are very friendly people, so it is not unlikely to be invited during your stay. It is entertaining to watch all the family together.
Why not take part in a cookery course during your winter holiday learning how to prepare Calabrian dishes from true Calabrians [widgets_on_pages id="Cookery course Lamezia"]
Shopping in Calabria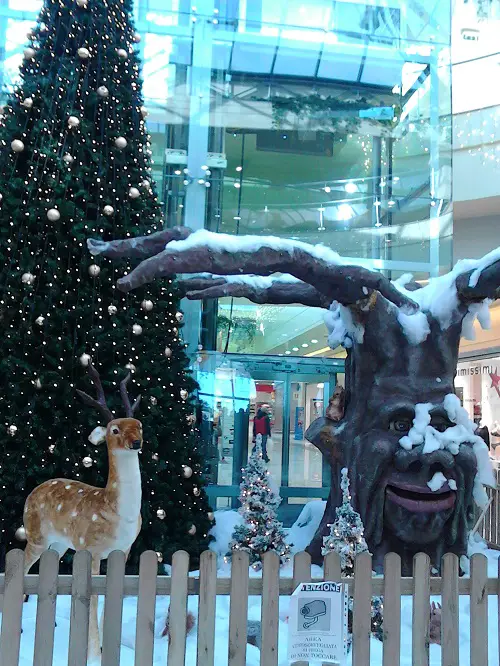 Commercial centres are everywhere in Calabria so you can also enjoy shopping indoors or take part in one of their festive events. They always have beautiful window displays at Christmas time and Christmas shopping can be a lot of fun.
Many shopping centres organise events during the winter and some even have ice skating rinks in January and February for adults and children.
You will find ice rinks also in the main towns, usually in the square as this has been very successful in Calabria during the festive period. They are trying to promote this in most towns as it is a great way for people to socialise, have fun and do sport. You can see whole families on the ice.
Museums are part of winter holidays
Most museums in Calabria including the National Museum of Reggio Calabria are open all year round. Some of them are free and some include a small entrance fee.
The first Sunday of every month is completely free. You will find museums in most towns of Calabria. There are also many beautiful churches you can visit and take part in the religious processions. This is also a good way to see the town on foot.
Public transport during the winter holidays in Calabria
All public transport operate the same regardless of the time of year except public holidays and Sundays, times can vary and in some cases, there may not be any transport at all. This usually happens only for the Christmas and New Year period.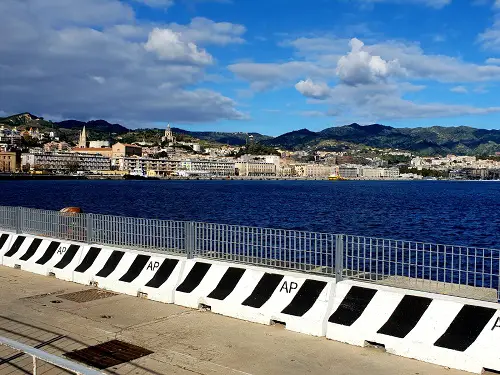 You can still visit Sicily from Calabria as ferries and hydrofoils to and from Messina operate 365 days of the year. It is possible to visit Taormina at any time of the year from Calabria. There are also less crowds in Taormina during the winter so you can really appreciate the town. This is the ideal time to visit Taormina.
Car hire in Calabria
Car hire is recommended as this will give you more freedom. For those who prefer using public transport and may want to take part in some excursions on this website, they operate all year round. It is important to check availability for your preferred dates.
There is plenty to see and do in Calabria during the winter. You can still relax in the sun, go sightseeing and eat wonderful food. Prices are also much cheaper in the winter. The mild climate, the cuisine and the friendliness of the local people will make it a truly special winter holiday. Take advantage of the Calabria accommodation deals on the home page and the guided tours around Calabria with our trusted partners.