Why not combine your visit to Calabria with a weekend in Naples, 3rd largest city in Italy after Rome and Milan. Naples is a vibrant city with so much history and charm. Many people from Naples have holidays homes in Calabria in places such as Scalea and Praia a Mare as It is so close to the Campania region. Several trains go directly from Reggio Calabria, Lamezia, Scalea and Praia a Mare to Naples and the journey takes approx 3 hours. I want to share with you my weekend in Naples.
The high-speed train to Naples from Lamezia
I wanted to try this journey from Lamezia to Naples and decided to take a fast train. It took about 3 hours to Naples. These trains are very modern inside with plenty of room to move around. They offer a bar service, comfortable chairs with foldaway tables so business men can work while they travel. Frecciarossa and Italo stop at Lamezia and Reggio Calabria from Naples.
I booked my ticket online. It is much easier as you do not need to stamp your ticket in the machine. The train windows are large so you can enjoy the panoramic views as the train swiftly moves along the track.
Spectacular views
From Lamezia you always have an amazing view of the sea until you get to the Basilicata region which turns into stunning countryside passing through Salerno and then onto Naples.
After travelling in comfort for about 3 hours, I arrived in Naples. The train station is quite big with numerous platforms for connecting trains. There are plenty of facilities including bars, ticket offices, ATM machines, some shops and eateries.
Book tickets online
I would not recommend queuing at the ticket office to get tickets. If you can do it online, it is so much easier and you do not have to stamp these tickets in the machine before getting on. They just scan your mobile phone. Travelling by train has never been easier. I remember once queuing for hours to get a ticket and as a result, nearly missed the train.
Where to stay in Naples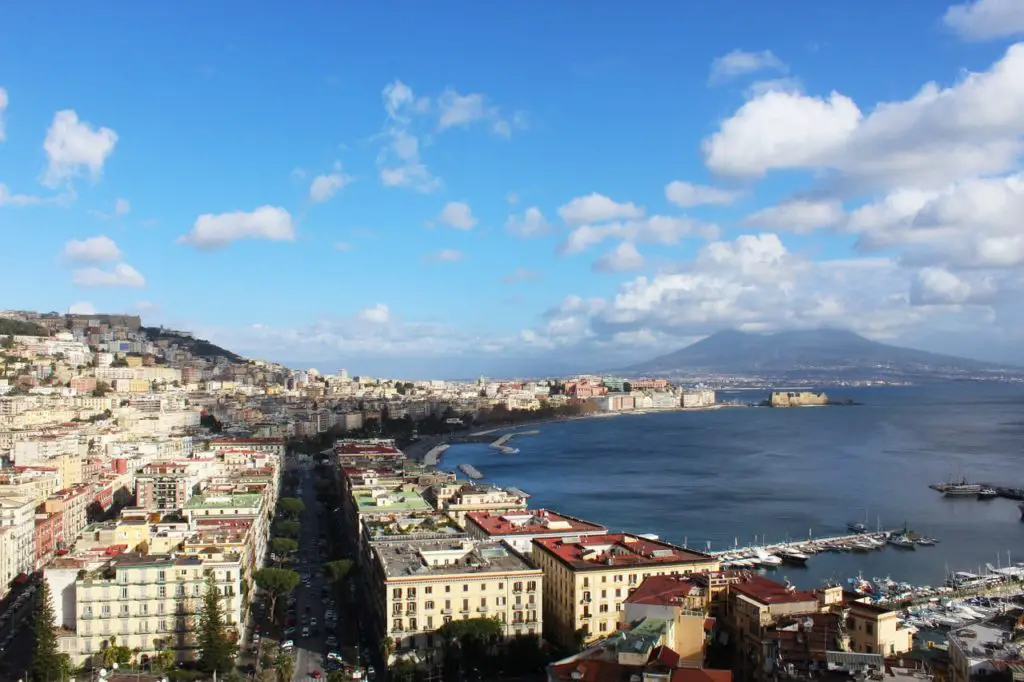 You can stay for the day or if you have time, it is better to spend at least one or two days in Naples. You can get the bus from outside the station Piazza Garibaldi to the port or a taxi. The cost of a taxi is approx 15 euro. Make sure you agree to the price before you get in. You will find most taxis in Naples run on a metre. We stayed two nights.
I recommend staying near the port area. It is an ideal base from where to explore the city and safe. There is plenty of accommodation in this area. I stayed in a small hotel here which was excellent and a perfect location.
The port area of Naples
You will also find in the port area as well as in most parts of Naples plenty of coffee bars, tasty street food, restaurants and pizzerias. Pizza originated from Naples with the pizza Margarita, which was made for the queen Margarita, representing the colours of the Italian flag. This is the most typical pizza eaten by Neapolitans and for those on a budget, the cheapest.
It is sliced and they eat it with their hands. I remember eating a pizza with some Neapolitan friends. They were looking at me strangely as I was eating mine with a knife and fork. They laughed and told me that when in Naples, I must eat it with my hands.
From that day on, I have always done it and really, it tastes so much better. The pizza chefs in Naples are true artists when it comes to making pizza, and it is definitely the one to try in Naples. Just simple ingredients such as tomato sauce, mozzarella and fresh basil. You will find an array of pizzerias in Naples or why not go on this street food tour with a local expert which includes food and sightseeing.
Attractions near the port
You will also find many attractions in the port area. The best way to get around the port area is on foot. You can visit places such as the castello Maschio Angioino opposite the port in Piazza Municipio. You can go inside the castle for a small fee. Just past the front of the castle, there is a road which leads you past the Royal Palace which you can visit and then onto one of Naples most beautiful squares Piazza Plebiscito.
Just before the square, you have the famous San Carlo Theatre and opposite, the Galleria Umberto which houses elegant bars, shops and restaurants. There is a bar nearby called Gambrinus, one of the oldest cafes in Naples.
Neapolitan pastries
It is worth visiting as this bar is unique and takes you back to the early 19th century. Delicious pastries such as sfogliatella and rum baba along with other delicacies are served in the most elegant surroundings.
They use their finest Neapolitan porcelain to serve cappuccino and espresso. Neapolitans love coffee. The other entrance of the Galleria Umberto takes you onto Naples' main shopping street Via Roma or Via Toledo.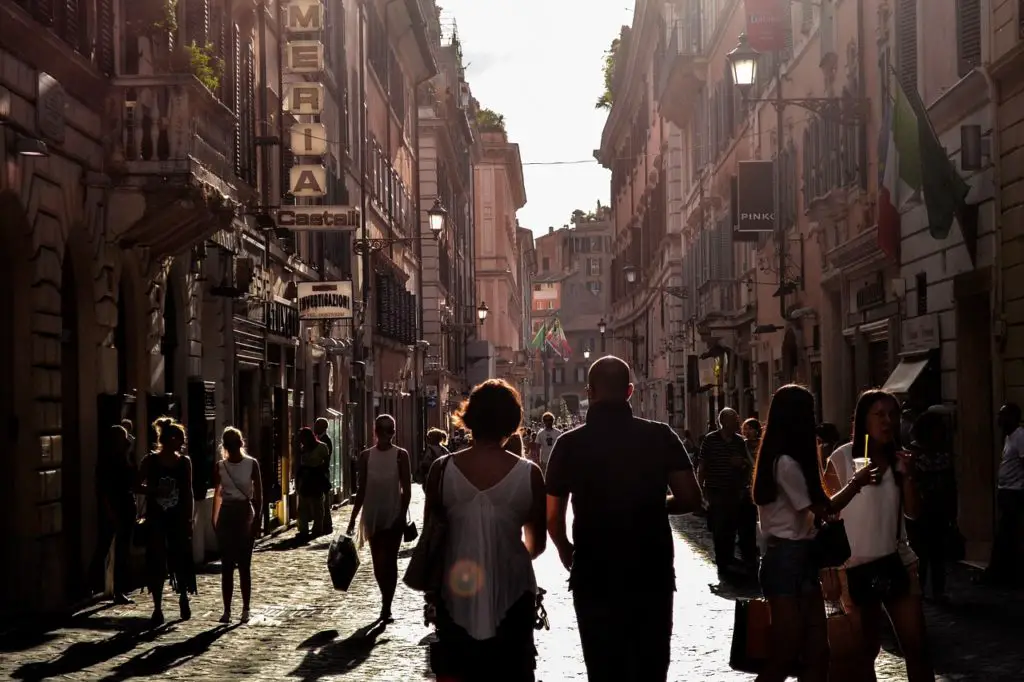 Right opposite the Galleria is the cable car which will take you up to the upper part of Naples Vomero where many wealthy Neapolitans live. There is a beautiful park up there Villa Floridiana and there are wonderful views of the city from high above.
The cable car to Vomero
The cable car is located in an old-fashioned, elegant building and takes about 10 minutes to reach Vomero. Back In Via Roma, there are numerous shops from large stores to old fashioned shops. This becomes the promenade for an evening stroll.
Most of these streets lead onto narrow streets full of character like Quartieri Spagnoli, Spaccanapoli right in the historic centre where you can see the veiled Christ in the Sansevero chapel or other streets opening out onto beautiful squares such as Piazza del Gesù or Piazza Dante.
Free walking tour of Naples with guide
You can always go on this free walking tour with someone who knows the city well.
Via San Gregorio Armeno in the historic centre becomes very lively during Christmas time with visitors buying typical Neapolitan figurines for their nativity cribs. It is a wonderful time to visit Naples and the Christmas markets. Many visitors come to enjoy the Neapolitan Christmas traditions and festivities. Have you ever wanted to spend Christmas with a Neapolitan family, try some cooking and enjoy real authentic food? You can with this dining experience. Make sure you book months in advance to secure a place. This is a popular time in Naples [widgets_on_pages id="Neapolitan Christmas"]
Sightseeing in Naples
There are too many attractions to list in Naples so I recommend going on the hop-on and hop-off bus which will take you also to Posillipo, the upper part of Naples where you will get spectacular views of Vesuvius and the bay of Naples. You can get on and off when you want and the bus will stop at all of the attractions.
There is also a commentary which will tell you all about the history and culture of Naples. The ticket lasts 24 hours. There are 2 routes to choose from including the stop at the Archaeological Museum of Naples which is an absolute must. There are also local buses which go around the city, but unfortunately, they are always too crowded. You can find more tours here.
What to do in the evening in Naples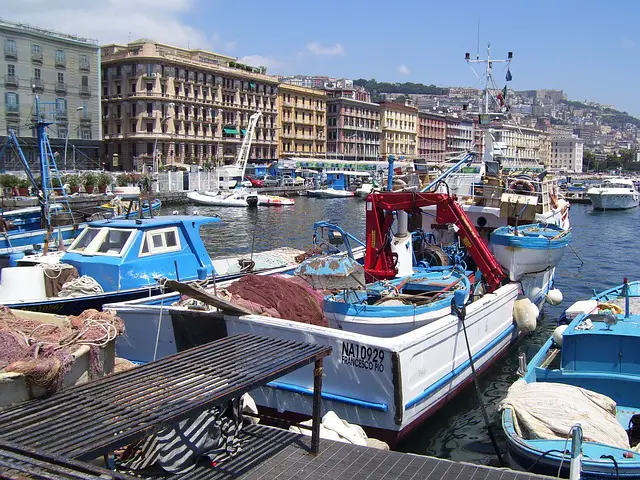 There are many shows and exhibitions in the evening. There is always something going on in the many squares of Naples. Shops stay open to 8pm. The seafront in Via Caracciolo is very pretty with its port Mergellina and long pedestrian promenade lined with bars and green areas.
You will see many people walking here in the evening. There is also a beautiful large public garden in the centre of Naples Villa Comunale, which is full of people and some events are also held here in the park. It was built by Ferdinand IV in 1780. Once you are inside the park you do not realise you are in the city.
It becomes very quiet and many people come here just to escape from the hustle and bustle of Naples. There are fountains, beautiful shrubs, plants, flowers and an elegant white ornate building.
There is a small aquarium inside the white building, which is used for research purposes. It was constructed on request of the German Naturalist Anton Dohrn in 1874. The aquarium is part of the zoological station, the research institute of Naples. The park is definitely worth visiting.
Accommodation
Staying near the port also gives you the option to visit Sorrento, Capri, Ischia and Procida all within 30 minutes crossing from Beverello, the main port of Naples. If you can stay longer than a weekend, it is worthwhile otherwise it is surprising what you can see and do in a weekend in Naples from Calabria. Read about Sorrento from Calabria here.
There is a wide range of accommodation from hotels and guest houses to B&Bs. You can use the map view at the top of the page to find accommodation near the port. Take advantage of the deals here: [widgets_on_pages id="Naples Deals"]
Naples Airport transfers
If you are planning on flying back to Naples or coming into Naples Airport, you can book an airport transfer for 35 euro here.