Ceramics are made everywhere in southern Italy. We can see hand-made ceramics in Vietri sul Mare, Santo Stefano di Camastra and other towns in Sicily. But what about the typical ceramics from Calabria? This art of ceramic-making in Calabria originated in the small town of Seminara, only 30 km from Reggio Calabria.
The battles of Seminara
You can see the work of ceramic artists Enzo Ferraro, Gennaro Condurso and others in this little town. There are 2,615 inhabitants living here. Seminara is not only famous for its ceramics, but also for the battles of Seminara. The first one in 1495 was fought here between the French and the Spanish troops, Còrdoba's first defeat.
You can see all the typical ceramics from Seminara during the festival of the Madonna dei poveri in August. It is an incredible time to see this place with lots of music and folk dancing.
Visit Seminara all year round
There are also many concerts with famous Italian singers during the summer. If you are a ceramic collector then you will love this place. You can visit any time of the year and it is easy to reach from Palmi.
Seminara is not very far from Palmi, about 10 minutes away by car. It is a small town and its main attraction and industry is ceramics. There is only one snack bar, but you will find plenty of bars and restaurants in Palmi.
Talented ceramicists who make these typical ceramics
Luckily, ceramic artists like Enzo Ferraro and Gennaro Condurso, son of maestro Paolo Condurso still have this passion to carry on the tradition. This art has been handed down from generation to generation, but sadly there are only a few workshops left in the village.
A tradition that has been going on since Ancient Greek times. This is witnessed in the many museums around Calabria. Having worked in the Tourism Industry, ceramics is something tourists love to see and collect. I also have a large collection from Calabria, Sicily and the Amalfi Coast.
The town that depends on ceramics
It is important to keep this tradition alive for the tourists but also for the livelihood of the towns. Some towns depend on tourism and selling their ceramics. Calabria can also boast about its priceless treasures, incredible beauty and local craftsmen.
Chili pepper souvenirs are typical of Calabria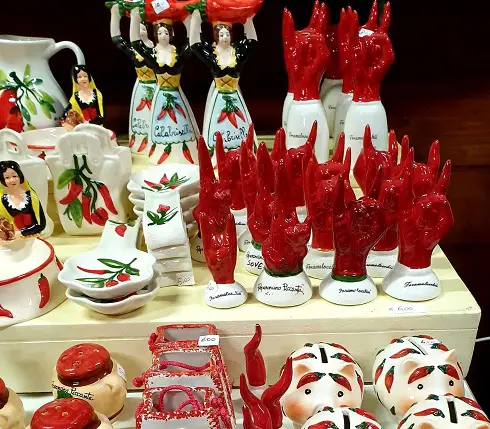 Like many places in Italy, souvenirs are symbolic of the place you visit. Lemon-type souvenirs represent the Amalfi Coast, Olives, the island of Sicily, Sardinia, the famous cork and guess what! Would you believe it that the typical red chili pepper, which Calabria is famous for, is on every Calabrian souvenir. Symbol of Calabria.
The red vibrant colour of the pepper brings joy to those who behold it. You will still find lemons and olive-type souvenirs as they also represent Calabrian territory and are part of Southern Italy's culture.
The ceramics of Seminara are unique
Calabrian souvenirs though are really eye-catching. It could be because of the bright red and green leaves against a white background representing the colours of the Italian flag.
However, the original ceramics of Seminara are definitely unique. They are in the form of vases, urns, Greek heads and masks. The masks were used to keep away evil spirits so they hung them above their doors. The other typical ceramics are the fish objects originating from the Magna Grecian period.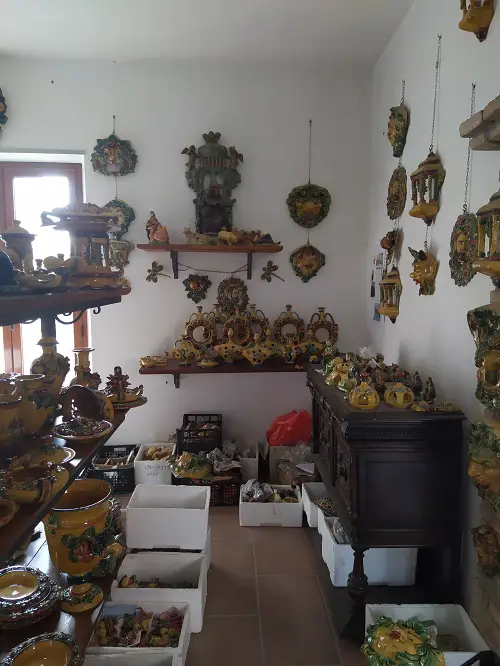 The ceramics are painted in different colours predominantly green, yellow and blue with a shiny finish. The ceramicists use clay from nearby San-Vito-Strazzata to shape these interesting objects.
They then put them in an oven for at least 12 hours and another 12 hours for them to cool down. After this cooling period, they can proceed to paint them. Some objects can take up to one month to produce. The Vatican is proud to possess one of those stupendous ornaments.
The Greek heads are typical ceramics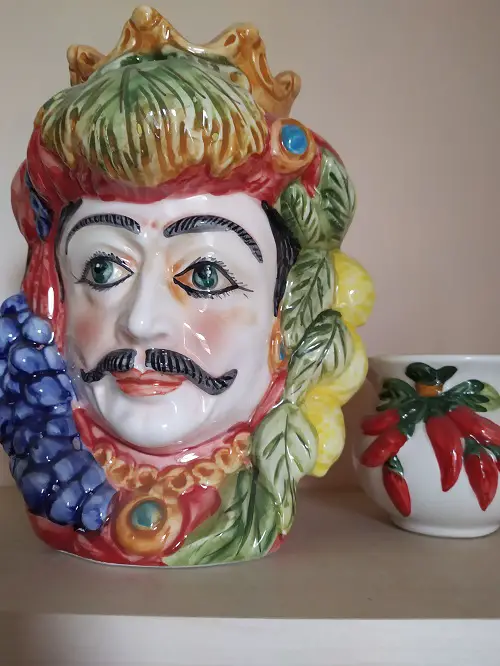 The Sicilian heads usually have dark faces, similar to the Greek heads in Calabria. You will find plenty of them in Seminara. These heads are both beautiful and a perfect souvenir to keep in your home. You can also learn how to make ceramics with this book. I have attached videos so you can see the ceramists in action.
The heads are mainly used as vases. You can see them on outdoor terraces or indoors. The price of these vary from place to place. You can find them from 25 euro up to 200 euro. The best place to buy them so you know they are original is from the village of Seminara. They even give you a certificate of authenticity.
Ceramic museum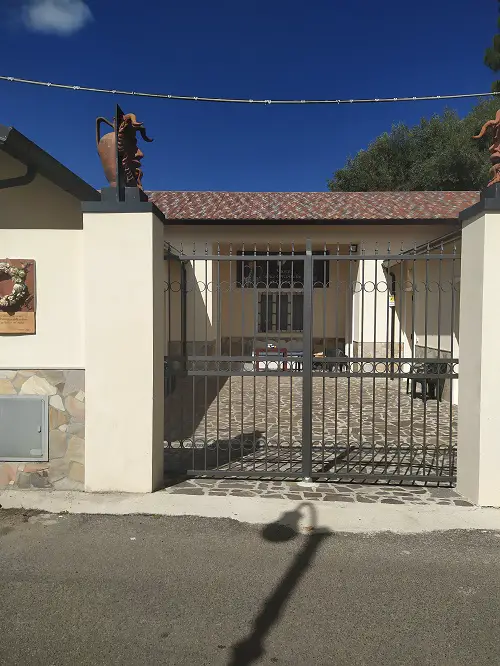 You can also visit the Ceramic Museum and read about the history of the ceramics of Seminara as well as admire some interesting work. The museum is open only on Saturdays and Sundays. We went on a week day but unfortunately, the museum was closed.
The church Madonna dei poveri is also worth a visit as it has some little statues made by those talented craftsmen and other treasures.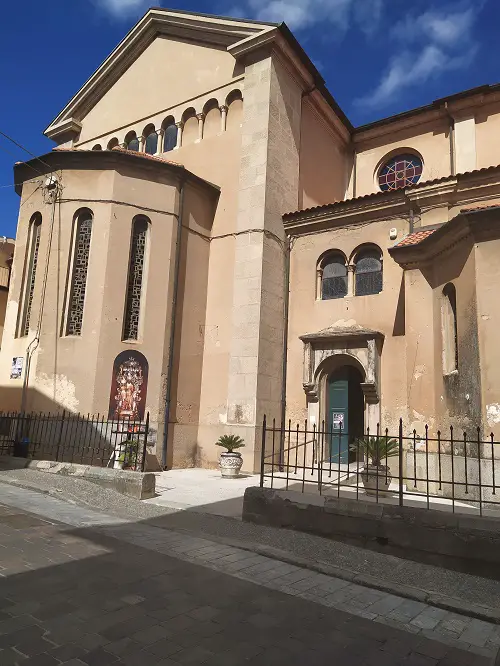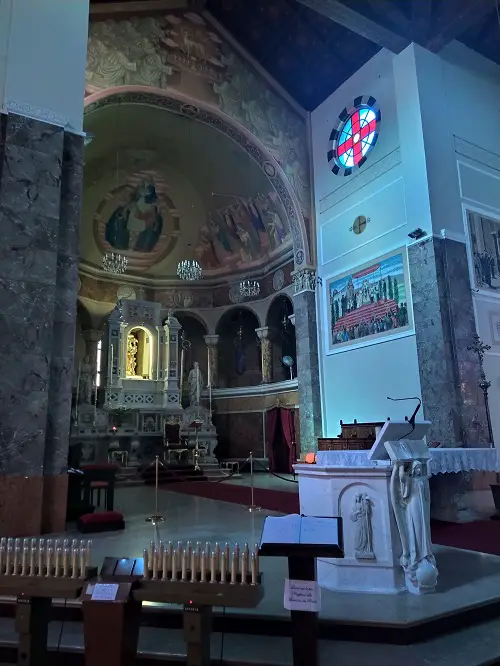 I recommend staying in Scilla, Reggio Calabria or Palmi. Half a day is more than enough to see Seminara. Perhaps Seminara in the morning and lunch in Palmi. Shops usually open at 4.30 in Palmi. There is plenty of shopping in this town. Read more about ceramics here.