Italy is all about good food and wine so there is no doubt that you won't enjoy the food and wine in Calabria. Some dishes may be a little spicier than other Italian specialities, but if you enjoy food with a hint of chili pepper, you will love Calabrian cuisine. Not only will you find in the restaurants meat dishes, but with 800 km of coastline, you will find plenty of seafood dishes. Calabria is a paradise for seafood lovers.
I find that most of the seafood dishes are the same as in Sicily and Naples. But like in every Italian region, some of these are unique. I would like to share with you my experience with restaurants and dining in two of my favourite ones. You can read more about Calabrian cuisine to find out about the dishes you can order.
Eateries in Calabria
There are many different restaurants to try when in Calabria. You can start with an aperitif which are different bite-size snacks such as zeppole with nduya (small fried savoury doughnuts with spicy Calabrian sauce), bruschetta and small slices of pizza with spicy salami. These are usually free when you order a drink. I usually order a crodino which is a non-alcoholic refreshing drink, perfect in the summer.
If you just want to grab something quick then there is no better way than going for street food. You will find kiosks and places called rosticceria. Arancini are popular as we are so close to Sicily. If you go to Scilla and want something quick, I recommend the bread roll sandwich with swordfish.
The trattorias are the best restaurants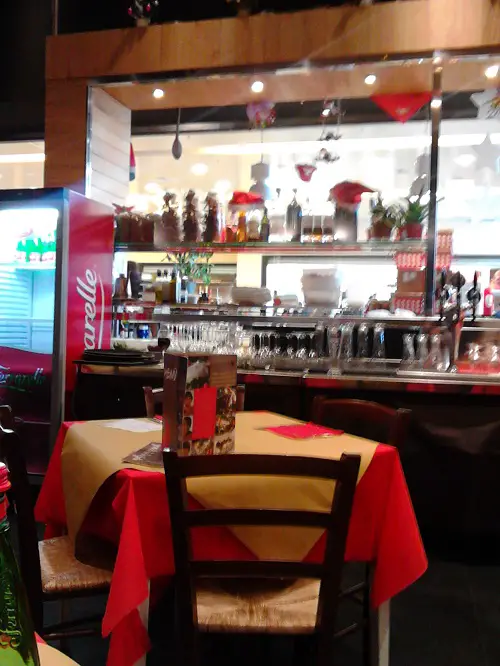 The next best place is a trattoria, which is a no-frills restaurant, usually family run but you can be sure that everything there is home-made. Some places may use simple table cloths, napkins and cutlery in individual paper bags. These for me are the best places. There are plenty wherever you go in Calabria and very cheap. Life is relaxed in Calabria so they do not tend to hurry. Keep that in mind when you are eating out in Calabria.
The service in restaurants
Service may be a little slow, but this is completely normal. Everything is almost home-made and takes a little longer than what you may be used to. This is the fun of going to Calabrian restaurants. They don't do anything in a hurry. There is a cover charge for service and bread. It is not compulsory to tip but very much appreciated. You can also decide on how much to tip.
Most places are family-run that make you feel so welcome. In some trattorias they introduce you to the whole family. Be sure to order the local wine. They usually bring a quarter, half or litre in a carafe. The price is also very reasonable.
Most Calabrians start with an antipasto (appetiser), a pasta dish as a starter and main course. Trattorias usually serve meat dishes. There is never a great choice of desserts except for the most typical tartufo di pizzo and tiramisù. Cheesecake is becoming another favourite. In some of them, the most important person doing the cooking is Grandma. You can pay between 15 to 20 euros per person for a meal including wine.
Seafood restaurants in Calabria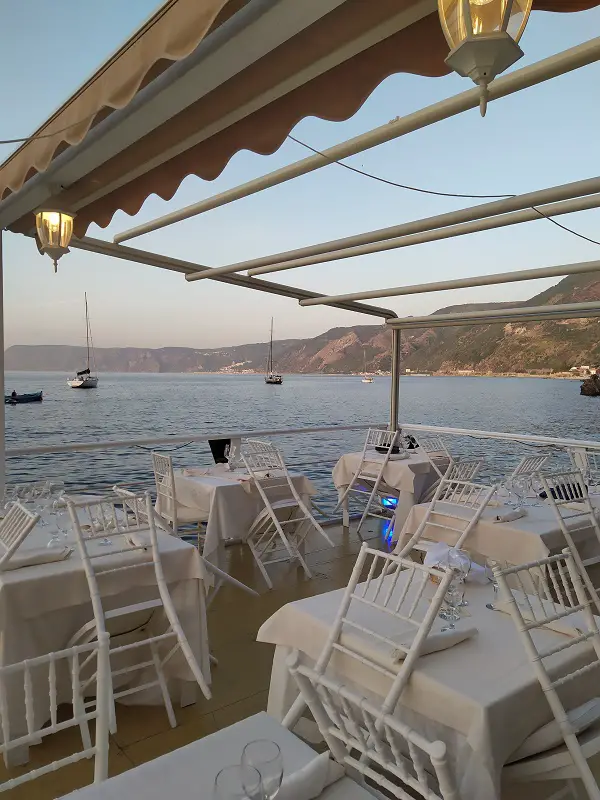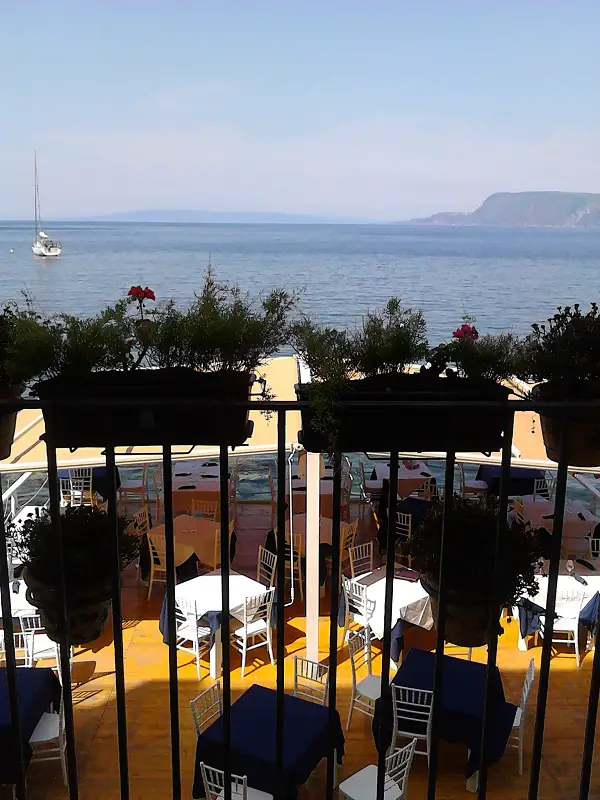 These restaurants deserve a special mention. Most people in the summer spend their time on the beach or have holiday homes nearby. You will find many lidos and restaurants on the seafront overlooking the sea. They are very popular and need to be booked in advance. Almost all of them are outdoors. You can be sure to find the freshest fish in these places.
Seafood specialities include swordfish rolls, spaghetti with clams or mussels, grilled squid or stuffed, sea bass, grilled prawns and other delicious seafood delights. Make sure you try the hot and cold seafood appetiser (antipasto caldo e freddo).
Romantic restaurants
The setting is usually romantic looking at the boats. These restaurants tend to be a little more expensive than the trattoria, but worth it for the quality of the food and views. A starter, main course and dessert including wine is between 30 and 35 euro per person as long as you don't order fresh lobster.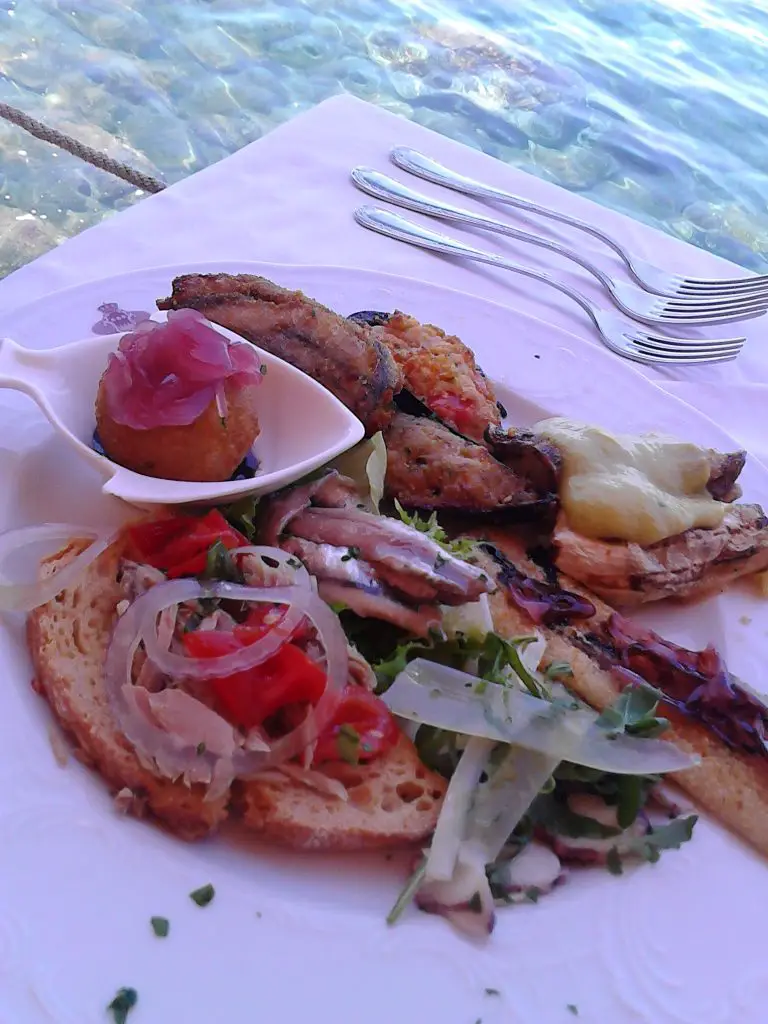 My favourite one is in Scilla. This restaurant is il principe di Scilla and is right out at sea, built on stilts in the fishing district of Chianalea overlooking Ruffo castle. The service is second to none. It is also part of the Hotel Principe di Scilla. The owner spent many years in America and was delighted to open his first hotel in Scilla, After a short while, he opened more hotels and restaurants.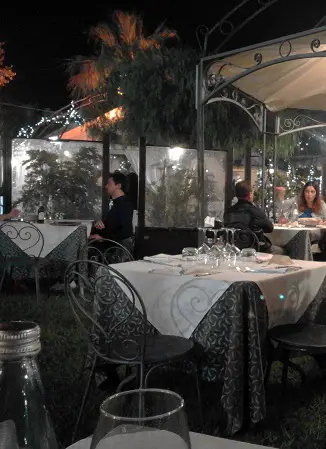 Restaurants not so far from the sea have a choice of meat and seafood dishes. It is better to book in advance. All restaurants vary in Calabria. You can find some with simple tablecloths and others with linen. I would like to tell you about one of my other favourites.
This restaurant is set in beautiful gardens. You can eat outdoors in the garden beneath a gazebo. It is something really special. A little more expensive than others but worth every penny. Between 30 and 40 euro per person including wine. Many couples choose this place to celebrate their wedding.
Beautiful surroundings
The waiters are very professional and you get a good choice of seafood and meat dishes. The desserts are wonderful too. It is open all year round. You can eat in the elegant stone farmhouse in the winter and in the garden during the summer. I recommend the garden. This restaurant is located close to Roccella Ionica on the Jasmine Coast. It is La Cascina. Be sure to try the antipasto rustico.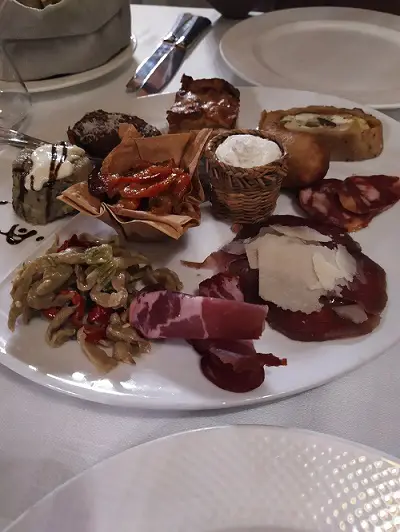 There is a little shop next to the restaurant where you can buy some local Calabrian products including the must-have liqueur Bergamotto. At the end of the meal, most restaurant owners will offer you a complimentary liqueur which could be bergamotto, liquorice or limoncello. Just a few of the local liqueurs.
I have mentioned some local dishes but here are a few more for you to try:
Fileja con nduya: fresh pasta with spicy Calabrian sauce
Maccarruni con ragù: fresh pasta with ragù meat sauce
Purrpetti: meatballs in a tomato sauce
Stocco di Mammola: stockfish in a sauce
Polpette di melenzane: fried aubergine balls
Laganedde con funghi e salsiccia: fresh pasta with mushrooms and sausage
Lagane e cicciari: fresh pasta with chick peas
Pesce spada: Swordfish prepared in many ways
Agriturismo farmhouse restaurants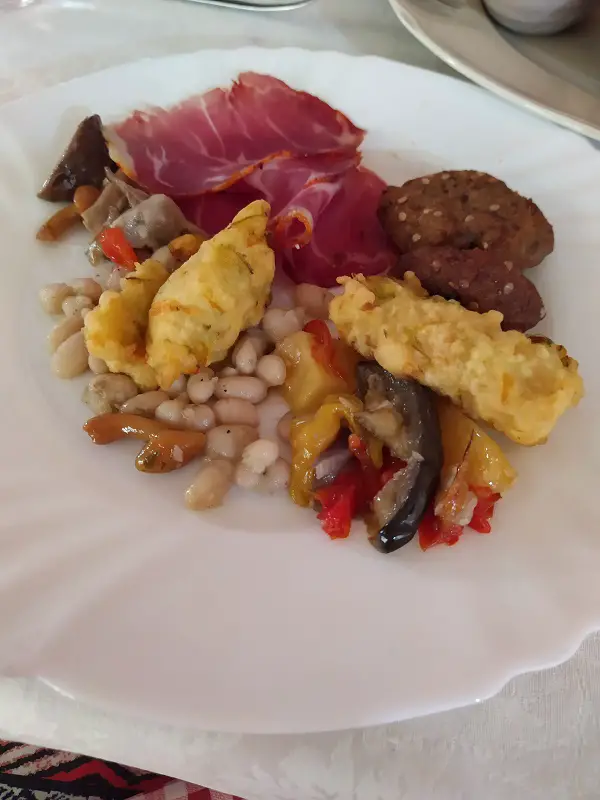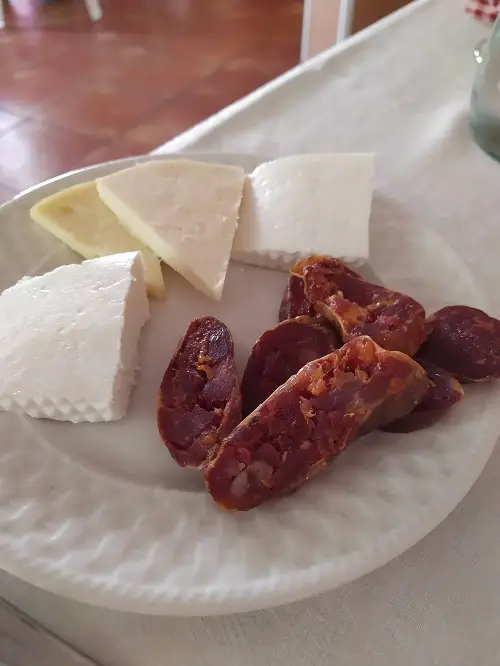 These restaurants also deserve a special mention as all the products are locally-sourced. There is no menu to look at but they make sure you try their most typical dishes. The tables are long as they accommodate extended families and in some places, you sit altogether, which is a really nice experience. Some have a set price starting from 25 euro per person.
It is a fixed menu and usually consists of a platter of cheese, cured meats, zeppole and vegetables, followed by a pasta dish and meat course with plenty of wine. At the end of the meal dessert, coffee and liqueurs. You can read more about Agriturismo restaurants in one of my earlier blog posts.
Calabria is famous for its Calabrian cuisine worldwide and you will find plenty of rosticceria, trattoria, agriturismo and restaurants everywhere you go. In summer most of them are outside in gardens, squares or pretty courtyards and some even the street. You will also find your favourite Italian dishes such as cannelloni, pizza, lasagne but you must try some of these Calabrian dishes. Subscribe to receive more posts.