Calabrian cuisine is excellent. It ranges from seafood dishes to meat and vegetables. I noticed that they use a lot of simple ingredients to produce tasty delicious meals. There is also an abundance of seafood in seaside towns.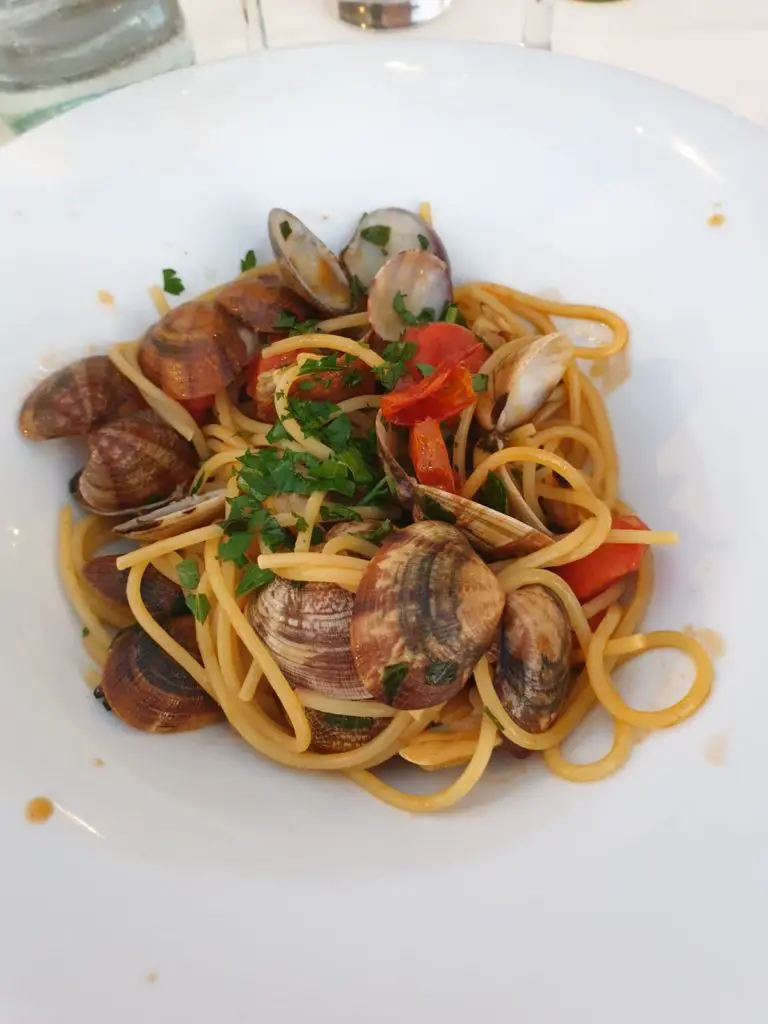 Fish in Calabrian cuisine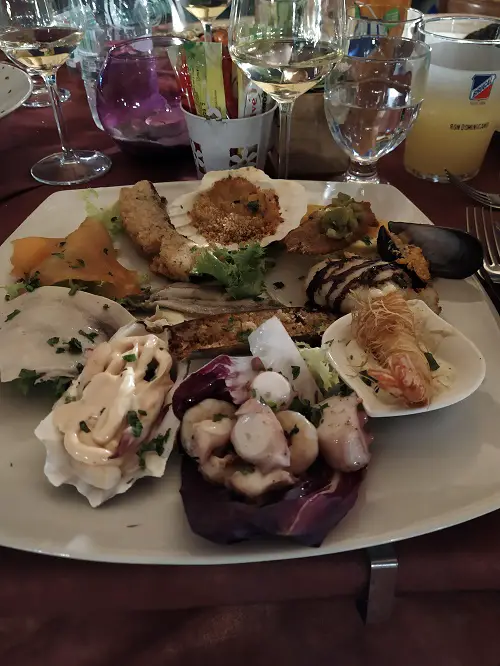 The main fish speciality dish in Calabrian cuisine is baccalà (cod fish), sword fish, sardines as well as sea bass, spigola, clams, mussels, lobster, prawns and other well known seafood dishes.
Many shellfish dishes are with pasta such as spaghetti with clams or mussels. I recommend spaghetti with clams or the antipasto freddo e caldo (an assortment of cold and hot seafood appetisers). This is the most typical dish in Calabrian cuisine
Meat and vegetables
You can also find good meat dishes here such as lamb, wild boar, goat, steak and veal. Spicy sausage, nduya (very spicy) and cured meats such as Sopressata and Capicollo salami. You will find plenty of restaurants. They serve meat dishes in hill top villages while seafood is always present in seaside resorts. If you want to taste real Calabrian cuisine, I recommend the agriturismo (farmhouse). Read here.
There are many wonderful pasta dishes such as lagane e cicciari (pasta with chick peas), pasta with wild boar sauce, fileja alla 'nduja (home made pasta with nduja sauce), baked aubergines with tomato sauce and parmesan and many other vegetable dishes including the aubergine fried balls polpette di melenzane
They preserve a lot of the vegetables in olive oil so they can eat them out of season and during the winter. They start making the tomato sauce in August for the same reason.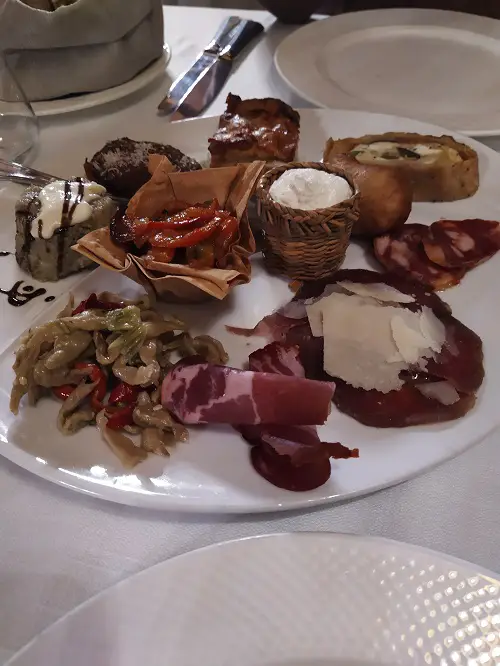 The Calabrian starter
I recommend the antipasto rustico, a mixture of assorted vegetable appetisers. They always give you fried aubergines, ricotta, artichokes, olives, bread and red onion jam, the main ingredients in Calabrian cuisine.
They start first by bringing to the table salami, cheeses, zeppole, and then the vegetables. By the end of it, you are so full that you could almost skip the next course. They always bring separate dishes and then you can put them all on one plate. An absolute must.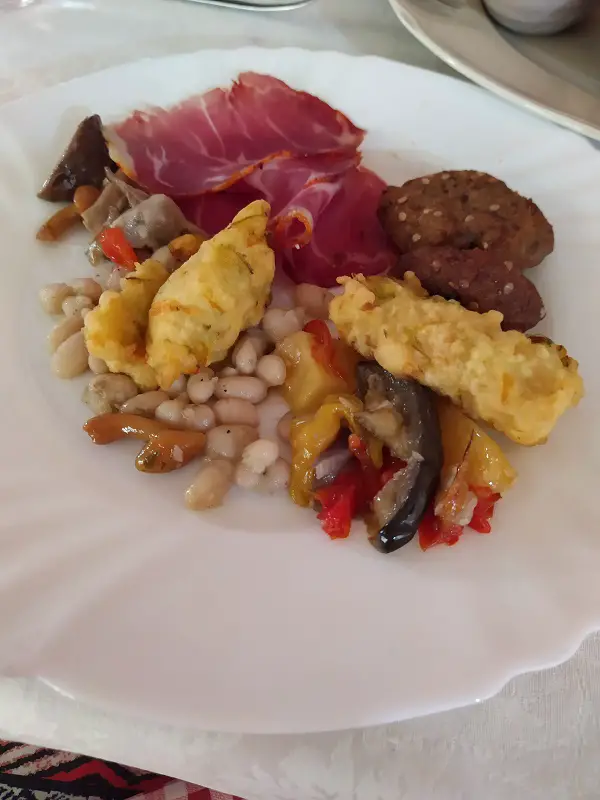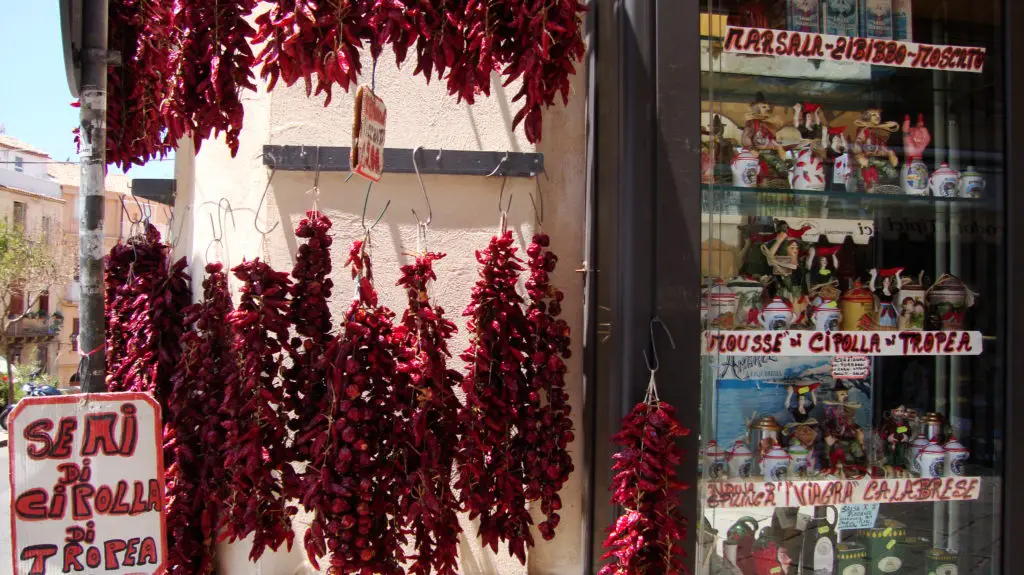 The red onions of Tropea are sweet and delicious. Some dishes are made with these tasty onions as well as onion jam. Potatoes and mushrooms come from the Sila mountains.
Red chili peppers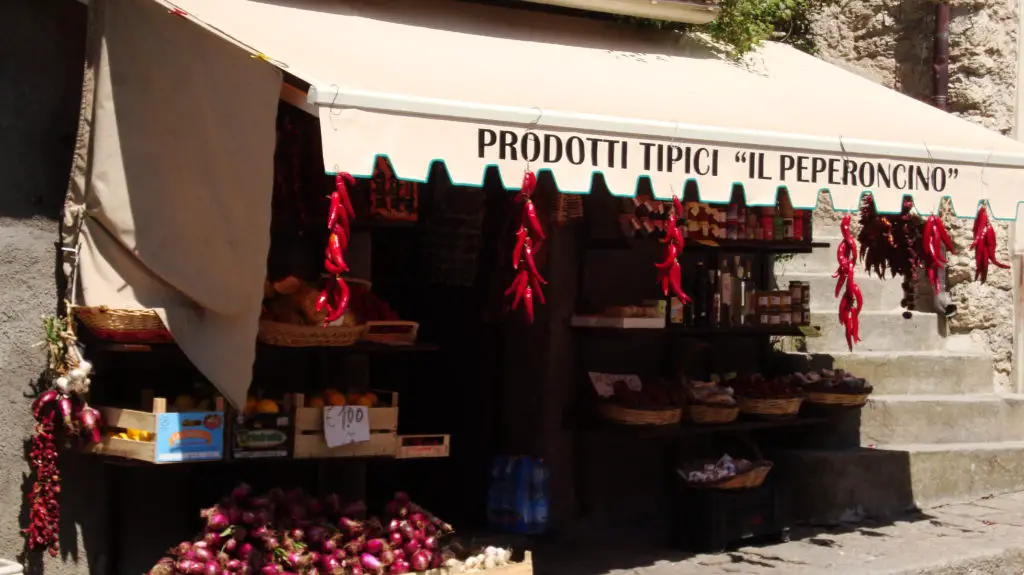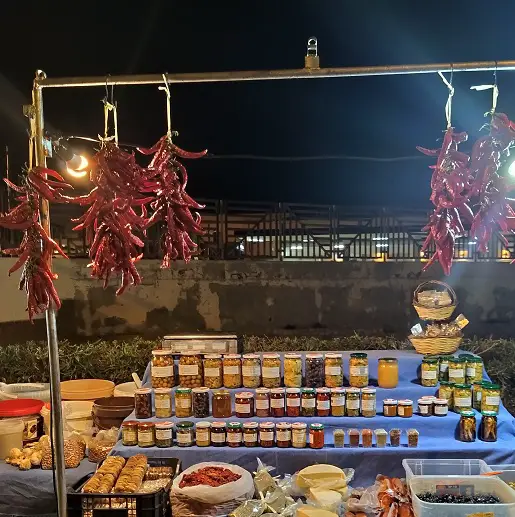 The main ingredient used in Calabrian cuisine is of course, the red chili pepper. You will see many of these hanging outside peoples' balconies as they dry them in the sun. Once they are dry, you can just sprinkle them onto your dishes. You will find a touch of this in almost every Calabrian dish.
Festival street food
Zeppole are always present as street food at any Calabrian festival. They are like fried doughnuts. You can fill them with anchovies or nduya, which translates into a spicy Calabrian spread. You can also eat them plain. The main ingredients are flour, potatoes and yeast for the recipe and then you deep fry them. I recommend the ones with nduya.
The desserts in Calabrian cuisine
Desserts are of Greek origin. They mainly consist of honey and figs such as the Scallile, Nepitelle or the Pignolata. Some desserts are biscuit based like Mostaccioli. You will find other popular desserts such as tartufo di pizzo, tiramisù and cheese cake in most restaurants.
Typical cheeses in Calabrian cuisine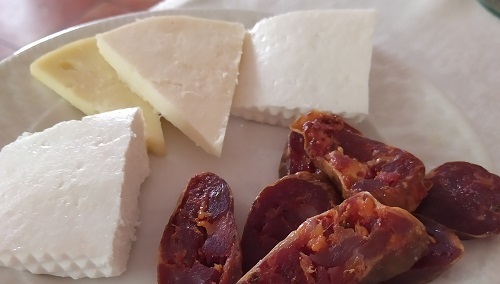 Pecorino, provolone, pecorino piccante and ricotta are just a few of the typical Calabrian cheeses you can find in this region as well as other well known Italian cheeses. Read more about Calabrian cuisine here.
Wines
Calabria was known as Enotria in Greek times – Enotria is the Greek name for the land of wine. It has excellent wines such as Greco di Bianco, Ciro, Lamezia, Bivongi, Crotone, and Donnici.
Liqueurs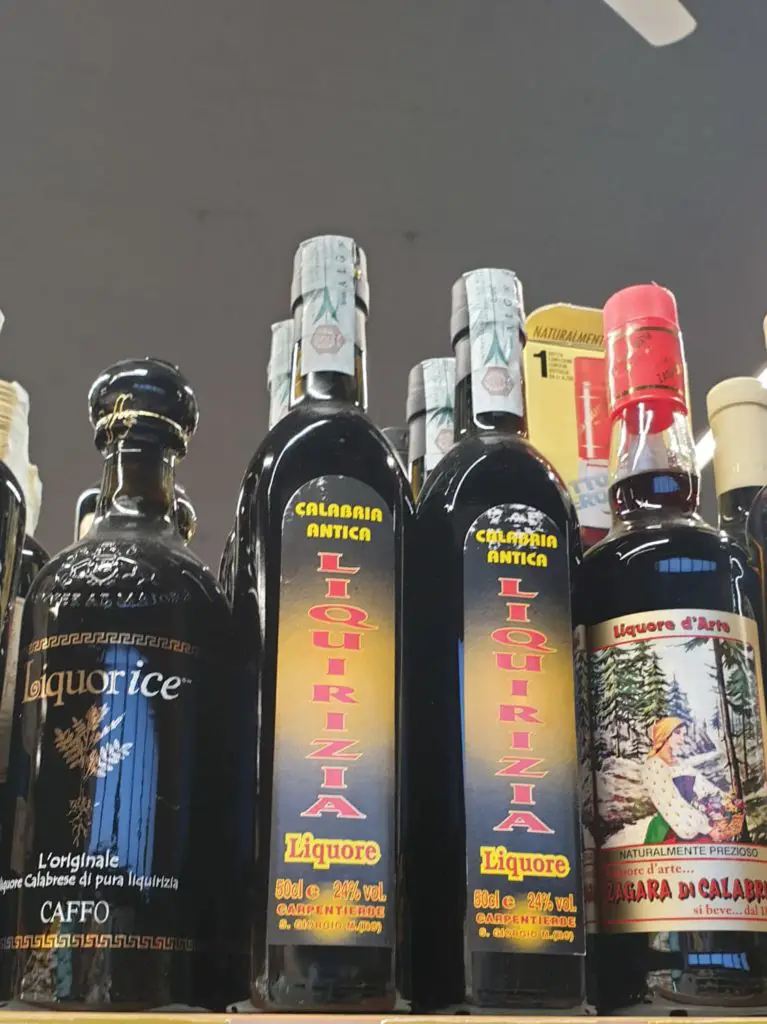 There are many home made liqueurs such as limoncello, liquorice, amaro del capo, mandarino, and the famous bergamot. They usually drink them at the end of the meal after coffee. Read about some recipes from a true Calabrian here on how a few ingredients can be used for tasty delicious food. Over 100 photographs to look at and countless recipes.