We cannot talk about southern Italy if we do not mention Sardinia. Have you ever thought about visiting Sardinia? It is a wonderful experience, especially if you like scuba diving and snorkelling. It has the most beautiful sandy beaches and aquamarine sea.
Towns near Cannigione in Sardinia
I would like to share with you my experience scuba diving in Cannigione. It is located on the Costa Smeralda in northern Sardinia, about a 30-minute drive from Olbia Airport. I flew from Milan. Nowadays, you can fly from Milan Bergamo for as little as €20.55 euro with Volotea. I rented a car from the airport. Car hire is essential in Sardinia.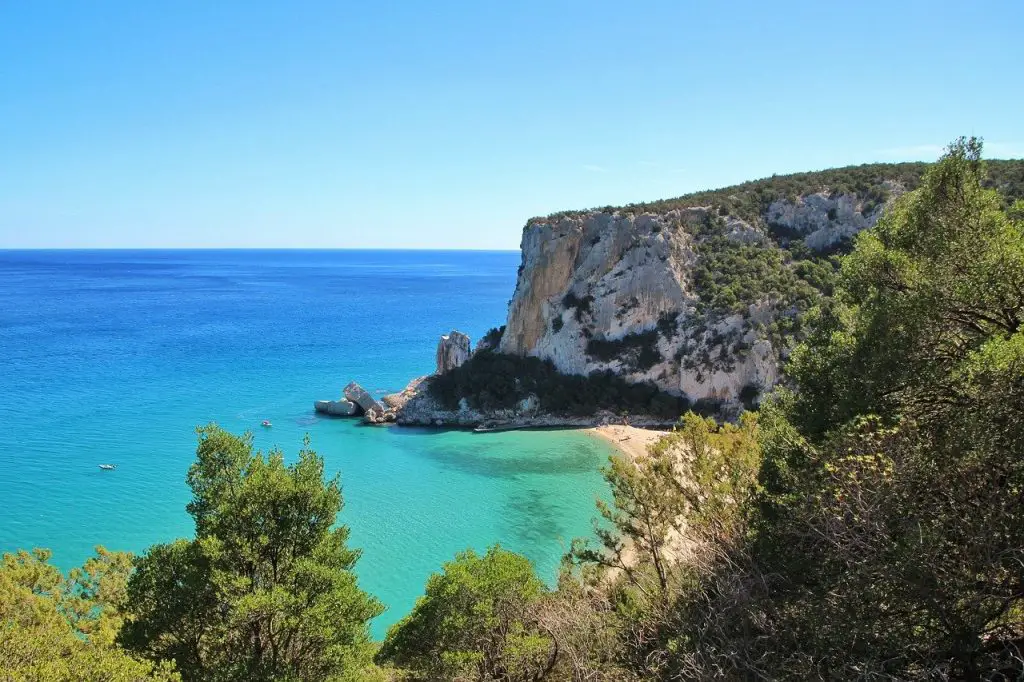 Some of the towns are quite spread apart in Costa Smeralda. Cannigione is an ideal location as it is close the to the world-famous resort of Porto Cervo, the departure point Palua for ferries to La Maddalena, Arzachena, Baja Sardinia and San Pantaleo. Porto Cervo is only 17 minutes away by car (approx 16 km), the billionaire's playground.
A popular holiday resort
Cannigione is a perfect location as it gives you the best of both worlds. Once a sleepy fishing village, now a popular holiday resort, especially in July and August. I recommend going out of season when it is quieter. May is ideal as the weather is usually warm, but not too hot. You can also have the beaches to yourself. They stretch for miles with golden sand and aquamarine transparent sea.
There is even a beach with pink sand. You will find most beaches are uncontaminated without any lidos. Sardinia is Italy's caribbean secret. Most holidaymakers are Italian, especially from the North of Italy. I picked my car up at the airport in May and have to say the roads were very quiet. It is a different story in high season. It only took me 30 minutes to reach Cannigione.
Scuba diving in Cannigione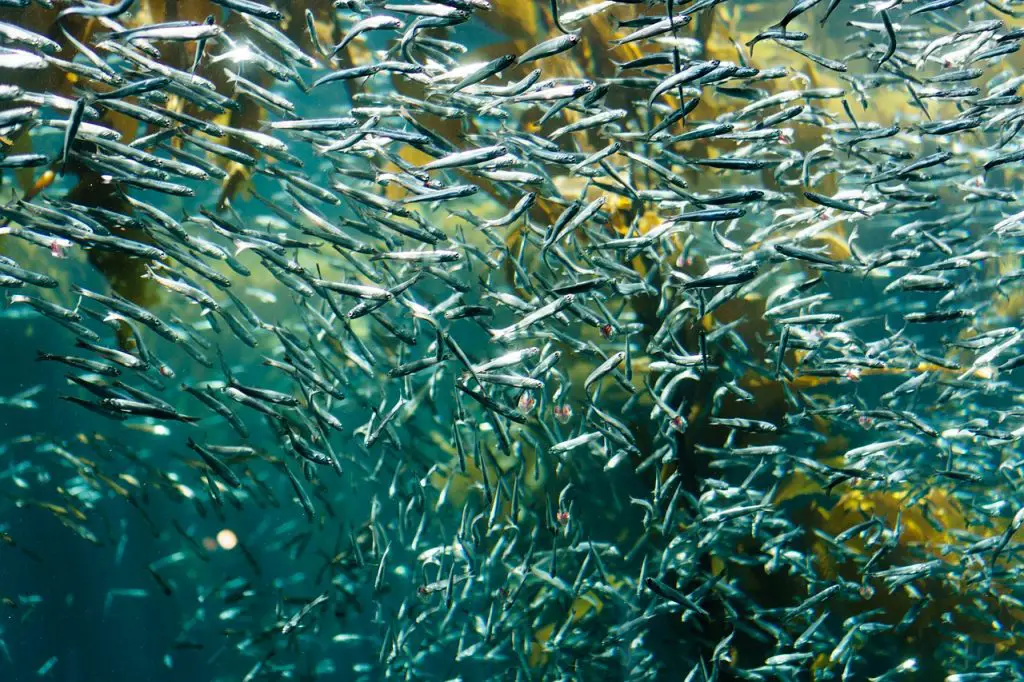 I stayed in the Riva Azzura apartments. You can see the photos here. It is a perfect location as you are only a few minutes from the beach and right in the centre of town. I spent a few months there as I was working for a Tour Operator. I can definitely recommend this place. During my time there, I had the opportunity to go scuba diving.
This is a diver's paradise. I did not have any experience whatsoever. I did not even have time to do the PADI course. However, I managed to find a scuba diving excursion where you could get a taste of it as long as the instructor was controlling everything. This really appealed to me. I had one day off a week and could not wait to try this diving experience.
Scuba diving course in Sardinia
There are many diving schools in Sardinia wherever you go. It is also a great opportunity to do a PADI course there. This way you are free to move underwater in the direction you want to as well as observing wrecks. My excursion was just a taster. In short, the diving instructor controlled everything, my oxygen and other breathing apparatus required for the dive. All I needed to do was just enjoy looking at the fish.
We set off early in the morning and headed to the diving school. We got changed into our wet suits. I have to be honest, mine was just a tad too big and therefore, I ended up looking like a penguin with these huge flippers on my feet. The next thing was the weight belt which weighed an absolute ton and then on top of that, my oxygen bottle. By then, I was walking like a penguin.
The other scuba divers
Anyway, once we were all kitted out, we headed out to sea. There were 8 of us. A few of them were experienced and could do what they wanted. We watched them as they somersaulted into the water disappearing into nowhere and not to be seen again, at least for a while. The rest of us had to be accompanied. The newbie divers looked petrified including my good self.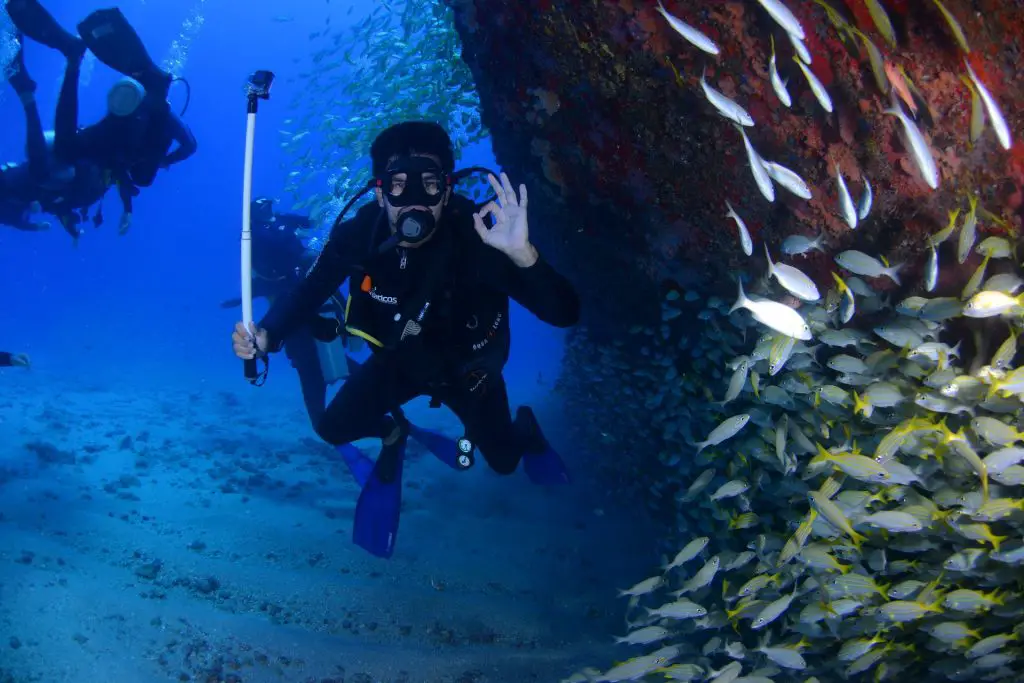 How could I go so deep beneath the sea when I hadn't even been on a PADI course? I started feeling nervous. The instructor was very patient as he was explaining the basic hand gestures and how to use the breathing apparatus. Once we had mastered the "I'm ok" gesture and got used to breathing with the regulator. It was time to go down. It was time to explore that wonderful new world and what better blue planet can you get in Sardinia.
My scuba diving gear
I was terrified but excited at the same time. Nobody was forcing me to do this so why was I doing it? I remember going paragliding just because the others in my group were doing it, that was another experience. Going back to my scuba diving experience, this was an opportunity of a lifetime. The moment had come. The heavy weight belt that felt like I was dragging a chain around my waist suddenly felt lighter. Yes, I was in the water, even the oxygen bottle was lighter.
I knew the next step was going to be underwater so I took the plunge and slowly disappeared beneath the water surface spiralling downwards passing all species of beautifully-coloured fish, some flat, some really strange-looking ones and I could not stop admiring all this incredible marine life. Everything was so silent. I had never seen so many coloured fish before neither had I come face to face with them. It was amazing being underwater in this new unfamiliar world.
A scuba diving paradise
When I finally came up from the water, my legs were like jelly, not because of fear, but of pure excitement. I was so lucky to have seen Sardinia's underwater world. It was an incredible experience. I now understand why divers get so excited about leaving their world to go into this incredible one. It also made me a better swimmer and snorkeler. I spent all my days off exploring Sardinia's beaches and sea.
I recommend a visit to La Maddalena from Palau. The crossing takes about 15 minutes. The sea and beaches are even more magical. It has plenty of shops, bars, churches and fish restaurants. There is colour everywhere in Sardinia from terracotta to yellow, pale blue, different shades of pink reflecting the colours of the landscape. It is also extremely green. My favourite beach is Baja Sardinia, not far from Cannigione. I recommend this hotel for its spectacular views and cuisine.
A typical farmhouse meal in Sardinia
You will also find a handful of shops, bars and restaurants there and of course, nightlife. If you are after shopping, make sure you visit Arzachena, a much bigger town with plenty of shops, bars and more restaurants. The attraction there is the Nuraghi, ancient stone buildings dating back to the Bronze Age. You will find them all over Sardinia.
Make sure you have lunch or dinner in a farmhouse. They have a typical set meal where you can try their specialities. Carasau bread, Malloreddus and Culligiones, fresh pasta with different sauces, wild boar for a main course, seadas for a dessert followed by myrtle liqueur (mirto). See photos here of some more specialities. It is a real experience eating in these farmhouses.
The local people are extremely friendly and are renowned for their hospitality. This post is only a taste of Sardinia. You have to see it for yourself especially the marine life, beautiful beaches and incredible sea. Read more about Sardinia here. I definitely recommend scuba diving or snorkelling in Sardinia. You can also read about scuba diving in Calabria here.