Beaches
Not so far from Lamezia airport just past Falerna Marina, you will come to another hidden delight Amantea. This is a pretty seaside resort with long sandy beaches and turquoise blue sea. There are only a few lidos spread out giving you plenty of space to enjoy the beach and its beautiful sea. There are a few beach bars along the promenade serving food and drinks.
The promenade comes alive in the evening with concerts and people enjoying the evening stroll. The highlight of this place is the backdrop. Set against limestone cliffs with a castle, monastery and tower, this place is perfect for scenic walks.
The shopping area and hotel in Amantea
Just up from the promenade, you will see the main road with hotels, bars and restaurants. There is a wonderful hotel with a glass structure which is quite unusual for this area. This is where we stayed. The Mediterraneo Palace hotel is very modern and comfortable with a nice swimming pool and stunning roof terrace. I also noticed along this road many interesting souvenir shops selling typical Calabrian souvenirs as well as other shops.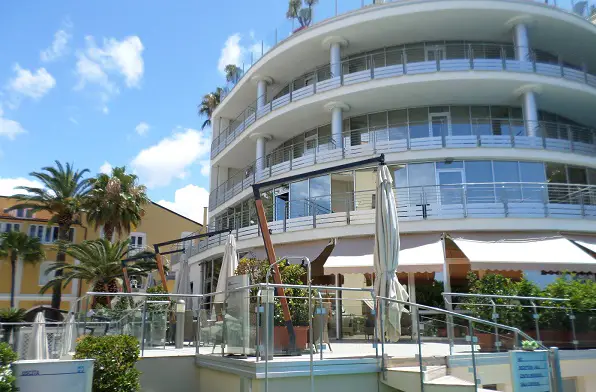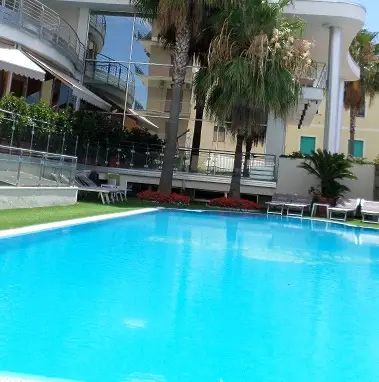 At the end of the road, there is a shopping centre. It is small but you can find everything you need including a supermarket. I was a little disappointed as I could not find many shops here.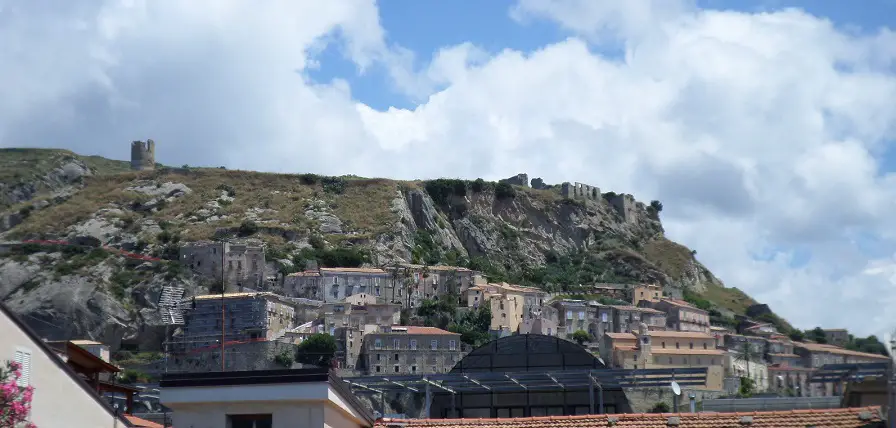 The historic centre in Amantea
That was until I reached the historic centre. It was a real find. Another medieval village, but nestled away in the back streets of Amantea. In fact, it was only a stone's throw away from the main road. You could easily miss it if you did not know about it.
That really fascinated me as most of the old Calabrian towns are located high up in the hills or the mountains. This one was so close to the modern area of Amantea. There were plenty of boutiques, shops, more bars and restaurants tucked away down narrow streets.
I was overjoyed as I could always see the castle sitting high above the cliffs and striking scenery. I stopped here for 2 nights. It was July and there was plenty going on both in the historic centre and down at the seafront. All around you is stunning scenery wherever you walk.
The beautiful fountain sculpture
Just before you keep following the road up from the main road to the historic centre, there is an attractive street with pretty bars and restaurants. At the end of this street, your eye will catch the wonderful fountain sculpture where most locals sit, especially in the summer evenings.
I am sure it is a perfect place to cool down with its jets spraying out cold water. Life seemed to be centred around this area. A real relaxing and pleasant place to enjoy an ice cream or a cool drink. You can read about my Calabrian tour along the Cedro Coast here.