The first time I went to Calabria, I took a tour around the Jasmine Coast, the Viola Coast and Coast of the Gods. I fell in love with Calabria. This time I wanted to tour the Cedro Coast, famous for its citron lemons. Another spectacular coastline with superb beaches, views, history and natural beauty. I had heard so much about this beautiful coast and wanted to visit the main towns, which I have listed for you to visit on this tour, should you ever get here. I fell in love with Calabria even more, after having visited this coastline.
Day one – Tour of Amantea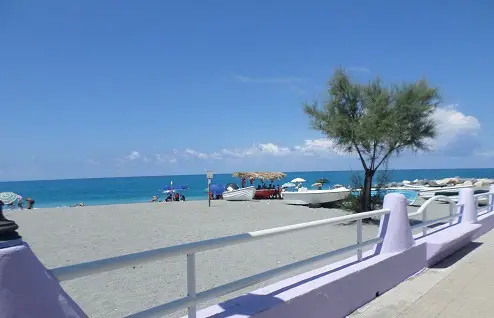 I started from Lamezia close to the airport stopping off first at Gizzeria Lido (11 km from Lamezia) to see the kite surfers gliding over the waves. Gizzeria Lido is a perfect place for kite surfers as there is plenty of wind. I stopped off at Falerna (35 km from Lamezia) for a coffee and a walk along a beautiful beach.
I could not resist but go for a swim. The journey from Lamezia to Amantea usually takes 40 minutes (40 km) It took longer as I wanted to see Falerna and Gizzeria lido on the way. I was also driving slow so I could admire the coastline.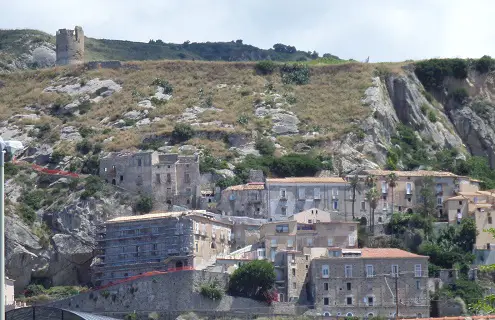 The historic centre of Amantea
I finally arrived at Amantea where I stayed one night in the Mediterraneo Palace hotel. It was excellent accommodation with a delicious breakfast and a swimming pool. It is a modern hotel with a glass interior. Amantea is made up of two parts; a modern seafront and a medieval historic centre with a beautiful castle and convent, now a luxury hotel, high up in the hills.
It has many nice shops, bars and restaurants. I walked up to the old town and beyond. There are many pleasant walks up there and all have amazing views. It seemed quiet on the seafront but full of people in the historic centre in the evening. I had fried fish and a glass of wine in a nice restaurant near the seafront before returning to the hotel. They also organise many events on the seafront in the summer. Many tour operators include this in their tour.
Day two – Belvedere Marittimo and Diamante
After a delicious breakfast in the hotel, I headed for my next destination Diamante (70 km from Amantea). My hotel was in Belvedere Marittimo, right on the beach with a swimming pool, and only a 10-minute drive from Diamante. There are many hotels in this area. I was told it had the best beach and really, it was an amazing beach. After some relaxing and swimming and a well deserved rest, it was time to explore Diamante.
Day three – Tour of Diamante
Another pretty Calabrian town and a must-see for your tour around Calabria. It has a beautiful promenade with wide sandy beaches. The centre of Diamante is full of shops, bars and restaurants with plenty of narrow streets and many mural paintings on the walls. A very colourful town.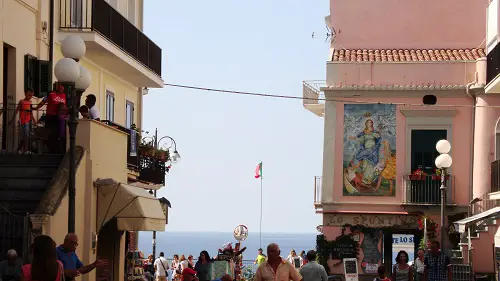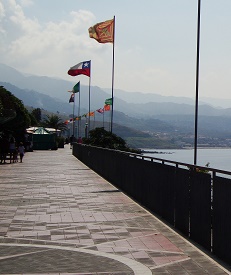 There is an attractive walkway overlooking the sea. Many people were walking here to admire the sea, also lined with souvenir shops. Every year in the summer the famous chilli pepper festival is held here.
The restaurant on the beach
After exploring all the narrow streets, I found a restaurant on the beach where I decided to have dinner. Fresh pasta with seafood and a glass of wine. At the end of the meal, they gave me a complimentary citron liqueur. I have to be honest, citron fruit is a little bitter, but this had a very pleasant taste. You can learn about this fruit which grows on trees all along the Cedro Coast at the Cedro Museum in Santa Maria del Cedro and sample these delights.
It is a peculiar fruit and looks like a giant lemon. These citron lemons are mainly used for drinks and salads. At around 10pm there were people everywhere in Diamante walking, eating outside, strolling along the promenade.
Al fresco dining
It gets busy in the summer months, but the atmosphere is amazing. Tables and chairs are outside so you can enjoy al fresco dining. I then returned to the hotel.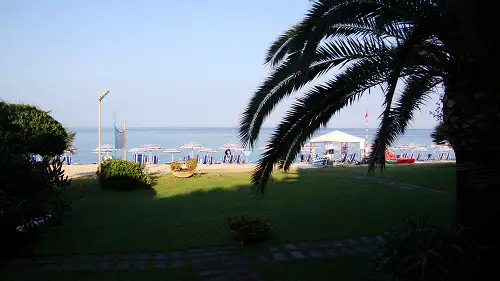 The hotel had a beautiful outdoor garden with palm and citrus trees where you could sit and have a drink in the evening. I had breakfast the next morning and a swim before I got ready to drive to the next destination.
Day four – Scalea and Praia a Mare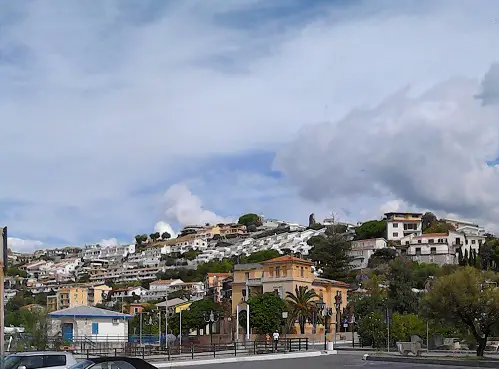 Before reaching Praia a Mare (11 km from Scalea) I stopped off at Scalea (16 km from Diamante) where I had lunch in a nice street cafè and a walk in the historic centre. There are many shops, bars and restaurants in this town. It is much bigger than the other towns along the Cedro Coast.
Holiday homes in Scalea
It was lunch time and it seemed very quiet. I learnt that everyone was on the beach or at home. It can get very hot here in the afternoons in the summer. Most people stay on the beach all day. There are many holiday homes which belong to people from Naples and other nationalities. It gets very lively at night as I went back later that evening and it was full of people enjoying the summer evening.
Day five – Tour of Praia a Mare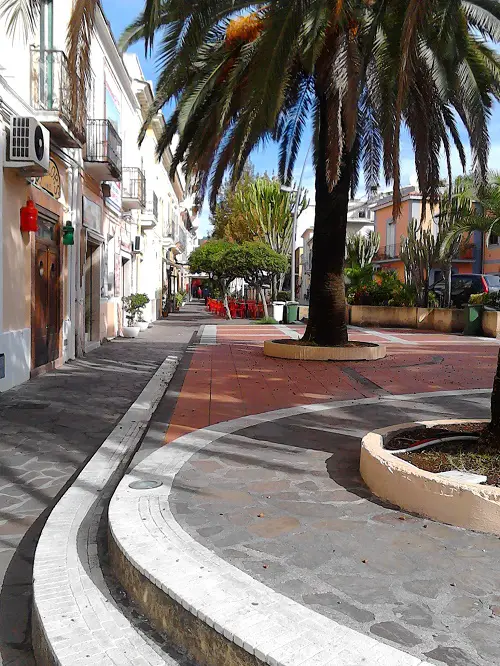 The next day I explored Praia a Mare. I spent most of the day on the beach and after resting, I headed to the town centre. It is a modern town with plenty of shops, bars and restaurants in the centre, but along the seafront, you can find everything.
Watersports, beach bars, nightlife. It attracts a lot of young people from nearby Naples as Praia a Mare is only about 2 hours and 30 minutes from Naples by car.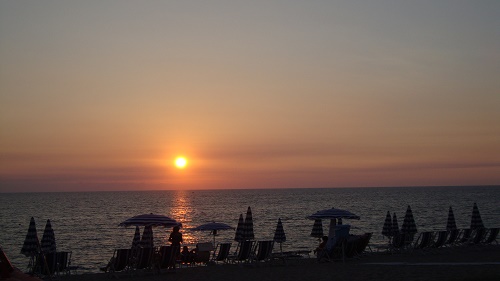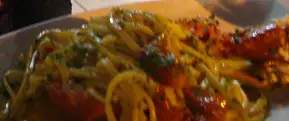 I had dinner on the beach with a glass of Calabrian wine overlooking the famous island of Dino. I went early so I could catch the sunset and sip an aperitif. The sunsets along this coast are spectacular and should not be missed. Boat trips to the island of Dino are also a must. I wanted to stay longer but had already booked my hotel in Maratea, which I would not have missed.
Day six – Tour of Maratea
The morning after, I drove to Maratea (18 km from Praia a Mare). I kept the best one till last. This was a real surprise. A very winding road with spectacular views where you can see the giant white statue of Christ wherever you look as is is perched high up in the hills. The coast of Maratea is breathtaking.
The pretty port of Maratea
I walked around the pretty port which has some nice restaurants overlooking the sea. Fresh fish is the speciality of this area and you will find plenty of seafood. It was getting hot and I could not wait to get into the water. I stopped off at a beautiful bay for my afternoon swim. It was paradise.
The bays and coves of Maratea
There was hardly anyone there. This is the beauty of these bays and coves, quite often here and in Calabria you can have the place to yourself. Most people go to the lidos on the beaches where they can have a sun lounger, parasol and bar service.
The town centre is extremely pretty with lots of colourful buildings, churches, shops, bars and restaurants. I stayed in a beautiful hotel with spectacular views of the coast. Seeing the whole coast sparkle at night is something special.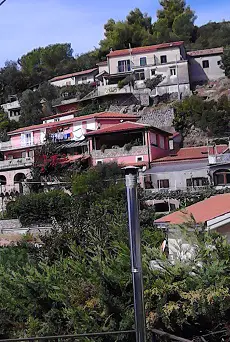 You will see lots of colourful villas painted in pastel shades perched on the limestone cliffs of Maratea's coastline. Many wealthy people have built their homes here and I can see why. It is also very tranquil and unspoilt.
The drive to Sorrento
The next day after a delicious breakfast, it was time to drive to Sorrento. I would definitely stay in Maratea for 2 nights if not longer. It is recommended to stay at least two or three nights in each town. You can combine this with a visit to Sorrento as it is only a 3 hour drive away. There are plenty of hotels in Maratea. [widgets_on_pages id="Maratea deals"]
You can find all these places in my blog. I have described them in more detail in other posts and attached pictures and videos. Sometimes words cannot describe these places. You can read about my other tour here. There is still so much more to see in Calabria so sign up and follow me around Calabria.