The medieval villages in Calabria are full of charm, some are located 300 metres above sea level offering breathtaking views and hidden treasures. Each medieval village has something different for the visitor to see from the Byzantine fresco in Caulonia Superiore to the 5th Century monastery in Morano Calabro. There are too many to name, but I would like to share with you a few of my favourite ones.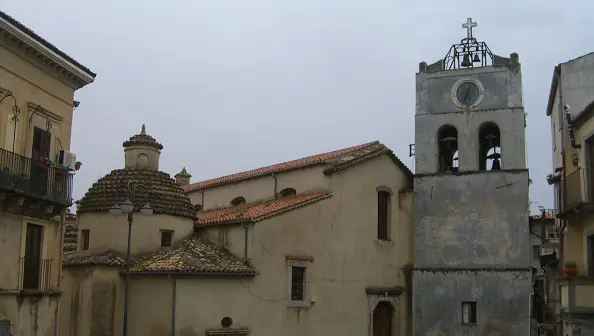 Some of these villages seem quiet, and sometimes a little ghostly as many of its inhabitants have gone to search for better opportunities in the North of Italy or abroad. Nevertheless, you will find that there are still plenty of people living there. Some of these villages have between 2000 to 3000 inhabitants. There are a handful of shops, one or two bars, small hotels and restaurants, but full of churches, noble buildings, fortresses, towers and other ancient gems.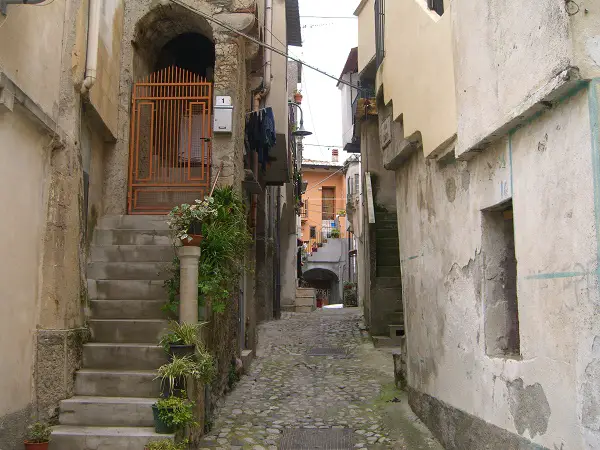 Medieval villages
Going around these villages is like walking around an open-air museum. You can soak up the medieval atmosphere as you walk along the narrow cobbled streets. Most of these buildings date back to the Middle Ages and some even earlier. Some towns hold medieval reenactments like the town of Stilo with its cavalry parade every year in August. You can see the local people dressed in medieval costumes of the past. This is an event that you must see.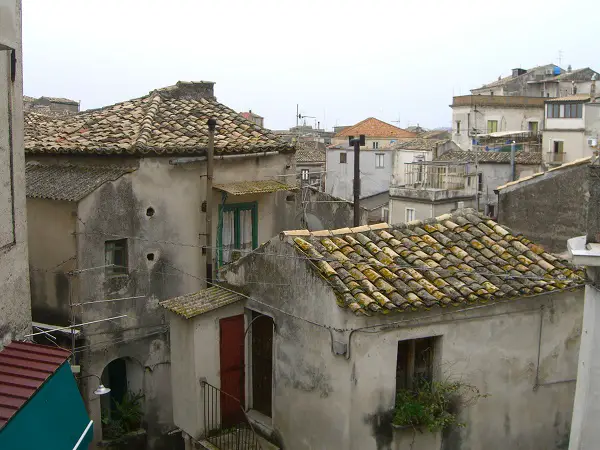 Some of the villages of the same name have a modern area built along the coastline. They started to build along the coast when flash floods destroyed many of the hilltop towns in the fifties. People were afraid of residing there and whole communities moved down to the coast. There is a real sense of community in these medieval villages. Some of them even speak the Greek language.
Some people never moved away and they all know each other. The houses are very characteristic with their slanted slate roof tops and small balconies and terraces. The local people are happy when they see visitors who have come to explore their village. The visitor is more than welcomed. They can't do enough for you, especially in coffee bars and small shops.
One of the churches
I remember visiting a village keen to see one of the churches there. Unfortunately, it was closed so I asked someone when it would open again. He told me that this particular church is only open on request and that he would go and ask the guardian for the keys. I was overwhelmed by this kindness. Not only did the guardian open the church for me, but he was also my personal tour guide.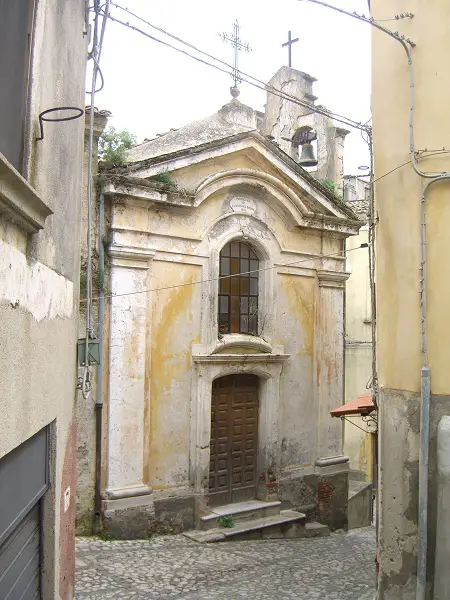 He knew everything about this church and told me its history and showed me around. Most churches are open in the morning or in the evening. They tend to close in the afternoon. Some of these villages also have museums so you can learn about the people and life in the past. I would like to mention a few worth visiting and what things you can see in these most popular Calabrian villages:
Caulonia Superiore for its 12 churches and fresco dating back to the Byzantine period. The church of San Zaccaria was badly damaged by the earthquake in 1908, but the fresco survived. The fresco depicts Christ between the Virgin Mary and Saint John the baptist. It is almost intact and definitely worth seeing.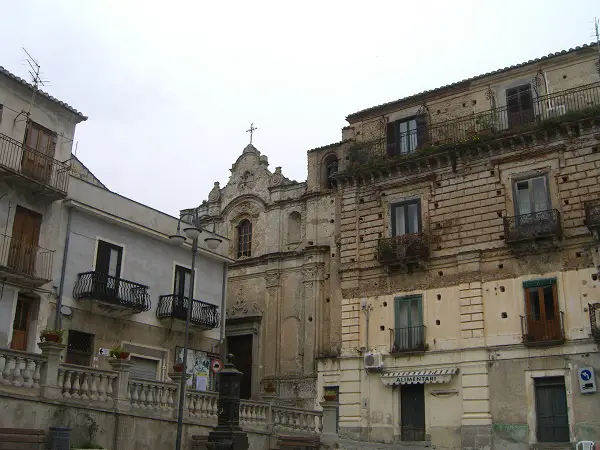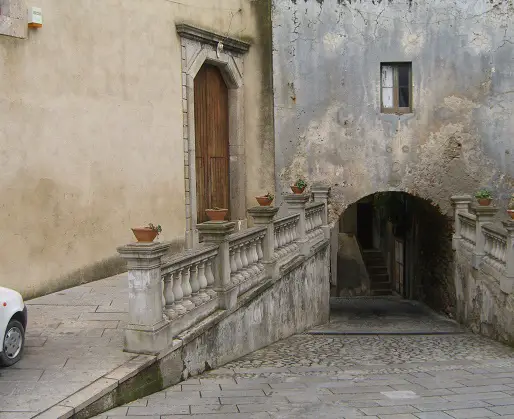 Tarantella festival in Caulonia
It is a pretty medieval village with breathtaking views of the coast. There is part of a ruined castle located high above the town. You can visit most of the churches and two beautiful squares where there are pavement cafes and noble buildings. There are also a few good restaurants in this village so it is a good idea to stop for lunch. Caulonia Superiore is also famous for its Tarantella festival in August attracting thousands of visitors from all over the world. You can read about this festival in one of my earlier blog posts.
Badolato Superiore: another pretty village perched high up in the hills with wonderful views of the coastline. It once was an empty village and more and more people were moving away, but today thanks to many foreigners buying and renovating the properties, it is a very lively town and well visited. There are also many small artisan shops in Badalato.
Panoramic views
The views from the town are incredible and as you enter the town, you immediately come to a pretty square with benches and a panoramic view point where you can see most of the coastline below. There are pretty narrow streets to explore leading you past churches and quite often you see people sitting on their doorstep chatting to neighbours. The processions here are incredible to watch. The other highlights to look out for in Calabria are: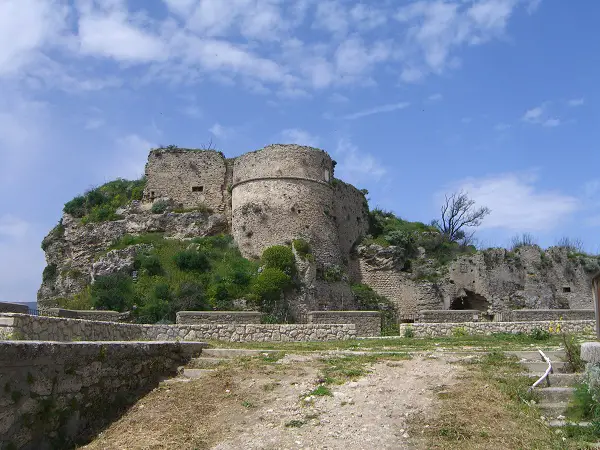 Stilo: for its byzantine church, castle, views and cathedral
Gerace: for its Norman castle, cathedral, characteristic streets and view point
Morano Calabro: for its 5th Century monastery, castle and farming museum
Altomonte: for its Norman tower, castle, churches, amphitheatre and museum
Santa Severina: for its Norman castle, cathedral, churches and beautiful squares
Corigliano Calabro: for its imposing castle, Clementine museum and churches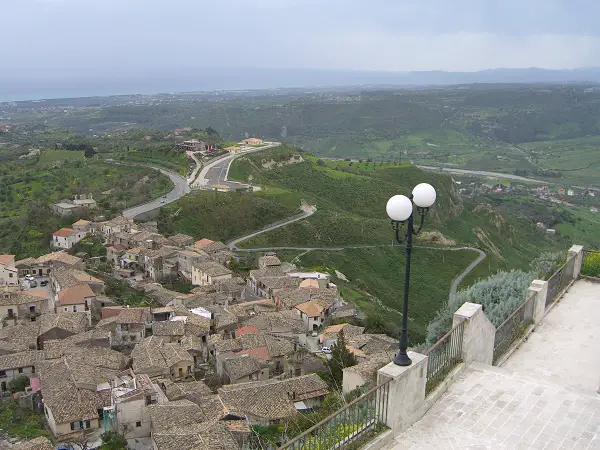 Medieval village hopping in Calabria
These are just some of my favourite ones in Calabria. There are many more. Each village has something unique to offer. All of the villages are well visited with bars, restaurants and accommodation. Festivals and processions are held in these villages all throughout the year. I recommend staying a couple of nights, especially during the festivals. Here in Calabria you can do village hopping. Choose a few villages and spend a few nights in each one.
You can really learn about the place and its people. The views from these villages are also rewarding. Although they are high up in the hills, there is always a view of the coast and only a few kilometres away from the modern towns, usually called marina (seaside resort). The hilltop villages are known as Superiore, which means upper (in the hills).
One example is Caulonia Marina and Caulonia Superiore. The marina is 7 km from the old village. There are some public buildings and services in these villages, but the majority of them are located in the marina. Ceremonies, public announcements and festivals are in the main square of the hilltop villages.
Transport
There are buses from the marina towns to the villages in the hills, but are not very frequent while you will find plenty of buses going along the coast. You can also use the train to reach the marina towns and then the bus or taxi to take you to the hilltop villages. Most people use cars. A taxi is not very expensive (about 10 euro) and the driver will either wait for you or arrange to come back if you are visiting for the day. By visiting the villages in the hills, you get to know the real Calabria, rich in history and hidden gems wherever you look.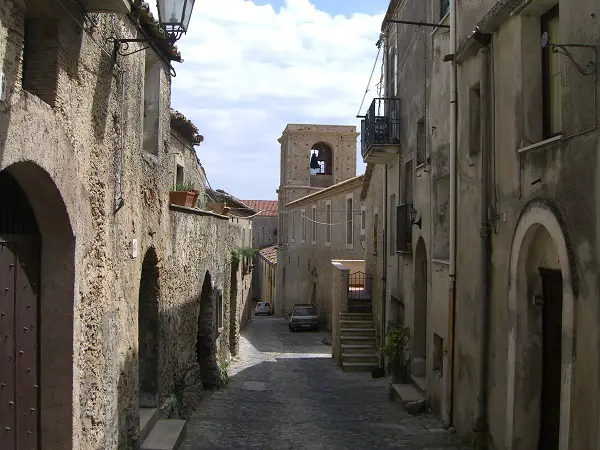 Gerace, Gioiosa Superiore, Caulonia Superiore, Stilo and Badolato Superiore are very close to each other if you want to stay in different towns or you can choose a base such as Caulonia or Roccella Ionica and explore the other villages from there. You can read about some of these towns in earlier blog posts and happy village hopping! Get ready to step back to the Middle Ages when in Calabria.