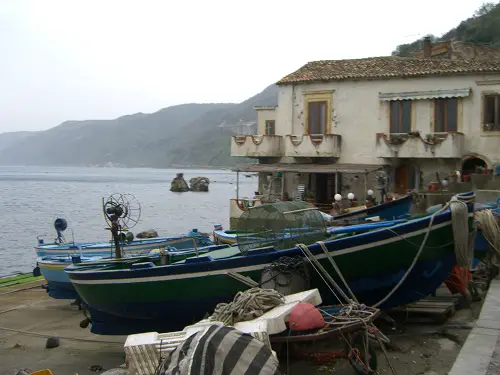 What is the climate like in Calabria is a common question I usually get. The climate in Calabria is almost perfect 12 months of the year. Hot summers and mild winters. This is due to its superb location close to Africa. Calabria is right at the toe of Italy on the border of the Basilicata and Puglia regions facing Sicily.
Most people know that Italy resembles the shape of a long boot. The toe is Calabria between the Ionian and Tyrrhenian sea. The mild climate is the reason why many holidaymakers and retirees are starting to come to Calabria in the winter.
The climate from January to December
Many even have their own holiday homes which means they can come for longer periods. I would like to share with you my experience of the weather from January to December in Reggio Calabria which almost touches Sicily.
Only 5 kilometres across the straits of Messina and you are in Sicily. Calabria's climate is similar to the island of Sicily so we can also enjoy a mild climate during the winter and hot summers.
The coldest months of the year in Calabria is January and February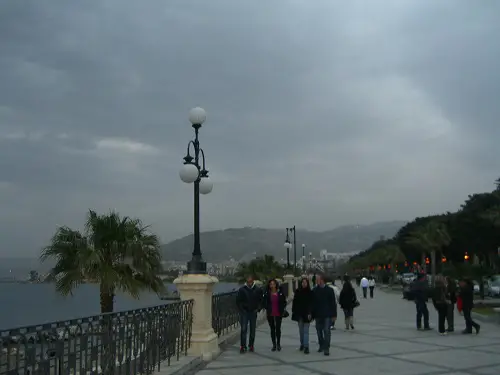 January and February are the coldest months of the year. I was very surprised with the drastic temperature change on New Year's eve. The week before, I was enjoying beautiful sunshine in 20 degrees Celsius and then all of a sudden, I was forced to put on heavier clothes, a coat and a scarf at night.
It was a damp cold. About 8 degrees celsius and very cold during the night. Actually, the locals were more heavily-dressed than me. Most of the houses in Calabria are built to keep them cool in the summer but what about the winter?
I learnt that most people just put on layers of clothes to keep warm. I also noticed that it was warmer outside than inside. Saying that, people who live in the mountains have their homes well-equipped. Most of them have log fires.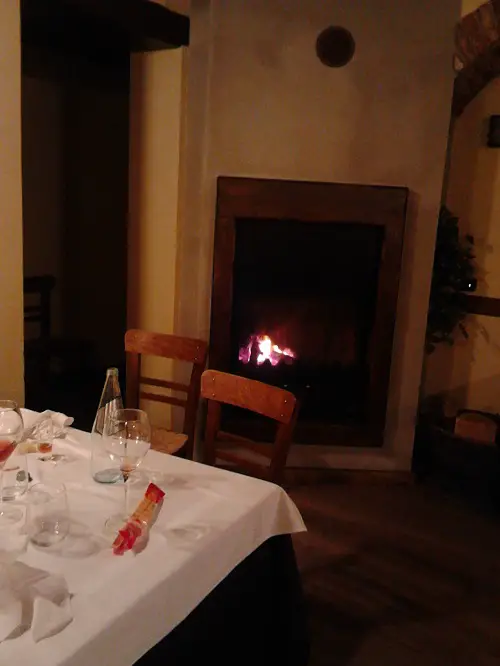 Most of the restaurants and farmhouses have pellet stoves or log fireplaces which makes it very cosy in the winter. It is a delight to eat in a restaurant during this time.
Heating in homes
Residents in coastal resorts use heating very occasionally. It usually consists of a heater with a gas bottle as heating can be very expensive to run.
I was not sure how I was going to cope with this cold weather not having any appropriate form of heating, I was getting slightly apprehensive and then after a few days, the sun came out. It was not hot enough to go sunbathing, but it was pleasant and wonderful to feel that warm feeling again on your skin.
When in the sun, the temperature would be 15 degrees celsius and the lowest 7. This lasted for a few days and then again another cold snap with some rain and wind which only again lasted for a few days. This was the kind of weather I was experiencing during the months of January and February.
The sea storm
In between the cold days, there were some windy days with very strong wind and sea currents. There was also a sea storm which caused a little damage to some of the seafronts along the coast and the occasional landslide. I could hear the sound of the waves fiercely crashing against the rocks and wanted to see the sea.
It was incredible, though the height of the waves frightened me so much so that I decided to stay well back, and eventually return to my lodgings. The sea was extremely rough.
The locals assured me that this was quite normal for this time of year and that they would repair any damage before spring. A few days later, the sea was calm and it was warm again. At the end of February Calabrians start preparing for Carnival.
The climate in March and April in Calabria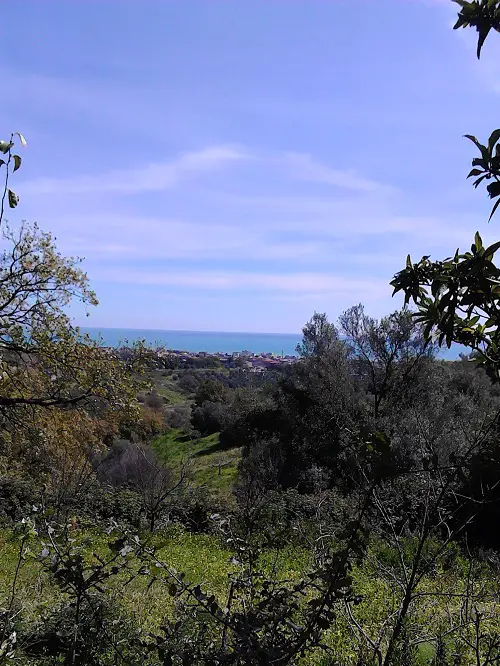 This is the kind of winter you can experience in Calabria. Only two short months of cold weather. March and April are usually pleasant months with some spells of rain and cloud. The temperature is around 17 degrees Celsius and then starts to slowly rise every day.
You only need a light jacket, but still warm clothes. This is wonderful weather for sightseeing, hiking and going for leisurely walks. It is usually two months of celebrations between Carnival and Easter which are definitely well worth seeing.
The climate in May in Calabria
We can see a dramatic rise in the temperature in May, 24 degrees Celsius. This is celebrated with the public holiday on the 1st of May where many Calabrians go to nature spots to enjoy a picnic. Winter clothes are put away and light clothes are worn. Even the different types of food eaten depend on the weather.
Fruit and vegetables are chosen according to the season. You cannot find locally-grown oranges in the summer as they are only abundant during the winter months, although you can still get them in the supermarkets originating from other countries.
The climate in June, July and August in Calabria
June, July and August are the hottest months. We can see temperatures in the region of 28, 30 and 31 Celsius. June is not as hot as July and August, however, it is still hot enough. You will probably need to use air conditioning as it may get unbearably hot in August.
Nowadays, most local people are starting to use air conditioning units, but not all. Some people stay indoors as the houses are very cool in the summer. Ceramic flooring also keeps the houses cool. All hotels have air conditioning or fans.
Enjoying the cool air and beaches
Calabrians who live in the mountains can enjoy the cool air. There are many mountain resorts in Calabria. You can always enjoy the sea breeze if you stay in seaside resorts. This hot climate allows people to enjoy outdoor life especially, sitting in pavement cafes relaxing in the sun or some people even sit in the street outside the doors of their houses. Neighbours join them.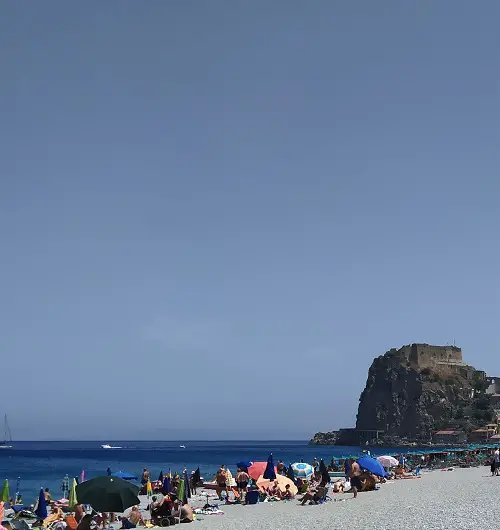 Some pavement cafes have sun canopies for those who seek a little shade. The sea is very inviting and many spend their summer days on the beach. In fact, beaches with lidos are extremely popular with holidaymakers from all over Italy and abroad in July and August.
Calabrians usually go to the beach late afternoon at about 4pm and stay indoors between 1pm and 4pm when the sun is at its hottest.
The climate in September and October in Calabria
September and October are two wonderful months and for me the best month is September. The temperature is about 25 to 28 degrees Celsius. The flowers start to bloom again and you can almost have the beach to yourself.
The water is still warm and you can swim. It is usually quieter in September and October as very few local people go to the beach and many holidaymakers and relatives have gone back to work in other parts of Italy or abroad.
This is the time when beach bars are dismantled and you can see wide sandy beaches. No lidos to be seen. It is warm during the day but you may need a cardigan at night.
The climate in November and December in Calabria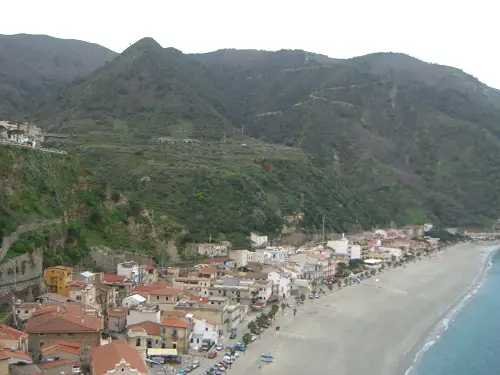 November and December are still sunny with temperatures between 16 and 20 degrees Celsius during the day. They go down to about 10 at night. You may have to wear a light jacket in November when you go out. It starts to get cold towards the end of December but you will still find many sunny days.
You will probably need a heavier coat in December and of course, in January and February. Most hotels have heating and provide you with warm blankets. This is a wonderful time of the year as people start to get ready for the Christmas and New Year celebrations. Most hotels organise Gala dinners for those days.
This gives you an idea of the climate and what kind of clothes to pack. This was my experience of the weather from January to December 2018. Enjoy Calabria at any time of the year in any season. There is always something to see and do. Read more here about the climate in Calabria.
You can also go on our guided tours at any time of the year, regardless of the weather. You can see here a list of tours .