The best way to see Calabria is cycling. You will love the cycling here in Calabria. There are different paths for everyone. If you are just a beginner and only want to go at your own pace, then most of the cycle paths along the seafronts are ideal.
But if, on the other hand, you are looking for something adventurous, Calabria has many spectacular mountain paths to explore. You will have a great time riding them.
Cycle paths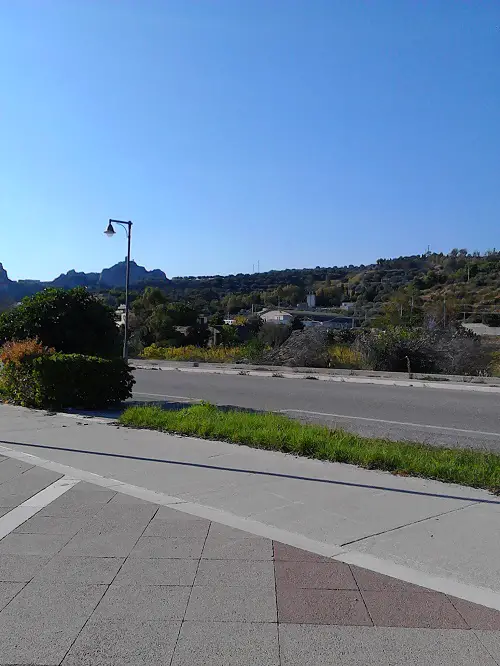 I have visited many towns in Calabria and have seen that most of them are ready for cyclists. There are cycle paths mostly on the seafronts where you can ride admiring the turquoise blue sea and there are cycle paths which lead you to nearby towns along the coast.
It is wonderful to be able to ride and not have to worry about cars behind you, and you can always look at the sea.
Get around Calabria cycling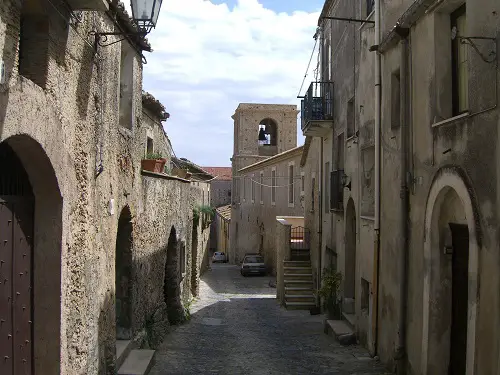 You can see so much on a bike, incredible scenery, spectacular mountains everywhere with paths and dirt tracks going up to hill top villages. Calabria gives you the opportunity to enjoy the sea, countryside and mountains. The scenery is different wherever you go. There are many medieval villages to see.
Cycling past ancient buildings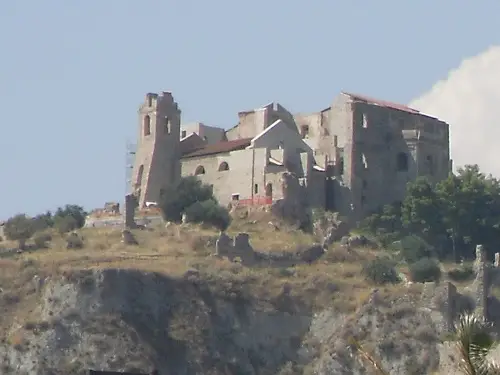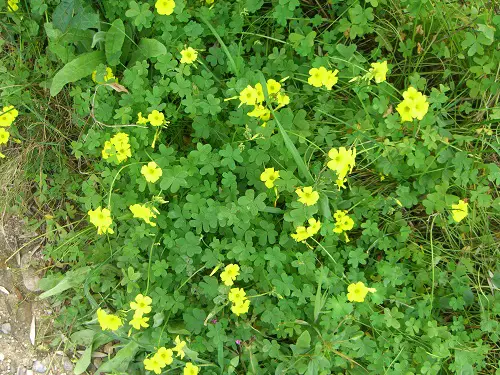 You will see many fields with olive groves, citrus trees and beautiful wild flowers. Cycle past ruins, Saracen towers, monuments and imposing castles. Stop when you want to visit palaces, once inhabited by rich and powerful noble families such as the Carafa family.
Cycling for everyone
The coastal towns are ideal for families to go cycling. You can see many families cycling along the promenade.
Some towns are on the flat which makes it really easy to cycle. Other towns may be hilly so might be a little tiring. This of course depends on your experience and fitness level.
Roads for cycling
I go to towns near me where it is flat. This makes it very relaxing. I just go at my own pace and have to say that each cycle is an incredible experience.
I only have a small bike and definitely do not know how to climb mountains, but I see many riders head up to mountain villages on their bikes. They always look so well prepared with their special clothing and protection wear.
I usually just wear something light, depending on the weather. It is a complete new world being able to see Calabria on the bike. I would like to share with you one of my cycling days in Calabria.
One of my cycling paths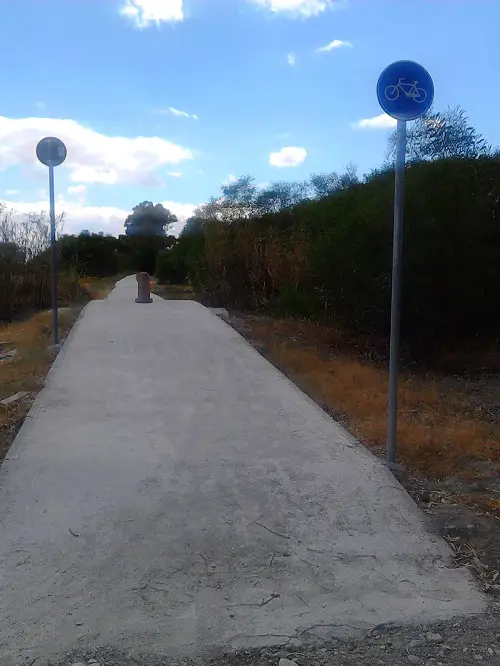 This is one of the cycle paths I enjoy riding on my bike with my friend. We usually take the short cut from my home onto a hilly road. Unfortunately, this is the difficult part of the ride as you have to go up the hill, but then the fun part comes when we cycle down it.
It is like flying through the air until we reach a narrow tunnel, which is not used very much by road users.
Olive groves and citrus trees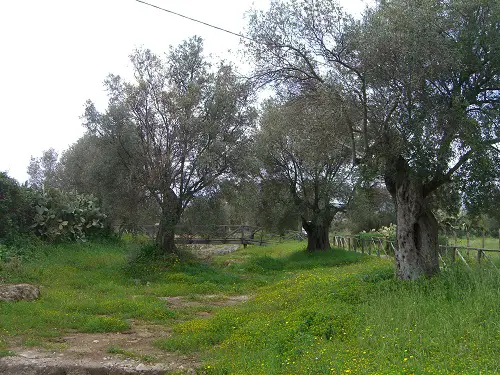 There is a long track after the tunnel. We go along this track passing many fields with olive groves and citrus trees. We can smell the oranges as we cycle past the orange groves.
Being up high on the saddle allows us to see over some stone walls bedecked with jasmine into those lush green fields with plenty of fruit trees. This path takes us over a couple of footbridges until we can see the beautiful turquoise sea ahead of us.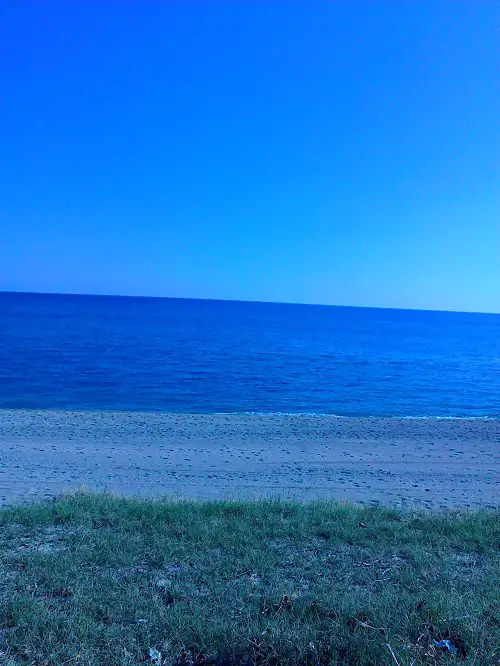 We cycle alongside a beach sometimes stopping and going for a swim until we come to a shaded wood with pine trees. After a short ride through this wood, we reach the seafront and cycle along another path reserved only for cyclists.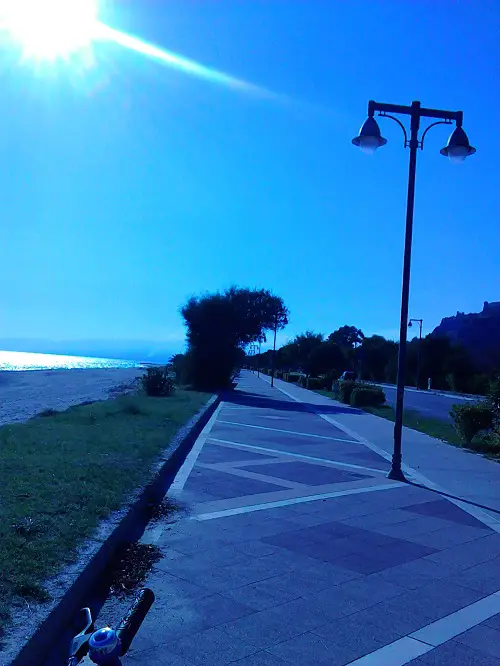 Cycling near the sea
As we cycle, we can see the soft white sand and the sea always in view. We pass beautiful villas with flowers everywhere until we come to a very pretty square where it is time to relax and fuel up for the journey back.
As we sit and have our coffee and cake, we can see a Saracen tower and noble palace in the distance. There is a pretty park opposite us with monuments and benches. The square is lively as everyone is relaxing in the outdoor cafes enjoying the sun.
Renting bikes
We are ready to continue our journey back. This is only a taste of what one can do on a bike if you are a beginner. It is a easy bike ride and lasts for two hours. We cover about 10 km. There are so many paths in Calabria so if you enjoy cycling you can bring your bike with you or rent one in the town you are visiting.
If you bring your bike with you and head into the mountains, make sure you have a comfortable bike seat for some bumpy trails. The bike seat I use is great. I have had it now for 3 years. It's really comfortable and has gel cushioning. You can get it for men and women. I have just bought one for my husband who has a hybrid bike.
Cycling towns in Calabria
There are bike shops in almost every town. You will also see the elderly riding their bikes as it gives them great exercise and most of the bikes have baskets to carry back the daily shopping. You will see many of them at the markets pushing their bikes to give them support and balance, and then off they go with their goods in their bicycle baskets. I am one of those, but not the elderly part just yet.
Many towns in Calabria are encouraging the use of bikes and electric bikes so they are becoming more and more popular. You can enjoy the fresh air or sea air as you cycle around.
Experienced riders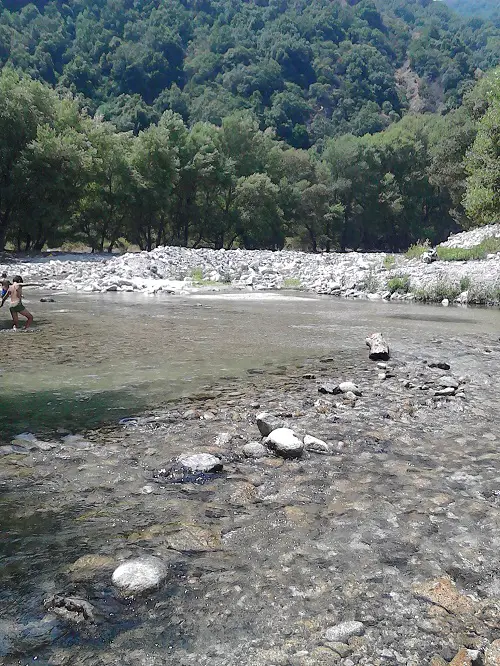 Most people will bring their own bikes with them, but if not, some hotels have bikes available. It is better to check this. There are also e-bike excursions. You will love what Calabria offers. Some of these paths lead you to waterfalls, plenty of nature, ancient monasteries and other interesting places. [widgets_on_pages id="Cycling in Calabria"]
You will really be able to visit Calabria. More and more operators are setting up in this region as they realise this is a popular way to get around. You can also read about driving in Calabria here.