Southern Italian sunsets are a real spectacle to see, especially when you are close to the sea. There is nothing more rewarding than waiting to see the sunset from a balcony, roof terrace or some spectacular view point. You can be sure that this will become part of your daily routine when in southern Italy. You can enjoy appetisers and sip prosecco while waiting to see this incredible natural element with its kaleidoscope of colours.
Getting ready for sunsets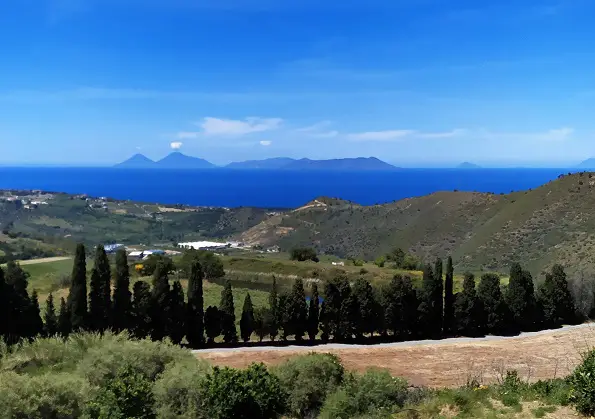 Why is it that we get so excited when waiting for the sun to set. Many people prepare for this extraordinary event. They book hotel rooms and villas that will guarantee them that view or even buy property close to the sea. You can see some pics here. Some local people have binoculars if the view is distant so they can still get a clear vision of it.
Appetisers are prepared along with tall flute glasses of sparkling prosecco. Other refreshing drinks such as bergamotto or granita are pleasant after a hot day in the summer. People know exactly what time the sun is going to set. They are ready for that very moment, even if it does not last very long. The spectacle itself is worth every second. I would like to share with you a few of my favourite sunsets.
The Aeolian sunsets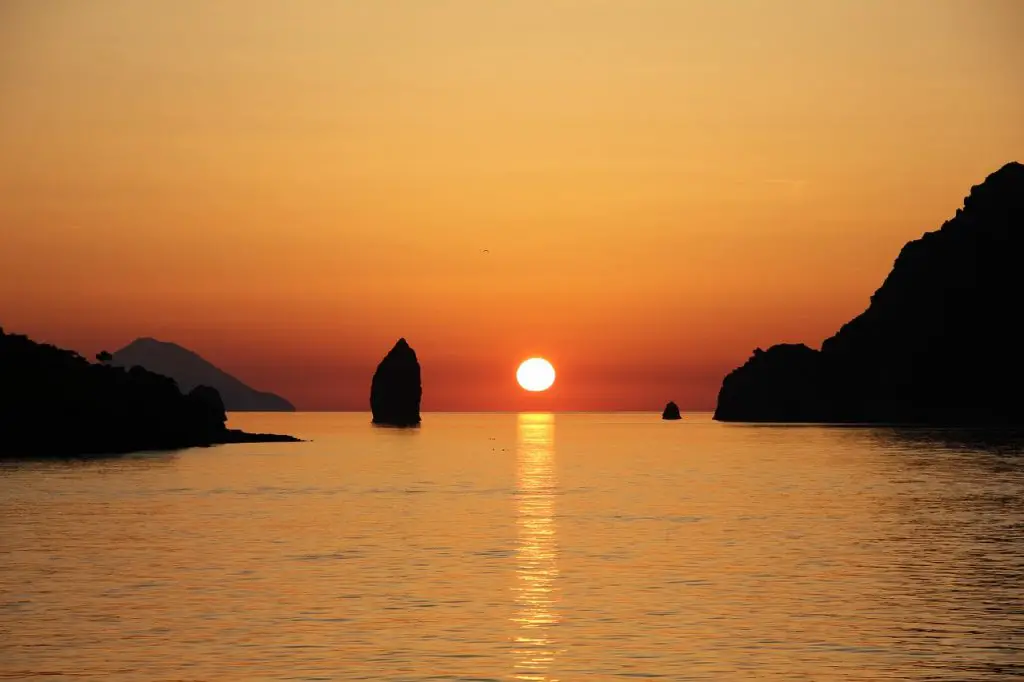 There is no doubt, that one of the most magical sunsets is the Aeolian islands in Sicily or if you happen to be in Milazzo, Tropea or Patti or along that coast, you can see the Aeolian islands in the distance. It might be far but actually from these places, it seems so close. This has to be one of the most incredible sunsets I have ever seen.
At first, the sun seems to be gliding along the water and then suddenly there is a burst of colour in the sky. Dark pink hues and then different shades of orange and finally an explosion of bright red all merging together to create that wonderful kaleidoscope of colours.
Sometimes, you can clearly see the smoke rising from the volcano of Stromboli. I recommend staying on the Aeolian islands. This hotel on the island of Vulcano is perfect for sunset enthusiasts. You can also enjoy a mud bath looking at the sunset in the public mud baths in Vulcano. There are a few wonderful restaurants directly overlooking the sea and faraglioni rocks.
Purple coloured sunsets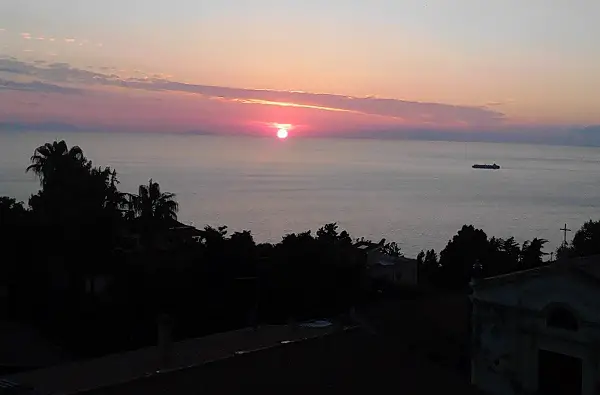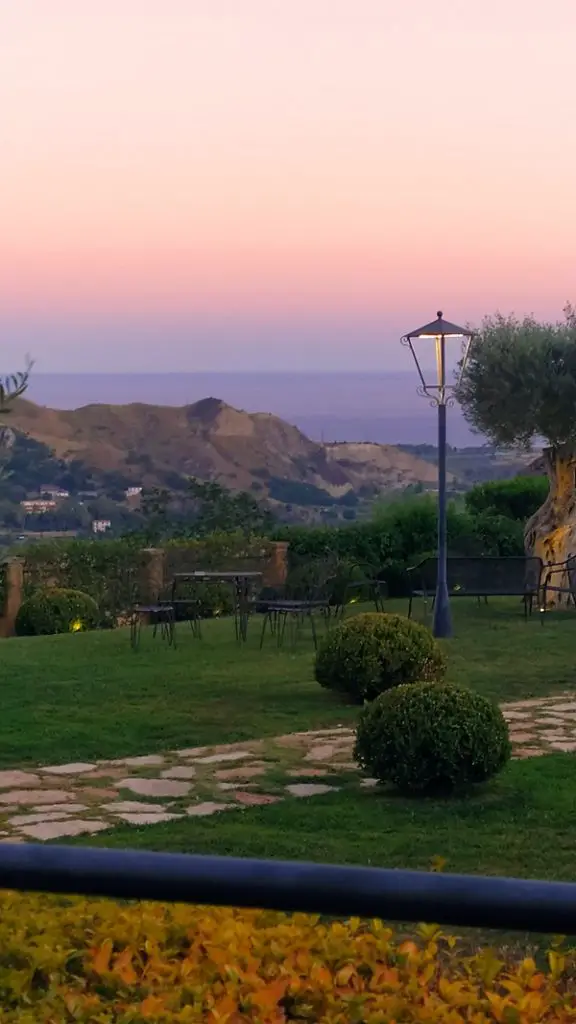 This is another experience. You can also take an evening boat trip to the volcano of stromboli from Tropea in Calabria or visit Stromboli, Lipari and Vulcano in one day. Read more about it here. I also recommend staying at least one night or more on the Aeolian islands to catch these sunsets. You can find a similar sunset experience in Palmi or Scilla. This coast is not called the purple coast for any reason. It is renowned for its purple coloured sunsets. The sky is filled with every shade of purple you can think of and lights up the whole coastline. Read more about it here.
My Diamante experience
There are many restaurants with terraces for people to watch the sunset and dine with a spectacular view of the Aeolian islands. We can also see this from the wonderful view point inside the public gardens of Palmi. Many hotels in Scilla (Calabria) have terraces and sea view rooms so you can enjoy these magical sunsets and incredible views overlooking the island of Sicily.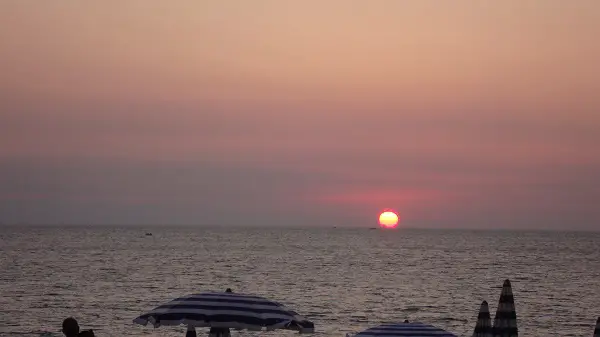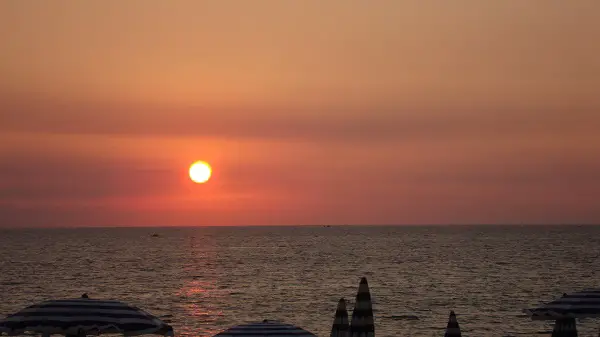 The sunsets in Calabria are just as breathtaking. Another vivid experience of a magical sunset I had was in Diamante in Calabria. The sun was just about to set. It was like it was so close to our hotel. It looked like a huge ball floating in the water and then suddenly there was this bright explosion of yellow and orange colours lighting up the sea and the whole of the coastline.
Most people were already on the hotel terrace sipping drinks and enjoying light-bite snacks. We saw if from the hotel's private beach. Another incredible sunset. Many wedding couples in southern Italy have their appetisers first at sunset and then the rest of the meal after, so it creates a special and romantic atmosphere.
There is something so powerful in these sunsets that we cannot wait to see them. Perhaps, more so when we are on holiday or if we are so lucky to live in a place where you can see these incredible sunsets every day. Please share with us your sunset experience.