Imagine combining your Calabrian experience with one of the most relaxing activities. I would like to share with you my experience with yoga in one of the most beautiful regions of Italy. Calabria is a place where you can completely relax. The whole population in Calabria is about 1.9 million inhabitants spread out all over the region. If you go to the beach in the summer months except July and August, you are likely to have the place to yourself. This is a great opportunity for yoga enthusiasts and beginners to practise.
I searched high and low to find a class. It depends on the area you are in, but most towns in Calabria and hotels offer this service and it is becoming increasingly popular also among young people to practise yoga. I had never done this before, and it really appealed to me as I could not wait to get some lessons under my belt so I could then head off to some remote beach where I would have the opportunity to practise these poses without many people around.
Calabrian beaches are perfect
I certainly had that opportunity as in Calabria if you go out of season (July and August) you do not see many people. Unlike other areas in Southern Italy, people would be on the beach starting from April to October. I was worried that people would think who is that mad person on the beach and what on earth is she doing? Luckily, I managed to find a part of the beach where there was hardly a soul in sight.
The ideal climate for yoga
You will find in some areas of Calabria groups doing yoga on the beach as there are some retreats scattered around. I think April, May, September and October are ideal months as it is very quiet and the climate is not too hot. It is better to go to the beach early morning or late afternoon. Some yoga groups start as early as 8am.
I finally found a class in a private clinic. This took place once a week so it was a good opportunity to learn some poses ready for the summer. The yoga instructor taught Hatha Yoga, which involved lots of stretching. He was excellent. We learnt many different yoga postures. There were only 12 people. Some were very flexible and others like me struggled at first.
There were a few people aged over 60 who put me to shame as they were stretching their bodies like teen athletes. The instructor was very patient as some of us were complaining about aches and not being able to touch our toes. After a few weeks, he helped us overcome this. Overall, it was a very enjoyable experience.
A magical experience looking at the sea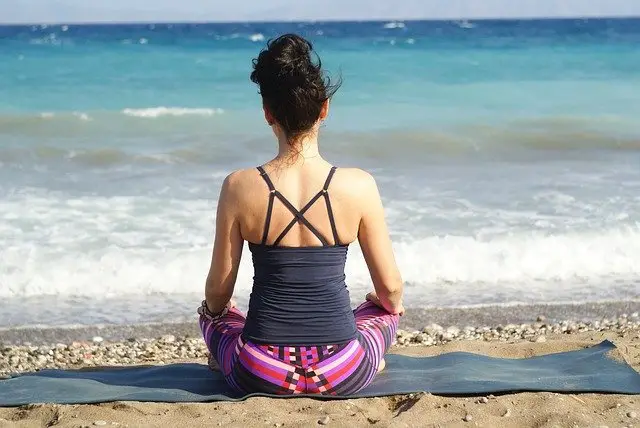 Finally the summer came and it was amazing. We would head off to the beach with our mats and yoga wear. I did not find it embarrassing as I was part of a group. Some passers-by stopped in amazement to watch us. The sand was soft beneath the mat which made the experience more pleasant. But the most magical part was doing yoga looking at the blue-turquoise sea. Hearing the sound of the waves and breathing in the sea air made us all feel very good and our bodies completely restored. After a few months, our instructor announced that the clinic was stopping the classes.
Everyone was disappointed as the location was perfect. It was winter so we all decided to continue this activity at home, but it really wasn't the same doing it alone and at home. Luckily, I could go to the beach in the summer and practise all the poses the instructor had taught me. Even though it was better in the group, this was still an amazing experience. I would continue to do my yoga on a very quiet and beautiful beach looking out at the sea and feeling like I was in paradise. Even sitting on a rock looking at the beautiful scenery around you makes it so easy to find that inner strength.
Yoga retreats in Calabria
The feeling you get from yoga is indescribable. But can you imagine how you feel when you do this on a Calabrian beach? Words cannot describe it. I noticed that many people are organising yoga retreats around Calabria. This is a chance for you to stay in a very quiet location where you can only hear the sound of birds or sea combined with excursions around the area and excellent food and wine.
This is ideal for people who want to do yoga every day in a group with a qualified instructor. They usually start with yoga in the morning, excursions, another afternoon session of yoga and then dinner all together. This includes accommodation and food. You can find many of these stunning retreats in Calabria. You can also read about sailing here.
Hotels offering yoga
For experienced yoga enthusiasts who want to see as much as Calabria as they can, you just need to pack your yoga mat and go to any beach to practise. Nowadays, most hotels offer this so if this is something you would like to do, you can check this with the hotels. Some offer spa facilities and treatments to make it even more relaxing.
I think anywhere you go in Calabria is perfect for yoga. The mountains are ideal as well as seaside resorts. The air here is fresh and most towns are relatively quiet except for July and August. There is also very little traffic in towns. If you are looking for tranquillity, nature, sea and mountains as well as good food and wine, Calabria is a perfect destination.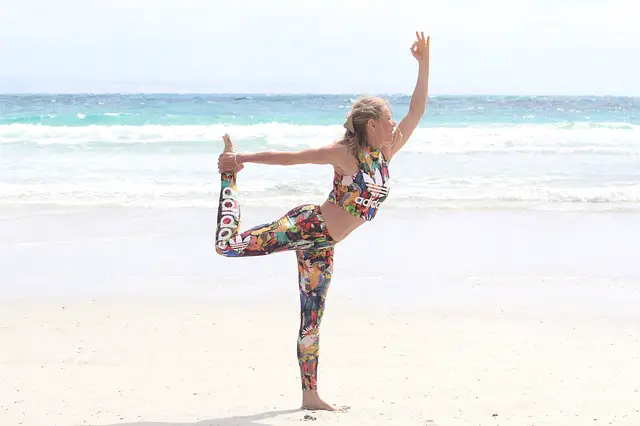 After a few months of missing my yoga instructor and fellow yoga peers, the instructor informed us that he had opened his own yoga school. Unfortunately, It was quite far to reach, but a joy to hear about the opening of this new yoga school. More and more people are including yoga in gyms as well as opening yoga schools. Calabria is a place where you can really meditate, relax and take in its astounding beauty. You can combine this with lots of wonderful walks, some cycling and lots of different excursions to choose from. I cannot wait for the summer for more yoga on the beach.