What is it about these Italian ceramics that we like collecting? As soon as we see one of these delightful objects, one gets quite excited even if we own several of them. I know a lot of people like that, including my sister and my good self. Ceramic sellers are overjoyed and proud to hear that their wonderful ceramics are very much in demand when people travel. People love collecting ceramics from different parts of Italy and other countries.
Ceramic shops online and collecting ceramics
Nowadays, you do not even need to travel to obtain one of those colourful ceramics to add to your already immense collection, you can find local shops online and they will look after the shipping and delivery making sure it is all in one piece when you get it. I have listed a few below.
Besides online shopping, if you can travel, nothing beats going around all the ceramic shops looking at the colourful objects that could become part of your collection. I would like to share with you my favourite ceramics and how they came into my possession:
1 – mosaic garden table with chairs from Sorrento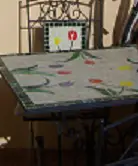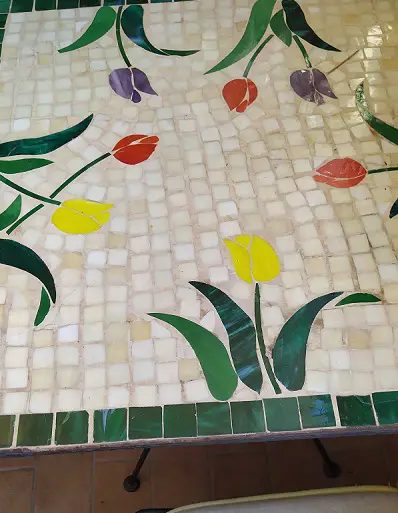 This table is my pride and joy. It was the first ceramic item I had bought when I first started travelling in Italy. I travelled from Sorrento to Calabria with the table in the back of the car, and not one mosaic tile was out of place.
I must admit I was worrying the whole journey even if I had packaged it well. The base is made of wrought iron and the table top mosaic tiles displaying flowers using red, yellow and green colours. Before I brought it to Calabria, it lay for years in someone's garage in Sorrento collecting dust. I knew one day I would finally be able to put it on my balcony.
These look amazing in gardens and balconies. Sorrento and the Amalfi Coast gave me the inspiration to buy it.
2 – Greek or Sicilian head vase from Seminara
These heads are fascinating and so colourful. Many people collect them. There is a dispute at the moment as to whether my head comes from Calabria or Sicily. I was told Seminara in Calabria and it was a gift so I dare question it. Regardless of its origin, it is so decorative. You are supposed to put flowers in it. The story goes that a lady from Sicily fell in love with a distant traveller.
He could not return her love so she cut off his head and put it in a vase with flowers all around it. She then placed it on her balcony and all the women who saw it were in raptures and imitated the vase. I don't plan on cutting anyone's head off so I will leave it empty. You can find similar ones here from Sicily. They usually sell them as a pair.
3 – ceramics from Calabria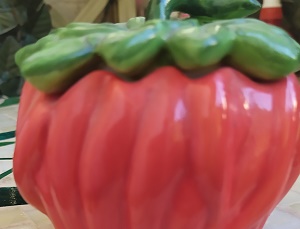 Calabria is full of souvenirs and ceramics in the form of a chili pepper. Symbol of Calabria, you will find them everywhere. The colours are bright red and green. It looks stunning in the kitchen. I usually use it to serve sauces and my dinner guests love it. You can read more about chili peppers in Calabria in my earlier blog post and you will understand why Calabria is the land of the chili pepper.
4 – the pine cone – ceramics from Sicily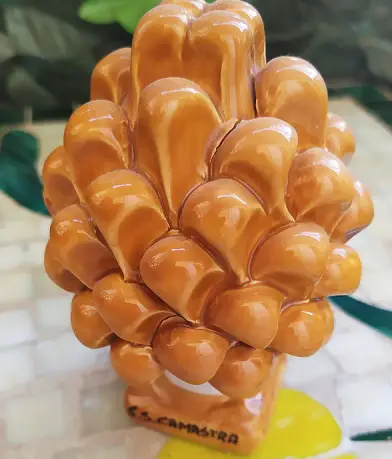 Sicily really is the land of ceramics, their colourful objects can be seen from miles away and as you get closer to them, you get more excited especially in ceramic towns like Taormina, Santo Stefano di Camastra and Seminara. You can read more about these towns in my earlier blog posts.
You have guessed it. I am a ceramic enthusiast and love collecting them. You can spend hours browsing in these ceramic shops.. Husbands and partners better get a coffee. If you prefer not to travel, you can find a similar one here.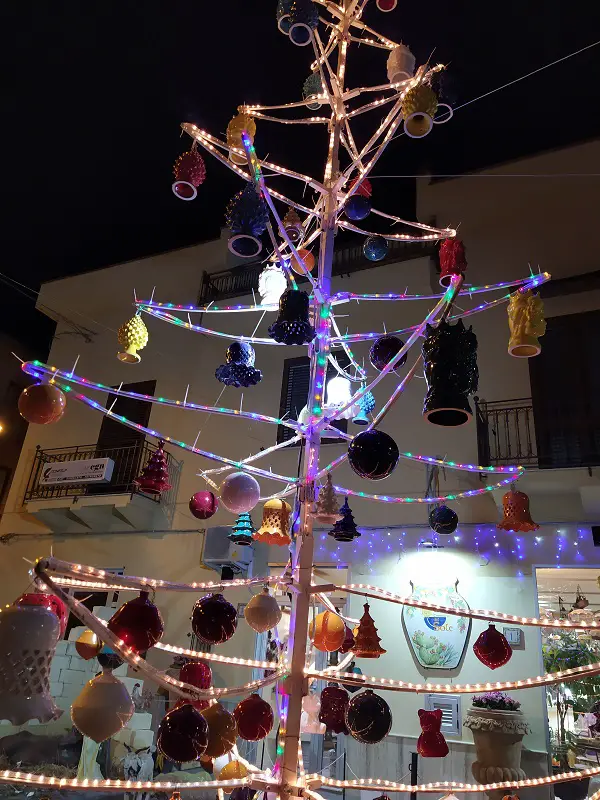 The pine cone caught my attention at Christmas time when I was visiting. A Christmas tree was full of them all in different colours. I then raced to the nearest ceramic shop and bought this pine cone. The story goes that if you give them to your loved ones, they bring good luck and prosperity. They are also a symbol of fertility. They come in different sizes. I love the ones that are placed on the corners of a balustrade terrace.
5 – ceramics from Seminara
The Seminara masks are unique in Calabria. They are hung outside one's home and are said to keep evil spirits away. There are lots of different shaped objects such as the fish from the Magna Grecian period. I bought the mask during my visit to Seminara.
You can read about it in an earlier blog post. The ceramics are very colourful with a shiny finish using Mediterranean colours such as green, yellow and blue. I actually have it hung up in my living room and it looks really nice.
6 – Pulcinella from Naples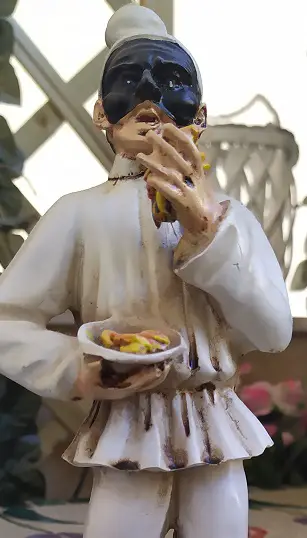 I was going on a cruise from Naples so I had to travel there from Calabria. I stayed in Naples for a few nights and could not help buying Pulcinella, an amusing character from the 17th century, often used in puppet shows similar to Punch and Judy.
7 – tray with two espresso cups from the Amalfi Coast.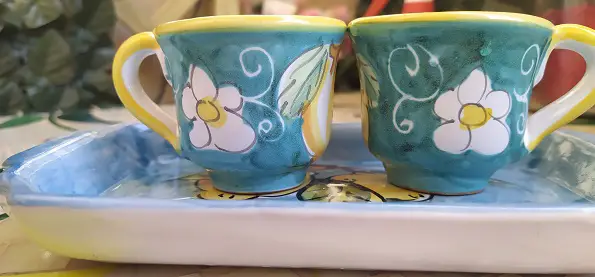 I bought the tray separately. Quite often when Italian people invite you for a coffee, they put the cups on the tray. I really like the colours and the lemons. The main ceramic centre along the Amalfi Coast is Vietri sul Mare. You can find similar ones here.
You can also buy them directly from the factory, I bought these during my weekend to the Amalfi Coast travelling from Calabria. You can read about my weekend in my earlier blog posts.
8 – ceramic cup and plate from Tonnarella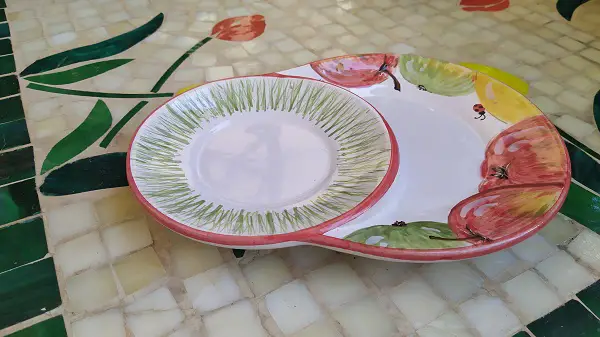 I bought this cup and plate in Tonnarella during my weekend to Porto Rosa in Sicily. I use it for my coffee cup and biscuits. There was only one shop so everything was that little more expensive than other shops, but I couldn't resist it. I instantly fell in love with it. I could see an elderly lady working in the back shop so I knew it was authentic. You can find a similar one here.
9 – The small Sicilian head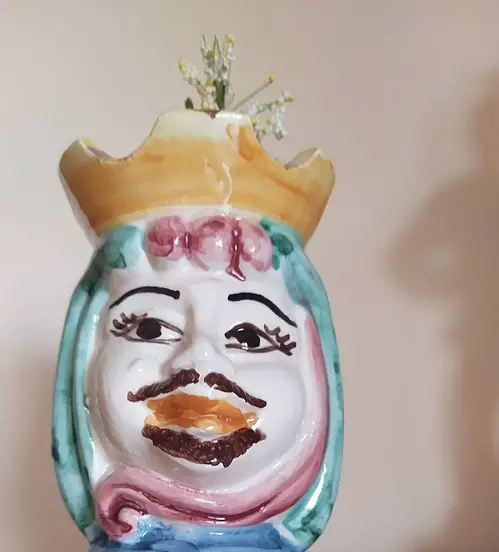 We went for an aperitif to this bar and all the tables had those little heads on them with napkins. They were very pretty to see as there were many of them so I bought one for my mosaic table. You can find small ones here.
10 – The napkin holder from Seminara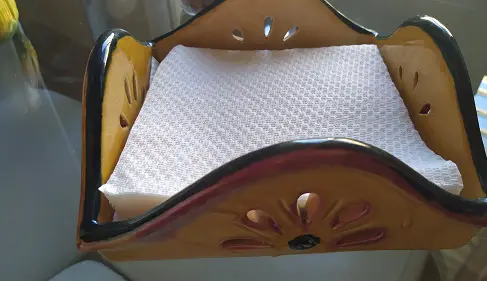 Collecting authentic ceramics
I like the idea that your dinner guests can just help themselves to napkins so I bought this beautiful napkin holder from Seminara. Sometimes, you cannot be sure if objects have actually been made in the local area. Many of the expensive pieces in Seminara come with a certificate of authenticity.
Ceramic sellers are happy when they see how much tourists appreciate their craftsmanship. They need people like us to keep their businesses alive. It would be so sad if they stopped hand making them. The object would not be the same. Depending on how much you buy, sellers even throw in a ceramic freebie.
Ceramic lovers will be in heaven in Calabria and Sicily collecting ceramics. For ceramic enthusiasts, I recommend visiting Taormina, Santo Stefano di Camastra in Sicily and Seminara in Calabria for a real ceramic experience. I understand why we like collecting ceramics. Let us know about your collection or favourite ceramic piece in the comments. Subscribe to receive new posts.