There are many beautiful parks in Calabria, including an unusual one which I will describe in this post. First of all, Calabria is surrounded by greenery, forests, agricultural land and mountains. There is nature everywhere and of course, it is famous for the renowned national parks of Aspromonte, Pollino and the Sila. There are many others which are less known, perhaps only the local people know they exist. I was lucky to have met a Calabrian couple who took us to a very unusual park in Catanzaro.
The devastating news of Aspromonte
It was the 15th of August, the day when all Italians usually head to the mountains or beaches for a picnic. The temperature was soaring, well into its forties. We were hoping to go into the forest for our usual picnic, but had heard the devastating news that most of the forests, including Aspromonte were on fire. Calabria had never seen temperatures so high nor had there been so many fires in the month of August. There had been the occasional one in July or August in the past, but never on a scale like this.
It had not rained for at least 3 months and everything was very dry. There were alerts to keep away from the forests so we decided to go to to a small park in the middle of Catanzaro. As we were driving to Catanzaro, we stopped first at a wonderful beach on the way to cool down. It was extremely hot. Luckily, we had air conditioning in the car. There were not many cars on the road.
A paradise park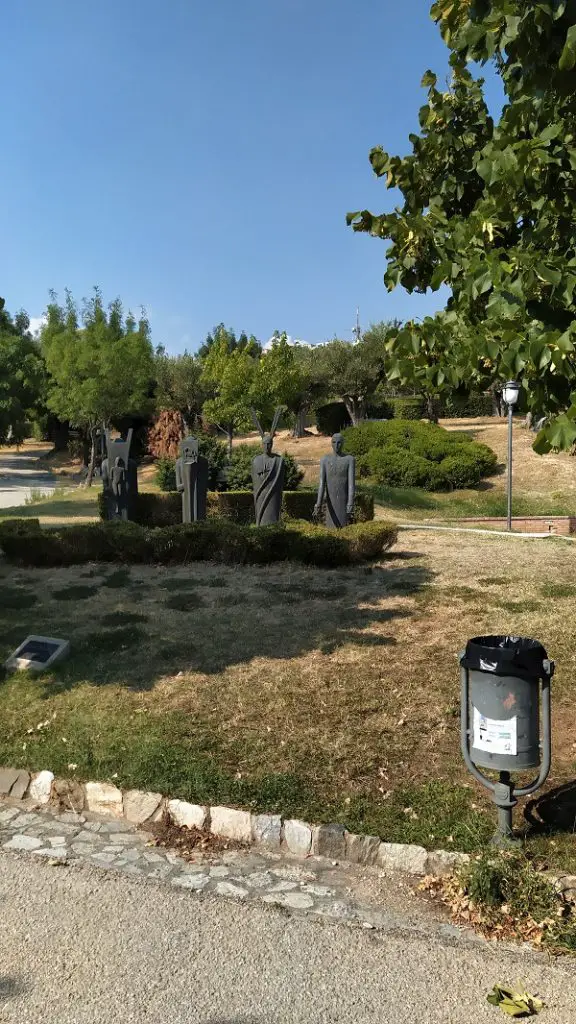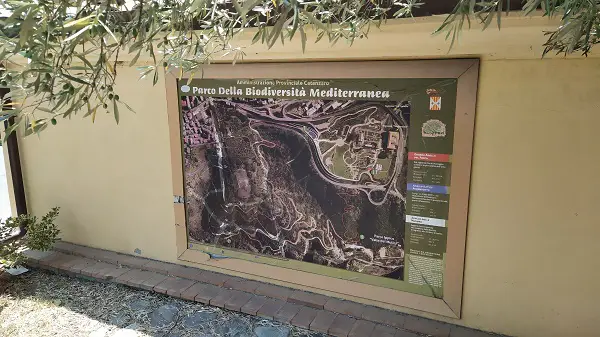 After spending some time on the beach or rather in the water as the sand was quite hot and it was too hot to sunbathe, we decided to head for the park. Actually, I had heard about this park, but never had the opportunity to go. I was a little hesitant thinking about the crowds of people in that park but when we got there, we were pleasantly surprised. There was hardly anyone there. This could have been due to the very high temperature.
It was like having the park to ourselves. It was open and free of charge. This park is next to the main hospital "Pugliesi" in Catanzaro. It was like walking into another world. The park was immaculately clean with well-manicured lawns and plenty of trees to find shade. As we entered, we saw the most unusual spectacle.
The unusual statues in the grass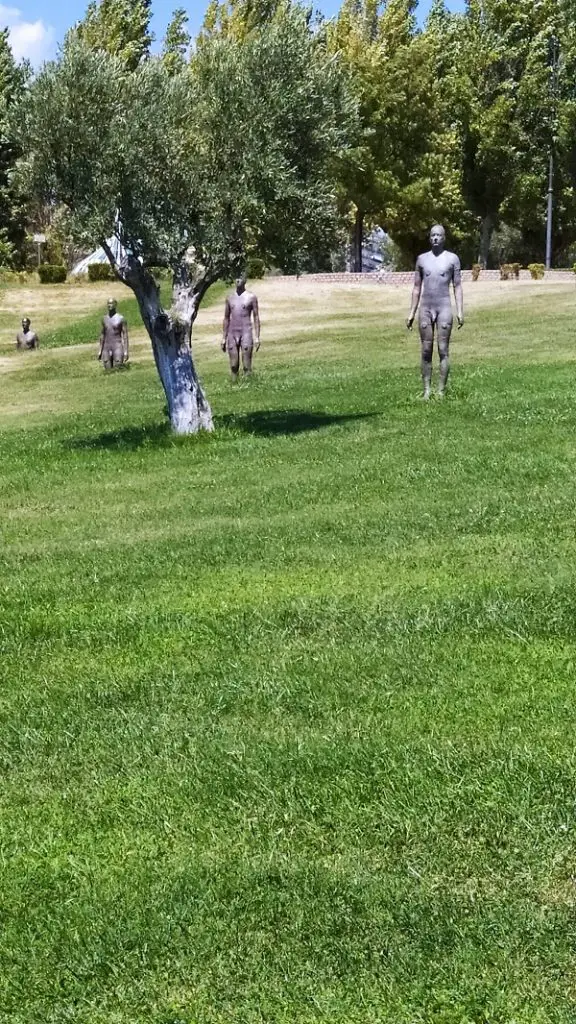 A line of statues were standing in the grass, and as you went close to them, you could see that they were disappearing into the ground. They are incredible pieces of artwork. One of them is completely below the ground, just leaving his head visible. It was something you did not expect to find in a park. However, this is no ordinary park. In fact, they call it the park of biodiversity where you can find a mixture of flora and fauna as well as unusual art work.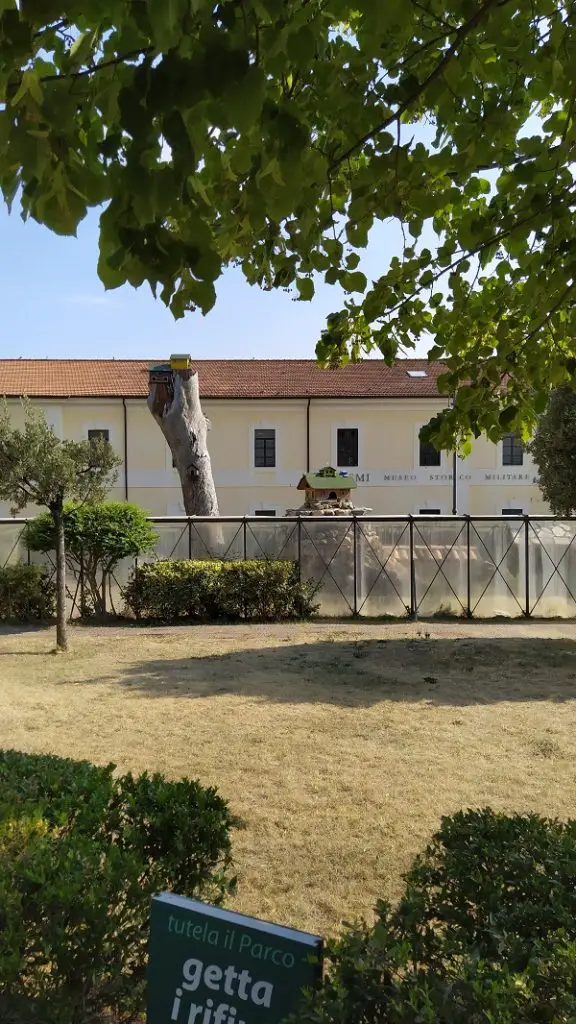 The other sculpture which I found unusual for the setting was a ballerina dancing on a red ball perched on a pole. All of these unusual objects, however, blend in with the greenery of the park as there are endless species of trees. The setting is so beautiful that it takes your breath away. Besides artwork, there is a playground for kids, a military museum and a reserved area for birds and a pond with swans.
The picnic beneath the trees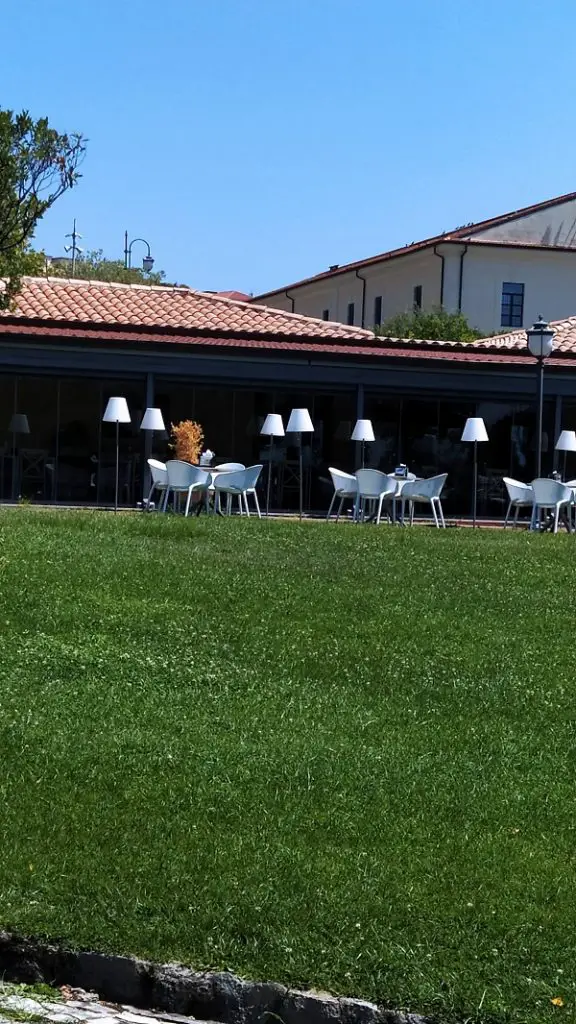 It was a surprise to find an elegant bar and restaurant right in the middle of this park. It blends in with the scenery. On one side of the building, there is a very elegant restaurant with white tables and lamps and on the other side, a bar with wrought-iron tables and weather-beaten chairs. There are also outdoor bathroom facilities in the park area and a few water fountains as well as plenty of irrigation sprays. I really wanted to go under one of them. It was very inviting given the hot climate that day.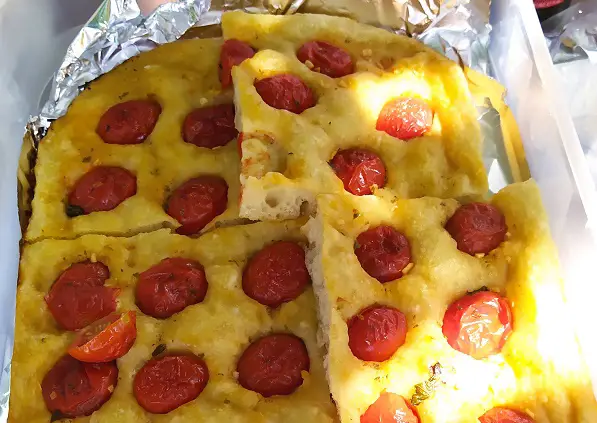 We were feeling hungry and decided to eat our picnic beneath an oak tree. We noticed a few others also having their picnic at the foot of the trees. You will find many shaded areas if you happen to go on a hot day like we did. Our picnic consisted of home-made foccaccia bread with olives and tomatoes, fruit and water. We then went to the bar and ordered lemon granita and later coffee.
The unusual quietness of the park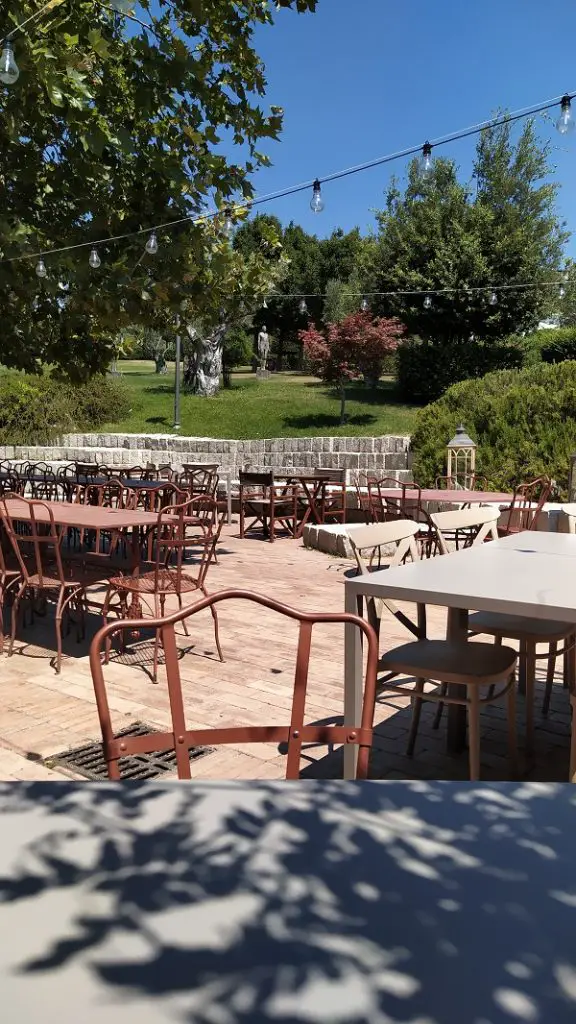 I noticed a large group of adults had brought their picnic to the bar table and I suppose as long as you consumed something at the bar, the staff did not seem to mind. It was a very quiet day and perhaps they were not expecting so many visitors. A couple even brought their hammock and tied it to two olive trees. I must admit I was feeling a little envious as one of them was happily snoring away. The tranquillity of the park was indescribable, even the large group of picnickers were speaking in a low voice.
There were a few kids but I am sure the adults were keeping them well under control ensuring that they did not ruin this peace and tranquillity. You could only hear the sound of the crickets and nothing else. It was like there were notices around the park with the wording" Be quiet", but actually there was nothing like that. Most people were having a siesta under these wonderful trees.
Exploring the park
We walked around the park exploring it and I suppose we could have walked more, but the weather was against us. It was too hot to walk around. After trying to walk more, we collapsed yet again under another tree and spent more than two hours just relaxing. If you choose a day or month when it is not too hot, you can easily walk around it. The park is 60 hectares and every corner is a surprise.
I do not want to spoil it for you so I will let you see it for yourselves, but it is a great day out for a picnic with the family or as a couple or even on your own. Unfortunately, the day we went, the military museum was closed. You can also visit this museum which is right opposite the park.
The park is usually open from 6.30am to midnight in the summer and 11pm in the winter. You can read more about the park of Biodiversity here. We spent at least half a day there. Of course, there are more lesser known parks in Calabria like this one. You will find many in a region such as Calabria full of nature and parks. You can visit many of them here. Use my resources here to get around Calabria.